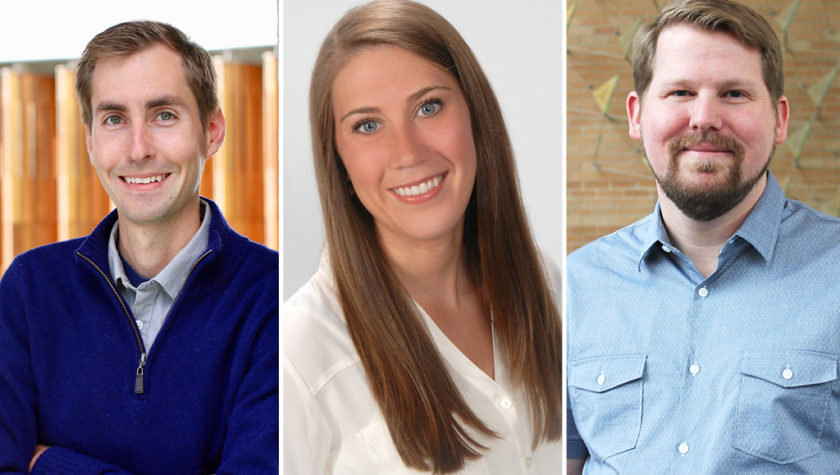 1
July
New faculty hires strengthen Pharmacy Practice, Pharmaceutical Sciences
The University of Wisconsin–Madison School of Pharmacy will welcome three new faculty members and elevate two devoted associates into faculty roles.
Jason Peters from the University of California San Francisco is joining the Pharmaceutical Sciences Division as assistant professor and will bring a genetic approach to fighting antibiotic resistance.
In the Pharmacy Practice Division:
"These promising young scholars will enhance our research enterprise in key areas and accelerate new knowledge in antibiotic resistance, addiction medicine, and breakthrough therapies for movement disorders," says Steve Swanson, dean of the School of Pharmacy.
Portillo and Margolis have both been educators at the School for years, and their new positions formalize their invaluable contributions to the PharmD program, says Professor Barry Gidal, chair of the Pharmacy Practice Division.
"Both Ed and Amanda are also alumni and have experienced our curriculum, which gives them a unique perspective in our continuous mission to improve the education of our PharmD students," says Gidal.
Jason Peters
Spearheading a new fight against antibiotic resistance
There are two ways to approach the growing problem of antibiotic resistance: find new antibiotics, or find new mechanisms to kill bacteria.
For Jason Peters, who is joining the Pharmaceutical Sciences Division's Drug Action Core as an assistant professor in August, those two approaches go hand in hand.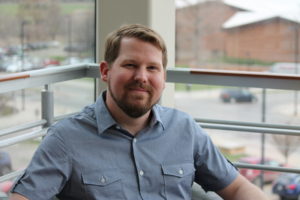 "Dr. Peters' research program builds upon and synergizes with existing strengths in the School focused on the biology of microbial organisms, their roles in human diseases, and the development and study of antibiotics that target them," says Paul Marker, associate dean for research and professor in the Pharmaceutical Sciences Division who chaired the search committee. "He has pioneered innovative new methods for investigating essential gene networks in bacteria, and his research will benefit departments across the UW–Madison campus."
Peters came to UW–Madison to earn his PhD in genetics because "it has the best collection of geneticists and microbiologists anywhere." His research as a graduate student focused on how genes are turned off—a process known as transcription termination. Specifically, he studied what happens to cells when the essential termination protein Rho is inhibited by an antibiotic. "If you have an antibiotic that can perturb that termination process, then you can treat cells with the antibiotic to explore what happens when termination fails, or when certain genes don't get turned off," explains Peters.
As a postdoctoral scholar at the University of California, San Francisco, he continued to study how antibiotics affect bacterial cells, but at a much larger scale. "We did a really giant experiment where systematically generated sensitized bacterial strains that had less essential gene function and then treated those strains with antibiotics," says Peters. "We learned about the functions of genes and antibiotics all at once."
As part of his postdoctoral work, he developed CRISPR tools to study bacterial genomes.
"If you know how the bacteria works, then you might be able to find new weaknesses in them to control them with antibiotics—and if you know how antibiotics work, you can predict how combinations of certain antibiotics work," says Peters.
However, the search for answers only grows more complex.
"With antibiotic resistance, we have to solve this somewhat basic problem that we thought we had solved already—and we mostly did," he says. "But then the bacteria evolved, and now we have to solve a new problem."
While new antibiotics can be developed, many antibiotics kill bacteria in similar ways by attacking certain essential functions, such as the bacteria's ability to form an external boundary, like penicillin. What Peters is suggesting is that researchers find new essential functions to target with new antibiotics.
"[Dr. Peters] has pioneered innovative new methods for investigating essential gene networks in bacteria, and his research will benefit departments across the UW–Madison campus." –Paul Marker
"Bacteria have about 4,000 different genes, and probably around 300 of them control essential functions. If you break any of those essential parts, the bacteria can't live," Peters says. "One of the things I developed as a postdoc was a way of perturbing essential parts through a modification of the CRISPR."
Through this modification, CRISPRi, Peters can reduce the activity level of genes instead of removing them completely. Simply put, he can create strains of bacteria that are extra sensitive to antibiotics and then use them to figure out how antibiotics work, which is a major barrier to getting new drugs from labs to patients.
CRISPRi was developed by a collaborator but first applied to essential functions in bacteria by Peters. "That was a key advance in studying these essential parts of bacteria," he says. "I plan on using that kind of approach to understand the functions of potential new antibiotics in collaboration with people here in the UW–Madison School of Pharmacy."
Coming to the School of Pharmacy, Peters plans on applying CRISPRi tools in his new lab here to dissect gene networks in Gram-negative pathogens associated with antibiotic resistant infections. He plans to work with Professor Tim Bugni, in the Pharmaceutical Sciences Divisions' Drug Discovery Core, and Associate Professor Warren Rose, whose lab in the Pharmacy Practice Division focuses on translating antibiotic resistance research to clinical applications.
"As a team, that's about as great as you could ask for," says Peters. "I wouldn't have the same collaborative environment elsewhere."
Cody Wenthur
Innovating addiction medicine
Each day, more than 115 people die from an opioid overdose, according to the National Institute on Drug Abuse.
What if the disease of addiction could be as easy to prevent as polio, or measles, mumps, and rubella?
That's been a key research focus of Cody Wenthur: using vaccination techniques to block drug abuse, which could also potentially be applied as an addiction therapy.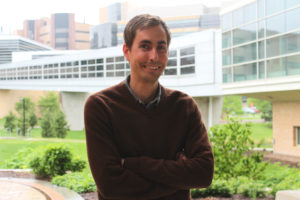 "If we can prevent certain molecules from drugs like oxycodone, heroin, or cocaine from reaching the brain and eliciting rewarding effects, it might make it easier for patients to quit," says Wenthur. "That way, even if they slip off the wagon, the drugs wouldn't provide a reward, so there would be less incentive to continue using them."
Wenthur earned his PharmD from Purdue and his PhD in pharmacology from Vanderbilt. He's a Wisconsin native who has most recently worked as a postdoctoral research fellow in the Scripps Research Institute's Department of Chemistry, where he started his work on small-molecule vaccines against drug abuse in La Jolla, Calif. Before that, he studied metabotropic glutamate receptors and their role in learning and memory—specifically, their role in developing disorders such as substance abuse.
"These receptors act on your brain and alter the way you process reward and learn about what is important to you," he says. The receptors are also important in neuroplasticity, and Wenthur helped to create new compounds to modulate the strength of the connection between neurons to alter the strength of the learning response. 
"Drug overdose is so prevalent right now, we need to find new treatments and see what will stick," Wenthur says. "The vaccine approach is another way to tackle this problem, and although it's been considered as a therapeutic for some time now, I think it has the potential to be applied more broadly than that, such as for the detection of synthetic opioids. Excitingly, it can even be used as a way to unravel the complexities of baseline motivation and reward circuitry activation and uncover new pharmacodynamic approaches to broadly address dysfunctional reward signaling."
"Dr. Wenthur is bringing a new, important area of research to the School, and I'm hoping he can advance the science of addiction medicine with our students," says Barry Gidal, professor and chair of the Pharmacy Practice Division. "I think that knowledge is going to be increasingly important for pharmacists going forward."
Professor Mary Hayney, who chaired the search committee for Wenthur's hire, agrees that his cutting-edge research program in the pharmacology of substances of abuse will be a strong addition to the School's Pharmacy Practice Division. "His work has the potential to make important discoveries in clinical pharmacology and assist with solving the important public health problems associated with addiction," says Hayney. "Clinician-scientists who are able to span this range are rare finds, and we're very excited to have him join the School."
"Dr. Wenthur is bringing a new, important area of research to the School, and I'm hoping he can advance the science of addiction medicine with our students." –Barry Gidal
Wenthur is joining the School as an assistant professor in August. Starting in the spring semester, he will help teach Appropriate Use of Abused Drugs, especially on the topics of stimulants and depressants. He eventually hopes to get involved with the therapeutics course series as well.
"I'm excited to use my clinical and research backgrounds to further integrate the missions of the Pharmacy Practice and Pharmaceutical Sciences divisions and to impact the future of pharmacy by engaging PharmD and PhD students in this important area," says Wenthur.
"UW–Madison has some very unique strengths in the effective combination of preclinical and clinical investigation, with world-class resources that I'm excited to be a part of. The Wisconsin Alumni Research Foundation, for example, has more than 100 years of history in developing technologies arising from local research efforts, and the university is well positioned to continue this tradition of generating innovative solutions to pressing problems for the foreseeable future."
Learn more about the Wenthur Lab.
Natalie Schmitz
Leading new therapies for movement disorders
Schmitz will be joining the School of Pharmacy's Pharmacy Practice Division as assistant professor in November 2018. She received her PharmD and Master's in Public Administration at Drake University and will earn a PhD from the University of Minnesota in experimental and clinical pharmacology. Additionally, she also holds a unique practice in Minnesota as a medical cannabis pharmacist.
In Minnesota, medical cannabis is legal, but it must be dispensed by a pharmacist. After a patient is certified to have one of 13 conditions for medical cannabis treatment and the request is processed by the state, the patient visits a Cannabis Patient Center and meet with a pharmacist, like Schmitz, to discuss treatment options—what's the best ratio between the two cannabinoid compounds available and how frequently and by what route it should be taken.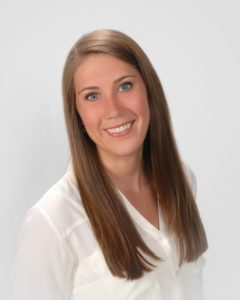 "I'm most interested in movement disorders, such as multiple sclerosis (MS), traumatic brain or spinal cord injuries, and cerebral palsy," says Schmitz. "In my mission to examine the effectiveness and safety of different therapies and how to improve the outcomes of patients with movement disorders, I'd like to look further into cannabinoids."
She hopes to test plant-derived cannabinoid therapies, such as Epidiolex or Sativex. Epidiolex is slated to become the first FDA-approved cannabidiol (CBD) medicine indicated for epilepsy for prescription use this summer. Sativex, approved in the UK, includes CBD and tetrahydrocannabinol (THC) and is indicated for a variety of conditions including spasticity. Schmitz would like to explore off-label uses to treat spasticity related to other conditions.
"A lot of people think of THC when they think of marijuana, which is what causes a lot of the psychoactive effects associated with marijuana," says Schmitz. "CBD is a different chemical from the plant that doesn't yield the 'high' feeling that can include cognitive impairment, paranoia or anxiety."
In fact, one of CBD's biggest cognitive effects is anti-anxiety, says Schmitz. In Minnesota, CBD is often used to treat post-traumatic stress disorder.
Considering the Schedule 1 DEA classification of cannabis, there will be tall regulatory hurdles to clear. For that, Schmitz is looking forward to collaborating with Professor Paul Hutson, who has experience getting FDA approval for studying other Class 1 drugs, like psilocybin. Hutson's experience with trial design, pharmacokinetics, and pharmacometrics to evaluate drug variability could also present synergistic opportunities, she says.
She also hopes to collaborate with Professor Barry Gidal, who also has a neurological focus with his research in epilepsy. "I'm personally very excited to bring another neurology person into the clinical fold," Gidal says. "She will bring a unique teaching and clinical research interest to the School and our students."
"Dr. Schmitz has the potential to develop a high-level, productive research program in clinical drug development, pharmacokinetics, and pharmacodynamics." –Mary Hayney
"Dr. Schmitz has the potential to develop a high-level, productive research program in clinical drug development, pharmacokinetics, and pharmacodynamics," says Mary Hayney, professor in the Pharmacy Practice Division and the chair of the search committee for Schmitz's hire. "She has the ability to see an unmet need and develop a strategy to meet that need, and we're very excited for her to join the School."
That potential for collaboration is partly what attracted Schmitz to the UW–Madison School of Pharmacy. "There are so many people at the School doing really novel and innovative research, which is supported by amazing resources," she says. "It's a top research institution that's internationally recognized, and I think being surrounded by so many renowned experts will be a great match for my interests and development as a young investigator."
When she arrives in November, Schmitz expects to have a focus and clinical practice in MS and share her specialty through participating in therapeutic or pharmacokinetic courses.
"The more I've learned about movement disorders, the more interesting they've become," says Schmitz. "Even small changes for people with movement disorders that impact their lives on such a big level can dramatically improve their quality of life. There's still a lot to be learned about those diseases, and I'm looking forward to pursuing the answers at the UW–Madison School of Pharmacy."
Amanda Margolis
Leveraging data to enhance experiential education
One of the strengths of the School's PharmD program is the experiential education—giving our students the opportunity to take what they've learned in the classroom and apply it in clinics and pharmacies to enhance their understanding.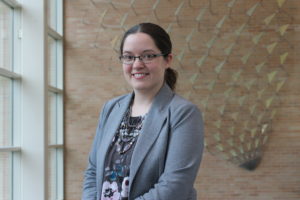 With nine years already under her belt as an employee of the School, Amanda Margolis uses her thorough knowledge of the School and the pharmacy profession to help build those experiential opportunities for PharmD students, coordinating Advanced Pharmacy Practice Experiences (APPEs) and working on preceptor development, in addition to serving as a preceptor herself in the William S. Middleton Veterans Hospital's anticoagulation clinic.
"There have been a number of changes we've made in the experiential program in the last few years, and we're ready to start analyzing the data we've collected and see what our next opportunities are," says Margolis. "It's a great place to be coming in as a junior faculty member."
One of those changes includes efforts to increase consistency in grading fourth-year APPEs across the School's network of more than 1,400 preceptors, of which more than 60 are primary preceptors for APPE rotations at any given time. "By building consistency, we're making sure that every student gets the full value of these learning opportunities," she says.
"Dr. Margolis is an important contributor to the academic mission here and has really evolved herself into a crucial part of experiential education and preceptor development at the School of Pharmacy, and she's taken on substantial teaching responsibilities as well," says Barry Gidal, chair of the Pharmacy Practice Division.
Soon, Margolis also hopes to introduce implementation research techniques into experiential education to provide a structured framework for reviewing the success of new initiatives—something Margolis hopes can serve as a national example.
"I've heard bits of this approach at some national conferences, but I'd like to put it together in one package and say, 'This is how you can use the framework in an experiential education program to better your curriculum,'" she says. "It will be a more formal way of finding easy-to-use techniques in practice with the students that we can effectively teach to our preceptors, and then implement those techniques using the framework."
Preceptor development is another critical area Margolis will focus on, through UW–Madison's Teaching Academy, where she and fellow faculty around the health sciences schools have recently established a clinical affiliate program to enhance off-campus instructors' access to tools that promote excellence in teaching. "We have exceptional preceptors, but there's always room for improvement," she says.
"Dr. Margolis is an important contributor to the academic mission here and has really evolved herself into a crucial part of experiential education." –Barry Gidal
"We're creating content specifically for our preceptors and clinical affiliate members, such as interprofessional precepting material to complement our PharmD students' interprofessional education and teach our preceptors how to reinforce and model that teamwork."
Margolis, who earned her PharmD and two masters degrees in clinical investigation and social and administrative sciences in pharmacy from UW–Madison, will also continue to be involved in teaching the principles of evidence-based medicine, such as Drug Literature Evaluation, and helping students create clinical inquiries.
"I find it very rewarding and exciting to be there for the ah-ha moments as students put the pieces together. That's why I'm here."
Ed Portillo
Advancing and differentiating the PharmD curriculum
Ed Portillo joined the School of Pharmacy as an instructor in 2016 after earning his PharmD from the School of Pharmacy and completing a two-year residency in health-system pharmacy administration at the William S. Middleton Veterans Hospital. He's been heavily engaged in creating a PharmD curriculum that allows students to tailor coursework to their unique career interests, with the goal of best preparing students to pursue their dream job immediately upon graduation.
"We're doing some really innovative things that no other pharmacy school in the country is doing," says Portillo. "We're focusing on unique, high-demand career areas and developing programs to get our students directly from the School to their desired career."
"Dr. Portillo is an excellent clinician and teacher, and he's really helped advance our curriculum with a fresh perspective," says Barry Gidal, professor and chair of the Pharmacy Practice Division.
One example of Portillo's curricular career pathways development work is a collaboration with the Wisconsin School of Business that will give PharmD students a specialization in Pharmacy Operations Technology Management (OTM) to gain business fundamentals. Students have already enrolled in the OTM specialization program, and they'll begin classes in this sequence of electives this fall.
Portillo is also developing a rural health specialization within the PharmD program. "Well over 90 percent of the state of Wisconsin is considered rural," says Portillo. "And our students are really uniquely positioned to go to those communities and make a big positive impact."
 "There really is a strong demand from our students to practice in rural communities across the state after graduation. Our rural health program will really exemplify the Wisconsin Idea through emphasizing community engagement, public service, and delivery of high-quality health care to all areas of the state," he says.
To help students further connect with and learn from practicing pharmacists around the state, he also led the development of the Leadership Certificate and Mentor program that pairs PharmD students with a Wisconsin pharmacist, typically an alumnus of the School.
"The UW–Madison School of Pharmacy has been around for more than 100 years. We're a school that has a legacy, and because of that, we have the best alumni practitioners in the state," says Portillo. "Pairing our PharmD students with practicing pharmacists who are exceptional leaders gives students a lifelong connection and demonstrates the impact their training here will have."
Beyond the classroom, Portillo practices in the primary care clinic at the William S. Middleton Veterans Hospital, where he independently manages patients' chronic conditions with a scope of practice, meaning he prescribes medication therapy, orders labs and medical tests, and coordinates patient follow-up in clinic.
"Dr. Portillo is an excellent clinician and teacher, and he's really helped advance our curriculum with a fresh perspective." –Barry Gidal
At the VA, he developed and implemented a pharmacist-led intervention to significantly reduce the 30-day readmission rate among patients discharged from the hospital or emergency room with a Chronic Obstructive Pulmonary Disease (COPD) exacerbation. His program, called COPD CARE (Coordinated Access to Reduce Exacerbations), won national awards and is being implemented in VA hospitals around the country.
It's Portillo's aim to look at current care models and services where pharmacists are taking the lead and show the measurable impact of those services. "What I want to do in the end is show that we've developed models and practice advancement opportunities that emphasize how influential pharmacists are in providing incredible patient care," says Portillo. "I want to be measuring and evaluating the implementation and dissemination of unique pharmacist care delivery models so we can spread best practices both locally and nationally."
With the promotion to faculty member, he will be able to devote more time and focus on curriculum advancement while maintaining his clinical practice and teaching role in the pharmacotherapy skills lab.
"I'm a proud alum and it's amazing to work where I trained," says Portillo. "I believe so much in the School's mission and vision, this is more than a job—it's a real opportunity to contribute and shape students' careers and the future of pharmacy."
Learn about two other faculty members who recently joined the School of Pharmacy: Assistant Professor Olufunmilola Abraham, and Assistant Professor Jay Ford.