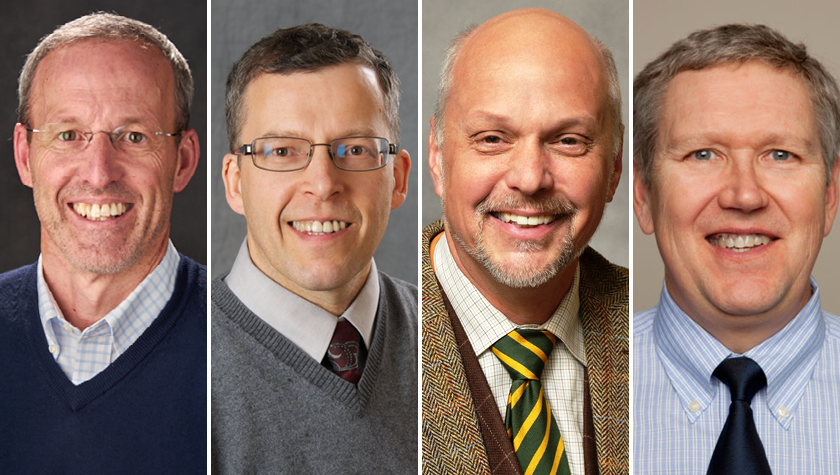 8
September
Nationally recognized work by alumni and faculty receives the Journal of the American Pharmacists Association's Best Published Paper Award
By Katie Ginder-Vogel
The majority of American pharmacists are women, and the profession is becoming more racially diverse, according to the most recent National Pharmacist Workforce Study, which is led by a team composed of many University of Wisconsin–Madison School of Pharmacy faculty, alumni, and collaborators.  
"Our research group is very focused on diversity, equity, and inclusion issues," says David Mott (BS '88, MS '92, PhD '95), professor in the School's Social and Administrative Sciences Division and one of the driving forces behind the survey. "We need to be looking at pharmacy workforce issues with a gender lens to learn about similarities and differences in workplace experiences."
A recent publication in the Journal of the American Pharmacists Association featuring their survey work dug into these issues, exploring the differences in discrimination and harassment using the intersectionality of race and sex.
"I was passionate about looking at women in pharmacy and women in pharmacy leadership, wondering what the barriers were," says Brianne Bakken, lead author on the article and associate professor with the University of Iowa College of Nursing. "The more we dug into it, we found really fascinating results."
"We need to be looking at pharmacy workforce issues with a gender lens to learn about similarities and differences in workplace experiences."
—Dave Mott
The study's findings were deemed so influential and important to the profession that it was honored as JAPhA's Best Published Paper of 2023, earning the Wiederholt Prize. The JAPhA Best Published Paper Award for Economic, Social, and Administrative Sciences was established in 1996 and renamed the Wiederholt Prize in 2002 to honor School of Pharmacy Professor Joseph Wiederholt, the award's first recipient. Fourteen School of Pharmacy alumni, faculty, and former faculty, including some of this year's alumni co-authors, have since won the award.
"I commend Brianne for her hard work, and I am thrilled that our team won the Wiederholt Prize," says Mott.
Illuminating workforce trends
Inspired by Wiederholt himself, four of the study's co-authors — Mott; Bill Doucette (BS '83, MS '88, PhD '93), professor at the University of Iowa College of Pharmacy; Jon Schommer (BS '85, MS '89, PhD '92), professor at the University of Minnesota School of Pharmacy; and School of Pharmacy Professor Emeritus Dave Kreling — have collaborated on research since they met at the School of Pharmacy in the late 1980s.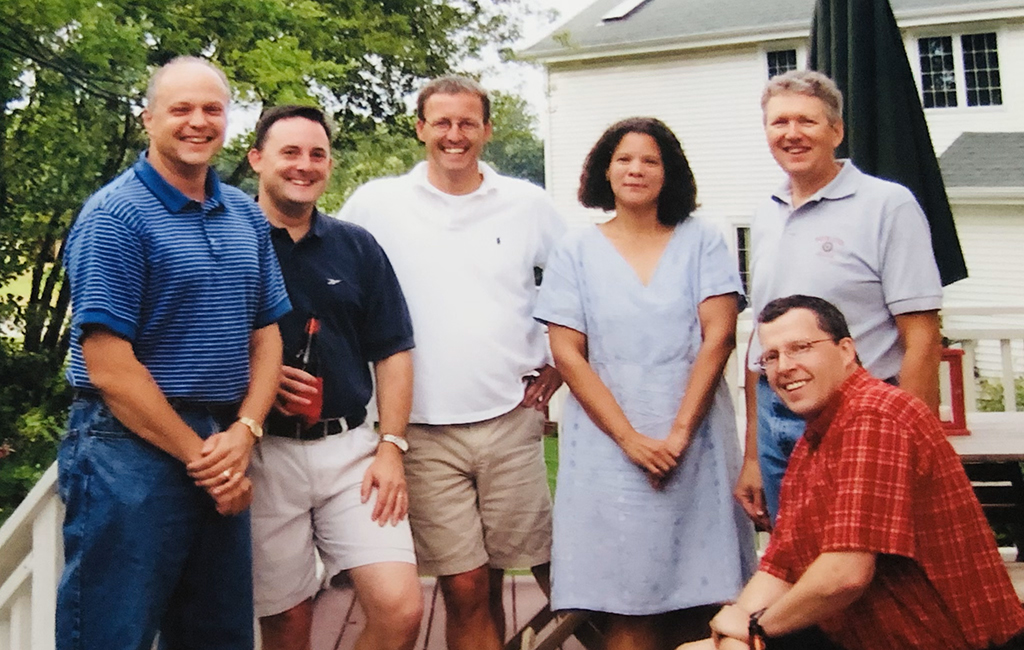 Wiederholt, Kreling, and Professor Robert Hammel included then-graduate students Doucette, Mott, and Schommer in the conduct of the Wisconsin Biennial Pharmacist Workforce Survey. They learned about survey research methods, the evolution of pharmacy practice, and the contributions that pharmacists make in society.
"That ignited a flame in us," says Schommer. "As we started our faculty positions, we carried that flame and quickly engaged in workforce research and other practice-related research for our states that has lasted to this day."
In 1999, the team and colleagues received a grant from the U.S. Department of Health and Human Services to roll out a national Pharmacist Workforce Survey, which they've completed every five years since.
Delving into race and gender
Bakken, one of Doucette's former mentees, joined the research team for the 2019 survey. The team talked about what new questions they wanted to ask in the 2019 workforce study and added new questions about discrimination and harassment in pharmacy.
When the survey data came back and the report was published by the American Association of Colleges of Pharmacy, Bakken suggested an additional analysis through a racially sensitive and gender-aware lens.
"A racial lens is important so we can learn about work life experiences and differences across the racial groups represented in the pharmacist workforce," says Mott. "The general population is far more racially diverse than the pharmacist workforce, so we need to better understand the work life experiences of different racial groups of pharmacists to improve work situations and advocacy for them."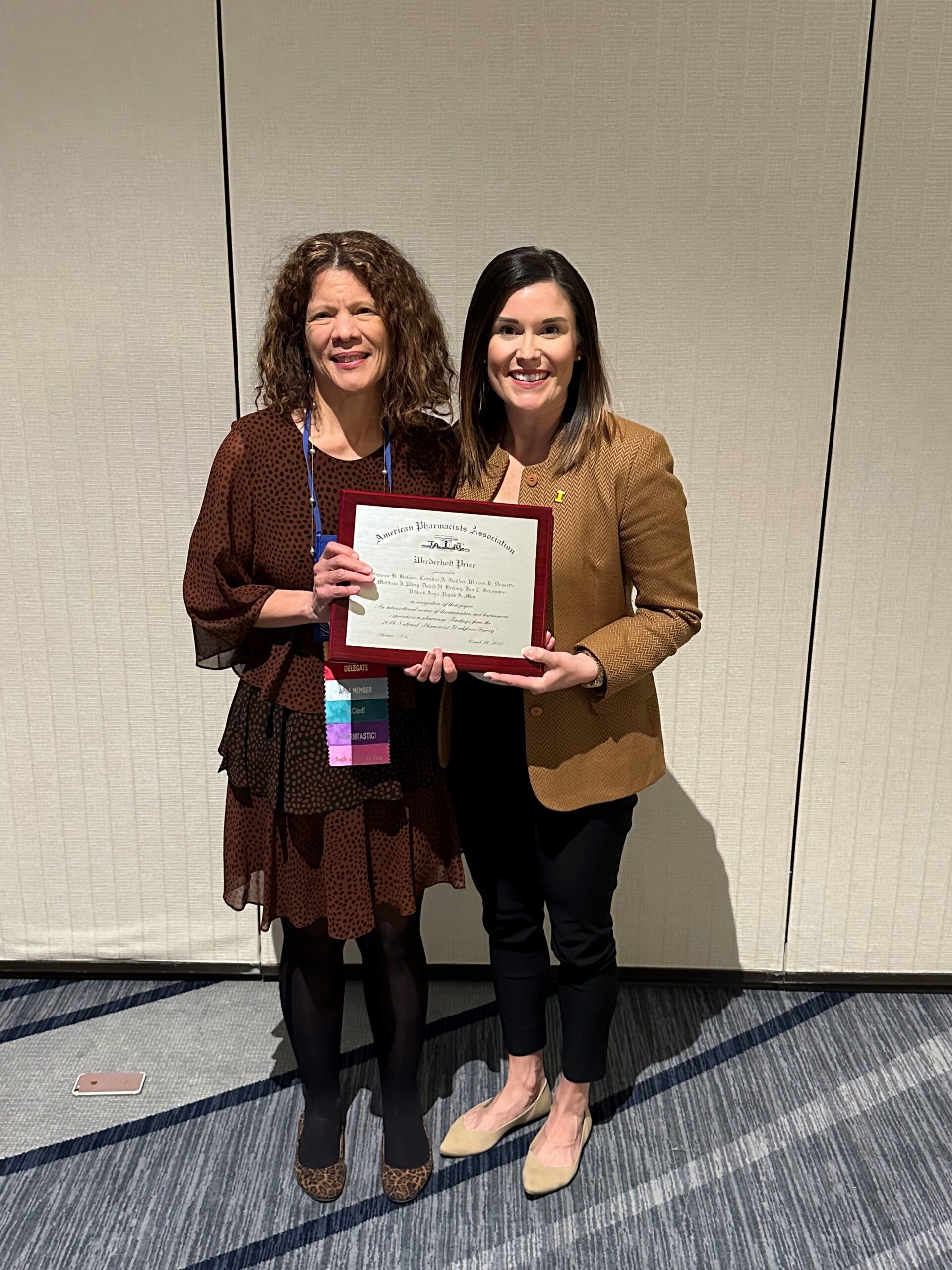 The study found that the most common bases of discrimination experienced were based on age (31.2 percent), sex (29 percent), and race or ethnicity (16.6 percent). The most common type of harassment experienced was "hearing demeaning comments related to race or ethnicity," at 15.6 percent. Black and Asian male pharmacists heard demeaning comments about race or ethnicity at the highest rate, and non-white pharmacists were more likely to experience harassment from customers or patients than their white colleagues. Black female pharmacists had the highest rate of being "very unsatisfied" with the results of reporting discrimination and harassment to their employer.
"Retaining talented pharmacists is a key to success for pharmacist employers, and we like to think that our approach and results can provide information to learn about pharmacists' experiences and contribute to developing strategies to improve work life experiences for pharmacists," says Mott.
Of the pharmacists who reported having witnessed or experienced discrimination or harassment, over 80 percent didn't report it to their employer, Bakken says. The top reason they gave was that they felt like nothing would happen if they reported it. 
"I think that's in line with the data you'd find in other sectors, but that doesn't mean it's good," says Bakken. "And so why is that? One of the most common offenders is patients, so that makes it difficult. Pharmacists feel the responsibility to care for patients, but organizations have the responsibility to protect both patients and their people. We're seeing more organizations, like hospitals, develop patient behavior policies." 
Research-driven renewal
Schommer, also a 1997 winner of the Wiederholt prize, says the team's paper advances research on pharmacy workforce trends in novel ways. For example, the data show that non-white pharmacists have a high interest in leadership because they want to make an impact on their communities, but they face barriers to leadership. Schommer says that as healthcare gets more community focused, leadership that understands communities and social determinants of health is vital.
"Change agents will really invigorate our profession, but we have to make the adjustments to make it happen. It's very inspiring to be able to say this is an opportunity for the field."
—Jon Schommer
"Society is changing; healthcare is changing, and people see how they can make a difference as leaders," Schommer says. "There are people who are ideal leaders and want to be leaders, so our current systems for developing leaders have to be improved. Change agents will really invigorate our profession, but we have to make the adjustments to make it happen. It's very inspiring to be able to say this is an opportunity for the field."
The findings of the workforce studies give the profession, employers, and practitioners a motivation to evolve. And studies like this, pointing out how race and gender impact pharmacists' experiences, can pave the way for organizations to improve their practices.
"It's new, innovative, novel, and I look at it as a renewal," says Schommer. "To receive the prize reminds me of the renewal we have in our work."