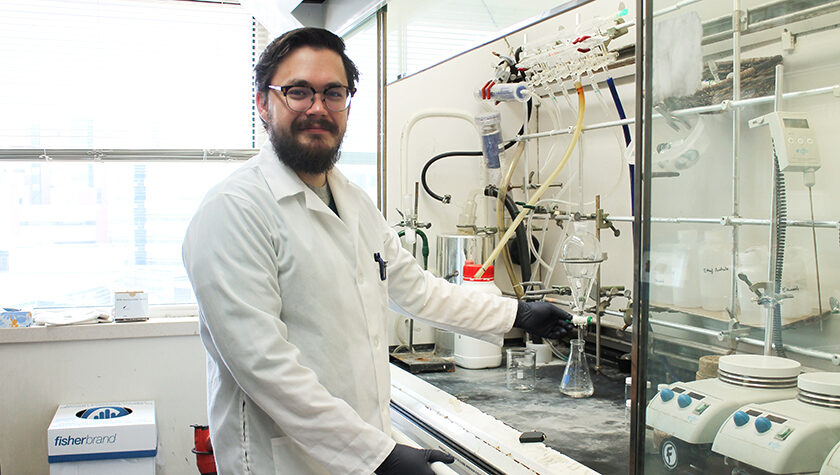 30
November
Supported by a prestigious national fellowship and UW traineeship, Pharmaceutical Sciences graduate student Christopher Stevens is expanding the application of a future therapeutic
By Brianna Foth
The human body is made up of over 10,000 different types of proteins: large, chain-like molecules essential to the structure, function, and regulation of the body. But sometimes, these "building blocks of life" contain errors: They can be misfolded, damaged, unstable, or overly produced. When these errors occur, it can lead to many kinds of diseases.
In recent years, researchers have been investigating a promising new approach to drug discovery that involves the careful destruction of these disease-causing proteins: targeted protein degradation, which engages the body's natural mechanisms to break down unwanted proteins. It is one of the main research focuses of the Tang Research Group led by Professor Weiping Tang, Janis Apinis Professor in the University of Wisconsin–Madison School of Pharmacy's Pharmaceutical Sciences Division, who recently developed a new method for targeted protein degradation that can access previously untargetable proteins outside and on the surface of liver cells.
It's also the focus of Pharmaceutical Sciences graduate student Christopher Stevens, who researches in Tang's lab.
"Targeted protein degradation has been around for a few decades, and the field has been progressing," says Stevens. "It's a really good combination therapy for cancer that you can use with a traditional inhibitor to have a higher efficacy overall, with hopefully fewer side effects to the patient."
"The goal is that this could eventually be an earlier, therapeutic alternative to surgery."
—Christopher Stevens
In 2021, Stevens was selected as a predoctoral trainee in the UW Cardiovascular Research Center's Training Program in Translational Cardiovascular Science (TPTCS), an advanced two-year training program that prepares students to undertake clinically motivated research to combat cardiovascular disease. In spring 2022, Stevens was also awarded a 2022 pre-doctoral fellowship in Pharmaceutical Sciences from the American Foundation for Pharmaceutical Education (AFPE) — a national scholarship typically granted to just around 20 graduate student researchers each year. Both opportunities will support Stevens' exploration into different applications of his targeted protein degradation work.
"To get these opportunities is very validating," says Stevens. "They look for people who have promising future careers, and who will be able to go far."
Combatting cardiovascular disease
Supported by the traineeship and fellowship, Stevens' research involves building a platform that leverages one of the most recently developed tools for targeted protein degradation: lysosome-targeting chimeras (LYTACs). LYTACs are small, engineered molecules that can bind to proteins of interest and bring them to the cell surface where they will be transported to the lysosome, a cellular organelle that serves as the cell's recycling center for unwanted proteins.
"The nice thing about LYTACs is that they give you access to these extracellular proteins, or proteins that sit on the cell membrane, which aren't accessible from inside the cell," says Stevens. "The reason you want to degrade those proteins is that, a lot of the time, they are causing a negative effect within the body in different disease states."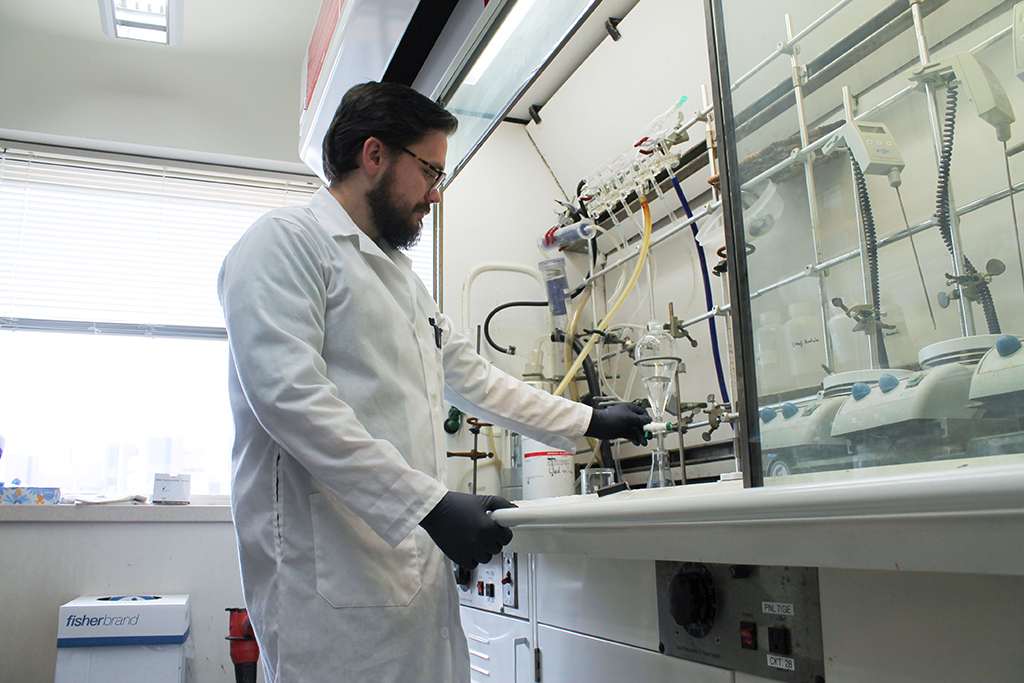 For example, the overexpression of proteins, which could potentially be targeted with LYTACs, is tied to diseases like cancer, polycystic kidney disease, cardiovascular diseases, neurodegenerative diseases, liver diseases, and more.
As part of the TPTCS traineeship — for which his research is being overseen by both Tang and Professor Bo Liu from the School of Medicine and Public Health's Department of Surgery — Stevens is looking into the application of his LYTAC platform to degrade a protein known as thrombospondin-1 (TSP1), whose upregulation has been associated with aortic aneurysms.
"Dr. Liu's lab works with these cardiovascular matrix proteins, and they've identified one that they did a genetic knockdown for — that is, they genetically modified it to not produce that protein — and found that that treatment was effective to treat aortic aneurysms in a mouse model," says Stevens. "And so now we're thinking, 'Okay, well, we can take our LYTAC model, which does the same thing, and we can direct it toward that protein to get rid of it.'"
Currently, says Stevens, the most common treatment for aortic aneurysms is surgical intervention, which is typically only done once the condition becomes life threatening. But the advantage of targeted protein degradation is that it can be applied at a much earlier stage in the development of the disease, and without posing the risk of complications during surgery.
"The goal is that this could eventually be an earlier, therapeutic alternative to surgery," he says.
Furthering research
Though his TPTCS training focuses on applying the LYTAC platform to degrade proteins for the treatment of cardiovascular disease, Stevens' broader research within the Tang lab — supported by the AFPE fellowship — has centered around building the platform and designing it to be easily modifiable depending on the protein being targeted for degradation, making it applicable to treat many different disease states.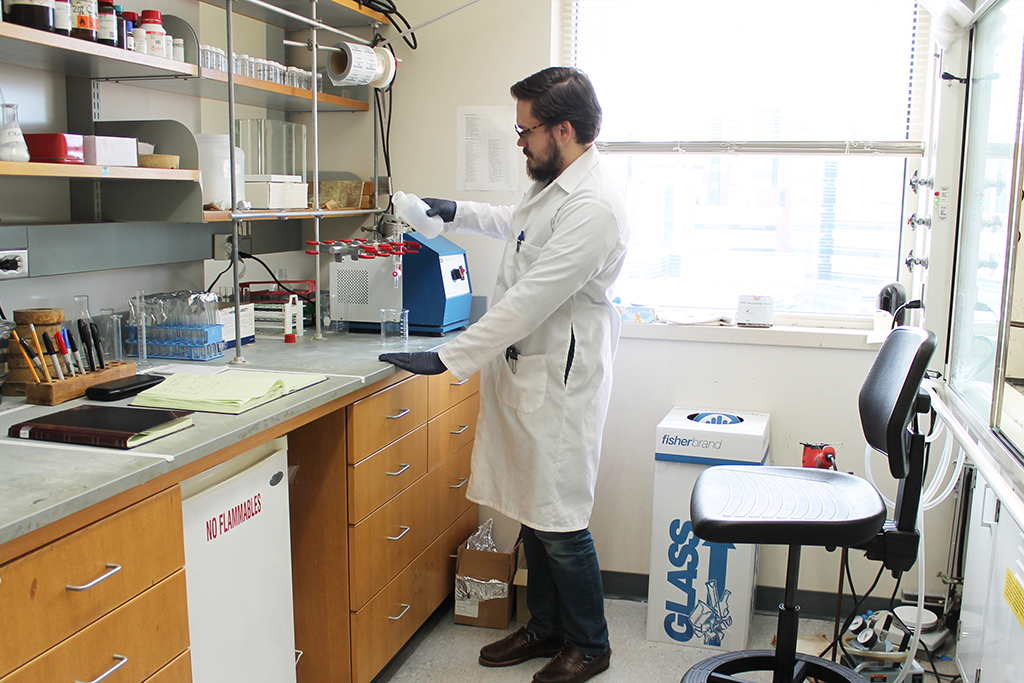 "We use a peptide-based backbone, to which we can then add on the number of sugars we need to target the receptor," he says. "Then, we can easily add on a binder or small molecule that allows us to target the protein of interest. So, we make the peptide backbone, we make the sugar, we combine the two, and then we modify it as needed to be able to target different proteins of interest."
While he's excited at the possibility of being able to apply his platform to treat many different disease states, Stevens is also looking forward to contributing to the growing body of research around LYTACs, which has wide and promising future applications for disease treatment.
"With this targeted degradation, you're accessing a different time scale of treatment. You degrade the protein, and then that protein can't have that negative function until it's reproduced by the cell," he says. "Targeted protein degradation can also be used when you reach resistance with traditional therapeutic models. So, you can have a more efficacious, longer-lasting treatment, and at lower therapeutic doses than more traditional small molecule-based therapies."
"Because LYTACs are so new, no one can be an expert in them yet," he says. "I really get to be on the forefront of this."
A valuable mentor
Over the course of his research, Stevens has benefited not only from the funding provided by the traineeship and fellowship, which have allowed him to attend conferences such as the American Chemical Society's Fall 2022 conference, where he presented a poster on his LYTAC platform, but also from the guidance of his mentor, Tang, who he says has exposed him to many different areas of research, as well as encouraged him to take advantage of opportunities he's now glad he pursued.
"Dr. Tang has pushed me to a lot of these opportunities and made sure I feel competent in doing so," says Stevens. "He's helped me become more confident in my own skills as an academic and in putting myself out there, and that's a critical skill for somebody who wants to have a research lab in the future."
"You can have a more efficacious, longer-lasting treatment, and at lower therapeutic doses than more traditional small molecule-based therapies."
—Christopher Stevens
After graduating from the School, Stevens not only hopes to create his own research lab, but he also wants to become a professor who can go on to inspire a new generation of students to pursue their own scientific and research interests.
"Teaching is a big thing for me; all my family are teachers, and I actually got my certification to teach high school, before I decided to come to graduate school," says Stevens. "I love interacting with students, and so I want to merge the two, and teach while having a lab focused on producing research, getting the research out there, and doing cool science."