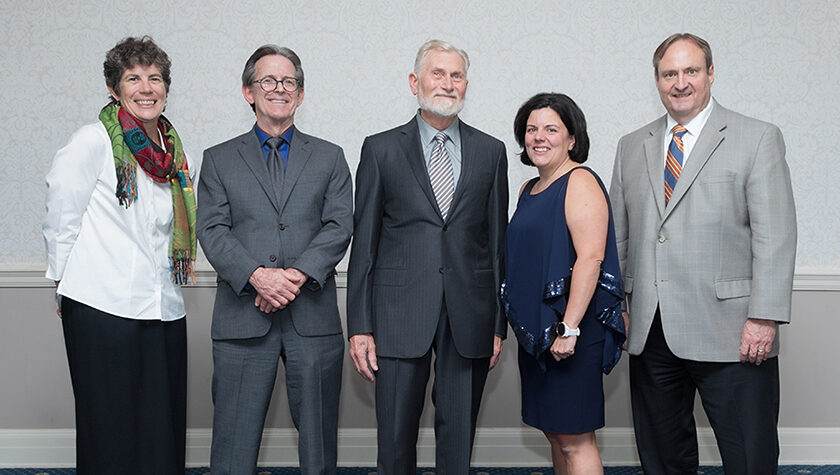 19
September
The School's highest annual award celebrates alumni and friends for contributions to academia, community pharmacy, and history of pharmacy
By Katie Ginder-Vogel
Each fall, the University of Wisconsin–Madison School of Pharmacy recognizes four stellar alumni with Citations of Merit — the School's highest annual honor. Each of the more than 200 Citation of Merit recipients to date have contributed extensive research, academic leadership, and community leadership to the fields of community pharmacy, academic research, and historical research.
This year, the award recipients are no different, with laudable contributions to advancing pharmacy practice and education, patient care, and the history of the profession.
The four 2022 honorees are:
"Citations are awarded to those individuals who have an outstanding record of contribution to society and pharmacy or pharmaceutical sciences through research, teaching, or involvement in professional and community organizations," says Steve Swanson, dean of the UW–Madison School of Pharmacy. "This year's Citations of Merit Awardees fit these criteria well. They are successful men and women who've had a tremendous impact on their profession and on individuals whose lives they've touched."
Photos by Todd Brown
---
Susan Stein (BS '90, MS '99)
Leading pharmacy by improving education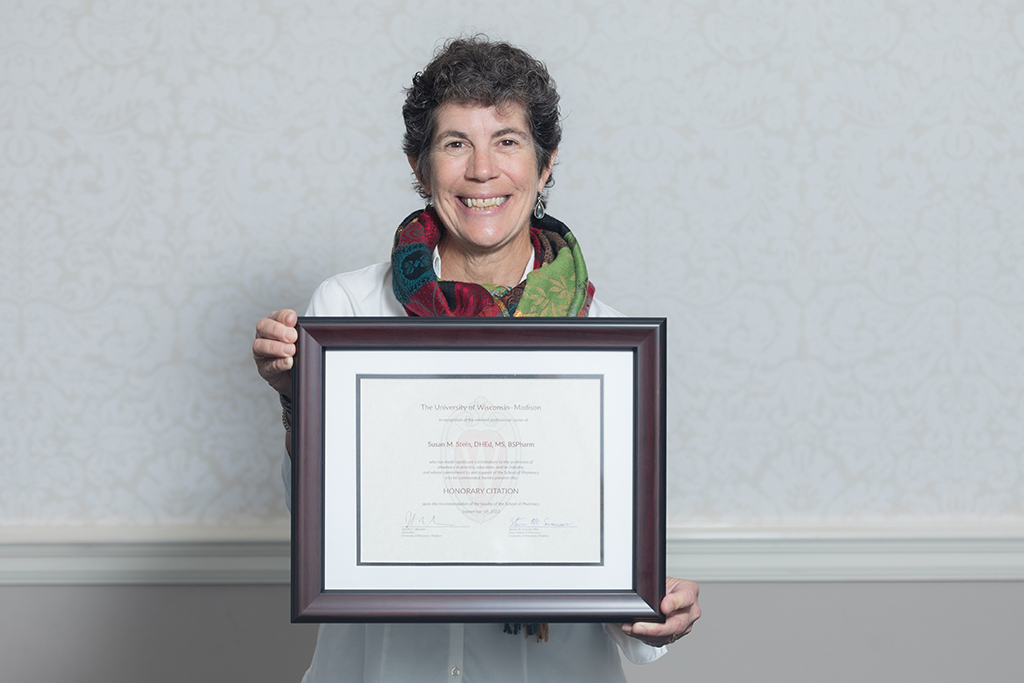 Susan Stein says she was "preordained" to become a pharmacist, courtesy of several women in her family who attended the UW­–Madison School of Pharmacy and shared their love of pharmacy with her. Stein, swayed by their passion and the potential in the career path, earned her bachelor of pharmacy from the School in 1990 and later earned a master's degree in pharmaceutical sciences from the School in 1999.
"Pharmacy has been absolutely fantastic in so many ways," Stein says. "There is so much you can do with one degree, so much opportunity and variety."
Stein appreciated the openness of the School's female instructors, like Professor Emeritus Judy Thompson and faculty assistant Bonnie Fingerhut, who warmly introduced students to the excitement of pharmacy.
"They opened their doors and hearts," Stein recalls. "They are such strong, intelligent, sharp, creative women."
Professor Emeritus George Zografi supervised Stein during an independent study, and she says he's the reason she pursued her master's degree at the School and ultimately her doctorate in health education at A.T. Still University.
"He's the reason I never stopped getting degrees," she says. "He'd gently ask, 'Don't you want to know more?' and he understood that grad school was what I should do."
In pharmacy school, Stein took advantage of the numerous opportunities in Madison, teaching sailing through Hoofers and participating in the ski club. She met her husband Dan Stein, whose father is legendary Wisconsin pharmacist Marty Stein (BS '59), during spring break in Los Angeles her first year of pharmacy school, though they grew up about 30 minutes away from each other in Wisconsin.
"You'll never go backwards, but there might be an offramp, and you can get back on your journey. Take breaks and side trips, and the detour can be remarkable."
—Susan Stein
After graduation, Stein worked at Indianapolis Methodist Hospital, until Clinical Associate Professor Pam Ploetz (BS '68) hired her as a clinical pharmacist at the William S. Middleton Veterans Memorial Hospital in 1994, and then she joined the School as a clinical instructor two years later. Stein began her master's degree in pharmacology, with Professor William Mellon, now emeritus, as her advisor in 1997.
"I wanted to dive, research-wise, into how drugs anchor receptors to accomplish the drug's goal," she says. "I loved the process of testing your hypothesis from multiple angles."
She also loved teaching, and after earning her master's, Stein spent a year as the experiential education coordinator for the School of Pharmacy. On a vacation to Oregon, Stein and her husband fell in love with the Pacific Northwest and decided to relocate when Oregon State University hired Stein as director of experiential learning.
"Oregon pharmacy practice was behind the Midwest, so there was so much I could bring," she says. "Oregon State University was the last school of pharmacy to implement the PharmD, so the whole curriculum needed innovation, and I could bring UW­–Madison ideas and practices there."
Stein then spent four years as a research pharmacist at Oregon Health Sciences University, and when the Pacific University School of Pharmacy started a new pharmacy program, the dean recruited her as an associate professor and assistant dean for clinical education in 2005. She became dean three years later, but her ascent to leadership was ongoing.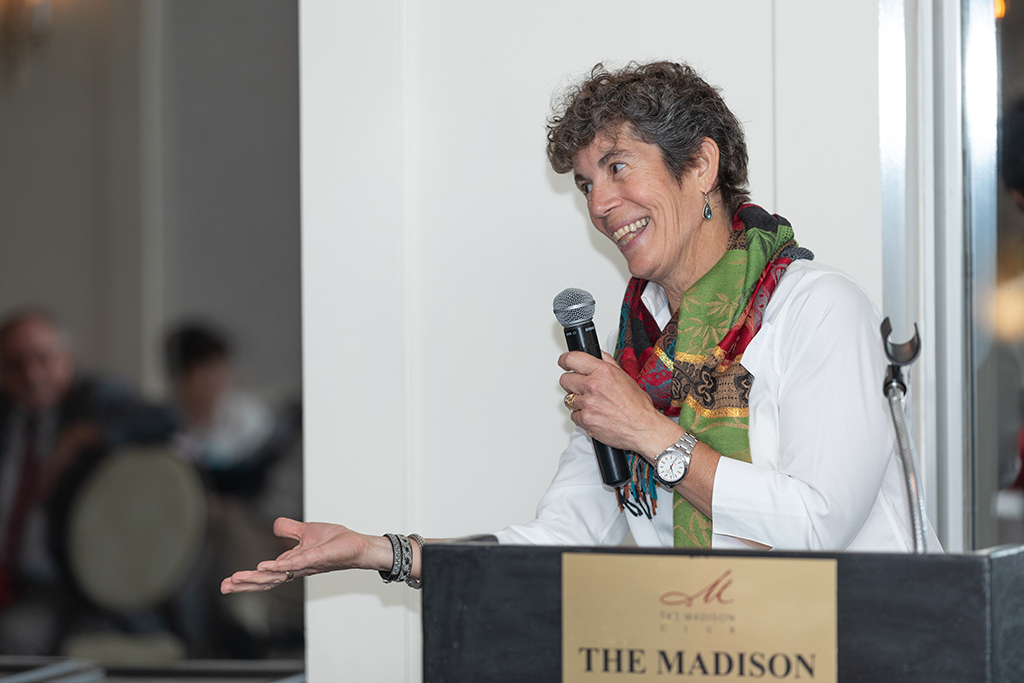 In 2013, Stein was promoted to associate dean of the Pacific University College of Health Professions and the next year was named director for the Pacific Program for Interprofessional Education and Research, in which she advised other programs across campus and created the university's interprofessional program.
She loved the fact that in academia, she could impact generations of pharmacists.
"It's not just those four years of students that you impact in academia for 20 years — it's exponential, because you reach their parents and siblings and friends," says Stein. "And that feeling when you're on vacation, and someone walks up and says, 'You had an impact on my life,' is amazing."
Several years later, she and her husband moved to Astoria, Oregon, from Portland, and she launched her consulting business. Now, Stein carries six contracts a year with universities and health systems and does pro bono consulting for local nonprofits. On the side, she leverages her pharmacist training to provide consultations in her community.
"During the pandemic, I put my name in for the equivalent of MercyCore in our rural area and helped teach hospitals what they needed," she says. "I was involved in COVID-19 vaccine clinics from the beginning."
She was caught by surprise when her Citation of Merit letter arrived.
"There are so many people who are so much more accomplished, I felt like it might be a mistake," she says. "A lot of my job has been behind the scenes, sharing opportunities with others and helping them be successful, so again, with this, I feel like I need to give the credit to others."
"[Susan] has a genuine respect and affection for students, and that motivates her to reach each student with information and principles and to encourage their learning."
—Judy Thompson
Stein's former mentor, Thompson, nominated her for the recognition, acknowledging her students' praise of Stein's teaching.
"She has a genuine respect and affection for students, and that motivates her to reach each student with information and principles and to encourage their learning," Thompson says. "Her extensive experience in various areas of pharmacy practice give her credibility with the students and enable her to draw on real life examples for illustrating learning objectives."
But Stein is careful to also carve out time to pursue other passions in life. In her spare time, she bodyboards with friends in the ocean, sea kayaks, and sails on the Columbia River. She is also dedicated to her local animal rescue organization.
"When I mentor people, I say, you'll never go backwards, but there might be an offramp, and you can get back on your journey," she says. "Take breaks and side trips, and the detour can be remarkable."
Back to top
---
Ronald Sorkness (BS '72)
Teacher and clinical pioneer in respiratory physiology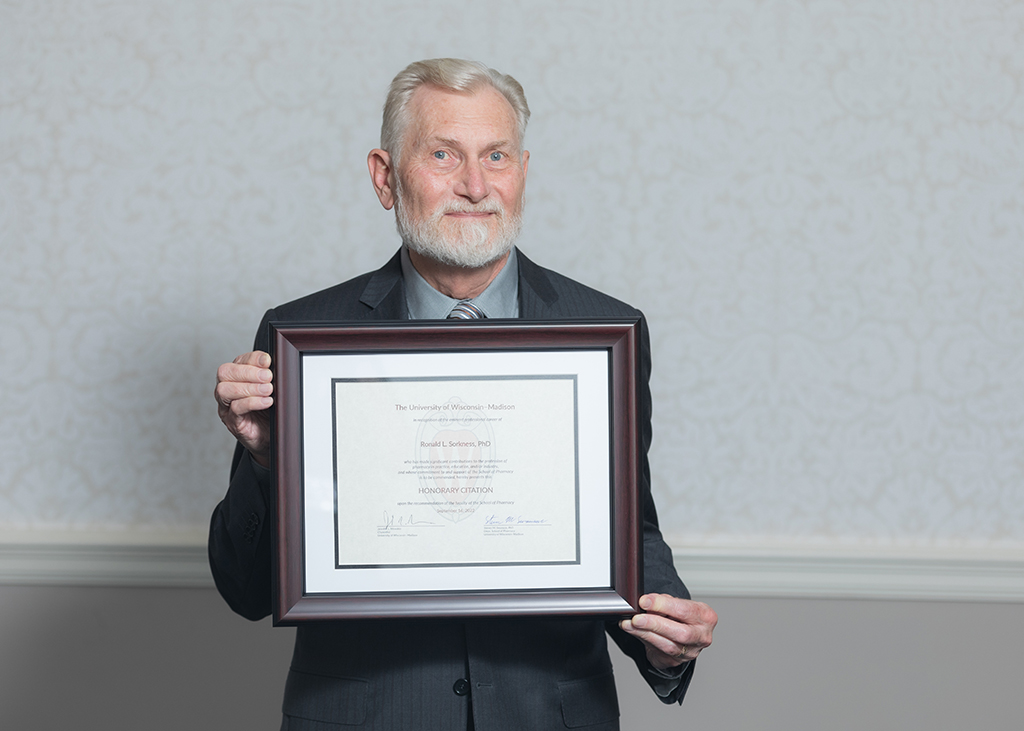 School of Pharmacy Professor Emeritus Ron Sorkness (BS '72, MS '74) retired in 2020 after 43 years as a member of the Pharmacy Practice and Translational Research Division, four of those as division chair. Sorkness' work impacted the careers of countless pharmacists and pulmonary disease researchers.
"Ron has truly given decades of service to the School of Pharmacy," says Barry Gidal, professor in the Pharmacy Practice and Translational Research Division, who nominated Sorkness for the award with Professor and Division Chair Beth Martin. "He was an exceptional teacher, mentor, and translational scientist. He most certainly deserves this recognition."
"To be recognized by people you respect — your peers — is very rewarding," says Sorkness.
Sorkness graduated from the School of Pharmacy in 1972 and was the first resident at UW Hospital to pursue an emphasis in clinical pharmacy and teaching. The University at Buffalo School of Pharmacy and Pharmaceutical Sciences hired him as an assistant professor, and he became the first clinical pharmacy specialist at the E.J. Meyer Memorial Hospital, now the Erie County Medical Center, in Buffalo, New York. When he returned to the School of Pharmacy in 1977, he became the School's third full-time clinical faculty member and joined the Trauma and Life Support Center (TLC) at UW Hospital, with which he was familiar from his residency.
"As a resident, I had gotten interested in critical care and worked with people in that unit, and I had the opportunity to return to that unit as a faculty member," he says. "I had students with me, and together with the staff pharmacists we defined what a pharmacist does on a critical care unit in a hospital, and a lot of what we started is intact today."
"When you run into a former trainee, and they mention to you something that happened when they were working with you that made a difference to them, that's really rewarding."
—Ron Sorkness
Sorkness also collaborated with the clinical nutritionist to implement best practices for enteral and parenteral metabolic support and oversaw the fluids and electrolytes course at the School of Pharmacy he had helped launch as a resident. He found himself curious about respiratory illnesses and why some patients with severe asthma didn't respond well to treatment.
"One thing I came to realize when I was working with the experts in critical care was that the best clinicians were also the best physiologists, and I got to thinking about some of the basic physiology of lung disease," he says. "I thought about the idea of a clinician getting enough training and expertise to do research that would be translational to clinical problems."
With that goal in mind, he joined the research group of Jerome Dempsey, now professor emeritus with the UW School of Medicine and Public Health, to earn his PhD in respiratory physiology while staying on part-time as faculty at the School of Pharmacy.
Through colleagues of his wife, Professor Christine Sorkness, he met Robert Lemanske, a then-new faculty member at the School of Medicine and Public Health who was focused on pediatrics and asthma. The two collaborated to build an animal physiology lab, working with allergic triggers of inflammation and asthma-like ailments in small animals. Soon, veterinary pathologist Bill Castleman joined UW­–Madison and the trio made strides in research.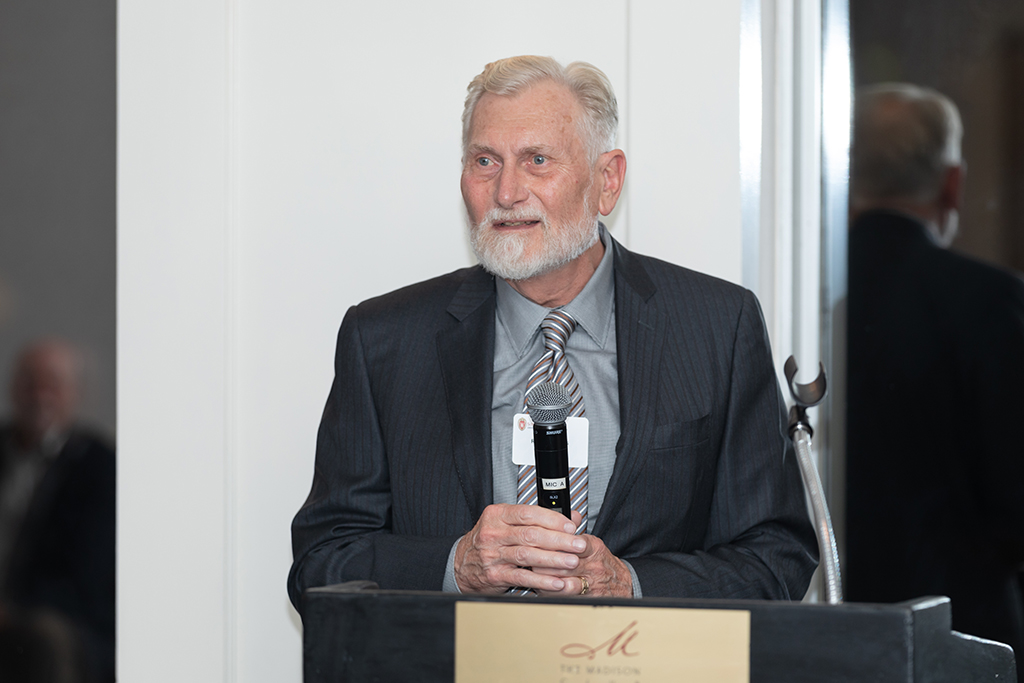 "There's a history on this campus of looking at the relationship between colds and asthma exacerbation, so we got together with Bill to pursue that avenue, and that turned into a wonderful collaboration," says Sorkness. "Bill, Rob, and I covered the spectrum of translational work in allergy and virus infections and how it affects the physiology of the airways."
Sorkness studied asthma and airway obstruction and developed a new understanding of different forms of asthma, and with Lemanske, he examined the effects of allergic inflammatory responses on lungs and developed methods to measure lung function. Sorkness, with colleagues from the Severe Asthma Research Program (SARP), identified key physiological differences between severe and non-severe forms of asthma to explain why some patients with severe asthma do not respond well to treatment.
"Bill Busse, in the Department of Medicine, got me involved with SARP and a multi-center network involving studies of asthma in inner-city children, and that led to a number of additional great collaborations," says Sorkness. "Those are still going, and I'm a little bit involved with both, mainly looking at data that have been acquired by those groups and teasing out new avenues to explore with this very rich database."
SARP has followed a group of subjects in Madison for over 10 years, and Sorkness has enjoyed seeing them again. He feels similarly about those he met during his decades of teaching and training.
"When you run into a former trainee, and they mention to you something that happened when they were working with you that made a difference to them, that's really rewarding," he says. "Research, too — research is a visible, lasting thing, and when you discover something and it's published and gets cited in other articles, that's a lasting thing."
"[Ron] was an exceptional teacher, mentor, and translational scientist. He most certainly deserves this recognition."
—Barry Gidal
As in the field of research, Sorkness has left his mark at the School of Pharmacy: He developed a popular elective Advanced Pharmacy Practice Experience rotation in adult critical care and a fluid and electrolytes course, and taught pharmacotherapy to generations of pharmacists. The 1998 PharmD class named him Teacher of the Year.
In retirement, Sorkness has been playing classical and jazz guitar, studying Italian, and traveling — including a trip to Italy, a cruise in the Western Mediterranean, and a river cruise in Europe, Budapest, and Amsterdam in 2022.
He says his advice for students is simple: "Treat people with respect and kindness. That goes a long way and often comes back to you," he says. "Enjoy life. If you can enjoy your work, you don't mind spending a lot of time at it. It's really important to enjoy time outside of work, too, with friends, family, and hobbies."
Back to top
---
Michelle Farrell (BS '99, PharmD '00)
Advancing community pharmacy practice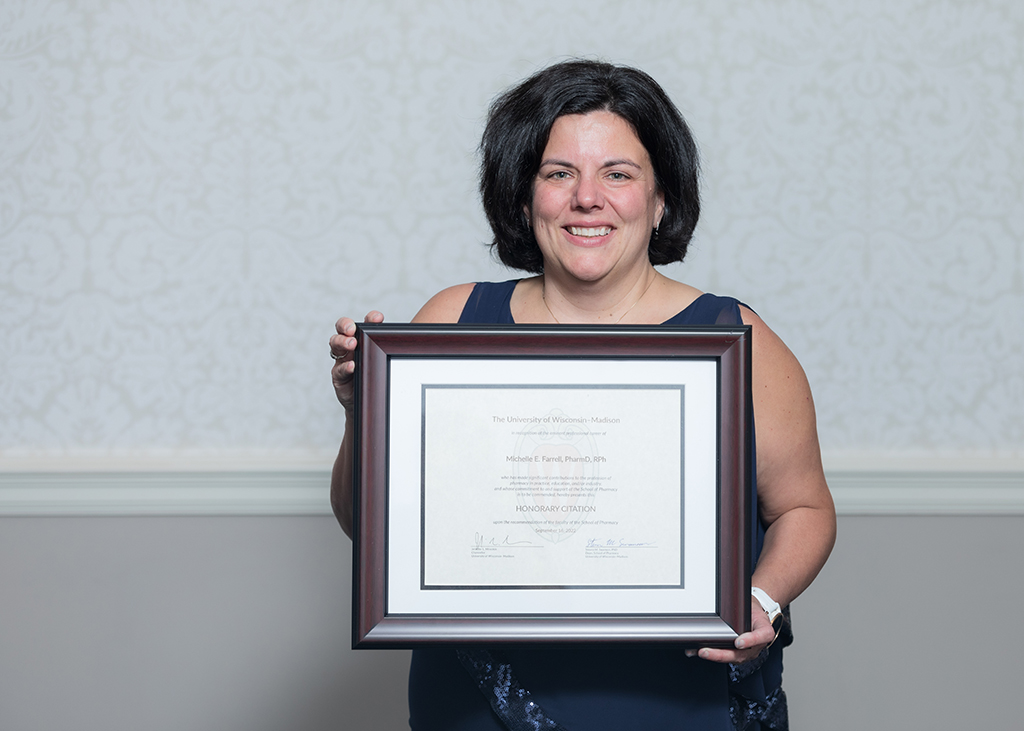 Michelle Farrell (BS '99, PharmD '00) is everywhere in Wisconsin community pharmacy practice.
Not only has she owned and managed Boscobel Pharmacy since 2006 and owns and serves as director of clinical care at Center Pharmacy in Richland Center, but she also practices as a consultant pharmacist for the Boscobel Care and Rehab Center and the Grant County Hospice. She's been a member of the board of directors of the Boscobel Area Health Care Foundation since 2009 and served as president of the Pharmacy Society of Wisconsin in 2017. And since 2016, she has led CPESN (Community Pharmacy Enhanced Services Network) Wisconsin, part of a clinically integrated nationwide network of pharmacies that aim to improve patient care and outcomes by introducing new services and expanding the role of pharmacists. Earlier this year, Farrell was named the CPESN's Most Valuable Pharmacist.
"Michelle has been a leader in developing enhanced non-dispensing pharmacist services in both of her community pharmacy practice locations," says Russ Jensen (BS 70, MS '74), former director of pharmacy at St. Mary's Hospital in Madison, Wis., who nominated Farrell for the award. "She is an outstanding alumna of the School of Pharmacy and has contributed significantly to the profession of pharmacy, to pharmacy leadership, and to her community."
Both of Farrell's pharmacies are rotation sites for the School's Introductory and Advanced Pharmacy Practice Experiences, and Boscobel Pharmacy is also a training site for the School's community pharmacy residency program. She also served as a director of the Pharmacy Alumni Association from 2001 to 2003. Her deep and continued service to the School and to pharmacy practice earned her the 2022 Citation of Merit.
"I am so humbled," she says. "I have attended various award ceremonies with my mentors and have so much respect for past recipients. I feel really blessed to receive it."
"Letting the patient be the guide for your professional objectives is so much more satisfying and rewarding."
—Michelle Farrell
On the cutting-edge of practice, Farrell thanks her team for helping to advance pharmacists' roles and their impact on the community.
"I have an amazing team that supports my vision and helps me pursue our vision of how we want our community to have their pharmacy services delivered," Farrell says. "We aim to treat everyone like family and take care of our patients and one another."
In the past two years, Farrell and her team have added pharmacy services like COVID-19 testing and vaccine administration, point-of-care testing for influenza and strep, fitting patients for continuous glucose monitoring devices, and clinical follow-ups to their already robust slate of services, which include hospice care, comprehensive medication reviews, and services that promote medication adherence.
"We've been asked to help with those services, and patients know they can ask us questions, and that's really exciting, as is seeing broader provider status on the horizon," says Farrell. "I think patients know and love that they can talk to a human being at both my pharmacies."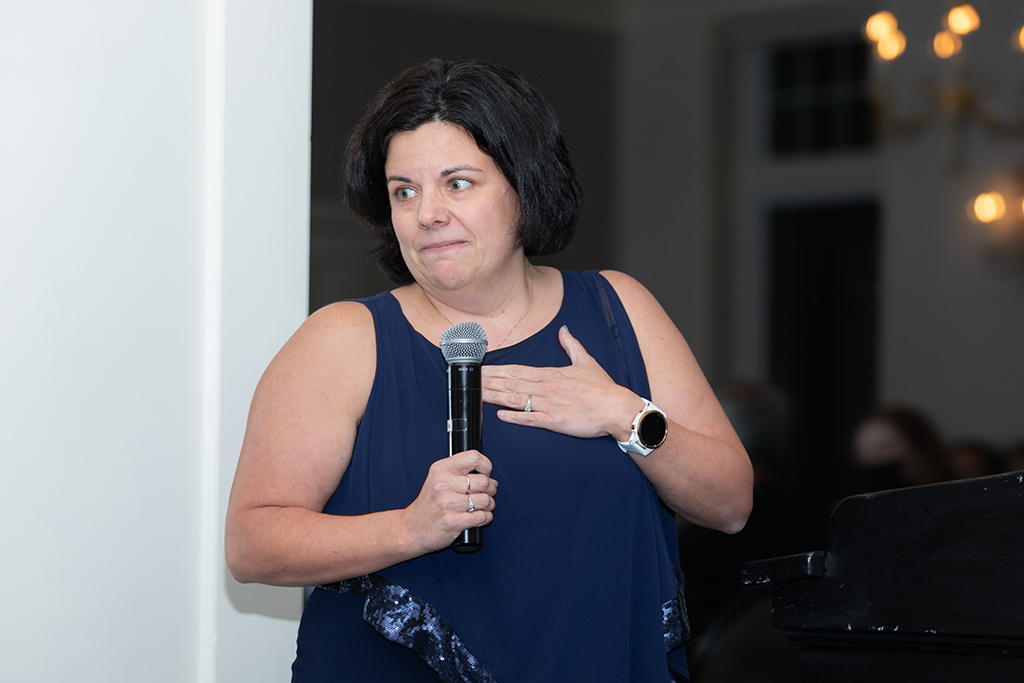 Farrell says she has seen CPESN Wisconsin and the national CPESN gain strength in the past two years, in recognition of community pharmacies' work to test and vaccinate patients, support their communities, and prepare for the pharmacist eCare Plan, which will allow pharmacies to exchange relevant patient information to optimize care.
"Payers and employers are really interested in getting pharmacists involved in the eCare network to improve overall patient health, and it's really exciting to be part of that development," Farrell says. "CPESN Wisconsin has been awarded three Flip the Pharmacy grants to assist the CPESNWI network in their adoption of the pharmacist eCare Plan and adopting longitudinal care of the patient versus only reviewing one prescription at a time."
Farrell says she is most proud of the teams and colleagues with whom she has worked.
"I have been blessed by having mentors who encouraged me to think about the patient and the net impact and to have a team that does the same," she says. "I'm very proud of that because none of these services get done by the owner; it's a team working together to be successful."
At the School of Pharmacy, Farrell joined organizations like Phi Lambda Sigma (the Pharmacy Leadership Society) and the American Pharmacists Association, which she says helped bolster her leadership and organizational skills and provided service to the community. Those experiences inspired her to put new services in place at both of her pharmacies.
"She is an outstanding alumna of the School of Pharmacy and has contributed significantly to the profession of pharmacy, to pharmacy leadership, and to her community."
—Russ Jensen
Farrell advises student pharmacists to absorb everything school has to offer them and think about where they might want to be five or 10 years down the road.
"I started out wanting to be a hospital pharmacist, which is much different than what I'm doing today," she says. "So many of my mentors have encouraged me to think about whatever I do in practice with the patient in mind. Letting the patient be the guide for your professional objectives is so much more satisfying and rewarding."
She encourages new students and residents to "be a sponge and pick up everything around you." She suggests they ask themselves questions like, "Do I understand why things are done this way? Would I do something different?" and says interacting with preceptors helps provide a sense of their professional roles.
"The goal is to find a career that's rewarding," she says. "What's going to be most rewarding to you?"
Back to top
---
John Swann (MS '82, PhD '85)
Empowering change through pharmacy history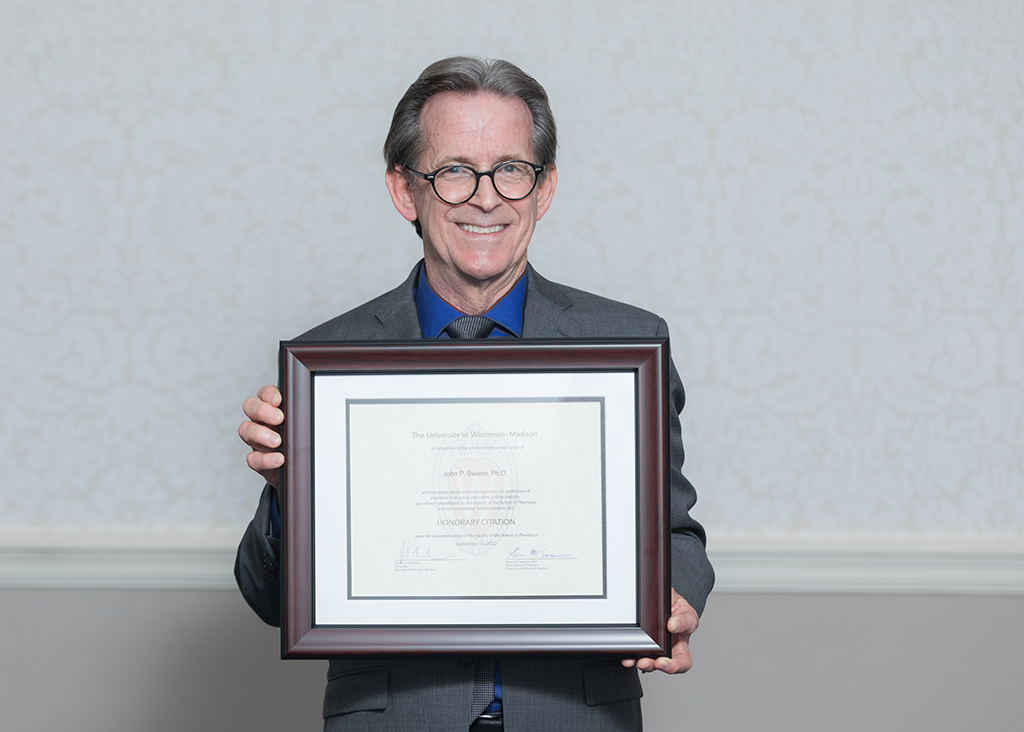 John Swann (MS '82, PhD '85), a historian at the Food and Drug Administration (FDA), communicates with countless audiences in different ways — through exhibits, publications, interviews, and lectures.
"Being in a public service position is something I really value," says Swann, who is also a past president of the American Institute of the History of Pharmacy (AIHP). "Being able to help a wide range of people — scholars, students at all levels, health professionals, people from industry, and sometimes even Congressional staff — has been rewarding. In an era of mis- and disinformation, history is valuable to understand why things are the way they are, in a very factual way."
Lucas Richert, associate professor in the School of Pharmacy's Social and Administrative Sciences Division and George Urdang Chair in the History of Pharmacy who nominated Swann for the award, says his contributions across research, publication, and exhibition are numerous.
"The common thread in his work is the history of drug regulation and the pharmaceutical industry. For instance, he was a pioneer in the history of therapeutics of obesity, establishing the first major works that allowed new researchers to develop new work," says Richert.
Swann's most recent exhibit has been in the making since 2017, when a physician in Burbank, Calif., who had been collecting pharmaceuticals for over 50 years, passed away, and his wife was looking to donate the group, which led her to the FDA. Swann decided to put the collection on display at the FDA.
"I thought this would be a great way to capture the medicines that FDA has been responsible for overseeing, from the late 19th century, even before we had that responsibility, to the 21st century," Swann says. "The collection includes about 3,000 objects — examples of different types of medicine, across the board."
"In an era of mis- and disinformation, history is valuable to understand why things are the way they are, in a very factual way."
—John Swann
The FDA History Office will display the curated collection in museum-quality cases that will also serve as storage for the samples. Through an inter-agency agreement with the Smithsonian branch that creates museum cases, the cases will arrive at the FDA this fall. The exhibit will be housed in the FDA's Center for Drug Evaluation and Research building, with a public-facing website that will include profiles of many of the samples.
"People will learn more about arsphenamine, Benzedrine, and penicillin," says Swann. "We plan to convey the story of therapeutics, and how that's changed, through these objects, and also tell the story of how medicines have been regulated over time. We're hoping it will have an impact on people at the agency, so they can see the role their agency has had in the changes in drug therapy over the decades."
Richert praises Swann for his contributions to the preservation of pharmacy and pharmaceutical data, which can be used by the next generation of researchers.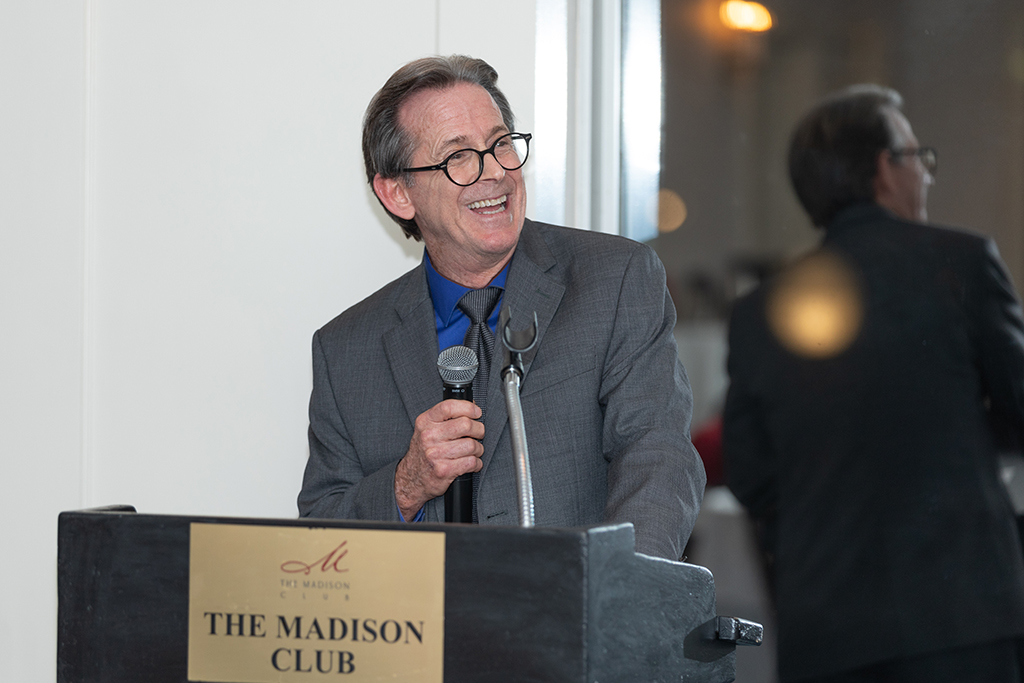 "He has been actively involved in collections of oral histories; in the strategies, acquisition, organization, preservation, and management of museum collections; in resource management of published and unpublished printed and audio-visual records; development of museum exhibits on FDA and related topics," Richert says.
Swann credits UW­­–Madison with educating him both academically and as a public historian. "The University of Wisconsin is who I am as a public historian — Wisconsin taught me to be an historian," says Swann. "It's the core of who I am as a professional. It starts with people I worked under."
Swann credits UW­–Madison professors John Parascandola, Glenn Sonnedecker, and Aaron Ihde, who team-taught pharmacy and history courses, for drawing him to the campus, where he learned the importance of having education serve a public benefit.
"That's the Wisconsin Idea, so I'd like to think that what we do in the history office at the FDA is a small extension of that," he says. "We try to bring more understanding of things, like why it's important that people have worked hard over centuries to secure rights for consumers and patients, and people today shouldn't forget about that. For example, medication labels should be accurate and informative, and the public has a right to expect that and to expect the government to protect and promote their health. That really does go back to the Wisconsin Idea, for me."
Swann recalls Parascandola, Sonnedecker, and Ihde's deep understanding of the field, but also their kindness and generosity with their time and says he tries to carry that on to his work with people as a public historian.
"[John] was a pioneer in the history of therapeutics of obesity, establishing the first major works that allowed new researchers to develop new work."
—Lucas Richert
"I have always treasured my time at the School of Pharmacy," he says, also acknowledging emeritus professors David Kreling, Bonnie Svarstad, and Mel Weinswig, who is also a former dean of the School. "The other grad students made my time there a memorable shared experience — my good friend Greg Higby, Jeff Van Fleet (BS '77, MS '81), Pam Robers (BS '76, MS '81, PhD '85), Paul Ranelli (PhD '87), and Elliott Sogol (BS '79, MS '83, PhD '86) — and I still stay in touch with a lot of them, even after all this time."
Swann says he is honored to receive a Citation of Merit and is looking forward to returning to Madison to accept the honor.
"It has a close place in my heart, and the folks there are great," he says. "I am really honored to think that people look back at what I've contributed and think it merits this kind of recognition. I'm particularly honored for it to be coming from a place as incredible as the UW–Madison School of Pharmacy. It's the best, as far as I'm concerned, and that makes it even more meaningful to me."
Back to top