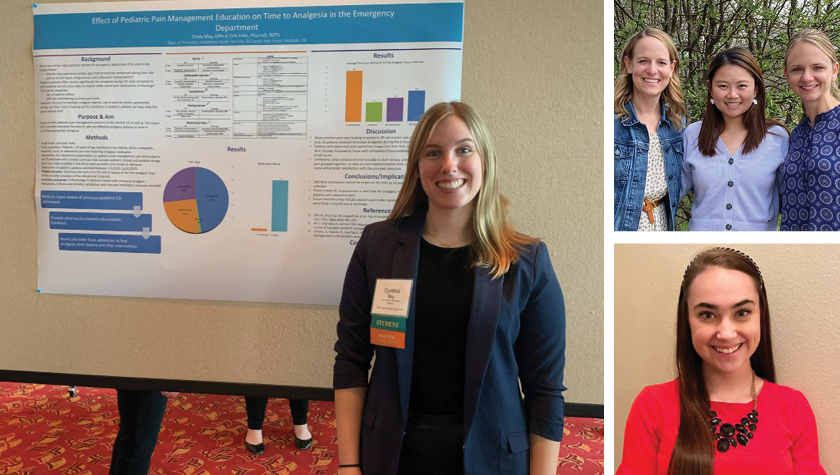 9
May
With a 92% ASHP residency match rate, the School's students outperform national average and find residencies across the country
By Katie Ginder-Vogel
The University of Wisconsin–Madison School of Pharmacy earned one of the highest match rates in the nation in the 2022 American Society of Health-System Pharmacists (ASHP) Resident Matching program. The School's match rate for 2022 graduates, for both Phase I and Phase II of the ASHP PGY1 Residency Match, is 92 percent, with 81 students matched. The national match rate for 2022 grads is 77.7 percent, with 3,968 students matching, out of 5,108 participants.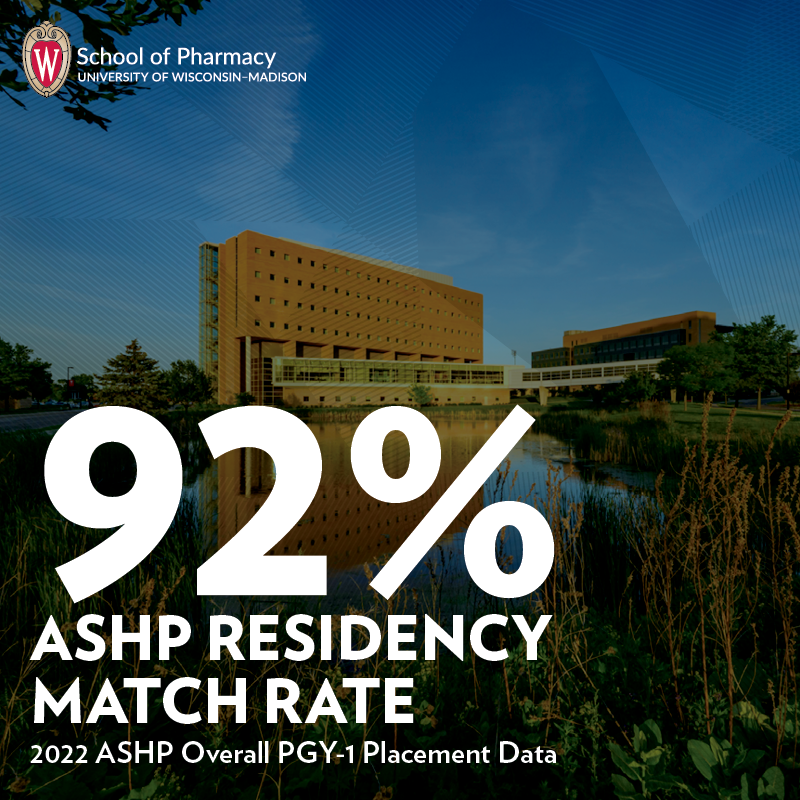 "Our PharmD students consistently excel in residency placement, and the School of Pharmacy had one of our best years to date in 2022," says Steven Swanson, dean of the UW–Madison School of Pharmacy. "Nearly all of the PharmD students who participated in the Match were able to obtain an ASHP residency, thanks to the rigor of our Doctor of Pharmacy program and quality of clinical training."
The UW–Madison School of Pharmacy boasts a long history of residency match success, thanks to the School's focus on preparing and educating students to earn and thrive in residencies, which can be transformational for a pharmacy career.
This year, School of Pharmacy graduates matched all over the state in rural and urban Wisconsin, and across nearly every region of the country — including Michigan, Tennessee, Maryland, South Carolina, Texas, Arizona, California, and even as far as Hawaii. And they are pursuing a broad range of practice areas, including pediatric pharmacy, ambulatory care, rural health, specialty pharmacy, and health-system pharmacy administration and leadership. 
Pharmacy leadership
"My breadth of experiences that I gained in pharmacy school, like research, biopharma regulations, and specialty pharmacy, helped me stand out from other pharmacy students," says Linda Zheng, a fourth-year PharmD student who matched with UC Davis Health in Sacramento, Calif. She will be completing their two-year Health System Administration and Leadership residency and master's program.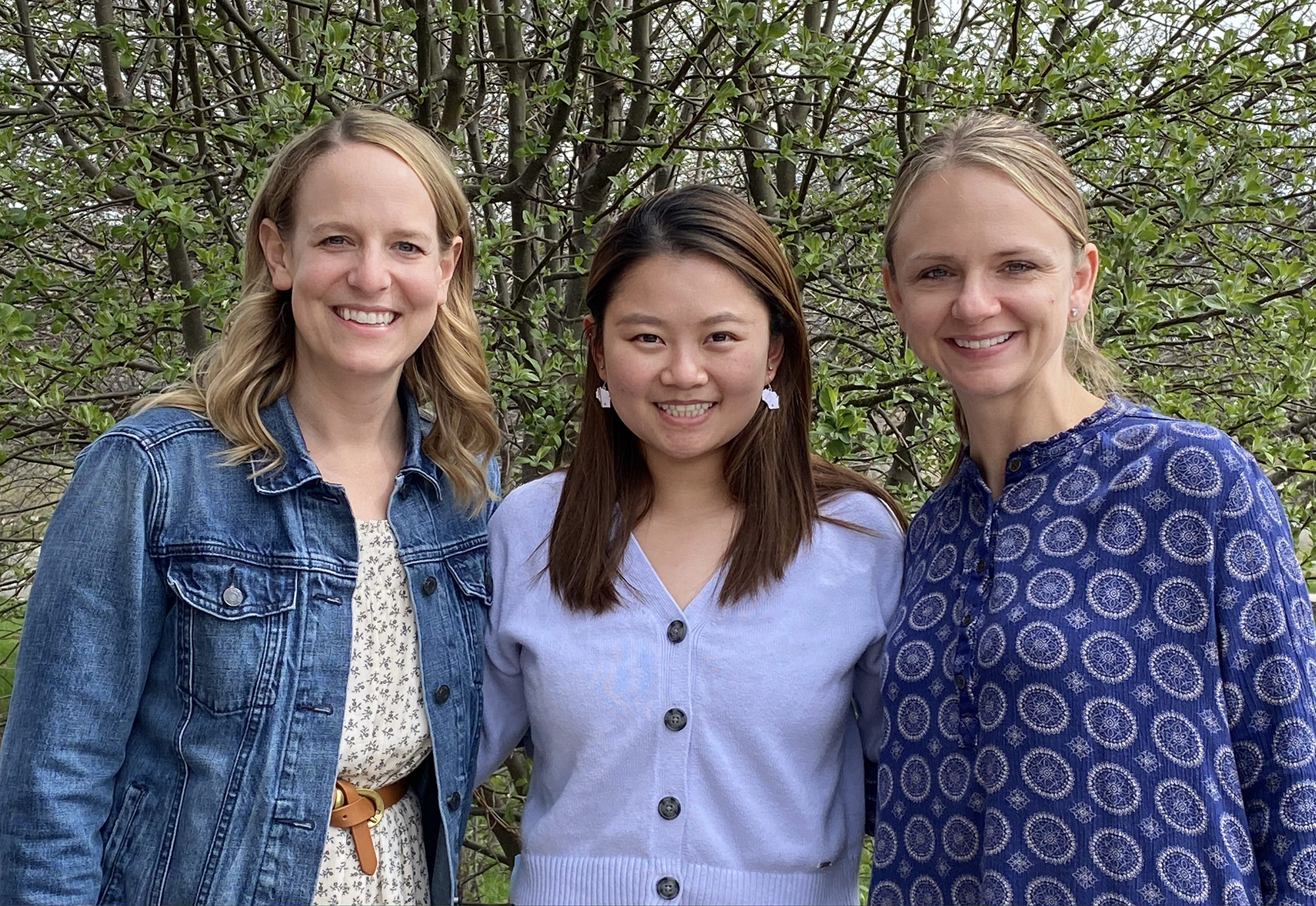 Zheng developed an interest in health system pharmacy administration through an Advanced Pharmacy Practice Experience (APPE) rotation, which is an immersive clinical experience in students' fourth year. During this APPE, she got to be part of a huge pharmacy implementation, during which she saw first-hand how working together as a team and supporting each other can deliver safe and quality care to patients.
She also completed the Operations and Technology Management (OTM) concentration in the School's PharmD program.
"Completing the operations and technology program as part of the PharmD curriculum also helped to shape my interest in value-based healthcare and optimization management," says Zheng. "My goal is to become a pharmacy manager or consultant at a specialty pharmacy after residency, but my ultimate career goal is to become an entrepreneur who can lead a team towards optimizing medication related services and reducing the cost of medications to improve equity of healthcare services." 
Zheng, who grew up near the University of California, Davis, is looking forward to being nearer to family after spending seven years at UW–Madison, as well as gaining more experience with patient care at one of her top residency choices.
"UC Davis Health is a large academic health system with various inpatient and ambulatory care opportunities for residents," she says. "Its affiliation with the University of California further broadens the connections and networks that I can be a part of no matter where I end up after my residency."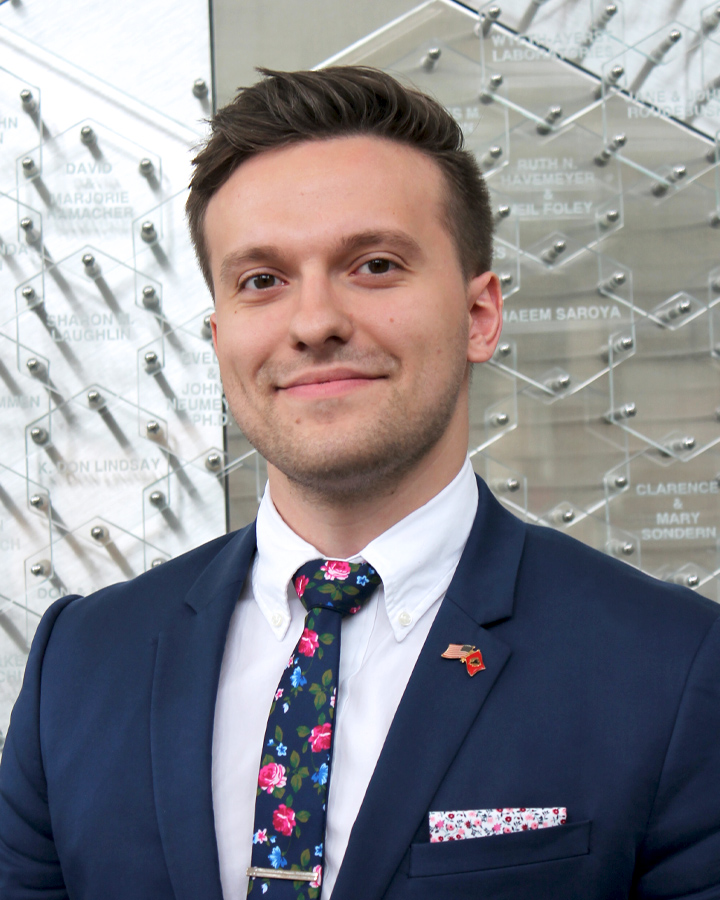 Fitim Useini chose to complete his dual residency and master's degree in Health System Pharmacy Administration through the program offered jointly through UW Health and the School of Pharmacy — recognized as one of the best in the nation.
"UW's legacy, hands-on managerial experiences, mentorship, and opportunities to lead long-lasting initiatives and provide a learning experience that is unmatched," he says. "This allows residents to develop the administrative, leadership, and clinical skills needed to succeed in large health systems." 
Useini says the School of Pharmacy prepared him well for residency because it emphasizes leadership within the academic curriculum and provides opportunities to get involved in organizations and named options.
"I believe being open-minded and trialing different things throughout pharmacy school allowed me to have unique viewpoints and ideas that are sought after in residency," he says.
He looks forward to seeking out areas of improvement, updating practice models, and trialing new and unique practices to drive healthcare forward during his residency.
"Looking at the things that 'have always been done that way' and challenging them to adapt as times evolve has been my mindset, and this residency embodies that," he says. "I want to be able to develop and lead initiatives that maximize efficiencies in technical duties to allow pharmacists to devote their time to patient care, as well as find new and creative ways of delivering patient care."
Pediatric care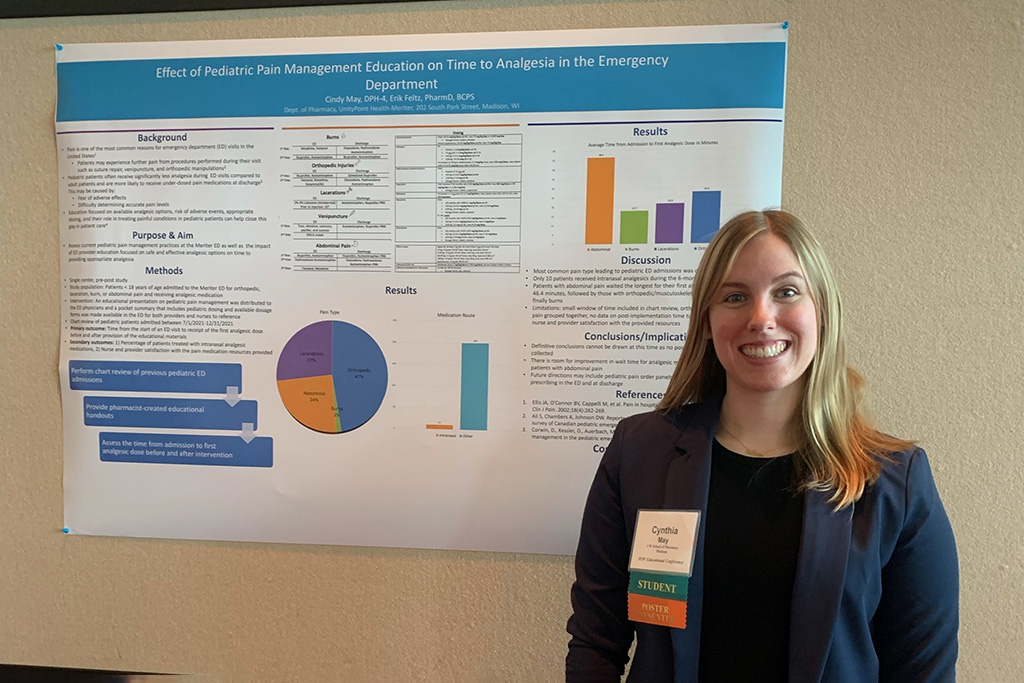 Cynthia May matched with Ascension Seton, Dell Children's Medical Center in Austin, Texas, to complete a PGY-1 pediatric-focused residency. 
"I selected Ascension Seton and Dell Children's Hospital because I liked the idea of doing a residency that is mostly pediatrics-focused but still includes some adult rotations, so I can have a well-rounded rotation schedule," May says. They also offer a pediatrics-focused PGY-2 in critical care, which May is interested in.
May hopes to become a clinical pharmacist in a children's hospital and is particularly interested in critical care, emergency medicine, solid organ transplant, and general pediatrics. She'd also like to be a mentor for students.
"I am interested in pediatrics because my work feels important every day, knowing that I am advocating for sick kids and hopefully making their treatment course a little smoother," May says. "I have always loved working with kids, and it makes my day to see kids smiling and happy, despite staying in the hospital."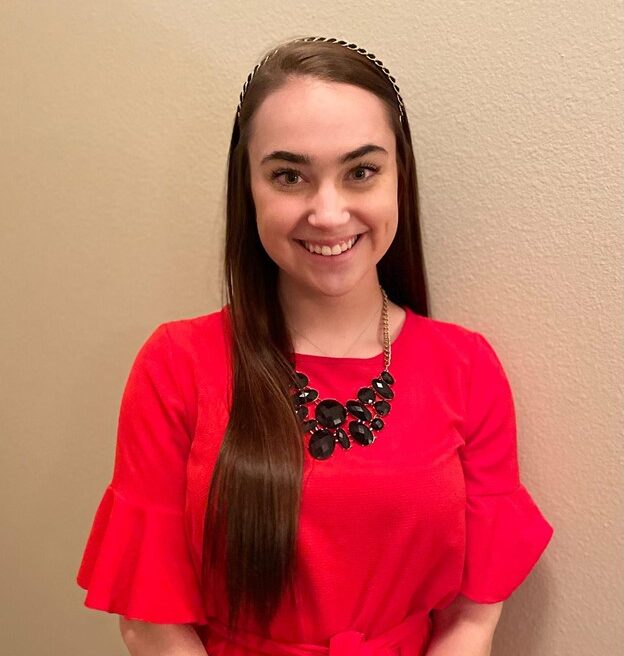 Lauren Pfeil, who is also interested in a career in pediatric pharmacy, matched at the University of Hawaii at Hilo, the first UW–Madison School of Pharmacy graduate to match there. Pfeil will be based in Honolulu, where three of the state's main hospitals are headquartered. The Hawaii Pacific Health System is closely associated with the University of Hawaii School of Pharmacy.
"I love Hawaii, and when I researched the program, I learned that it has a pediatrics component and is run by a peds pharmacist," says Pfeil. "Kids are where my heart lies. I did an APPE rotation in the UW Health NICU (newborn intensive care unit) and loved it. The School of Pharmacy sets you up for the next step after graduation."
Ambulatory care
Tuyet Nguyen matched with an ambulatory care residency at El Rio Health at the University of Arizona, which she chose in order to pursue her passion for working with underserved patients.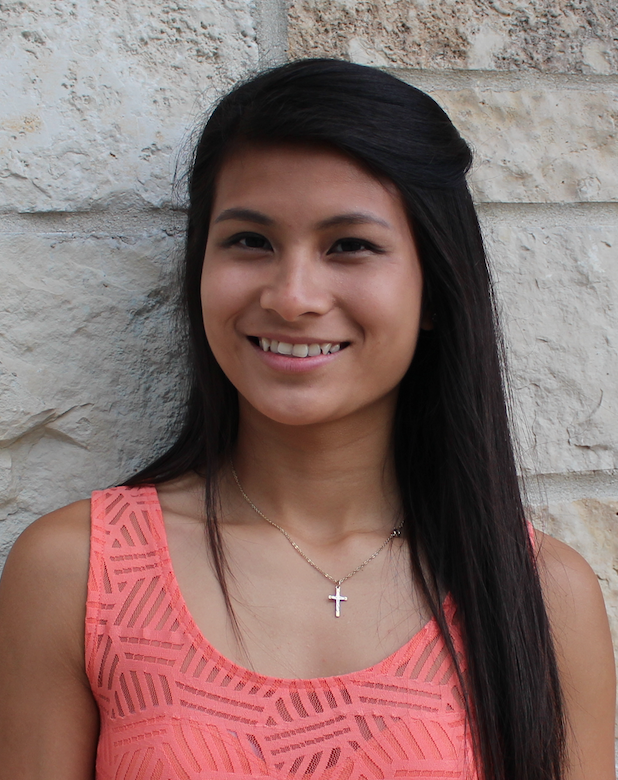 As an ambulatory care, or outpatient, pharmacist, Nguyen will work with an integrated health care team to develop strong partnerships with patients, families, and the community to manage patients' medication needs.
"Pharmacists at El Rio are embedded in the clinic workflow and are highly relied on by other providers," says Nguyen. "It's extremely rewarding to know that you can make a difference in patients' lives and be an important part of that healthcare team where your decisions really matter."
She is also excited to join El Rio because it is a federally qualified health center that receives significant funding to serve their community and patients.
"One of my biggest career and life goals is to be able to provide the best care for my patients," says Nguyen. "I can't think of anywhere better to kickstart my journey than here at the University of Arizona – El Rio Health."
Competitive applicants
The School of Pharmacy's consistently high ASHP pharmacy residency match rate is no coincidence. Between ongoing faculty research fueling a cutting-edge curriculum, excellent clinical training, and specialized PharmD curricular options, the School's PharmD graduates have access to an incredible breadth and depth of experience across the pharmacy spectrum.
May says several things helped make her a competitive candidate for residency. Her internship at UW Health allowed her to attend patient rounds with the medical team, consult patients, and dose medications. Her internship at Walgreens helped her gain outpatient pharmacy experience and time management skills. She also completed the School's Residency Track APPE program, which includes a longitudinal research project and several rotations within the same health system to mimic the depth of a residency experience. 
"The School of Pharmacy sets you up for the next step after graduation."
—Lauren Pfeil
"Finally, having multiple APPE experiences in pediatrics through the School has given me a baseline knowledge of pediatric pharmacy that will really help me when starting a pediatric residency," she says. 
Nguyen credits the School of Pharmacy's rigorous curriculum and strong mentorship for preparing her for residency and beyond.
"In addition to that, my involvement in our state and national organizations has had a lasting impact on the positive network of professionals I was able to establish," she says. "Because of all this, I was pushed beyond the scopes of my comfort zones and have grown as a competent student and future pharmacist."