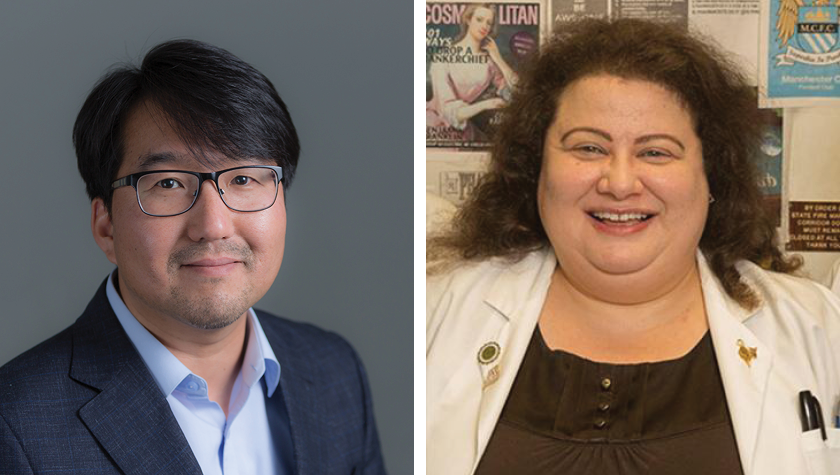 6
March
Professor Seungpyo Hong and alumna Heidi Mansour are inducted as fellows for their contributions to nanotechnology and pulmonary disease treatment
By Jenny Price
A University of Wisconsin–Madison School of Pharmacy professor using nanotechnology to improve cancer diagnostics and treatment and an alum advancing the development of dry powder inhalers to treat and prevent pulmonary diseases are being inducted as 2022 fellows of the American Institute for Medical and Biological Engineering (AIMBE).
Seungpyo Hong, the Milton J. Henrichs Chair in Pharmaceutical Sciences, and Heidi Mansour (BS '96, PhD '03), a professor and program leader with the Center for Translational Science at Florida International University, are among 153 new members nominated, reviewed, and elected by peers and members of the AIMBE College of Fellows for outstanding contributions to medical and biological engineering.
The College of Fellows represents the top 2 percent of medical and biological engineers and counts three Nobel Prize winners and 18 recipients of the Presidential Medal of Science and/or Technology and Innovation among its ranks. AIMBE fellows have helped revolutionize medicine and related fields to enhance and extend the lives of people all over the world and furthered the organization's mission to provide leadership and advocacy in medical and biological engineering for the benefit of society.
School of Pharmacy Professor Seungpyo Hong: Cancer diagnostics and treatment
"My research has always focused on how to improve patients' lives and how to improve the current techniques that treat and detect cancer," says Hong, whose work includes seeking new ways to target drugs to where cancers are located in the body.
"I feel blessed because I'm doing what I want to do, which is research, and at the same time — if I get lucky enough — I can have good potential to directly help people," he says. "If you come up with a completely new method of cancer treatments and diagnosis, it can not only help one patient at a time, but millions of patients."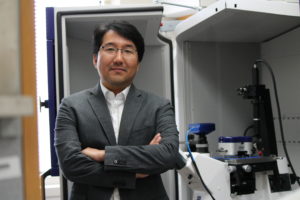 Hong earned his PhD in macromolecular science and engineering at the University of Michigan after working as a researcher at Korea Institute of Science and Technology (KIST), and he completed his postdoc at the Massachusetts Institute of Technology (MIT). He spent nine years on the College of Pharmacy faculty at the University of Illinois at Chicago before joining the UW–Madison School of Pharmacy in 2016.
At the School, Hong's research group develops novel nanoscale materials for drug delivery and liquid biopsy. Notably, he recently published a research paper in Journal of the American Chemical Society and filed a patent on new nanoparticles that can activate immune responses to cancer cells and are both cheaper to produce and easier to engineer than the antibodies that underlie current immunotherapies, which could cost tens of thousands of dollars a month.
Most recently, with a new $1 million grant from the Falk Medical Trust, he's undertaken a project to create an inhalable treatment that uses aerosolized "smart" nanoparticles that can potentially stop the progression of idiopathic pulmonary fibrosis and reverse the damage already done to the lungs. 
"If you come up with a completely new method of cancer treatments and diagnosis, it can not only help one patient at a time, but millions of patients."
—Seungpyo Hong
Hong is also the director of the Wisconsin Center for NanoBioSystems in the School of Pharmacy and the co-founder of Capio Biosciences, a startup based in Madison and South Korea that is working to enhance the capture of circulating tumor cells for cancer diagnosis and monitoring. His work has culminated in more than 100 peer-reviewed articles, one co-edited book, eight book chapters, and more than 20 issued or pending patents.
Hong hopes to see this work translated to a clinical setting within the next five to ten years, including his research on cancer immunotherapy and nanoparticles that can deliver different types of drugs at the same time to maximize their therapeutic efficacy. He credits his entrepreneurial mindset to his postdoctoral adviser Robert Langer, the MIT scientist who co-founded Moderna.
"I really put a lot of emphasis of translational science," Hong says. "I want to have my students work on the bench, working on projects that can potentially be used in real life to help patients."
Florida International University Professor Heidi Mansour: Preventing and treating pulmonary diseases
Mansour began doing research as a pharmacy student at the UW–Madison School of Pharmacy, working on the surface chemistry and biophysics of lung surfactant phospholipids and a synthetic peptide that mimics SP-B lung surfactant protein and their role in respiratory distress syndrome, which captured her ongoing interest in helping people with lung diseases. She expanded on that research during her time in the Pharmaceutical Sciences PhD program with professor emeritus and former dean George Zografi, a leader in modernizing pharmaceutical technology, as her PhD major professor.
"I had the honor of being his last graduate student, which meant I got to learn a lot from him because he had all this experience," Mansour says. "It also meant high expectations as well, which is a good thing."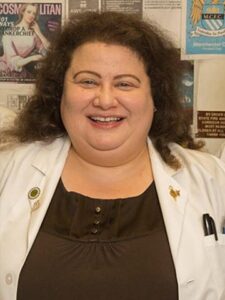 Mansour recalls how she, Zografi, and his post-docs all physically moved the delicate instruments in his labs piece-by-piece from Chamberlin Hall to the newly opened Rennebohm Hall in 2001 so they wouldn't get damaged.
"I've always been very grateful for the education that I received at Wisconsin," says Mansour, whose parents are also UW alumni, along with some siblings and cousins. "We're all Badgers."
Since graduating from the School of Pharmacy, Mansour has worked at the intersection of multiple research disciplines — aerosol physics, respiratory physiology, drug delivery, nanomedicine, neuroscience, and pharmaceutical sciences. Her efforts have focused on designing and developing dry powder inhalers aimed at pulmonary conditions and diseases that affect millions of people around the world, including cystic fibrosis, lung cancer, asthma, chronic obstructive pulmonary disease, respiratory distress syndrome, pulmonary fibrosis, pulmonary infections, and pulmonary hypertension.
In addition to her research and NIH grants in neurodegenerative diseases, she has also researched inhalation therapeutics and vaccines for COVID-19, finding that the inhaled route of medication administration might take a more direct path to treating the disease that primarily infects the respiratory tract.
Mansour joined the faculty at Florida International University Center for Translational Science in January after nine years at the University of Arizona and her post-doc at the University of North Carolina at Chapel Hill with Anthony Hickey, a pioneer in pulmonary drug delivery. She has authored over 100 peer-reviewed journal publications and 15 book chapters, co-edited two books on inhalation aerosol medicine and nanomedicine, and has 10 issued or pending patents on innovative microparticle/nanoparticle formulations for inhalation drug delivery, novel topical drug delivery systems for local skin drug delivery and transdermal drug delivery systems for neurodegenerative diseases.
"I've been fortunate to be able to bring those two worlds [pharmacy and research] together in my own program, and that's very important to the institute — that the work that we do positively benefits society."
—Heidi Mansour
She has been active in mentoring and training future generations of scientists, from undergraduates up to research faculty, including minorities and women. She has graduated five PhDs as major professor, trained 13 postdocs as postdoctoral advisor, and is a mentor to several research faculty members in her innovative research program.
Being a registered pharmacist is a "perfect marriage" with her experience as a laboratory researcher to develop new ways to deliver drug treatment that will work outside the lab, she says.
"I've experienced what patients accept, what they don't accept, what works for them, and what doesn't work for them," Mansour says. "I've been fortunate to be able to bring those two worlds together in my own program, and that's very important to the institute — that the work that we do positively benefits society."