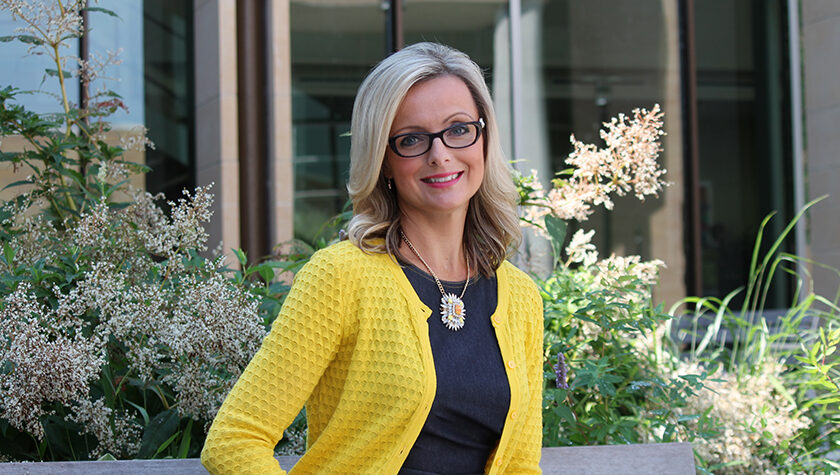 12
September
The Pharmacy Alumni Association honors Martin for her career in pharmacy education and leadership
By Katie Ginder-Vogel
Beth Martin's pharmacy journey started long before she enrolled at the University of Wisconsin–Madison School of Pharmacy.
Her family owned and operated Stieber Drug Store, along the main drag through the small village of Marathon City in Central Wisconsin. Martin (BS '90, MS '03, PhD '06) saw firsthand how important the expertise of a pharmacist was — especially in rural areas without many healthcare options — and how the profession is centered on entrepreneurism and innovation.
After watching her father, Jerome Stieber (BS '54), manage the pharmacy, and her brother, Brian Stieber (BS '81) follow in his footsteps, Martin set out on the same road but carved out her own path as a pharmacy leader, educator, and researcher.
Today, she's the assistant dean for teaching and learning at the School of Pharmacy, as well as professor and chair of the Pharmacy Practice Division. She is an elected fellow of the American Pharmacists Association (APhA) Academy of Pharmaceutical Research and Science, a fellow of the UW–Madison Teaching Academy, a 2011 winner of the Wiederholt Prize for best paper published in the Journal of the American Pharmacists Association, the Pharmacy Society of Wisconsin's 1995 Young Pharmacist of the Year, and recipient of both the Excellence in Assessment and Innovative Teaching awards from the American Academy of Colleges of Pharmacy.
"Her passion and energy for our profession positively influences future pharmacy practitioners, colleagues, and all of our alumni network."
—Jason Bergsbaken
And now, she has a new feather in her cap: Martin is being honored as the Pharmacy Alumni Association's 2021 Alumnus of the Year.
"Beth Martin is very deserving of the PAA Alumni of the Year Award," says Jason Bergsbaken (PharmD '12), PAA president. "Her passion and energy for our profession positively influences future pharmacy practitioners, colleagues, and all of our alumni network."
"When I learned about the award, I was shocked," says Martin, laughing. "I said to my son, 'You know your mom's old when she's getting Alumnus of the Year.'" 
Joking aside, Martin says she is honored to be recognized among her School of Pharmacy alumni peers. 
"We're all alumni together and all contributing to the field, so to have the spotlight for a little bit is humbling. It's an honor, and it means a lot," Martin says. "I have so much Badger pride, I like to say I'm Badger red, through and through."
Improving care and education
Although she's now a nationally recognized leader in pharmacy education, Martin first pursued a career in managed care pharmacy after graduating from pharmacy school. 
"I was empowered as a pharmacy practitioner in the staff model HMO environment, part of an interprofessional team, and got to contribute my time and talents," she says. "I loved my colleagues and the patient and clinician interactions."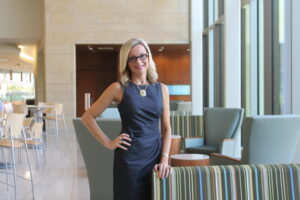 But Martin wanted to impact pharmacy practice at a fundamental level scale, equipping pharmacists with the tools and education they need to practice at the top of their license, so she joined the Wisconsin Pharmacists Association, which became the Pharmacy Society of Wisconsin, as the director of educational affairs. In 1998, she came back to the School of Pharmacy as a clinical instructor and director of the pharmacotherapy labs for the Doctor of Pharmacy program and implemented objective structured clinical exams — performance-based assessments — into the curriculum to improve student outcomes.
"I chose this career path because of the students," she says. "It's always been about the students." 
Since then, she has continued to innovate and explore new ways to design, implement, and evaluate the effectiveness of educational methodologies to enhance pharmacist and patient learning and confidence. She also looks at how much performance-based abilities, like communication skills and problem-solving abilities, transfer from the learning environment to the practice setting or home.
Martin has developed tools and instruments to measure student outcomes, supported a teaching certificate for Wisconsin-based pharmacy residents, including the School's Community Pharmacy Residency program, and helped create a "course snapshot" tool to track changes, student performance, learning modalities, and evaluation methods for courses. On the greater UW–Madison campus, she has influenced the design of training and education programs like the Teaching and Learning Symposium, Teaching Academy Summer Institute and LEaP programs, and she has done the same for state, national and international workshops.
But her multi-faceted research also includes pharmacy practice, particularly for geriatric patients.
"I chose this career path because of the students. It's always been about the students."
—Beth Martin
"I really have valued my community-based research projects that have targeted older adults in promoting better communication with healthcare professionals, especially pharmacists, and reducing adverse drug events," says Martin. For example, she helped create Med Wise, which is a program designed to help older adults communicate with pharmacists about their medications.
 "Colleagues in Canada have adapted our Med Wise tools, and now we are collaborating with others to adapt them for other targeted groups," says Martin. "This research values the many stakeholders, especially patients and their advocates, and their expertise to make the outcomes of the research projects meaningful, translatable and sustainable."
Her achievements in leadership, research, and practice led her to be elected chair of the School's Pharmacy Practice Division in 2019.
"I have felt so fortunate to have colleagues trust me to be their division chair, especially through the pandemic," she says. "It's been an honor to see so many of them give to the community by promoting vaccinations, developing outreach programs, and volunteering at campus and community centers. Wisconsin pharmacists and student pharmacists are incredible, and patients were able to experience it first-hand."
Mentee and mentor
Martin's career is entwined with the School of Pharmacy in multiple ways. While on the School's faculty, she decided to pursue her master's degree and PhD from the School's Health Services Research in Pharmacy program. Simultaneously, she was faculty, student, and alum. Her colleagues became her teachers.
Professor Betty Chewning mentored Martin through graduate school and inspired key teaching techniques Martin still uses.
"I learned so much by watching Betty teach," says Martin. "She regularly asked what we wanted to cover in the class, and that has influenced the way I teach. In my electives I have often asked my students what they want to get out of the class or prioritize on a specific day."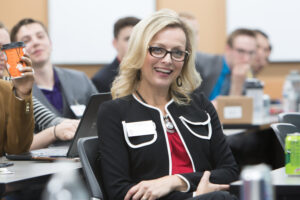 Through her time as student, faculty, and division chair, Martin has forged many mentor relationships, including with former Professor Larry Boh, who was chair of the Pharmacy Practice Division when Martin first joined the faculty and is the namesake of the School's Larry Boh Clinical Instructor Excellence Award.
"Larry was such a pillar," says Martin. "He was always the one checking in on me, and he modeled to me what a great division chair was. I hope I took on some of his mannerisms."
Her strong mentor connections have led her to pay it forward, going above and beyond to nurture the curiosity and enthusiasm of future pharmacists, helping lead the School's entrepreneurial-focused SHARx Tank event, along with George Zorich (BS '78) and Tom Thielke (BS '67, MS '69).
"I have been so fortunate to partner with these two amazing leaders in pharmacy," says Martin. "I am in awe every time we are together with the students and helping guide their ideas and strategies."
And with a background in musical theater, she knows how to captivate and connect with her students.  
"The whole classroom is a stage, and we all interact," Martin says. "I look for students in the classroom who are fully engaged, and I feed off those students. Each person deserves our best attention."
Martin appreciates her ability to have an impact on more and more students, pharmacists, and patients as her career has progressed. As a professor, she influences students, who become practitioners, who leave their own mark on patient care. 
"We have such a strong alumni base, and I'm a proud partner in that. As an alumnus and faculty member, I experience the best of everything."
—Beth Martin
"I've been at the School for 23 years, and I love the students' energy, drive, and questions that keep you on your toes," Martin says. "If I can't answer questions about why we're doing something a certain way, or why it's important, I'm not doing my job." 
Being named Alumnus of the Year is an honor that carries a special weight, says Martin, because she knows the caliber of Badger pharmacy graduates — she's been assessing it for years.
"I'm so proud of everyone that's come out of the School of Pharmacy, and I enjoy seeing where they are, hearing their stories, and connecting," she says. "We have such a strong alumni base, and I'm a proud partner in that. As an alumnus and faculty member, I experience the best of everything."