Risk Factors for Acute Kidney Injury after the Use of Antibiotic Loaded Bone Cement in Orthopedic Surgery – a Retrospective Case-control Study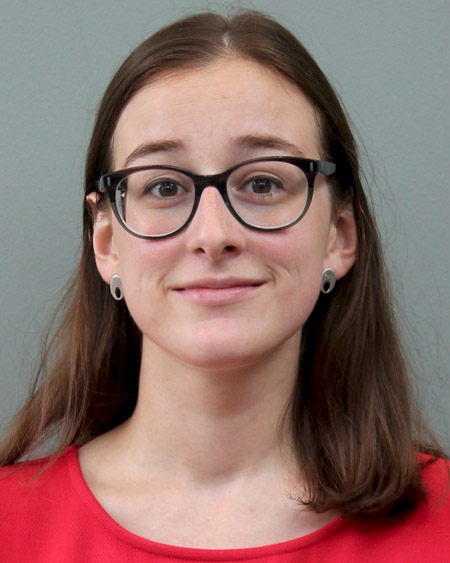 Darina Georgieva is currently a third-year pharmacy student at UW–Madison. She is completing the Pharmacy Operations & Technology Management(OTM) named option and works as an ambulatory pharmacy intern at UW Health.
Her practice interests include specialty pharmacy, pharmacy operations/administration, and infectious diseases.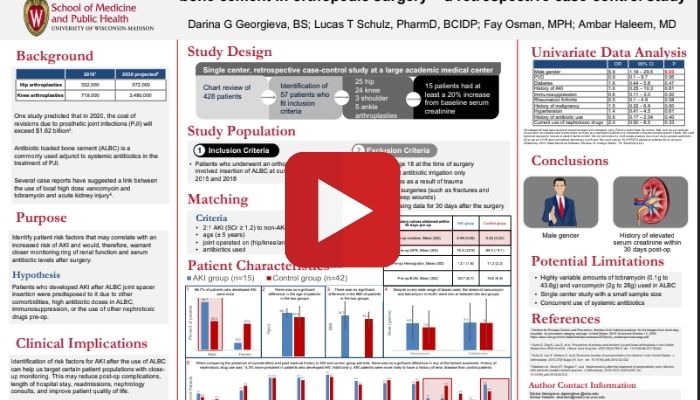 Background
As the number of joint replacement surgeries continues to rise, so does the number of joint infections. Many patients end up needing the implantation of antibiotic loaded bone cement (ALBC) to treat their infection. The use of localized high dose vancomycin, tobramycin, and gentamicin may be linked to acute kidney injury (AKI) in certain patients. Our hypothesis is that patients who developed AKI after receiving a joint spacer had a predisposition to AKI due to other comorbidities, high antibiotic doses in ALBC, immunosuppression, or the use of other nephrotoxic drugs pre-op. These patients may need close monitoring of their renal function and serum antibiotic levels after surgery.
Methods
We performed a chart review of 428 patients who underwent an orthopedic surgery that involved insertion of ALBC at our institution between 2015 and 2018. We excluded patients under age 18, those who had antibiotic irrigation only, trauma patients, non-arthroplasty surgeries (such as fractures and debridement of deep wounds), and patients with missing data for 30 days after the surgery. We identified 57 patients who fit our inclusion criteria and received a bone cement spacer or beads to treat an infection of the hip, knee, shoulder, or ankle. We matched patients who had AKI to 2 patients who did not have AKI. Matching was based on age (±5 years), joint operated on, and antibiotics used.
Results
Fifteen patients showed an elevated serum creatinine level of over 1.2 within 30 days of surgery. Also, 86.7% of these patients were male, their average age was 64.1 (±6.2) years old, 40% had hip surgery, 46.67% knee surgery, 6.67% ankle, and 6.67% shoulder. All received vancomycin and tobramycin in Palacos bone cement. Compared to their case-control matches, these patients had more frequent use of immunosuppressive medication, a history of malignancy, a history of previous kidney disease, and obesity. The use of combined intravenous vancomycin and piperacillin-tazobactam post-operatively may also be linked to higher rates of AKI.
Conclusion
Immunosuppression, obesity, male gender, and history of kidney injury and cancer are factors associated with AKI after ALBC spacer implantation. Further analysis and study are needed to identify potential causation between ALBC use and AKI.
View Poster