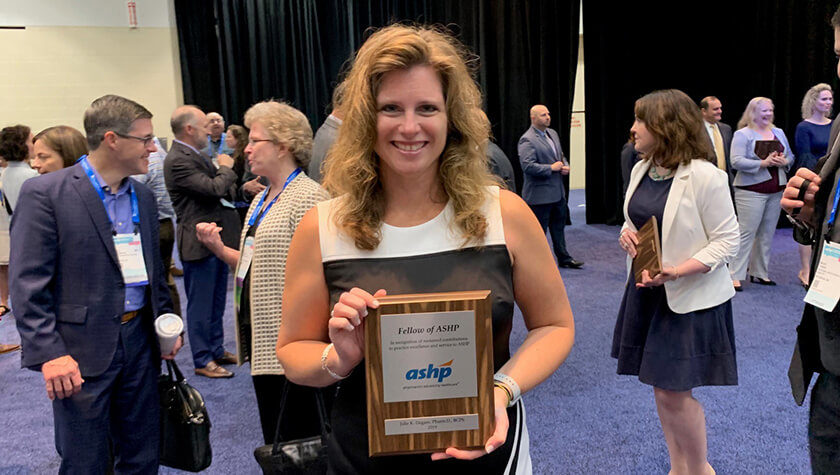 10
September
Inspired by her mentors, Dagam is driven to give back to the profession through precepting and leadership
By Hanzhu Tang
Julie (Martin) Dagam has known since high school that she wanted to go into pharmacy. "I knew I liked math and chemistry and I wanted to go into health care," says Dagam. "Pharmacy just seemed like the perfect fit."
Even before becoming a student at the University of Wisconsin–Madison School of Pharmacy, Dagam (BS '98, PharmD '99) was working in the world of pharmacy as a technician in Milwaukee. And her decades of devotion to the field have paid off, leaving a broad impact on pharmacist education and earning her a well-deserved honor from an organization she's been engaged with since she was a student pharmacist.
Dagam has been inducted as a 2019 American Society of Health-System Pharmacists (ASHP) fellow, an honor that recognizes pharmacists nationwide who have excelled in pharmacy practice and made distinguished contributions to health care. Dagam is among 22 pharmacists honored as fellows in 2019.
"I am incredibly humbled and honored to be considered among the fellows, especially as I still look forward to so many more years of my career," says Dagam. "I think it's even more of an honor to be able to contribute to the profession in an organization that gives me and my colleagues so much."
Dagam has been a member of ASHP's Commission on Credentialing since 2017, which has enabled her to connect with partnership organizations and influence the standards and accreditation of pharmacy residency programs across the nation. She's now in her third year on the commission, currently as an appointed member. Next term, she's slated to become vice chair, and will take over as chair of the commission in 2021.
"The greatest satisfaction I have is seeing all of the residents that have gone through the programs and all of the amazing things they're doing with their careers in terms of patient care and advancing the profession." –Julie Dagam
Her influence on the profession is felt locally, in her home state of Wisconsin, as well. In 2018, Dagam was honored by the Pharmacy Society of Wisconsin (PSW) with an Excellence in Innovation Award to celebrate her contributions to creating the Wisconsin Pharmacy Residency Conference. Dagam helped establish the planning committee and co-chaired the committee to shape the first conference.
"I'm really grateful to the UW–Madison School of Pharmacy for providing the solid knowledge base that formed the foundation for the rest of my career," says Dagam. "I had so many great experiences as a student and a resident, and I wanted to pay it forward."
Passion for mentorship
After graduating from the School, Dagam completed a PGY-1 residency at Aurora Health Care in Milwaukee. After completing her residency, she stayed with Aurora as a pharmacist and then as a clinical coordinator and residency program director.
"As the number of residents and residency sites within Aurora grew, I began to coordinate all of them," says Dagam. "My job has really evolved to focus on residency training and coordinating all of our residency programs across the organization."
To give Wisconsin residents the opportunity to showcase their work and their research, Dagam collaborated with PSW and other residency directors in the state to organize the first-ever Wisconsin Pharmacy Residency Conference in 2018.
"We wanted to highlight the work that residents across the state were doing and be able to share that work locally in a forum that would reach all types of audiences within the pharmacy profession," says Dagam. Through posters or podium presentation, residents can share their yearlong research project with their peers, health system leadership, and other researchers.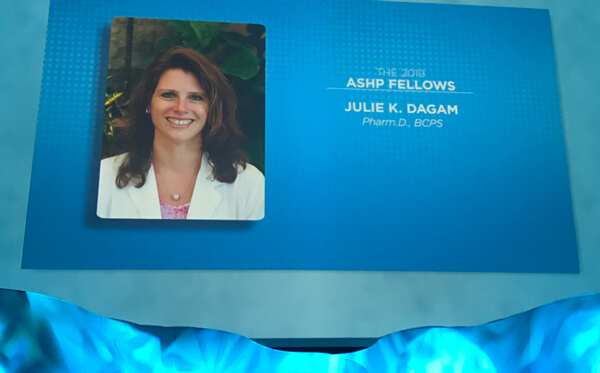 "It was definitely a group effort, and everybody was very motivated to get this off the ground and make it a success," she says.
The conference, which is embedded into PSW's annual Educational Conference, is coming up on its third year in April 2020.
"The greatest satisfaction I have is seeing all of the residents that have gone through the programs and all of the amazing things they're doing with their careers in terms of patient care and advancing the profession," she says. "As a preceptor, you probably get more from your learners than they get from you, in terms of staying current, staying engaged, and staying energized."
As an appointed member of the ASHP Commission on Credentialing, Dagam brings this deep passion for pharmacist education to a national scale. ASHP is the only accrediting body of pharmacy residency programs in the nation, and they develop the standards by which the programs are accredited and set the direction and vision for the future of residency training. To work on the commission has long been a goal of Dagam's.
"One of my mentors as a resident had been on the commission, and I just thought, 'Wow, if I could ever do that, that would be amazing,'" she says. "Even though I've been on the commission now for three years, each time I go to one of the meetings, I have to sit back and appreciate the incredible opportunity it is."
Reflecting on success
Back when Dagam was first pursuing pharmacy, she was ready and excited to be a Badger.
"To be honest, the UW–Madison School of Pharmacy was the only pharmacy school that I was looking at because of its reputation as one of the best in the nation," she says.
The reputation rang true for Dagam and helped her build connections with mentors and with professional organizations, including PSW and ASHP, that have each helped to further her career. Her mentors, such as Professor Mary Hayney, helped encourage her to stay engaged and stay curious, which is advice Dagam passes along to the next generation of pharmacists.
"Be open to all of the opportunities that pharmacy can provide, and learn to take risks," she says.
Remaining connected to both the School and several professional organizations offers Dagam the perpetual opportunity to develop her ideas into impactful initiatives, she says.
"Having a network of talented practitioners means you can share ideas with them, collaborate, and come up with great innovative plans or just learn to think about issues in a different way," says Dagam. "I think our profession greatly benefits from people connecting in that way."