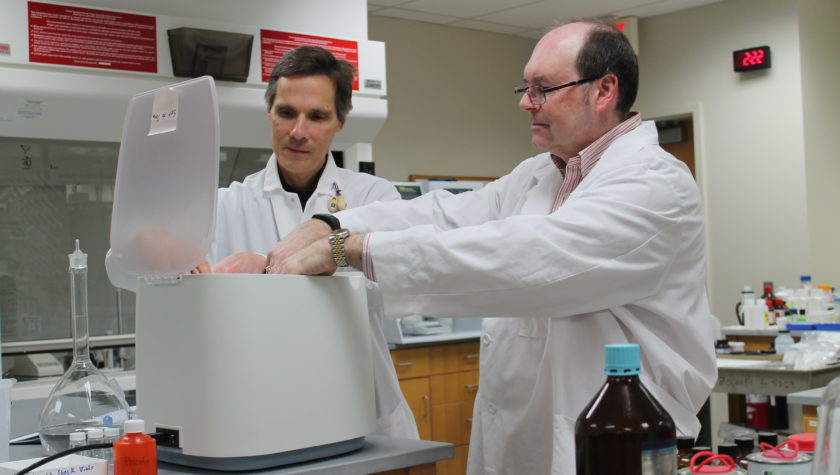 7
December
School of Pharmacy's Zeeh Station collaborates with UW Health Pharmacy Services to provide sterile product testing
In 2012, a nationwide outbreak of fungal meningitis sickened nearly 800 and led to 64 deaths and 14 arrests. The outbreak was traced back to an injectable steroid compounded in a Massachusetts-based pharmacy with lax sanitation practices, and all of the involved leadership were held responsible.
The tragedy provoked the Senate to pass the Drug Quality and Security Act in 2013 to increase regulations and monitoring for compounding and spurred pharmacies to re-think their sterile compounding practices to ensure this couldn't happen again.
The Pharmacy Services team at UW Health started reviewing their options and decided to make two big changes: build a new compliant clean room, and strike up a novel relationship with the University of Wisconsin–Madison School of Pharmacy's Zeeh Pharmaceutical Experiment Station to perform thorough and reliable tests on their sterile compounded products.
"The Zeeh Station is here to help people in the whole field of drug development with whatever it is they need to move forward and to achieve their next milestone," says Ed Elder, director of the Zeeh Station who also sits on the US Pharmacopeia (USP) Expert Committee for Compounding, where he helps guide the evolving regulations that 140 countries must meet. "That's what differentiates us from a lot of other providers in the pharmaceutical contract services arena, and I'm glad we'll be able to use our skillset to work with UW Health moving forward."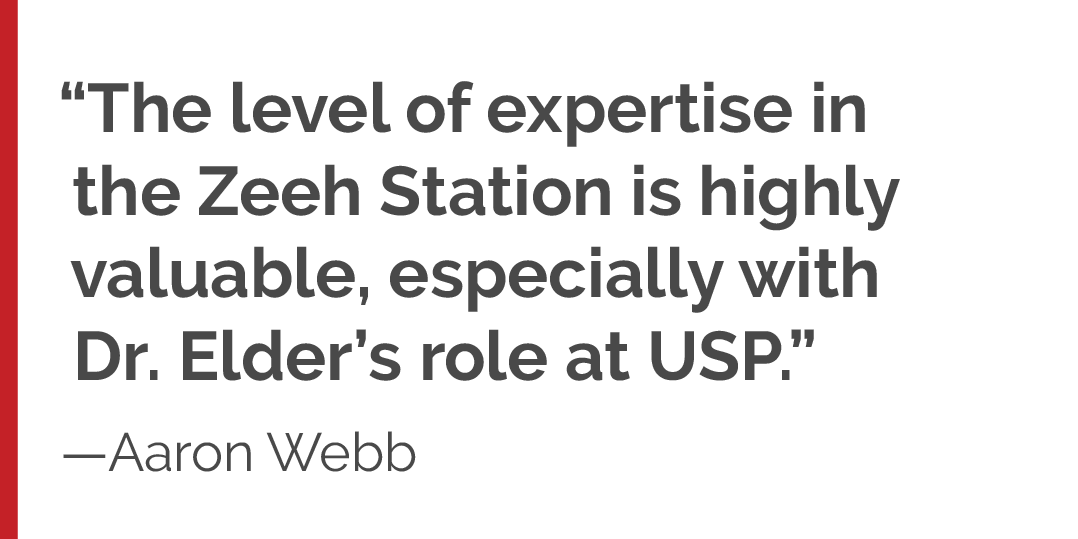 The Zeeh Station—led by Elder and Mark Sacchetti, scientific director—provides a range of services that support drug development for researchers on and off campus. Elder and Sacchetti have each spent more than a decade in industry, including with pharmaceutical giant GlaxoSmithKline and Dow Chemical, as has their lab manager, Karen Jones. In all, the Zeeh Station has five-full time staff, a pre-pharmacy student getting research experience, and a Pharmaceutical Sciences graduate student, Pawel Zbyszynski, whose work in the lab is supported by the George Zografi Educational Advancement Fund.
"The level of expertise in the Zeeh Station is highly valuable, especially with Dr. Elder's role at USP," says Aaron Webb (MS '12), pharmacy manager at UW Health. "We're fortunate to have this resource available to us locally."
Industry-level expertise
For everything from emergency and surgery products to routine additives for intravenous fluids, such as pain medications, the Zeeh Pharmaceutical Experiment Station will be performing a range of tests on representative samples to qualify UW Health's sterile compounded products. The tests include a visual inspection, potency and pH testing each at five time points, and stability testing, which will inform site-specific beyond-use dates.
"The big thing that was missing from the equation was the microbiology assessment for injectable products," says Elder. So he turned to Warren Rose, an associate professor in the Pharmacy Practice Division who specializes in infectious disease. Rose was happy to help, and the Rose Lab now handles sterility testing, endotoxin testing, and, in the case of antibiotics, a microbiological assay for potency.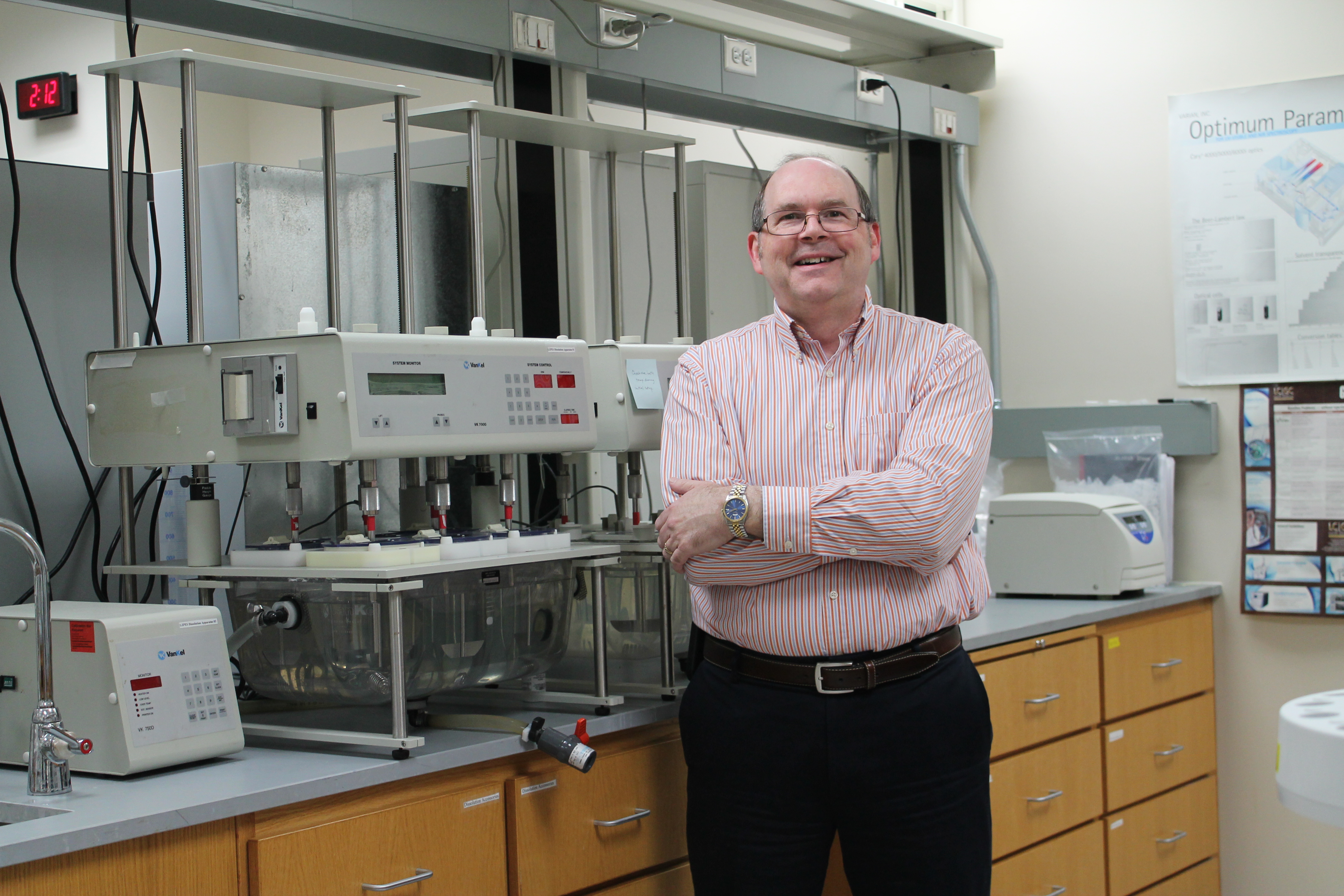 "This isn't only a collaboration between UW Health and the Zeeh Station, but it also uses the expertise of other faculty within the School of Pharmacy as well," says Elder.
An additional benefit of the partnership is the opportunity to share quality- and process-related stability data about compounded products, for which there is a great demand as more pharmacies take on their own compounding.
"We're the same type of facility as you would find in a pharmaceutical company, so we have all of the procedures in place to operate in a manner that ensures the integrity of our data," explains Elder. "All of our successful stability studies would be able to be published because we have validated analytical methods that we're using for our comprehensive testing."
Regulators and pharmaceutical scientists are looking for this in-depth testing data to apply to products in development, and it's not just the pharmaceutical itself that needs to meet certain regulations. The processes and methods used need to adhere to USP standards as well. Zeeh Station staff have qualified their methods, so they will be able to provide all of the documentation necessary to meet the requirements.
"In the end, it's all about protecting the patient," he says. "It's a risk to put a chemical into your body, so we need to make sure it meets the appropriate standards for safety, purity, potency, and quality."
Creating a unique collaboration
Given Elder's position with the USP Expert Committee for Compounding, several pharmacists from UW Health, who are also involved in the Wisconsin Pharmacy Examining Board, have been in touch with him frequently regarding ongoing changes in compounding requirements. And more formally, the Zeeh Pharmaceutical Experiment Station has been working with UW Health Pharmacy Services intermittently for several years. But the scale of this new partnership is unique for both parties.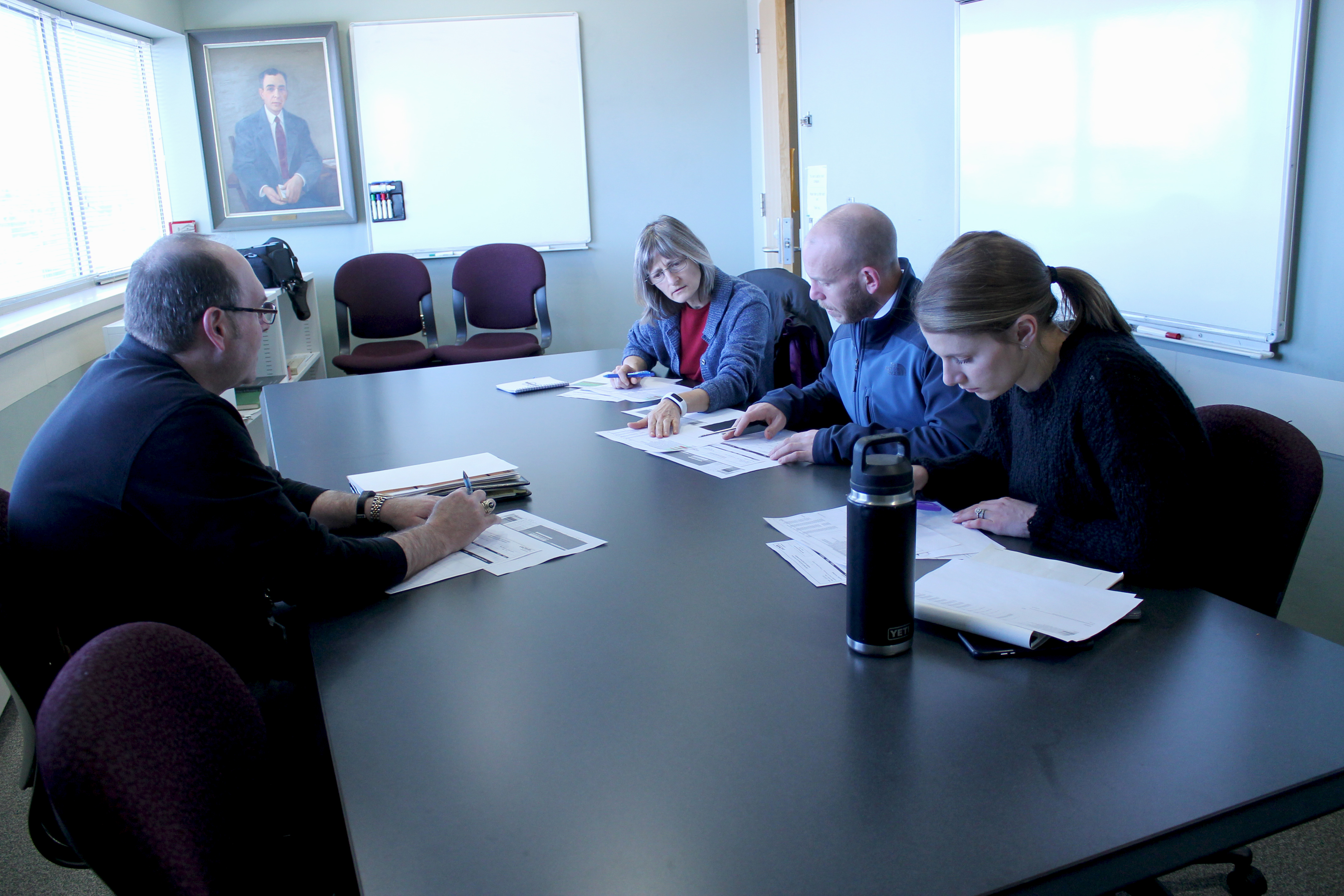 Those smaller interactions eventually led UW Health to approach Elder to learn more about the Station's capacity and capabilities and some of the testing. The partnership officially started in July 2018, and the Zeeh Station is working up to soon test 100 percent of UW Health's sterile products. The new partnership will account for about a quarter of the Station's capacity, says Elder.
"We're developing an actual operational process for how this testing is going to work, and we will be able to do things that haven't been done historically, such as potential publications and research that will fit the mission and vision of both UW Health and the UW–Madison School of Pharmacy," says Webb. "It's a unique and mutually beneficial arrangement that we're excited to strengthen."