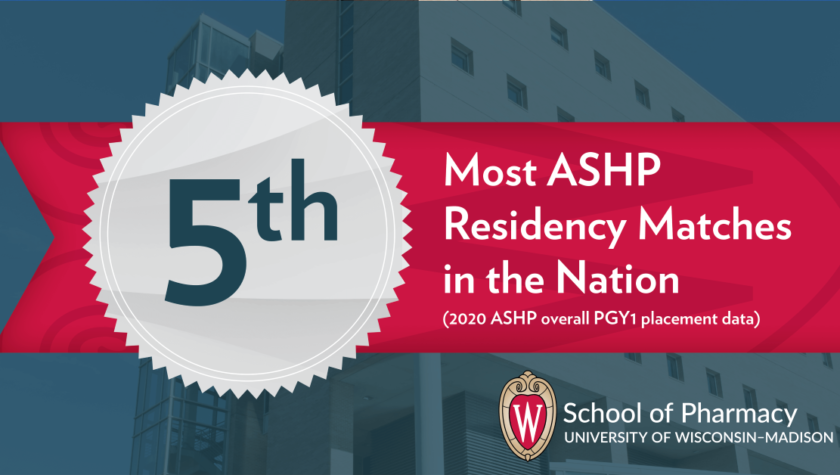 12
May
The School of Pharmacy has the fifth highest number of student pharmacists matched with PGY1 residencies in the nation.
The University of Wisconsin–Madison School of Pharmacy has the fifth largest cohort entering PGY1 residencies in 2020 through the American Society of Health-System Pharmacists (ASHP) Residency Match Program among 144 pharmacy schools reporting nationally. Of UW–Madison PharmD graduates who registered for the ASHP Match, 81.6% of graduates matched compared to only 63.1% of national applicants.
With 71 School of Pharmacy students matched with a residency, it is an impressive achievement in a year that saw a record number of participating residency applicants nationally.
"The PharmD Class of 2020 is an outstanding group of graduates who demonstrated strength and resilience during the pandemic and ultimately achieved one of the most coveted accomplishments—landing a residency," says Steven Swanson, dean of the UW–Madison School of Pharmacy. "Even during the most competitive year for residencies, our PharmD graduates consistently represent our tradition of excellence and legacy of leadership. They truly are among the best and most promising pharmacy leaders who will change lives for patients."
As part of the "Class of COVID-19", Lindsey Skubitz (PharmD '20) stars as a shining example of perseverance and achievement. She's one of the 71 UW–Madison pharmacy graduates who was matched with a residency and will head out to Abbott Northwestern Hospital in Minneapolis for a residency in general pharmacy.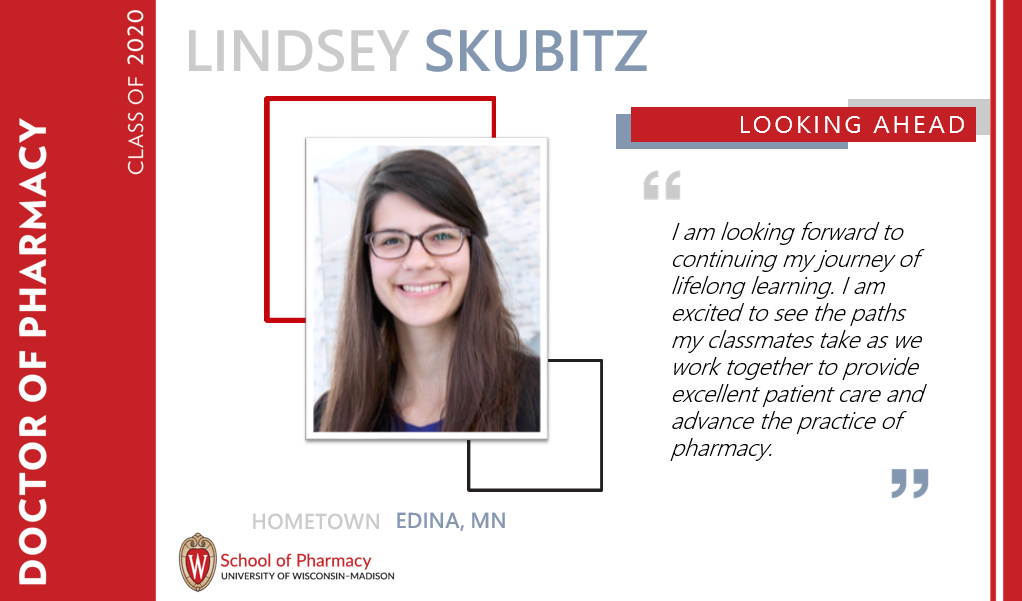 Skubitz says there were many ways the PharmD program helped her be a competitive residency applicant. "The School of Pharmacy has supported me along the way by providing me with the resources I needed to be successful. The School provided me with both the clinical knowledge and a wide variety of extracurricular opportunities to support my growth," she says.
"I enjoyed my experiences with our student chapter of Phi Lambda Sigma as we were able to get involved with the national organization and create initiatives to support the Madison community. I also took advantage of the new Leadership Certificate and Mentorship Program, which consisted of multiple components to encourage growth while pairing me with a leader in pharmacy," explains Skubitz.  
Residency also presents another opportunity to provide patient care for their community. Nelson Milbach (PharmD '20) matched with a general pharmacy residency at AdvocateAurora BayCare, a 167-bed hospital in Green Bay, Wis.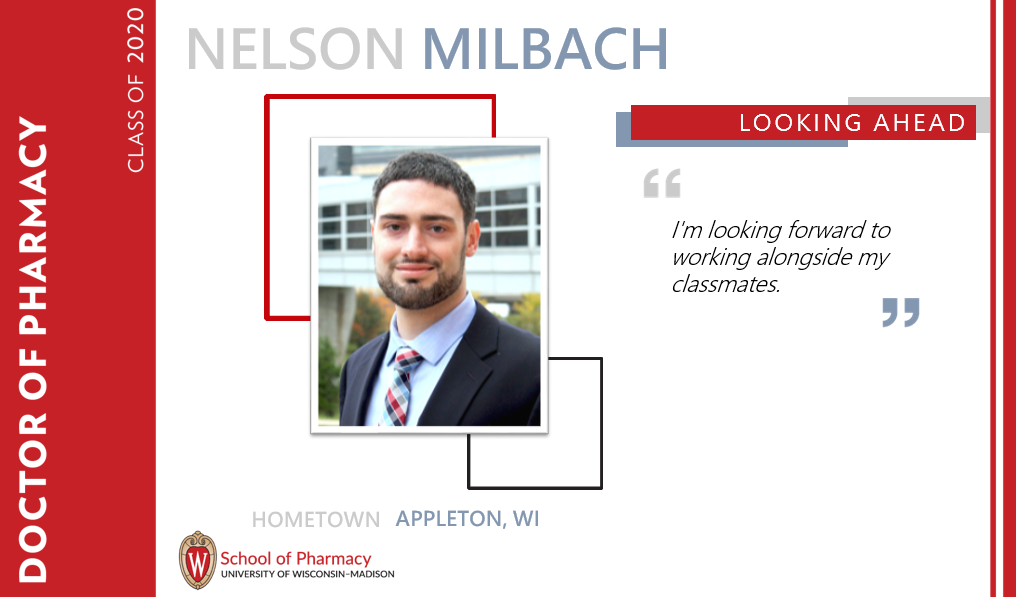 "Acceptance to BayCare's prestigious residency program will provide me with a springboard to sharpen my clinical skills while working with a population near and dear to my heart in Northeast Wisconsin," says Milbach. "Completion of a comprehensive PGY1 pharmacy residency will accelerate my career goals of working with oncology patients in both the inpatient and outpatient settings."
He also felt supported by the pharmacy school community. "My professors and mentors at the School of Pharmacy have been more than encouraging throughout the entire process and went the extra mile to ensure that my resume and credentials were in tip-top shape for [residency] application," says Milbach.
For Julia Barnes (PharmD '20), she's planning to stay in Madison a little while longer to complete her acute care pharmacy residency at UW Health. "I'm exceedingly proud to have matched at UW Health. Throughout pharmacy school at UW–Madison, I have seen the how UW Health drives a lot of innovation in pharmacy and how the residents play a large role in these projects," says Barnes.
"I'm excited to apply what I have learned at UW–Madison to a new setting and be able to help patients on a larger scale. The projects I will work on during residency will teach me how to orchestrate change within a health system. Both of these experiences will give me the skills to innovate in pharmacy practice," she added.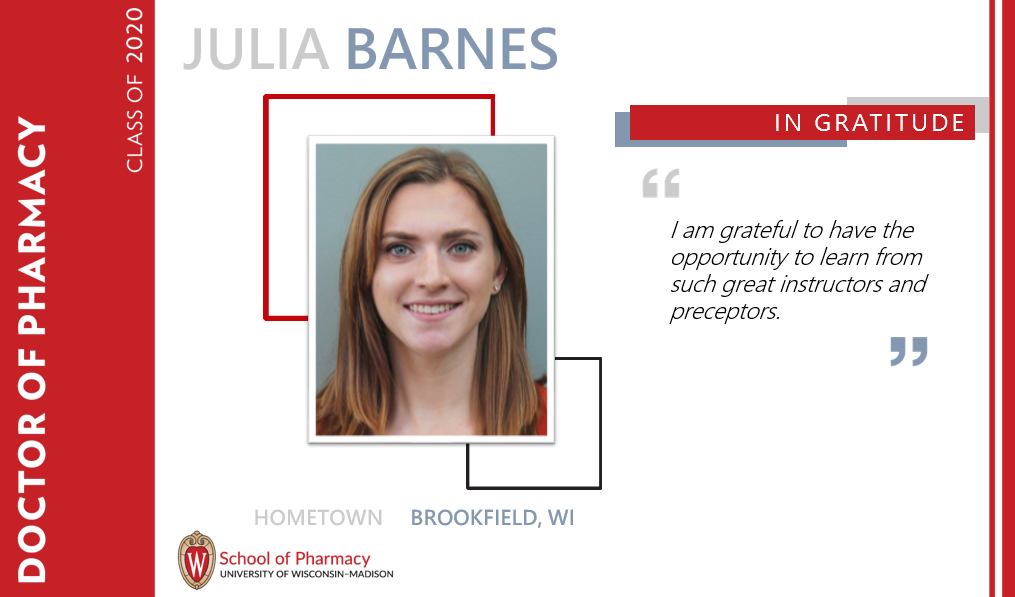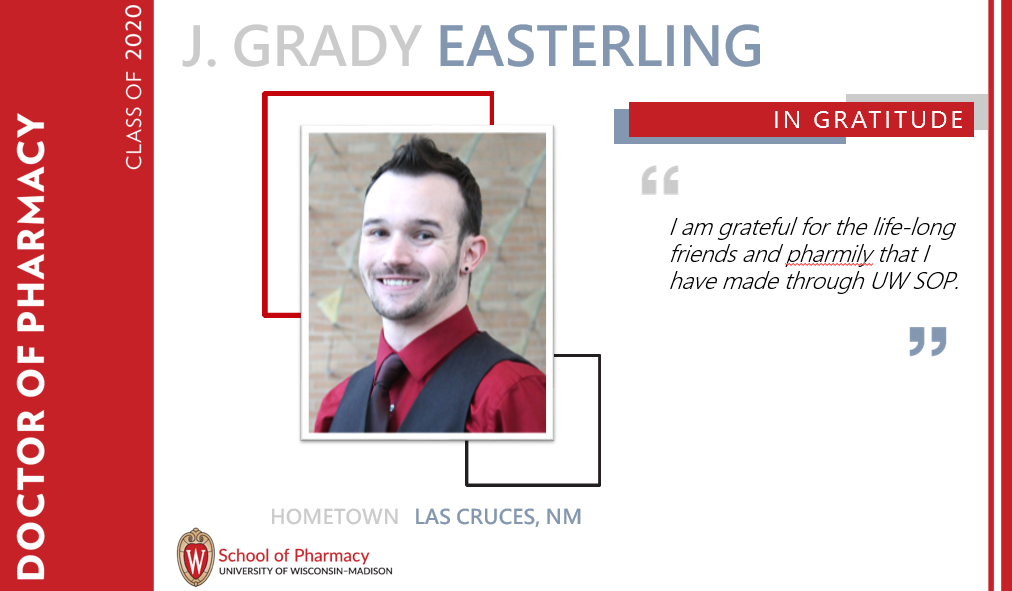 Accepted into the School of Pharmacy's Community Residency Program, J. Grady Easterling (PharmD '20) will complete his residency with Boscobel Pharmacy in Boscobel, Wis., that will focus on community pharmacy but also will include ambulatory care due to the pharmacy's strong ties to the local Gundersen hospital. "I am very excited about matching and feel that this is a great step in helping me accomplish better patient care and my goal of becoming a AAHIVP (HIV Pharmacist)."
Like her peers, Julia Gilbertson (PharmD '20) also feels that her PGY-1/2 Health-System Pharmacy Administration and Leadership residency at the William S. Middleton Memorial Veterans Hospital in Madison will advance her career goals.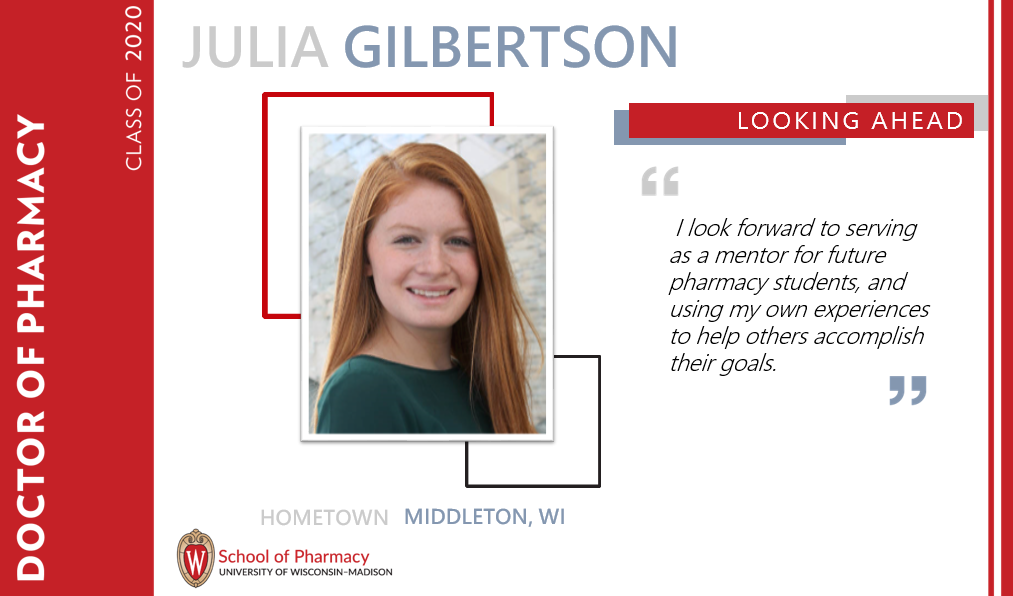 "During my Advanced Pharmacy Practice Experiences at the University of Wisconsin–Madison, I realized how much I enjoy giving back to our nation's veterans, but I ultimately decided I want to do this at a higher level to have a greater impact. My goal upon graduation from residency is to earn a career in ambulatory care administration. I hope to further advance pharmacy practice within the Veterans Administration through this role," says Gilbertson.
With the School's reputation for residency placement, she experienced first-hand the opportunities and resources to support her goals. "The PharmD program provided me with a wide range of extra-curricular opportunities that made me a highly competitive candidate for pharmacy residency, especially within leadership residencies," reflects Gilbertson. "The Pharmacy Operations and Technology Management (OTM) program is particularly unique, and I think sets UW–Madison candidates apart in the administrative setting."
Pharmacy residencies are post-graduate training after earning a PharmD degree that provide additional experience with direct patient care. Pharmacists in ambulatory care, primary care, cardiology, oncology, pediatrics, and other pharmacy specialties, including managed care, typically complete a residency training.