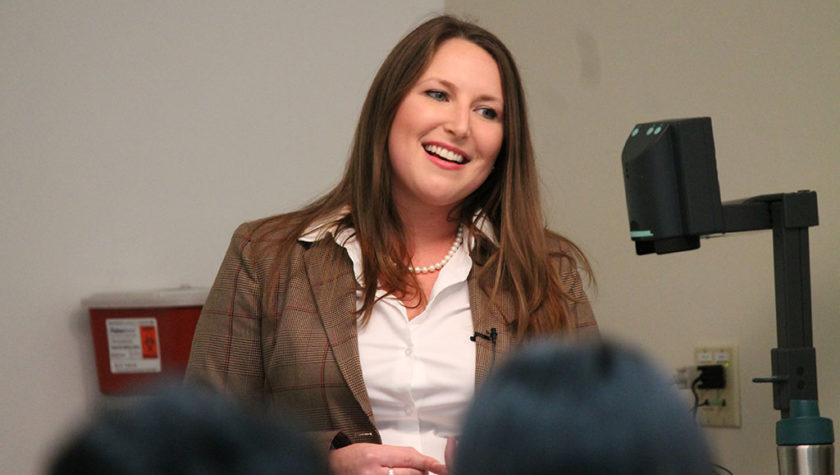 23
February
Protecting public health through toxicology
When Katherine Fallace (BS '10) first enrolled in the University of Wisconsin–Madison School of Pharmacy's Pharmacology-Toxicology program, she envisioned the same future as many of her peers: attaining a doctorate in pharmacy or a medical degree.
Although she was originally interested in biology, she had a longstanding love of studying chemical interactions with the body that can be traced back to her aunt, a psychiatric pharmacologist. This inclination was only strengthened when she worked in a lab studying schizophrenia and neuropharmacology.
But switching from biology to the Pharm-Tox major wasn't the only bend in the road for Fallace. When she got a job as a clinical trial coordinator with the UW–Madison GI and Hepatology Clinical Research Office, her interests again evolved from pharmaceuticals to protecting public health.
In January, she returned to her alma mater to speak with School of Pharmacy Pharm-Tox students about her career journey that led her to the U.S. Environmental Protection Agency (EPA) at the nation's capital, and how it can—and should—inspire them to take advantage of the program's rigorous requirements. In her talk, "Applying My Bachelors of Science in Pharmacology & Toxicology," she detailed one experience that set it all in motion.
"Those women weren't really getting to choose to be exposed to certain chemicals in the environment." –Katherine Fallace
Passion for public health
While Fallace was a clinical trial coordinator, she worked with a group of pregnant women with inflammatory bowel disease. These women, whose disease status was tracked throughout and after their pregnancies, had to report their medications. But other exposures—such as environmental chemicals, personal care products, and ambient air quality—went undocumented.
"It led me to realize that these women had the chance to be involved in the decision to expose themselves to the chemicals in the medications they were taking," she says. "But they weren't really getting to choose to be exposed to certain chemicals in the environment."
Although she'd planned on working with patients, perhaps as a doctor, she rerouted her career based on where she felt she could effect the greatest change while still engaging with research.
Armed with her BS degree in Pharm-Tox, she pursued a highly specialized program in regulatory toxicology and risk assessment at the University of Minnesota's School of Public Health, focusing on environmental health sciences to explore how she could use toxicological evidence to prevent harmful exposures to the public.
Her class comprised just a handful of students. "It's not as sexy to be concerned about ambient air quality and water contaminants," she says. But it's "where the rubber meets the road" for regulating chemicals that people may or may not know they're being exposed to.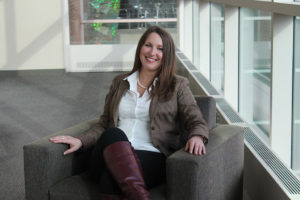 Fascinating path to Washington
Leveraging her experience as a clinical trials coordinator, Fallace surveilled hepatitis and other infectious diseases for the Minnesota Health Department. This work also introduced her to the risk assessors at the Environmental Health Department, who largely focused on ensuring clean water and air for the public.
A separate internship with the Minnesota Pollution Control Agency involved learning about emissions and ultra-fine particulate matter. From the experience gained during this internship and graduate coursework, Fallace learned the ropes of gathering data to inform upcoming regulatory decisions and creating risk assessments.
All of this work was leading toward a goal of protecting public health at a higher level, Fallace says.
"When I applied to the Association of Schools and Programs of Public Health (ASPPH) Environmental Health Fellowship, it was the dream. 
"I thought my chances for acceptance were slim, so I accepted a short-term position at 3M in their corporate toxicology office while I awaited their decision."
Then she got the news: She was accepted as an ASPPH environmental health fellow and would be hosted by the U.S. EPA in the Office of Children's Health Protection, a cross-cutting office that monitors pending regulations and policies that could impact children's health.
Often safety or risk assessments consider baseline air and water intake levels typical of an adult to examine the probability of harm from chemical exposures. But for children, typical air and water intake is much higher relative to bodyweight, so exposure levels deemed "safe" for adults could potentially still have developmental, reproductive, behavioral, or other impacts on children. It's a task that gives Fallace a sweeping view of science policy and regulations across the EPA, and it's given her a niche to aim for.
"I will likely take on a more general risk assessment or health scientist role before aspiring to work on such a narrow focus in the risk assessment field, but I will always champion children's environmental health in my work."
"That basic understanding is essential, and a lot of people just don't get that knowledge outside of pharmacy." –Katherine Fallace
Broad applications of Pharm-Tox
One of the biggest reasons that Fallace returned to the School of Pharmacy was to share her career experiences with current undergraduate students, who might not recognize the breadth of opportunity the Pharm-Tox program can provide, from study medical director to regulatory expert.
Part of the Pharm-Tox curriculum that Fallace found most useful was understanding how a toxicology research study should be designed and how the data and other study information should be put together in a paper, which makes them easier to critique—an essential part of her current role in regulatory toxicology and risk assessment.
"If you understand toxicology, it's pretty easy to understand what risk assessment is. That basic understanding—like polymorphisms and how they change the way a chemical is metabolized—is essential, and a lot of people just don't get that knowledge outside of pharmacy.
"If you're into doing benchwork, more power to you. We definitely need people out there doing the actual research. But if you're more of a hands-off type person and like interpreting data, you can do that via regulatory toxicology," Fallace says. "It really is important to translate that basic science and utilize it for the betterment of public health."
Learn more about career paths in pharmacology-toxicology.