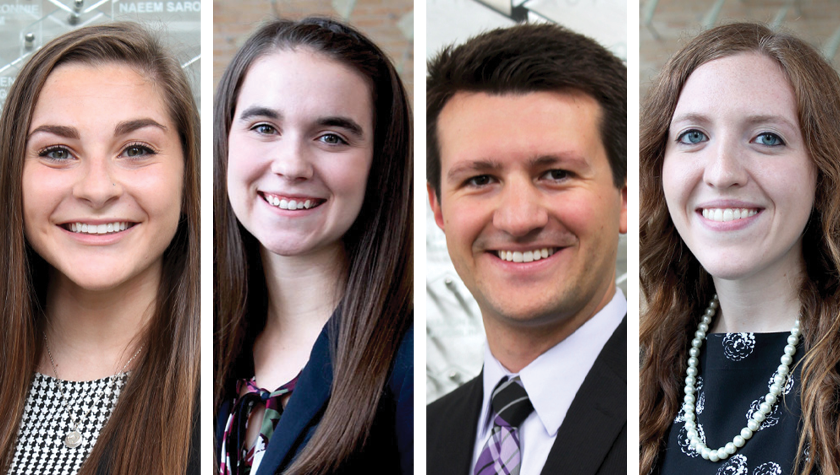 4
March
The Wisconsin Society of Pharmacy Students' Operation Immunization and Operation Heart receive 2020-21 APhA-ASP Region 4 awards
By Stuti Bhardwaj
When Maggie Hoernke and Nikki Batterman, PharmD students at the University of Wisconsin–Madison School of Pharmacy, became co-chairs of Operation Immunization, they had no idea how much of an impact they would have across the state of Wisconsin.
Operation Immunization is one of several outreach and education initiatives organized by the Wisconsin Society of Pharmacy Students (WSPS), the School's chapter of the American Pharmacists Association's Academy of Student Pharmacists (APhA-ASP). As the COVID-19 pandemic swept the globe, Hoernke, Batterman, and their peers poured countless hours into orchestrating and volunteering at 20 COVID-19 vaccination clinics, on top of dozens of flu vaccine clinics.
"When the virus first hit, we weren't prepared and it took many emails and phone calls to get the ball rolling on our clinics," says Hoernke, a fourth-year PharmD student. "Luckily, all the work we put into it paid off just because we were able to make a huge impact, especially on the Madison community, but also across the state. It was really cool to be a part of that."
"We had to be really innovative and creative, and that helped us win the award."
—Julia Branger
Their creative and innovative outreach has earned them an APhA-ASP Region 4 award — one of two received by School of Pharmacy PharmD students for the 2020-21 year: WSPS' Operation Heart also earned an award.
Much like Operation Immunization, Operation Heart also quickly and thoughtfully adapted their outreach to the new landscape created by the pandemic.
"We couldn't go in person and touch people to take their blood pressure and give feedback, so a lot of brainstorming happened," says Chris Kozenski, a third-year PharmD student and Operation Heart co-chair.
In addition to revamping their presentation materials for Zoom, Kozenski and co-chair Julia Branger developed a broadly reaching video series that was viewed more than 4,000 times.
"We had to be really innovative and creative, and that helped us win the award," says Branger.
Virtual offerings for healthier hearts
In lieu of blood pressure screenings and health fair booths, Operation Heart had to pivot their outreach to take advantage of the expanded reach of virtual platforms.
"We had to rethink and reinvent our events," says Branger, a third-year PharmD student.
Along with their faculty advisor Associate Professor Andrea Porter, of the School's Pharmacy Practice Division, Kozenski and Branger started a new video series in February 2021, called the American Heart Month cooking series.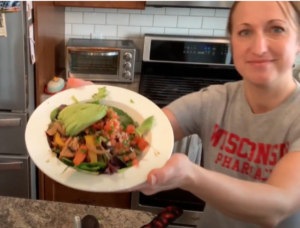 Through the series, four PharmD student volunteers made virtual cooking videos with heart-healthy recipes selected from the American Heart Association's website, posted weekly on WSPS' Facebook page. The series reached 4,000 community members — a number far greater than what was possible with in-person screenings.
One of the biggest challenges and differentiators in their cooking videos was the scientific foundation and inclusion of how the ingredients are beneficial for heart health.
"We know that leafy greens are really good for your digestion, but this quality doesn't help with your heart," says Kozenski. "Instead, we had to understand the vitamins and minerals in the greens and how they impact the heart."
Kozenski and Branger conducted a lot of individual research to ensure that there was direct benefit to heart health from each ingredient in the recipes, and then Porter would cross-check their information before the videos were recorded. Because of the series' success, they brought it back for 2022 and increased the frequency to two recipes per week.
Operation Heart also participates in WSPS' "Talk to Your Pharmacist Tuesday" series, which are live Facebook streams held weekly throughout October, American Pharmacists Month, to showcase different facets of pharmacist expertise. For Operation Heart's featured week, Kozenski and Branger connected with a leader in cardiovascular pharmacy at the School, Associate Professor Karen Kopacek, and together delivered a brief presentation and then answered viewers' questions about heart health. Their video was seen by more than 5,000 people.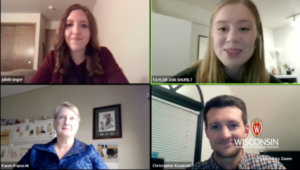 "Pivoting to a virtual mode had its challenges, but we were able to reach a lot more people than we would have been able to otherwise," says Branger.
The Operation Heart team also recreated the materials they typically used at health fairs and in presentations at schools and older adult communities to include more information about how activities and foods impact health to give viewers a new perspective.
"We've all heard that smoking kills, but how does it work? What happens?" says Kozenski. "We totally revamped our curriculum to answer these questions, making sure everything was scientifically accurate and backed by our faculty advisor."
Expanding vaccine access
Out of the many different outreach initiatives at WSPS, Operation Immunization has been one of the busiest — especially since the release of COVID-19 vaccines.
"My first year as co-chair was kind of hectic, and then once I got the hang of it, COVID happened," says Hoernke.
By December 2020, Kopacek, who is the associate dean for student affairs, asked if Operation Immunization would be interested in helping to organize vaccine clinics to distribute the newly developed COVID-19 vaccines, and if they had students who would volunteer.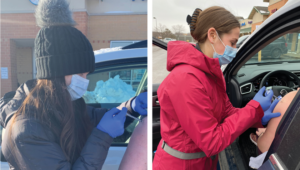 "That's our bread and butter, so we were very excited when she asked," says Batterman, a third-year PharmD student.
She and Hoernke used pharmacy contacts that they had from flu clinics and previous outreach events to set up appointments so that pharmacy students could help vaccinate the population as soon as doses were available. Most of their efforts were directed at the Madison area, but they also reached out to Native American tribal organizations and rural areas, both of which had a dearth of vaccination sites.
"So many clinics were reaching out to us that it was actually overwhelming, but we never wanted to say no, because we were just so needed," says Hoernke. "And we always had students to send to help."
In total, they set up 20 COVID-19 vaccine clinics and administered 18,530 doses. But they didn't do it alone: 194 of the UW–Madison School of Pharmacy's student pharmacists volunteered more than 2,400 hours.
To staff their vaccination clinics, Operation Immunization also organized training days to ensure interested PharmD students knew how to administer vaccines, prepare doses, or handle the paperwork necessary to make each event go smoothly.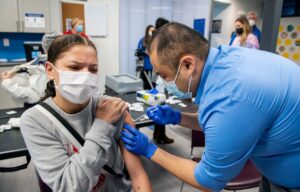 They also trained students on how to talk to the public about vaccines to overcome hesitancy by discussing their concerns, using motivational interviewing and other approaches to patient communication.
"I ran into a lot of patients who weren't sure about the vaccine, or were confused by conflicting information they were getting on the news," says Batterman. "So it was also a great experience for me to be able give them enough information in order for them to make decision about what was best for them in their care."
On top of their busy schedule delivering COVID-19 vaccines, the Operation Immunization team also set up 44 flu shot clinics, immunizing 3,000 people against influenza, and additional outreach about the HPV (human papilloma virus) vaccine.
"We're advocating for what student pharmacists and the pharmacy profession can do and how big of a difference we're making through vaccination," says Batterman.