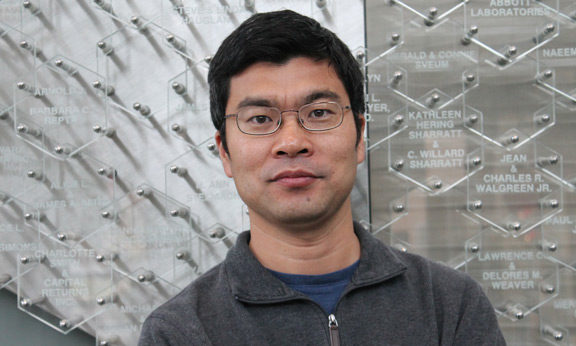 27
July
Weiping Tang, professor in the Pharmaceutical Sciences Division, is the principal investigator of a new R01 grant from the National Institutes of Health that will study novel small molecule tools that can change how we study lipid regulating pathways and also uncover new biological targets and pathways for treating hypercholesterolemia.
Cardiovascular diseases (CVD) is the number one cause of death world-wide. High levels of low density lipoprotein (LDL), clinically known as hypercholesterolemia or hyperlipidemia, are strongly associated with CVD. Although statin therapy has been very successful for many patients with hypercholesterolemia, about 20% of patients are not able to achieve target LDL levels due to the adverse effects of statin therapy.
The aim of the study is the biological mechanism and protein target of novel small molecules that can lead to selective degradation of Proprotein convertase subtilisin/kexin type 9 (PCSK9) protein. The PCSK9 plays a major regulatory role in cholesterol homeostasis and is a validated new therapeutic target for the treatment of hypercholesterolemia. The molecules hold great potential for the treatment of hyperlipidemia in human patients. Through multiple interdisciplinary approaches, researchers will examine how the small molecules affect transcription, translation, protein processing and degradation, and the secretory pathway of PCSK9.
In addition to Tang's research group, the collaborative project includes the laboratories of UW-Madison Professor Alan Attie (Collaborator), Biochemistry, Senior Scientist Dr. Mark Keller (Co-Investigator), Biochemistry, and Professor Lingjun Li (Co-Investigator), Pharmaceutical Sciences and Chemistry.
Tang's research interests include various aspects of drug discovery including synthetic organic chemistry, medicinal chemistry, assay development, and chemical biology. His current focus is the development of new therapeutics for metabolic disorders and cancers.