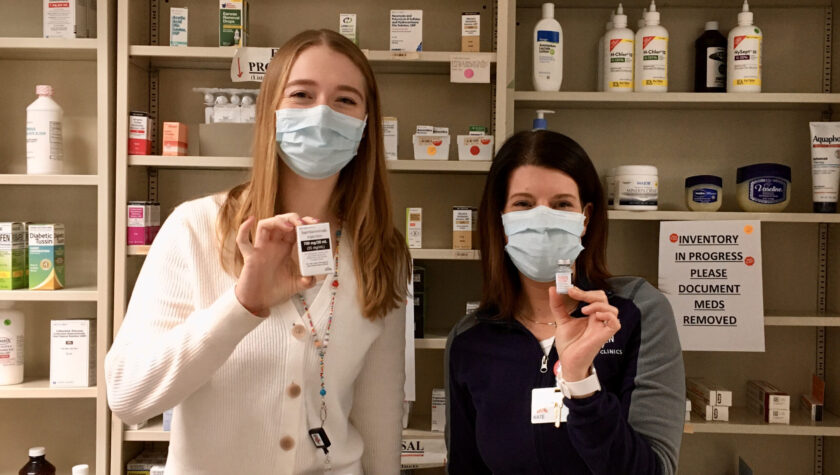 10
March
Anna Lattos shares her experience in the School of Pharmacy's Rural Health PharmD option, in the classroom and on rotation
By Anna Lattos
As I entered the town of Whitehall — a small city of 1,600 in western Wisconsin — I knew I was in for a rural treat. Through an Advanced Pharmacy Practice Experience (APPE) rotation at the University of Wisconsin–Madison School of Pharmacy, I would spend the next six weeks living in and getting to know this town surrounded by cornfields, farms, and cell signal dead zones. This immersive rotation opened my eyes to the daily experiences and barriers these communities face, which transformed my understanding of the importance of rural health care.
For example, there was one independently owned clothing store in town. There was one grocery store within a 20-minute drive, which some patients had described as "highway robbery," but the store owner told me that prices had to be high so that he could keep his doors open. Finding a larger chain grocery store meant embarking on a two-hour round trip.
As for exercise options — I had none. There were no gyms to join and November weather in Wisconsin is a hard sell to get people outdoors to exercise, and some areas of Whitehall had no sidewalk, making it less conducive for adults and children to walk or play outside even during the warmer months.
"This immersive rotation opened my eyes to the daily experiences and barriers these communities face, which transformed my understanding of the importance of rural health care."
But in rural areas like this, community connections are everything. I went into a local restaurant to pick up a food order, and the staff member said, "You're not a face I have seen before! Let me guess, you're a doctor!" I laughed and explained that I was a pharmacy student on rotation, and then he jumped right into a conversation about his medications and asked me questions about them. Every time I saw him afterward, we would always stop to chat.
Through my time in Whitehall — as a capstone experience following a year of rigorous coursework in the School of Pharmacy's Rural Health option in the PharmD program — I learned that the healthcare providers in Wisconsin's rural towns are part of the fabric of the community, serving their friends and neighbors and developing a deep understanding of their community's unique needs and health challenges.
When I first heard about the Rural Health PharmD option as a second-year student, I was excited and motivated to apply, but I had no idea how much it would impact me and my future career path.
Leading care improvement projects
During the first year of the rural health program, there are two courses: one teaches us to partner with rural communities to assess rural communities' needs, and the other is dedicated to project management. The project management course, Practice Innovations, connects us not only to a longitudinal project that we work on throughout the year, but also to the resources and mentorship that help us succeed at our projects.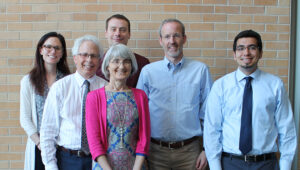 Assistant Professor Ed Portillo (PharmD '14), the rural health program coordinator, and Professor Mara Kieser, assistant dean and member of the Rural Health Faculty Team, served as my main mentors at the School to help my time on rotation in a rural environment be as effective as possible. Every week Professor Portillo taught us about the key components of project management and paired these topics with templates that we would fill out to plan and move our projects forward. I met with Dr. Kieser and my project team to apply content discussed in class directly to my rural health project.
For direct experience implementing services, we were paired with preceptors at the William S. Middleton Memorial Veterans Hospital, the Office of Rural Health, or Indian Health Services. I was set up with a rural health pharmacist, Erica Wagner (PharmD '13), as my mentor for a proton pump inhibitor de-prescribing project at the VA hospital. When I went in on my project days, I could jump right into calling patients and completing clinical care instead of asking her for guidance because I had already been prepped in the classroom.
This experience not only enhanced my ability to manage a project, but also helped me reflect on my own personal strengths and weaknesses. For example, writing the manuscript for this project was a constant editing process that tested my patience and confidence.
As I sat frustrated, feeling like I'd never leave the drawing board, Dr. Portillo said something to me that I will never forget: "Anna, it's OK to be frustrated — manuscript writing is hard! If it were easy everyone would do it. We are going to work through this until we get it right."
His dedication to my development and my realization that some tasks don't have a "right" answer or a quick solution was imperative for my future experiences in project management and pharmacy practice innovation. I was able to share the reflections that came out of this longitudinal project in a presentation at the Pharmacy Society of Wisconsin's Annual Conference and the national American Society of Health-System Pharmacists Midyear Meeting. Sharing this project's materials and its message that pharmacy students nationwide can meaningfully contribute to rural healthcare delivery in ambulatory care clinics gave me a sense of purpose and direction.
Understanding rural needs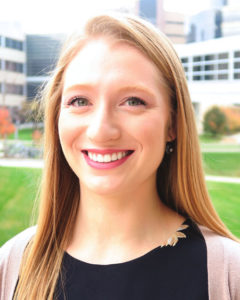 The Rural Health course that complemented Practice Innovations gave us our first exposure to rural life. We each visited a rural Wisconsin community — such as Baraboo, Portage, Montello, Prairie du Sac, or Monroe — researched local health trends and needs, and then met with a pharmacy team and a representative of the community health department and used that information to propose community-specific interventions to the class.
The course covered new topics every week, featuring pharmacists from rural practice settings around Wisconsin who visited the School of Pharmacy to share their knowledge and insight:
Julie Bartell (PharmD '06) covered rural ambulatory care, as she has installed collaborative practice agreements and created a robust residency program at the Monroe Clinic.
Bryant Schobert (PharmD '14) from Platteville talked with us about 340B prescription pricing programs within critical access hospitals and how he managed that in addition to clinical practice.
Michelle Farrell (BS '99, PharmD '00) from Boscobel discussed owning and running a successful and progressive independent community pharmacy.
Scott Larson (BS '96) from the critical access hospital in Hillsboro came in to talk through his role as not only a pharmacist, but as a director of pharmacy and emergency department and being able to help in a variety of clinical roles — including delivering a baby.
Chris Barron (BS '97) from Fort Atkinson talked with us about his role in population health and how to assess health trends within a community utilizing data and analytics to transform care and improve patient outcomes.
John Eich, director of the Wisconsin Office of Rural Health, talked about the diverse landscape of rural healthcare in Wisconsin, and the opportunities that exist for us as pharmacists to partner with rural communities.
These speakers inspired me and my classmates and showed us not only the potential, but also served as informal mentors for us to discuss current and future projects and opportunities for APPE rotations in our fourth year. I also was mentored by faculty members that teach in the Rural Health option, including Associate Professor Kevin Look (PharmD '09, MS '11, PhD '13), Professor Dave Mott (BS '88, MS '92, PhD '95), Associate Professor Casey Gallimore (PharmD '05, MS '13), and former Associate Professor Bob Breslow (BS '75).
On rotation
Three months before my APPE rotation in Whitehall, at Gundersen Tri-County Hospital and Clinics, I reached out to Kate Cain, who was set to be my preceptor, and asked her about project work I could get a head start on. I worked up a medication use evaluation (MUE) for the emergency department and was ready with a data summary when I arrived in November.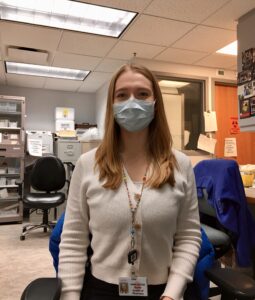 However, by the time I walked in, COVID-19 had taken top priority at the critical access hospital, and Kate, who earned her PharmD from Ferris State University and is a Board Certified Pharmacotherapy Specialist, had many other tasks for us to complete and hurdles to overcome. For example, quarantines caused a shortage of environmental technician staff, so Kate and I came in on a Sunday to complete laundry for the hospital — yes, we did laundry!
We also created a new unit for non-COVID-19 patients as well as a functioning pharmacy storage space for that new unit's nursing staff; implemented the use of Bamlanivimab, a monoclonal antibody for COVID-19 patients at high risk for hospitalization; attended weekly COVID-19 vaccine news meetings about dissemination; and planned for the storage and administration of the COVID-19 vaccine, which arrived on the last day of my rotation.
It was outstanding to see my pharmacist preceptor do what she did every day for patient care, and even more rewarding to walk alongside her and learn how to balance the varied responsibilities of her position.
A critical access pharmacist has to be a jack-of-all-trades. Aside from our COVID work, our daily tasks included attending the clinic huddle to hear the daily announcements and plan to help accordingly, preparing recommendations for patient care at the morning hospitalist rounds, completing medication histories, conducting discharge review and counseling, completing the monthly nursing home medication reviews, interpreting prothrombin time test results to write warfarin orders for the outpatient clinic, verifying orders for the clinic and the hospital, and preparing and checking intravenous and oral medications.
To push my MUE project forward, we pitched next steps to the emergency department (ED), prepared an educational presentation about intravenous and oral antibiotics for ED providers, and ran a flu shot clinic for the community.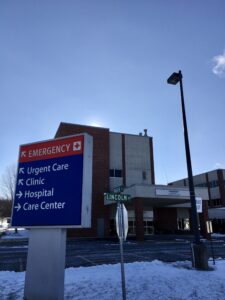 All of our tasks were not done in a silo; they involved conversations with all members of the healthcare team, including nurses, doctors, schedulers, technicians, community pharmacists, environmental staff, and more. I had a voice at the table and was able to meaningfully contribute to the plans behind the hospital's use of Bamlanivimab and COVID-19 vaccine program.
My preceptor also scheduled time for us to have topic discussions both clinically and administratively, covering type 2 diabetes, atrial fibrillation, blood pressure control, pneumonia, urinary tract infections, and how to handle code situations. We talked through 340B and financial budgeting, and having prior knowledge about this from the rural health coursework further enhanced my understanding.
As with my APPE rotations within larger health systems in more populous areas, this rural setting gave me the opportunity to increase my clinical knowledge. But because my preceptor in Whitehall was the only pharmacist at a critical access hospital, I had a breadth of patient experiences in the clinic, hospital, nursing home, and the emergency department.
Because of the School of Pharmacy's Rural Health program, I felt confident in being able to structure my projects at Gundersen Tri-County, and I was able to connect with mentors I had gained through that program.
A path forward
The combination of rural health coursework and my rural APPE rotation enhanced my enthusiasm for advancing clinical pharmacy practice and further strengthening the continuum of patient care. While I worked mostly with rural patients, this experience helped me learn how to consider the unique needs of all underserved patient populations.
It was impactful for me to see how service implementation, such as the development of a urinary tract infection decision support tool, affects patients on a large scale. My passion for improving patient care and assisting in any way I can to help my healthcare teammates in and out of pharmacy drove my decision to pursue a two-year combined Health-System Administration and Leadership and master's degree residency program, and this experience has allowed me to grow in both clinical and administrative areas to help me reach that goal.
"It was outstanding to see my pharmacist preceptor do what she did every day for patient care, and even more rewarding to walk alongside her and learn how to balance the varied responsibilities of her position."
I truly believe pharmacy student roles can be expanded in rural settings, and coursework like what was provided in the Rural Health PharmD option at the UW–Madison School of Pharmacy leverages students' skillsets in project and time management, service development, and the larger impacts applying these skills can have on patient outcomes.
This rural APPE gave me a vast array of clinical, operational, interdisciplinary, and managerial experiences that I will take with me in my future career. It was a rotation I will never forget, and I am excited for the future Badger pharmacy students who have the opportunity to work with rural healthcare sites across Wisconsin.