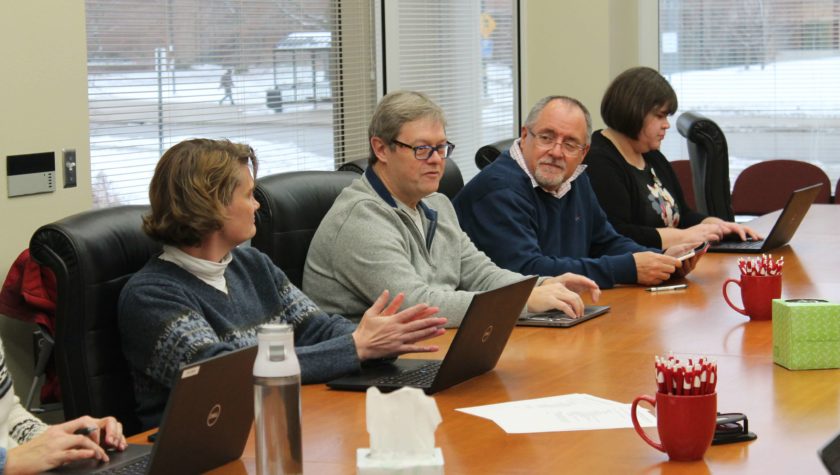 4
March
The new degree, developed with industry input, helps graduates succeed faster in the biopharmaceutical field
 By Mary Magnuson
Photos by Sally Griffith-Oh
Beginning in the Fall 2020 semester, the University of Wisconsin–Madison School of Pharmacy will welcome the first cohort of a brand-new degree program that's designed to advance drug development and manufacturing: the Master of Science in Pharmaceutical Sciences: Applied Drug Development.
"We hear in higher education about the mismatch between the skillset of graduates and the skillset that the industry wants," says Associate Dean for Graduate Studies Chuck Lauhon, associate professor and vice chair of the Pharmaceutical Sciences Division. "This degree has been specifically designed with industry insight to close that skills gap."
The program — developed through a partnership of the School's Pharmaceutical Sciences Division and Division of Pharmacy Professional Development (DPPD), with support from the UW–Madison Division of Continuing Studies — combines online and in-person courses to offer a flexible learning schedule. For example, the degree can be completed on an accelerated schedule, in a single year, with the addition of a summer term.
"For our students who are interested in industry, this is the perfect vehicle to provide that content to both our PhD and master's degree students." —Chuck Lauhon.
With online courses and an accelerated option, the degree is the first of its kind at the School of Pharmacy. But that's just the beginning, according to Lauhon.
"Now that we have built the infrastructure to offer this type of blended learning and have strengthened our relationships with industry and on-campus partners, we'll be able to develop more of these degree programs to meet market needs, more quickly, going forward," says Lauhon.
Built with industry partnerships
Graduates of the School's new master's degree program will fill an established industry niche. Right after graduation, they'll have the experience and skillset to surpass traditional entry-level jobs in the industry and take on more substantial positions, with opportunities for advancement. The experience the students will receive is tailored to match the skills sought by local biotech companies.
Planning for the degree started with Eric Buxton, program director and DPPD chair, meeting with executives at local biotechnology companies, such as Covance, Promega, and Catalent, to see what they're looking for in job applicants and what skills would set candidates apart.
"We wanted to create a degree that was both useful to these companies and would get students jobs, and we tested this by talking with local companies and telling them what we envisioned for our degree program," says Buxton. "They told us what basic skills they were looking for and helped us flesh out what the program should look like."
Taking their advice, Buxton and Lauhon honed the curriculum and coursework to produce graduates with unique skillsets that will set them apart. Some courses already existed through the School's Pharmaceutical Sciences PhD program and related programs at the School of Medicine and Public Health, but others are being created from scratch with the help of experts currently working in the industry.
"This is very much an applied degree, with a focus on biopharmaceutical and small molecule analytical training," Buxton said. "A good chunk of our instruction is coming from people who are currently working in the pharmaceutical industry or who formerly worked with the Food and Drug Administration, so these are people who are on the cutting edge and have firsthand experience."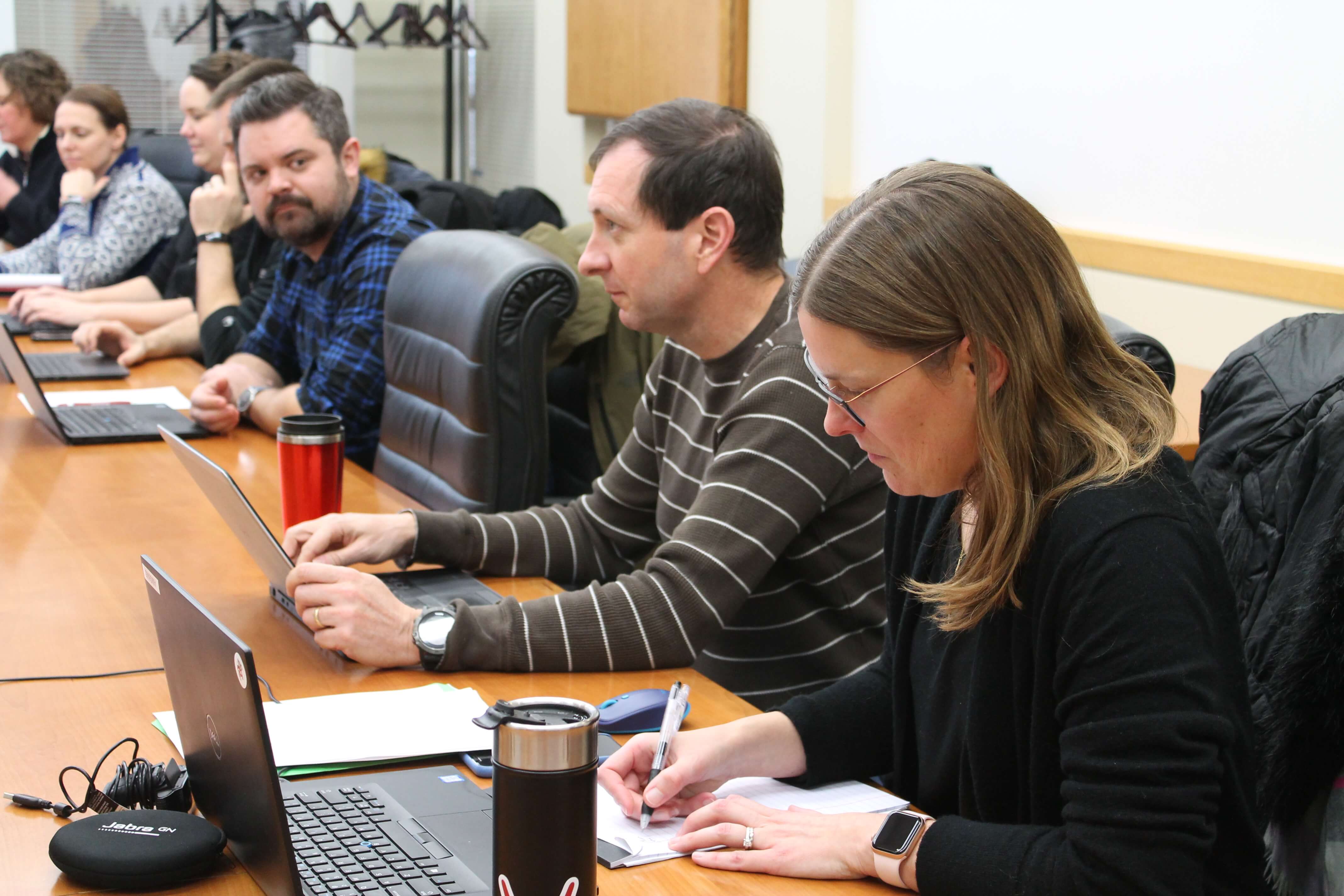 Buxton and Lauhon also tapped into the School's broad alumni network to identify top instructors for these courses. For example, alumna Jayne Hastedt (MS '88, PhD '90), now managing director and founder of JDP Pharma Consulting, is helping to teach a new course about the drug development process. She also serves on the Advisory Board for the School's Zeeh Pharmaceutical Experiment Station.
"There are a lot of alumni who want to give back," Buxton says. "They are really excited about this new program."
The new courses developed for the Applied Drug Development master's degree — which cover best practices for working in a regulated environment, laboratory and instrumentation methods, project management, and more — will also benefit graduate students in the Pharmaceutical Sciences PhD program and will make them more attractive to employers in the industry.
"Our alums have given us feedback of what they would like to see more of in the PhD curriculum for our students who are interested in industry, and this is the perfect vehicle to provide that content to both our PhD and master's degree students," says Lauhon.
And to top off the experience, several Madison-area corporations who are excited to see these potential graduates have created designated internships, ready to fulfill the first cohort's capstone requirement.
Buxton says the program will be perfect for those who have finished their undergraduate degree in a STEM field, preferably with chemistry and biology experience and strong analytical skills, including graduates of the School's undergraduate Pharmacology and Toxicology program. Recent bachelor's degree graduates can choose the accelerated option to complete a fifth year before heading into the workforce with a master's degree, and individuals who are already working in industry can complete the program over a longer period to advance their careers.
"These students will be prepared to do logical or analytical work because they're being exposed to a number of different instrumentation methods and industry standards," says Buxton.
Digital future
Long term, Buxton and Lauhon plan to transition the Applied Drug Development master's degree program to be completely online, which will mean again tweaking the curriculum to reflect global demand for particular skills in the industry, rather than the current Madison-area focus, as enrollment would open to a more global audience.
As the program begins its first year, they're also expecting a learning curve with the new online format, with which students engage in a different way than they would in person. DPPD, which already offers numerous courses and certificates online, is supporting some of this infrastructure and has valuable experience to help the rollout go smoothly.
"It'll be a lot of new courses to run at once," Buxton said. "It's exciting — but challenging."
Even before the kickoff of the Fall 2020 semester, Lauhon and Buxton have already begun using the lessons they've learned to start planning for more future graduate programs to add to the School's offerings.
"This semester was a trial by fire, but we've built an excellent program that meets a real market need," says Lauhon. "In the future, it will be much easier."
He and Buxton are identifying unifying concepts and are working toward creating a core set of classes that can be used for future tracks of the applied drug development degree or new degrees altogether.
"We have a lot of really talented faculty in this building who we think would be instrumental in various new and exciting potential degrees," Buxton said.