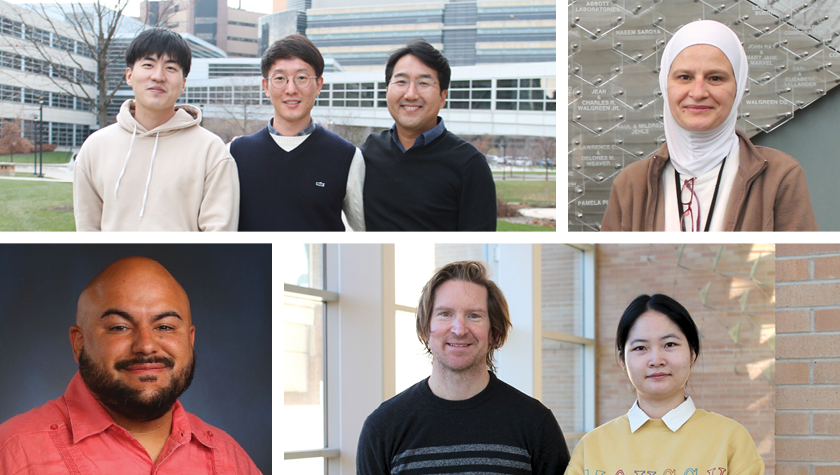 10
December
Researchers from around the world visit the School to research antimicrobial resistance, cancer diagnostics and therapeutics, and pharmacy history
By Katie Ginder-Vogel
The University of Wisconsin–Madison is world-renowned for its research enterprise, ranking consistently among the top universities in the nation and around the globe, and the UW–Madison School of Pharmacy is an integral contributor. Professors, graduate students, and postdoctoral scholars from around the world visit the School of Pharmacy each year to study alongside our faculty, exchanging expertise as visiting scholars.
"Visiting scholars are an exciting way for the School of Pharmacy to expand our perspectives while participating in the Wisconsin Idea on a global level," says Associate Professor Arash Bashirullah, associate dean for research and graduate education. "Although the pandemic has interfered with scholars over the past two years, the School continues to attract leading researchers who want to learn from and with our exceptional faculty."
In 2021, the School hosted five visiting scholars from Jordan, South Korea, China, and the U.S. who joined faculty labs focused on antibiotic resistance, cancer diagnostics and therapeutics, and the history of pharmacy.
"Visiting scholars are an exciting opportunity to showcase our international reach and the talented people coming to the School of Pharmacy to train."
—Warren Rose
"Visiting scholars are an exciting opportunity to showcase our international reach and the talented people coming to the School of Pharmacy to train," says Warren Rose, associate professor in the School's Pharmacy Practice Division, who is hosting a Fulbright fellow from Jordan. "This is a great mechanism for inter-faculty connections and world connection."
"Our research group can always grow and learn from new perspectives," adds Lucas Richert, associate professor in the Social and Administrative Sciences Division, who has hosted two visiting scholars this year. "I would love to get as many interested and diverse voices into my lab as possible."
Global perspective on antimicrobial resistance
Amal Ghaleb Al-Bakri, a professor at the University of Jordan-School of Pharmacy, is visiting the Rose Lab until July 2022 through a Fulbright Scholar Fellowship — a highly selective, prestigious international program.
"My research here is a continuation of my work back home, looking at an alternative antimicrobial approach to control microbial biofilm formation," she says. "Globally, many antimicrobial agents are becoming less effective or even ineffective against many pathogenic microorganisms, leaving us with few options, so it's important to search for effective alternative methods other than antimicrobials to control microbial infections, microbial adhesion, and biofilm formation on biotic and abiotic surfaces."
It was Al-Bakri's former mentor who first encouraged her to contact Rose, who is an accomplished researcher in antimicrobial resistance and translational modeling systems that simulate antimicrobial exposure against multi drug resistant pathogens. With aligning interests, Rose worked with Al-Bakri on her grant application to the Fulbright Foundation.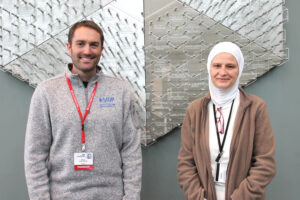 "Her background is in pharmaceutical microbiology, she has a long experience in methods used to assess biofilm formation, assessment of antibiofilm effects and alternative antimicrobial methods," says Rose. "During her visit, we're taking a molecule and improving its delivery to combat antibiotic resistant infections. The product, we hope, could be successful in application." 
Al-Bakri is already performing experiments in Rose's lab and gathering initial data for their project.
"We are currently experimenting with a biofilm model that simulates biofilm formation on medical devices," she says. "The results of this research will be highly impactful on preventing biofilm formation on medical devices and could increase their lifespan.
Both Rose and Al-Bakri hope to generate several publications in the nine months Al-Bakri is at UW–Madison and establish a long-term collaboration. In addition to research, Rose and Al-Bakri both hope to learn from each other's universities about education and training methods.
"She's at a pharmacy school in Jordan, and their training programs are different, so I think we can learn a lot from her on the educational piece," says Rose. "She's interested in understanding aspects of active learning, from textbooks to practical applications, and she can learn from us in that aspect." 
"Besides research, I am interested to learn how experiential education is run at the School of Pharmacy, specifically how they teach students personal and professional skills like leadership, interprofessional communication, and self-awareness," Al-Bakri says. "I can take that back home and work on enhancing our curriculum with new methods of teaching and assessment."
Diagnostic and therapeutic technologies
Seungpyo Hong, professor in the School of Pharmacy's Pharmaceutical Sciences Division and Milton J. Henrichs Chair, regularly hosts one or two visiting scholars in his lab.
"This is a starting point for longer-term collaborations, and that's going to give us an avenue for international recognition as a lab and as a School," Hong says. "I'm from Korea and have maintained good relationships with scientists there and in China. At this level of a research university, we have a mission to work with scholars overseas and interact, learn from each other, and develop new core technologies together."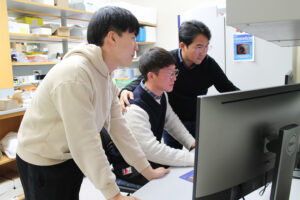 In light of a new program supported by the Korean government to fund travel for researchers, Jung Heon Lee, a professor at Sungkyunkwan University in Seoul, reached out to Hong to start an international collaboration.
"Jung Heon Lee was aware of our research on cancer immunotherapy and liquid biopsy and wanted to collaborate with us by sending a graduate student and postdoc," says Hong.
Lee's research group studies biological and nanoscale materials. 
"We thought we'd start a collaboration and find a way to put two types of expertise together to come up with something new," says Hong. "We are working on developing a therapeutic technology that goes with a companion diagnostic."
The visiting scholars, postdoc Jin Woong Lee and graduate student Do Hyeon Jung, are working on a cancer immunotherapy project, using their materials science expertise to develop new types of polymers, polymer lipid materials, and a new nanoparticle platform for cancer immunotherapy. 
"I wanted to conduct further research on bioactive nanomaterials, apply it to the clinical field, and study the adaptation of materials to more clinically relevant application," says Lee. "The UW–Madison School of Pharmacy has one of the very best preclinical research programs, and Dr. Hong's lab is doing research about immune checkpoint inhibitors, which can block cancer cells that evade T cells."
Jung looked forward to accessing a breadth of new instruments — such as an FTIR (Fourier transform infrared) spectrometer and nuclear magnetic resonance machine — to learn more about cancer cell detection platforms and related technologies. In his lab in Korea, he studied statistic detection targeted through nanoparticles. 
"I thought something synergistic could be created based on those technologies," Jung says. "Based on the reputation of the University of Wisconsin–Madison and the technologies in Dr. Hong's lab, I thought I would learn a lot."
History of pharmacy
Richert is hosting his first two visiting scholars this year, both of whom reached out to him about doing research in his lab and the American Institute of the History of Pharmacy (AIHP), where Richert serves as the historical director through his role as the George Urdang Chair in the History of Pharmacy.
"It's an exciting opportunity to get new people with diverse perspectives from different places into the lab and get them into the AIHP archives, researching and producing," says Richert.
Jiqiuyan Shi is a fourth-year PhD student in history at the International Center for Drug Policy Studies, Shanghai University. Shi is studying the social history of medicine and the history of international drug policy, focusing on non-governmental organizations and the League of Nations Drug Control system between the 1920s and 1940s. Specifically, Shi is looking at a missionary organization called the International Missionary Council, which was established in 1921.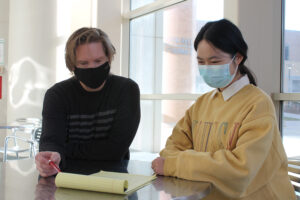 "I need to know the history of psychoactive substances and how and why substances like opium and morphine were regarded as illegal drugs," says Shi. "They were used as medicine, originally, but became a social evil in some countries. How to limit the use of psychoactive substances to scientific and medicinal needs and get rid of their misuse is still a problem today."
Shi chose to come to UW–Madison after Richert introduced his book Strange Trips: Science, Culture, and the Regulation of Drugs at Shanghai University last June.
"Professor Lucas Richert is a brilliant scholar in the social history of medicine, the history of pharmacy and mental health," Shi says. "He is also the editor in chief of The Social History of Alcohol and Drugs and Pharmacy in History, so I can gain professional suggestions about how to write and publish academic articles from him."
Shi was also drawn to the School of Pharmacy's many other researchers across fields.
"The School of Pharmacy is a prestigious institution, with many excellent researchers and rich resources," Shi says. "The American Institute of the History of Pharmacy not only holds abundant historical resources and collections, but also has experienced archivists like Gregory Bond, from whom I could learn how to read and analyze archives."
Shi says the biggest difference in the American research environment is that graduate students can serve as teaching assistants to gain teaching experience and communicate with their mentors more often. 
"The School of Pharmacy is a prestigious institution, with many excellent researchers and rich resources."
—Jiqiuyan Shi
"Jiqiuyan provides us with perspectives from the Chinese higher education system, to learn how they teach," says Richert. "There's an opportunity for collaboration."
Following a postdoc at the Florida State College of Medicine, Richard Del Rio completed his two-month summer fellowship in Richert's lab in August and is now teaching history at the University of Chicago Laboratory High School and working on a book.
"He's working on a history of pharmacy and pharmaceuticals project that addresses race more than any books have to date," says Richert. "He wanted to mine the AIHP archives, dig in, and get his hands dusty and dirty for two months. That's exactly what we want — to get scholars who will use those materials to generate new publications."
Del Rio's book, an expansion of the dissertation he wrote after spending a month examining the AIHP archives, is a history of rebate payment programs and how they perpetuate inequities in access to health care.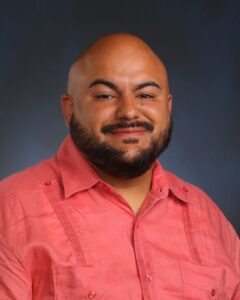 "Richard is introducing new analytical categories within the history of pharmacy and pharmaceuticals," says Richert. "He really has been great in helping us learn more about pharmaceutical inequalities, particularly with respect to people of color."
Del Rio says that multiple transactions take place behind the scenes of every pharmacy purchase, including insurers, distributors, pharmacy benefit managers, pharmacy chains, and insurance companies. In his research, he is examining the formation of that system, then panning out to its broader social implications. 
"There's an element of inequity in terms of who gets paid the most, and who gets the biggest cut when a product is bought over the counter," Del Rio says. "There are inequities in terms of who's allowed to participate in the market, as standards of participation narrow — a history of exclusion and how people try to circumnavigate that exclusion — and the consequences of that when it comes to the criminal market." 
"The School of Pharmacy and AIHP are my intellectual home. Greg Higby was on my dissertation committee, is full of insight, and was important in my intellectual development," says Del Rio. Higby (MS '80, PhD '84) was executive director of AIHP for more than 30 years and currently serves as its Fischelis Scholar.
Del Rio used AIHP's collections on the technical development of pharmacy and pharmaceutical sciences, including the legal and commercial side of the industry, as well as the Kremers reference files and the Ebling Library for the Health Sciences. 
"More scholars should take advantage of the collection and resources at UW–Madison," Del Rio says. "The combination of AIHP and the Ebling Library makes UW–Madison a special place to study this kind of material, and my visit was instrumental in advancing my research."