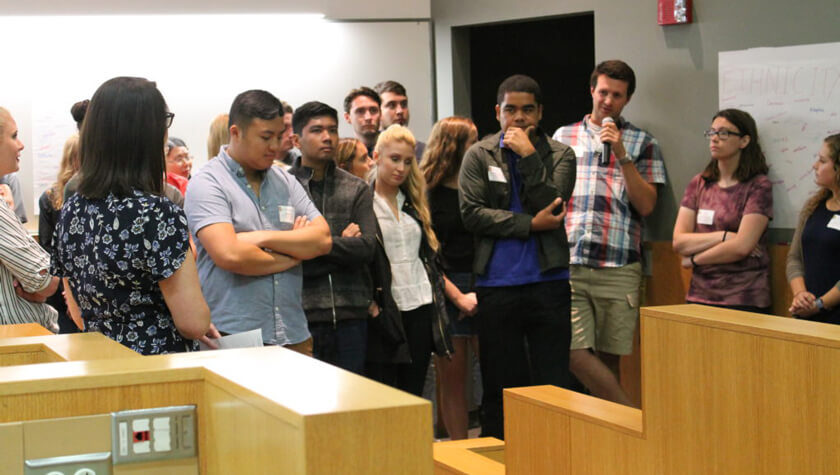 14
September
Faculty, staff, and students work together to build an inclusive learning environment
By Emma Gran
Across the University of Wisconsin–Madison School of Pharmacy, faculty, staff and students are working together to build a more inclusive community. The principles of diversity, equity, and inclusion (DEI) are core to the mission and objectives of the School as a global hub for innovation in pharmacy education, practice, and research.
"An important part of the School's mission and another way to advance the Wisconsin Idea is for us to educate and train pharmacists and pharmaceutical scientists who can address health disparities in Wisconsin and beyond," says School of Pharmacy Dean Steve Swanson.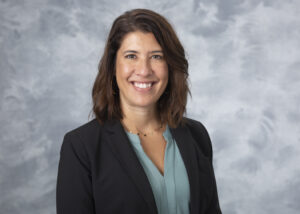 The School strengthened its commitment to DEI with the launch of its new five-year strategic plan in 2019, centered on three overarching concepts: innovate, cultivate, and educate. In particular, the School set out to increase historically underrepresented faculty, staff, and students, to prepare students to serve diverse and marginalized populations, and to foster spaces of respect and diversity.
"As the School works to ensure all of our students will be prepared to be inclusive health care providers in their professional careers, we are also working to foster an equitable, inclusive environment for all identities on our campus," says Lisa Imhoff, the School's associate dean for Diversity and Inclusion Initiatives.
Since Imhoff joined the School of Pharmacy in 2019 to champion the School's DEI programming, she has been working to identify opportunities to enhance DEI throughout the curriculum and culture of the School, while also empowering each member of the School of Pharmacy community to be engaged in challenging their own knowledge, bias, and development.
"I am excited and encouraged to see the progress we've made toward our goals in this short amount of time," says Imhoff. "We have our work cut out for us moving forward, but we have a plan and are enthusiastic to effect change here within the School that will carry outward into communities and patient care."
Bolstering student support
The 2020-21 academic year was historically challenging for many — access, awareness, and adaptability were guiding principles for student support and navigating new or augmented challenges at the intersections of race, ethnicity, socioeconomic status, gender, religion, ability, and sexual orientation.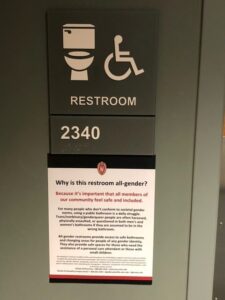 Through several initiatives designed to improve student experience and education in the last year, the School recognized the disproportionate impact of events such as the COVID-19 pandemic and George Floyd protests on social identities and showed a strong commitment to providing safe, inclusive, equitable spaces and opportunities to integrate DEI values and practices into classrooms, labs, and workspaces.
For example, in the last academic year, the School held monthly town hall meetings to address student concerns and held additional discussions in partnership with the School of Nursing and School of Veterinary Medicine for international students — an often-underserved student population who face unique challenges, especially throughout the pandemic, which threatened changes to visas and restricted travel.
In response to student feedback, the School also added pronoun fields and phonetic guides for name pronunciation to the student directory, and the dress code policy was reviewed and updated to improve inclusivity of multiple identities.
"We want all of our students to feel like their voices are heard and that they are recognized, welcome, and appreciated regardless of gender, ethnicity, ability, or citizenship status," says Imhoff.
To that same end, the School of Pharmacy opened the first all-gender, multi-stall bathroom on the UW–Madison campus last summer.
Alumni of the School of Pharmacy have also stepped up to support underrepresented students, creating two new funds at the School to help make pharmacy school more accessible and to help diversity the profession. In total, the School has about $200,000 available in scholarships that could support first-generation, underrepresented minority, rural, or low-income students.
"Diversity across each of these realms is important in ensuring our students reflect the full scope of patients they'll be serving out in practice," says Imhoff. "These funds will go a long way toward addressing barriers to enrollment."
An inclusive curriculum
One of the most comprehensive efforts of the School to reinforce an inclusive mindset and facilitate culturally responsive patient care is happening within the School's Doctor of Pharmacy program. A subcommittee of faculty from the Curriculum Committee is in the processing of identifying and mapping DEI content in the PharmD curriculum.  
"The first goal is to show us where we are at now," says Denise Walbrandt Pigarelli (BS '91, PharmD '93), an associate professor in the Pharmacy Practice Division and past chair of the Curriculum Committee. "Then, we can understand what adjustments we might make to reinforce, build upon, or scaffold DEI information being taught in our courses."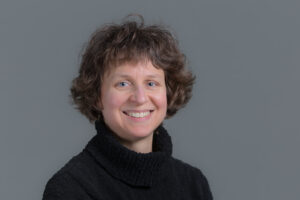 The subcommittee is currently collecting and sorting data from the Course Snapshot Tool, which is a course assessment completed by course coordinators at the end of each required term that tracks changes in taught topics, learning modalities, evaluation practices and any issues occurring in the class. The Course Snapshot currently has three questions related to cultural sensitivity, such as if and how instructors are incorporating material about diverse and marginalized populations.
"This will be an ongoing process as we ask faculty to update us each semester so we can get an accurate map of where DEI content is in our curriculum," Pigarelli says. "As we've been looking at the data we've collected in the past year, we are realizing just how much we actually do have in our curriculum. But now we need to think more intentionally about sequencing and scaffolding the information so that our students are as well-rounded as they can be at the end of their education."
According to Pigarelli, in the 2020-21 academic year, faculty for 23 of 38 required courses reported intentionally incorporating discussion or examples of diverse and marginalized populations into course content, such as through conversations about social determinants of health or implicit bias.
"We have excellent content already being offered in many of the courses our student pharmacists are taking," says Imhoff. "Now, we just need to turn up the dial and ensure aspects are seamlessly woven throughout, because in practice, DEI won't be a separate duty for pharmacists. They will need to understand cultural context relevant to their patients' health and make them feel seen, heard, and be provided the best care possible."
The DEI Committee is exploring using a cultural humility framework to help faculty, staff, and students visualize and identify key concepts and practices that promote cultural humility in interpersonal communications and provider-patient interactions.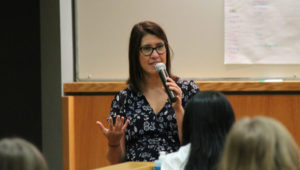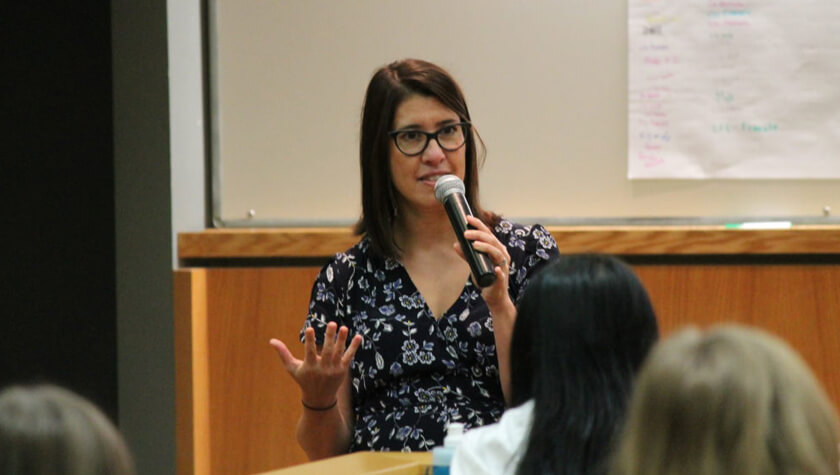 "This is going to be a longstanding project, an ongoing iterative process over time," Pigarelli says. "And it's a very collaborative process. The Curriculum Committee DEI subcommittee really appreciates the leadership of Lisa Imhoff and could not do our work without her guidance."
Similar work is happening within the School's undergraduate Pharmacology and Toxicology program. In spring 2021, Kendra Gurnee, program coordinator, used student insight to find opportunities to incorporate additional content on diversity and inclusion into the major's curriculum, which Gurnee hopes will help students feel more engaged and connected with coursework, increasing their success in the long run.
The major's faculty director, Professor Jeffrey Johnson, is very excited about this initiative and will be working with faculty to implement diversity and inclusion topics into their lectures and classroom activities, says Gurnee.
Other changes in the courses' syllabi include asking seniors to examine DEI in their final research project and providing more scientific talks and seminars that directly address diversity, equity and inclusion.
"Importantly, we're also going to be taking time in the syllabus to explain why we think these initiatives are important and why we are making this effort to include these topics," Gurnee says. "Our students come from a lot of different backgrounds, and in their future careers, whether in research or healthcare, they will be serving a diverse population. Anything we can do, even if it seems small, can have a big impact."
"They [student pharmacists] will need to understand cultural context relevant to their patients' health and make them feel seen, heard, and be provided the best care possible."
—Lisa Imhoff
The School's graduate programs are also addressing student challenges: They recently eliminated the GRE requirement, which can be prohibitively expensive, and began holding applicant interviews virtually, which saves students not only travel expenses, but potentially lost work time. A new master's program is also launching this fall, intentionally designed with a DEI framework from the start.
The Psychoactive Pharmaceutical Investigation program introduces a new, innovative curriculum heavily incorporating equity and inclusion topics as they relate to the Indigenous use of psychedelic medicines and disparities experienced among BIPOC (Black, Indigenous, people of color) communities concerning psychoactive drugs and the legal system. The program addressed contributions to diversity in the application and has financial aid set aside to support underrepresented students.
Fostering an inclusive community
As a key part of the School's DEI goals, senior leadership is continuously supporting endeavors to build a respectful, inclusive atmosphere within the School, as well as within the local community.  
"A big focus of this last year was the Health Sciences Learning Communities," Imhoff says. The learning communities comprised over 80 individuals organized into small groups of faculty, staff, and students across the School of Pharmacy, the School of Nursing, and the School of Veterinary Medicine, who met virtually once per month to discuss how they are learning and applying principles of diversity, equity, and inclusion into their personal and professional lives based on their own identities and interests.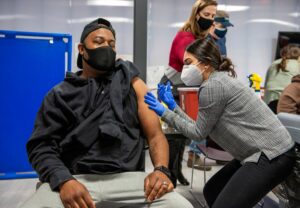 "It arose out of a need for connection throughout the pandemic and an ability for people in the School to talk about their DEI experiences with their campus neighbors," she says.
The School also coordinated multiple book reads and discussion groups and held sessions focused on DEI education and programming, such as designing and implementing inclusive teaching practices in a virtual setting, and sponsored a breadth of educational programs to help faculty and staff recognize and address bias, microaggressions, and health equity.
Beyond Rennebohm Hall and the UW–Madison campus, the School also pursued several efforts aimed at addressing COVID-19 vaccine equity and reducing disparities in care. In partnership with the Boys and Girls Clubs of Dane County, faculty, staff and students held vaccination clinics every Saturday in April and May 2021, helping to vaccinate over 800 Dane County residents in underserved neighborhoods. In June, the partnership was even highlighted in a "State of Vaccines: Increasing Access in Your Community and the Role of Clubs" webinar with the U.S. Surgeon General and hosted by the U.S. Department of Health and Human Services.
The School of Pharmacy was also involved with vaccination clinics and a weeklong education effort at the Ho-Chunk House of Wellness and the Goodman Community Center.
"When we come into communities with a culturally humble lens, we show pharmacy students the power of community outreach and why it's important to build trust with patients," says Imhoff.
Next initiatives
Although the School of Pharmacy is committed to promoting a climate, curriculum, and community that values diversity, inclusivity, and social justice, much work remains to be done.
Moving forward, Imhoff will be utilizing the Inclusive Excellence change model and toolkit to strategize and execute DEI efforts and is asking all staff, faculty, and units to do the same.
The model and toolkit lays out resources and techniques to empower every faculty, staff member, and student incorporate DEI into their daily work, with respect to ability, gender identity, ethnicity, religion, and more.
"We want all of our students to feel like their voices are heard and that they are recognized, welcome, and appreciated regardless of gender, ethnicity, ability, or citizenship status."
—Lisa Imhoff
"The goal is to have individuals, committees, divisions, and units assess where they are currently at and identify their own goals for the next one to two years," Imhoff says. "This toolkit will guide diverse stakeholders in co-creating a working draft of a DEI strategic plan, with the hopes of finalizing the plan in the summer of 2022."
Throughout the year, units will report on their progress at monthly faculty and staff meetings and work with the DEI committee and the Student Climate and Inclusivity committee to review and improve goals.
Moreover, Imhoff hopes the Inclusive Excellence toolkit will help the School establish baseline data, which will make it easier to measure progress.
"The toolkit really serves several purposes — it's reflection, its assessing what we are doing now and what we could be doing, how can we measure it and who will be accountable for the outcome," Imhoff says. "It also distributes the work, making it sustainable and weaving it into the organizational fabric of the School of Pharmacy."