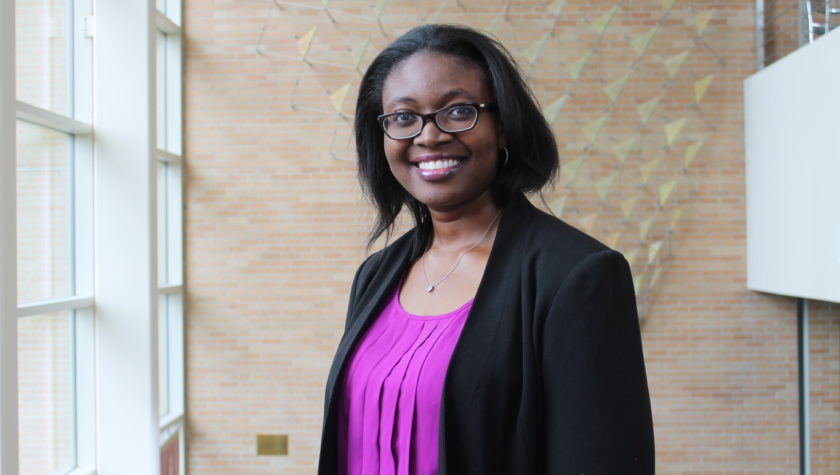 24
March
Assistant Professor Olayinka Shiyanbola's research on medication adherence takes patient-centered approach, wins national recognition
By Jill Sakai
Working in a community pharmacy early in her career, Olayinka Shiyanbola saw firsthand one of the biggest challenges facing effective health care: making sure patients took their medicines as they were prescribed.
Medication adherence is a particular challenge among patients with chronic conditions requiring ongoing treatment, such as cardiovascular disease, HIV, and diabetes. And it's an enormous problem. According to the Centers for Disease Control and Prevention, about half of patients in the U.S. stop taking their prescribed medications within one year. Not surprisingly, poor adherence is linked to poor patient outcomes, Shiyanbola says. Now an assistant professor in the Social and Administrative Sciences Division of the University of Wisconsin–Madison School of Pharmacy, she has dedicated herself to improving health care outcomes through better patient adherence to their prescribed treatments.
Focusing on the patient
Efforts to improve health care often focus on system-level issues, such as policy, access, and cost. These are all important, Shiyanbola says. But all too often, they overlook a critical player: the patient. Her research group is working to improve medication use through a patient-centered approach.  
"Medication adherence in its simplest form is just trying to help patients take their medicines the way their providers recommended they take them," Shiyanbola says. "The patient-centered approach thinks about how exactly do we get to a point of shared decision-making when it comes to those treatment recommendations."
When a person walks into a clinic, they come in with more than a disease, she says. They bring a wide range of personal characteristics that may influence their care: Social and cultural factors. Self-confidence level. Health literacy. Prior experience with the disease in their community or family. Misperceptions about the illness or its treatments. Fear. Coping mechanisms.
"We need to figure out how to build these very important patient factors into the way we communicate with patients, into the way we counsel them about medicines and also into the way we design our programs and interventions to improve health," says Shiyanbola.
Her research is about designing treatments to improve patient medication use. That means first understanding where the challenges lie. And that, in turn, starts with the patient.
"We need to talk to the patient first. We need to figure out, what is the patient's perspective?" she says. Often, a patient's view of their illness is very different from their provider's view. For example, what does the patient think caused their disease? Do they believe what their doctor has told them? Do they think their doctor is acting in their best interests?
"We need to talk to the patient first. We need to figure out, what is the patient's perspective?" –Olayinka Shiyanbola
Just as important is what patients think about their prescribed treatment. Do they think medicine will help them? Do they have concerns about it? When it comes to taking that pill, she says, even "if everything else is successful, it still boils down to the patient. They are the ones who have to pick it up and put it in their mouth"—today, tomorrow, and every day after.
"I feel that the heart of the matter, especially when it comes to medication use, is that cognitive process, that emotional reaction to the fact that 'I just got diagnosed with this illness,'" Shiyanbola says. The patient-centered approach gives the patient a much more active role in their own treatment. "It's taking the patient from the background into the foreground and saying, 'Hey, you matter. We want to know what's important to you.'"
Asking the right questions
Shiyanbola's research is working to use these patient perspectives to design more effective interventions. One of the first steps is to figure out which factors are most important for different groups of patients.
Right now, Shiyanbola is working with African-American patients with Type 2 diabetes, who as a group are as much as 25 percent less likely than white diabetes patients to take their medications as prescribed. The high rate of adherence failure almost certainly contributes to documented health disparities in this population. Type 2 diabetes is a complex disease, she says, but most patients can do well with proper management. Unfortunately, failure to follow prescribed care can lead to complications that may result in blindness, kidney problems, amputations, and even death.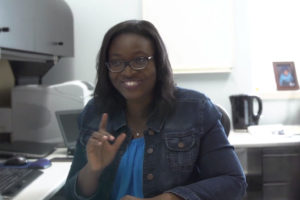 For the past three years, Shiyanbola's team has conducted focus groups in Madison and Milwaukee to identify key issues for a culturally relevant intervention to improve medication adherence among African-American diabetes patients. They have asked people about their disease, their treatments, and how both affect their lives. They've asked what patients find challenging and what would help.
They're learning that illness and treatment perceptions "vary among African-American populations compared to other groups," Shiyanbola says. Due to personal experiences and the sociocultural influences of family and religion, some African-Americans report believing that diabetes is caused by other medications, God's will, or even curses from ancestors. In addition to common questions about side effects, the researchers see African-American patients worrying about dependence effects of long-term treatment and wondering whether medications are necessary. They hear concerns about discrimination from providers and how a patient's race might impact their diagnosis and treatment.
And they hear about the strain that diabetes can add to their family and social lives. Food plays a significant role in social bonding for many communities, Shiyanbola says, and many patients report that needing to monitor their blood glucose and diet can negatively affect their family relationships.
Engaging the community
Armed with information, Shiyanbola's team is now ready to start putting its research into practice. With a new Collaborative Health Equity Research award from the UW Institute for Clinical and Translational Research (ICTR), they are gathering community and patient stakeholders to design and test a new educational-behavioral intervention for African-American diabetes patients in Wisconsin. She says, "it's going to take time to understand the issues from the patients' perspective and design the program. But that's what makes the patient-centered approach different."
"As researchers, it's very important to have that collaborative relationship with the community." –Olayinka Shiyanbola
One idea that emerged from the focus groups is a peer ambassador program—a "buddy system" that will pair new patients with other African-American diabetes patients who are successfully managing their own disease. The ambassadors will act as peer advocates to help new patients navigate the process, gain the confidence to ask the right questions and learn how to take control of their health. They can also show new patients that success is possible.
As they design the program, Shiyanbola and the researchers know they need to incorporate aspects of patient beliefs into the program and address common misperceptions. They need to include how a patient can talk to their provider to get the information they need and to understand their treatment, Shiyanbola says. And they really want input from the peer ambassadors. What has helped them along the way? What worked? What didn't?
Toward the end of the year, they will begin piloting aspects of their program with actual patients. They hope to test group sessions with a pharmacist and a health educator, as well as the peer ambassador component. They are collaborating with the North/Eastside Senior Coalition in Madison to ensure that their programs will be meaningful and useful for the patients they aim to help.
"As researchers, it's very important to have that collaborative relationship with the community through these organizations," Shiyanbola says. And, it helps them share what they learn with those it will affect the most.
Into the clinic
In parallel with the educational program, Shiyanbola is also developing culturally relevant illness perception questionnaires that can be used in a clinic, work being supported by a KL2 Scholars Program award through ICTR and funded by the National Institutes of Health (NIH). The goal is to help providers identify specific factors that may be important for a given patient's care. The questionnaire currently in use lacks many of the sociocultural and patient factors that Shiyanbola's group now knows are central to engaging a patient in their treatment.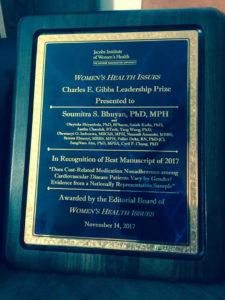 Shiyanbola is also expanding her focus beyond African-American diabetes patients to identify factors relevant to other patient groups. She recently collaborated with a team of health policy researchers to explore the role of gender in medication adherence. The team found that women with heart disease were more likely than men to skip taking their medication due to cost-related issues. Shiyanbola and her coauthors received the Charles E. Gibbs Leadership Prize for the best paper published in Women's Health Issues in 2017.
The result surprised some people because of assumptions that women would be more responsible in health matters, she says. But when it comes to household spending, some women may prioritize their family's needs over their own. The work underscores the need to really understand the reasons driving patient behavior.
Toward that end, she sees an important role for pharmacists, who provide a connection with patients that can complement contacts with the primary health care provider. "We want to get to the point where we can take some of the things we're finding and develop a program that can fit into a community pharmacy," Shiyanbola says.
She's testing the concept right now in the clinic setting. Working with the Veterans Affairs health system, she is designing a medication counseling program for clinic pharmacists who work with veterans with diabetes. The program will teach clinic pharmacists how to talk with patients about adherence-related issues such as beliefs, health literacy, and self-confidence.
It's a natural extension for a group already trained to help patients with their medications, Shiyanbola says. And she sees pharmacists' voices playing an increasing role in the broader conversation. Earlier this year, she became the first pharmacist appointed to the National Academies of Sciences, Engineering, and Medicine Roundtable on Health Literacy, a group of experts from the public and private sectors. She will meet with the national roundtable several times over the course of three years to advance the national dialogue about health literacy and how to move research findings into policy and practice with the goal of improving patient outcomes.
"It's not just about designing interventions that work, but also about designing interventions that are going to last for a long time," she says. She sees her work as adding to a toolkit that people can use in health programs and systems for all types of patients, all over the globe.
"I love doing what I'm doing. And hopefully we'll make the world a little better, step by step, every day. It's a process."
Learn more about Dr. Shiyanbola's patient-centered approach.