6
December
Associate Professor Warren Rose attended the 2018 American College of Clinical Pharmacy (ACCP) Global Conference anticipating one honor: to be officially inducted as a fellow of the ACCP in recognition of his substantial contributions to the organization as well as to clinical pharmacy research.
But his commitment to exploring new treatments for infectious diseases earned him yet another national award. At the conference, Rose, in the University of Wisconsin–Madison School of Pharmacy's Pharmacy Practice Division, was honored with the 2018 Distinguished Investigator Award from the ACCP Infectious Disease Practice and Research Network (ID PRN).
"My peers in the ID PRN are people I look up to and consider colleagues and mentors," says Rose. "Receiving this recognition from them really means a lot."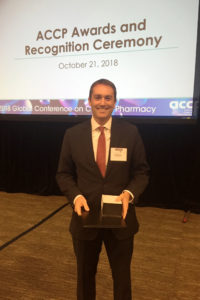 Rose, who is one of the first researchers to earn this award, has published 77 articles in peer-reviewed infectious diseases and pharmacy journals, wrote 81 abstracts presented at major professional meetings, and secured 20 research grants to date, including a grant from the National Institutes of Health Institute of Allergy and Infectious Diseases to research how older antibiotics can enhance the efficacy of newer drugs—and more is in the works.
"Dr. Rose has amassed a solid record of well-funded research and scholarly activities in the area of infectious diseases pharmacotherapy worthy of recognition as a Distinguished Investigator, and his sustained high-quality contributions make him stand out among his peers," says Elias Chahine, who was chair of the ACCP ID PRN at the time of Rose's selection. "His work is inspiring to many scholars across the country."
The Rose Lab aims to address the pressing global issue of antimicrobial resistance through a variety of means, such as finding new ways to re-sensitize bacteria to antibiotics against which they've developed immunity, or to amplify the efficacy of antibiotics through combination therapy. Similarly, Rose is also exploring how antibiotics affect the host and specifically how they might augment the host's immune response.
In further testament to Rose's quality as a researcher and research mentor, two of the seven UW–Madison School of Pharmacy's student pharmacists to have their abstracts selected for presentation at the 2018 ACCP Global Conference conduct their research in the Rose Lab—and they both walked away with an award of their own. Cecilia Volk, a third-year PharmD student (DPH-3) won the Distinguished Student travel award from the ID PRN, and fourth-year PharmD student Rachel Jenson (DPH-4) won the overall Best Student Poster award.
Read about the School of Pharmacy's PharmD students selected to share their research at the 2018 ACCP Global Conference.