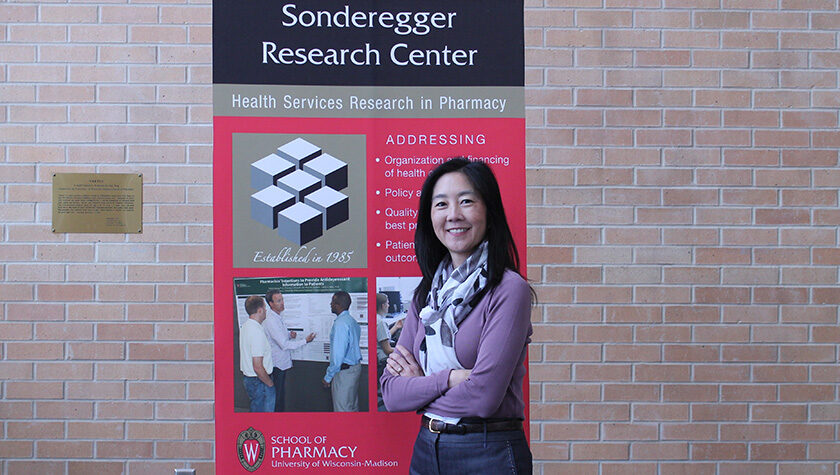 10
December
Professor Michelle Chui leads a project to boost the safety of OTC medication selections among older adults
By Arushi Gupta
Ibuprofen is one of the most frequently used drugs for older adults, found in many over-the-counter (OTC) medications like Advil, Motrin IB, and various cold and flu treatments. However, it's also complicit in drug interactions that can lead to emergency room visits.
Like ibuprofen, aspirin, acetaminophen, and the antihistamine diphenhydramine are common ingredients in OTCs. But that doesn't mean they're safe for every patient, especially when it comes to older adults, who are often on a complex medication regimen.
"You may think, 'It's just Advil PM, and it's going to help me sleep,'" says Professor Michelle Chui, Hammel-Sanders Distinguished Chair in Pharmacy Administration and director of the Sonderegger Research Center for Improved Medication Outcomes at the University of Wisconsin–Madison School of Pharmacy. "But older adults do not recognize that the sleeping ingredient in Advil PM is diphenhydramine, the same ingredient in many allergy, cough, and cold products. Diphenhydramine has anticholinergic properties, which means that, while it causes sleepiness, it also results in dizziness and confusion in older adults."
"It's not about training people to do the right thing; it's building a system that draws people to do the right thing."
—Michelle Chui
Older adults take many prescriptions that also may have anticholinergic properties, and the effect can intensify when the medications overlap. Moreover, older adults are already at risk of falling and breaking their hips or other bones because their bones are brittle, Chui explains, and diphenhydramine can lead to an increased risk of falls — in addition to masking the early signs of dementia.
To help older adults make decisions about their OTC purchases, Chui piloted an intervention that redesigned pharmacy layouts to encourage pharmacist consultation. With positive results, she's now working with Advocate Aurora Health to expand that project to more than 60 Wisconsin pharmacies. 
Promising preliminary research
"People want the ability to select their own product on their own in their own time, and to support that, we need to design pharmacies to facilitate not only safety but also patient autonomy," says Chui.
With collaborator Ken Walker, then a regional pharmacy supervisor with ShopKo, and scientists in the School's Sonderegger Research Center, Chui spearheaded a project to test a redesign that meets those goals.
The project tested a new aisle design — dubbed Senior Sections — that offered a curated selection of OTCs that are safer options for older adults, as well as cautionary signage and tools to help patients make appropriate selections, in a close proximity to the pharmacy counter.
With pharmacists at close range, patients could easily reach out with questions, or pharmacists could come over and see if they needed help choosing the safest OTC option for them.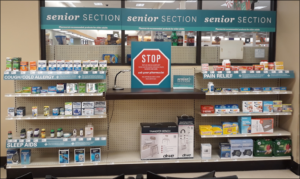 "We made it convenient for them to go and select OTC medication, and older adults became comfortable with the section since it was closer to the pharmacist and safer for them," says Chui. "The pharmacist was able to assist more easily."
According to Chui, changing the layout of the pharmacy itself is a more effective, sustainable long-term solution than training pharmacists to watch for older adults scanning shelves.
"The approach that I take is that it's not about training people to do the right thing; it's building a system that draws people to do the right thing," says Chui.
Their trial project ran in four Madison-area ShopKo pharmacies in 2019. Although the initial project was cut short by ShopKo closing all of its locations, the study's results — published in the Research in Social and Administrative Pharmacy journal — were clear and positive.
"Because of the convenience, location, and the way we designed the intervention, those interactions were more robust, had more clinical information come out or had more questions answered, and more high-quality information was exchanged between pharmacists and patients," explains Chui.
As a result of these high-quality interactions, the researchers found a significant decrease in patients selecting OTC medications that were contraindicated for their disease and an increase in patients following the labeled instructions for use.
Importantly, these patient conversations didn't increase pharmacists' workloads, which was intentional in the design.
"We wanted to create an intervention that would work side-by-side with pharmacists and be embedded into their normal workflow," says Chui. "What we heard is that this was very easy for pharmacists to do."
"What I want is for medication safety to improve for everyone and to help pharmacists do their job in the best way to keep their patients safe."
—Michelle Chui
Walker says that he saw this as a net positive for pharmacists, through both improved pharmacy services and expertise.
"I saw it as an opportunity for pharmacists and pharmacies to have another way to enhance their relationships with patients," he says. Additionally, he saw it as a catalyst to bring common OTC medication interactions to the top of pharmacists' minds.
"This project didn't just increase awareness of these medication issues, but it transferred it into our daily practice," he says.
Redesigning pharmacies, adapting interventions
With these positive preliminary results, Chui applied for and received a $1,500,000 grant from the Agency of Heath Research and Quality to partner with Advocate Aurora Health (AAH) pharmacies to expand their investigation into the effectiveness of a pharmacy counter-adjacent kiosk geared toward older adults. Walker, who is now the manager of retail pharmacy operations with AAH, continues to work with Chui on the project.
"Through our partnership with Advocate Aurora, we have access to more pharmacies," says Chui. "We're also using a more rigorous study design involving a randomized control trial."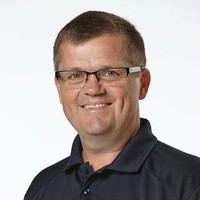 Chui's research — leveraging a transdisciplinary team including expertise in pharmacy, public health, geriatrics, biostatistics, human factors engineering, mixed methods analysis, and other areas — will encompass 63 pharmacies speckled across the eastern side of Wisconsin, strategically chosen to reach a range of communities that represent diverse socioeconomic statuses. Some of the pharmacies will implement the Senior Section intervention, and others will act as a control to help the team measure the design's effectiveness.
Through the three-year grant, Chui and her team will adapt the intervention to the characteristics of the patient population at each location as well as to three different pharmacy setups: pharmacies with a large floorplan that resemble typical community pharmacies, pharmacies with a smaller footprint that focus on dispensing, and telehealth pharmacies without pharmacists physically present in them. In telepharmacies, pharmacists verify prescriptions and counsel patients virtually.
To make the Senior Section as effective as possible, Chui and her team will be using feedback from pharmacy staff, older adults, and AAH stakeholders, as well as data from eye-tracking technology that reveals what features older adults are using to make their OTC selections.
"With the eye-tracker, we can see specifically what they're looking at and what they're reading when the pull a product off the shelf," says Chui.
By the project's end, Chui plans to assemble an implementation package that will allow any pharmacy to create a Senior Section and shepherd their older adult patients toward safer OTC choices.
"My life's work is to improve medication safety for everyone," says Chui. "It's not just about ShopKo patients; it's not just about Aurora patients. What I want is for medication safety to improve for everyone and to help pharmacists do their job in the best way to keep their patients safe."