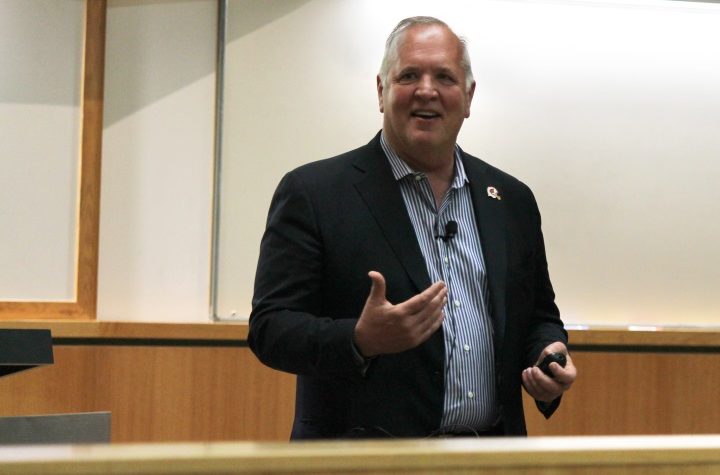 7
December
Career paths can be diverse in the pharmaceutical industry
When others zig, Tom McCourt zags.
McCourt (B.S. '80), chief commercial officer at Ironwood Pharmaceuticals and UW–Madison School of Pharmacy Board of Visitors member, has successfully worked both as a scientist in clinical development and medical affairs and as a marketer in brand management and commercialization in the pharmaceutical industry.
Throughout his dynamic career, McCourt strove to create and promote his own personal brand. Using his pharmacy degree, he seized the opportunity to expand his skills in both research and marketing. He noted that early in his career at Merck and Astra Merck, he was seen as a science guy who wanted to be a marketing guy, as first impressions die hard. Moving to Novartis created the opportunity for McCourt to transition to being a marketer with drug development experience.
"It's amazing what everybody's bias can be about who you are and what you can do. But you can reinvent yourself and that's what I did," he said in his talk on "Opportunities in the Pharmaceutical Industry: One Badger's Adventure" at the School of Pharmacy in October.
"Everyone has their own personal brand," McCourt explains. "The challenge is finding your spot. What is it you love to do? What is your own personal purpose? Chase it with a passion."
Passion for pharmacy
For McCourt, the passion for pharmacy was in his blood. The son of a pharmacist, McCourt applied to one school, UW–Madison, out of high school in pursuit of his two passions: pharmacy and football.
"I was a 'walk-on' trying to make the UW football team," recalls McCourt. "I experienced a head injury, a temporal lobe injury that developed into a seizure disorder, so I got very interested in pharmacology."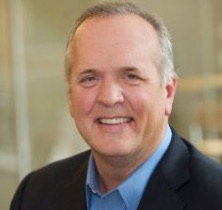 While his football career was cut short, his passion for pharmacy never wavered. "I came in here to make a difference in people's lives and certainly I've had the fortunate experience to be able to do that," McCourt says.
As he reflected on his career, he recalled the diverse opportunities provided by a pharmacy education as he moved through the different areas of pharmacy. In the pharmaceutical industry, there are career paths in discovery, development, manufacturing, medical affairs, commercial, and business development.
"When you think about components of drug discovery, it certainly starts with the path of physiology and pharmacology. In addition, you come up with that molecule, whether it's a large molecule or a small molecule, and determine how are you going to deliver it, how is it going to act in the body?
"When you think about all the things that you're learning today in science, how do you apply those? It's the same questions industry asks themselves every single day. Where do we want to play and how do I get there? The second area is, once I have a molecule, now I have to prove that it's effective. There's a whole area here around clinical development where pharmacy can play a huge role, whether it's figuring out what are the end points, how to define trial design, or how to operationalize clinical trials," says McCourt.
Starting on the medical side
McCourt began his pharmacy career at Merck as a hospital representative, and then moved into medical affairs working on Prilosec, which became a blockbuster drug. When Merck decided to spin off a separate company called Astra Merck, which then became AstraZeneca, McCourt led medical affairs at Astra Merck, "drawing upon all the skills and things I'd learned at the School of Pharmacy that really enabled me to succeed in that role."
Working with both clinical and marketing teams, McCourt ran Prilosec during a time of significant challenges.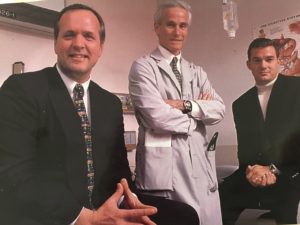 "When Prilosec was first approved, people thought it was too potent. In fact, it launched with a box warning about tumors, so physicians and consumers were terrified of this drug," he recalls.
McCourt, as part of a team, turned a challenge into an opportunity and worked to demonstrate the safety of the drug to the FDA and saw a big win.
"It [Prilosec] was the first drug ever to have a box warning removed," says McCourt. "The FDA also allowed us to actually broaden the clinical utility of the drug beyond just erosive disease into heartburn."
Heartburn is a symptom of gastroesophageal reflux disease (GERD), and the GERD indication paved the way to make Prilosec one of the most successful drugs in the history of the pharmaceutical industry, but there was no definition for GERD in the beginning.
"One of the challenges that we faced to market a GERD indication was how to describe it? Working with a small team of GI experts and the American Society for GI Endoscopy, we were able to demonstrate the correlation between heartburn frequency and esophagitis, defining GERD as two or more days a week of heartburn. This became a common definition the FDA accepted, and both patients and physicians could understand and identify," McCourt explains.
"There are many paths to take. Discover what you love to do and have the courage to just chase that dream." –Tom McCourt
Ready for a career pivot
Joining Novartis to head up its gastrointestinal (GI)  therapeutic franchise with the launch of Zelnorm, which was the first drug for irritable bowel syndrome (IBS), McCourt then led strategic marketing and marketing operations.
His first big move into marketing to launch Zelnorm hit a snag.
"Sitting in my office, we get a call from the FDA, telling us your drug [Zelnorm] is not approved," McCourt remembers. "I came over here to reinvent myself and launch this new drug, and the drug is refused by the FDA."
With the same tenacity and problem-solving mindset that made him successful at Merck and Astra Merck, McCourt helped a team of scientists at Novartis convince the FDA to recognize IBS as a serious medical condition. This required input from experts and the GI community to prove both the debilitating symptoms of the condition, as well as the efficacy of the drug. 
Through this process, he realized the importance of communication, not just between the industry and the market, but also between a patient and their health care provider. "When a patient comes in and they say they've got constipation, the doctor thinks it's a bowel frequency problem," he explains, "but for the patient, it's pain and discomfort, so we have a complete disconnect."
Following the trail to biotech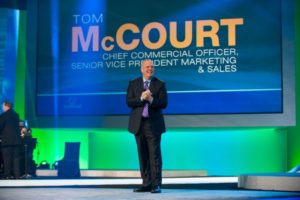 McCourt then was recruited by a startup and moved from the pharmaceutical industry to biotechnology in 2009, becoming the chief commercial officer of Ironwood Pharmaceuticals. At Ironwood, he worked with a drug development team to create Linzess, a market-leading drug aimed at easing GI symptoms.
Since then, they have collaborated with a team of experts from academic centers to launch an app called MyGiHealth to improve communications between patients and health care providers. Patients are able to evaluate their GI symptoms, and clinicians can quickly pull a patient history, allowing them to identify red flags and find better solutions. With 80 million Americans suffering from a GI disorder and 42 percent of primary care visits relating to GI disorders, he believes this is the cutting-edge in health care technology.
Looking beyond the obvious
He encouraged School of Pharmacy Badgers to find their passion and to think big in what they can do with their pharmacy degree, with the aim "to inspire you to look beyond the obvious in front of you."
"There are many paths to take," he says, pointing out the diverse backgrounds of the School's Board of Visitors, which is comprised of successful alumni from community pharmacy, hospital pharmacy, industry, and academia.
"Choose your initial opportunities or position based on what you think your gifts and talents are. But also find your own personal purpose," advises McCourt. "More importantly, discover what you love to do and have the courage to just chase that dream."
Learn more about Tom McCourt in Medical Marketing and Media.