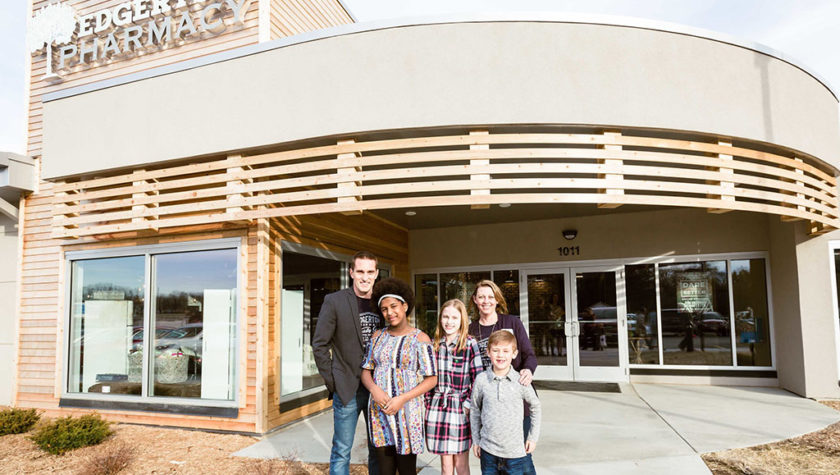 10
September
Two School of Pharmacy alumni are working toward a futuristic model of health care
Photos contributed by Edgerton Pharmacy
The brick and reclaimed wood aesthetic, thoughtfully arranged displays, and suspended bubbles, bikes, and flower boxes make Eric and Jenna Gresens' business look like a stylish boutique or the pages of an interior décor magazine.
But the Gresens (BS '98) have created something else entirely: a true community pharmacy, where they actively work to understand their patients' changing needs, provide a range of innovative services and embrace the future of pharmacists' role in health care.
"We have always believed in the simple but powerful notion that we could humbly make a difference in the world," reads a plaque near the door of their Edgerton, Wis., store. "Drawn to create a pharmacy where our patients could be treated as individuals while collectively cared for, we set our sights on a new evolution of pharmacy, well beyond prescription care."
They purchased Edgerton Pharmacy in 2003, only five years after graduating from the University of Wisconsin–Madison School of Pharmacy, when they were both 28 years old. Since then, they've redesigned their space and their practice, created a second pharmacy devoted to long-term care, and have gained partial of ownership of a chain of Wisconsin pharmacies.
"We need to have a broad understanding of what health care is for our community." –Jenna Gresens
"We both realized that although it means a lot of work and sacrifice, we like having control over our destiny and knowing that what we put into this will be what we get out of it," Jenna says. "We're both very hard workers, so this is a unique avenue for us to be able to capitalize on those strengths."
As preceptors for the School of Pharmacy's PharmD students during Introductory and Advanced Pharmacy Practice Experiences, the Gresens are helping to develop the next generation of pharmacists into forward-thinking practitioners. Soon, they hope to soon join the School's Community Pharmacy Residency program as well.
"Edgerton Pharmacy is a perfect example of what innovative pharmacy practice looks like," says Mara Kieser, assistant dean of experiential education and professor in the Pharmacy Practice Division. "We're grateful to have pharmacists and alumni like Eric and Jenna re-envisioning the profession and teaching our students to think outside the box to meet the health needs of their community."
The Gresens' recently "re-launched" Edgerton Pharmacy was deliberately designed with community in mind.
Innovating what 'community pharmacy' can mean
Shortly after graduation, Eric started working at Edgerton Pharmacy, while Jenna was working in a hospital pharmacy environment. In 2003, the opportunity to buy the business presented itself, and Eric was ready to leap in.
"My husband was raised on a farm, so that engrained in him an entrepreneurial spirit, and he kind of took me along for the ride to begin with," she says. But it wasn't long until she, too, caught the bug and she left the hospital arena to help Eric run Edgerton Pharmacy.
After nearly 15 years of owning the pharmacy, they relocated, which offered the chance to make a larger shift. 
"We did a lot of self-reflection on what we wanted to be, what we accomplished so far, and what we still want to do," says Jenna. "It really came down to the fact that we really want to be health care providers, and we felt like there were untapped opportunities for that."
The Gresens decided to build a store to provide a range of services and to remind the community that, as pharmacists, they are accessible and trusted health care providers who are a resource to tackle health issues from several angles—not only through prescription medications.
Edgerton Pharmacy moved into the new location in April 2018. In the physical space itself, which the Gresens were able to design, they included a gathering room for educational community classes, where they've already held an introductory class about essential oils and a back-to-school program for families to maintain health through the challenges of a new school year. They also host an ongoing support group for Edgerton citizens living a ketogenic lifestyle.
Aside from the community room, they also created three smaller rooms that resemble clinic spaces—a move toward the future they're envisioning for pharmacists. These spaces are set up for point-of-care testing, for small health concerns like strep throat and influenza screens. Wisconsin pharmacists haven't yet been granted the legal capability, but, "Point-of-care testing is happening, and we want to be there when Wisconsin embraces it," Jenna says. They are similarly anticipating pharmacogenetic testing.
"I can't see another path where we would get as much satisfaction in what we do every day." –Jenna Gresens
Their pharmacy also conducts medication reviews and can deliver both vaccines and non-vaccine medication injections, such as long-acting antipsychotic medications, which Wisconsin law recently empowered pharmacists to administer.
The shelves of Edgerton Pharmacy are filled with healthy snack options, natural beauty products, essential oils, herbal medications, herbal supplements and a selection of products and vitamins for kids—and even pets.
"If we really want to help people with their health care, we have to be knowledgeable in those spaces, too, because that's what people are turning to," Jenna says. "We need to have a broad understanding of what health care is for our community."
Reaching a broader community
Edgerton Pharmacy itself is only one of the Gresens' family of pharmacies. Shortly after they purchased that business, they began to work with other small pharmacies in the area to reach another distinct and important community: long-term care.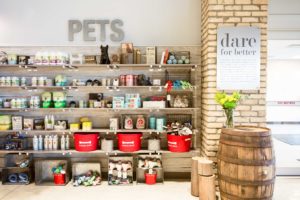 A partnership with Dan McGlynn (BS '92), owner of McGlynn Pharmacy in Stoughton, Wis., allowed that initiative to go even farther. The Gresens and McGlynn jointly launched RockMED Pharmacy in 2009, also based in Edgerton, which is solely focused on meeting the unique needs of long-term care patients, their families, and their caretakers. 
"Working in long-term care, you are exposed to many patients who have complex medication needs, and as pharmacists we can provide them a huge value and really make a difference in their lives," Eric says.
Neither pharmacy had the volume and staff to start a full-scale long-term care pharmacy, but as a team, they've been able to give RockMED its own space, staff and fleet of delivery drivers that serve more than 40 facilities in southern Wisconsin.
Even before RockMED—which has grown to become the cornerstone of the REM (RockMED, Edgerton, McGlynn) Group—the Gresens and McGlynn used each other as resources and share the philosophy that community should be at the core of pharmacy. McGlynn, another Badger pharmacy alumnus, bought his Stoughton pharmacy from the same parent company as the Gresens.
The Gresens and McGlynn teamed up again when they heard of an opportunity to be a part of a longstanding Wisconsin pharmacy chain. REM Group purchased Marshland Pharmacies in 2017 from John and Susan Sutter (BS '78)—the School of Pharmacy's 2017 Alumni of the Year who have long been leaders in Wisconsin pharmacy.
Juggling these businesses, plus their three children, has undoubtedly been stressful and time-consuming for the Gresens—but well worth it.
"I can't see another path where we would get as much satisfaction in what we do every day, and it's really allowed us to decide and live our own mission and vision," Jenna says.
Embracing the future
Although they've already accomplished a lot in the 20 years since they graduated from the UW–Madison School of Pharmacy, there is still more on the horizon for the Gresens and their profession.
They're just finishing up construction on a new building for RockMED, which will move into the new space this fall, and are still seeking new ways to serve the adopted hometown they've come to love.
"We want to be able to ask prescribers what their pain points are and what we are capable of doing to make the process easier for prescribers, patients and pharmacists while increasing the quality of care," Jenna say. She has that same hope for pharmacists everywhere
"Eric and I have always known that we want to help people, which can mean a lot of things, but we want to feel like we can look our patients in the eye and tell them that we've done our best of them," says Jenna. "We want to invest in and be good stewards of our community, and I think so far we've met those goals and enjoyed each step of the journey."
Read about more innovative UW–Madison School of Pharmacy alumni, who founded a practice as pet pharmacists.