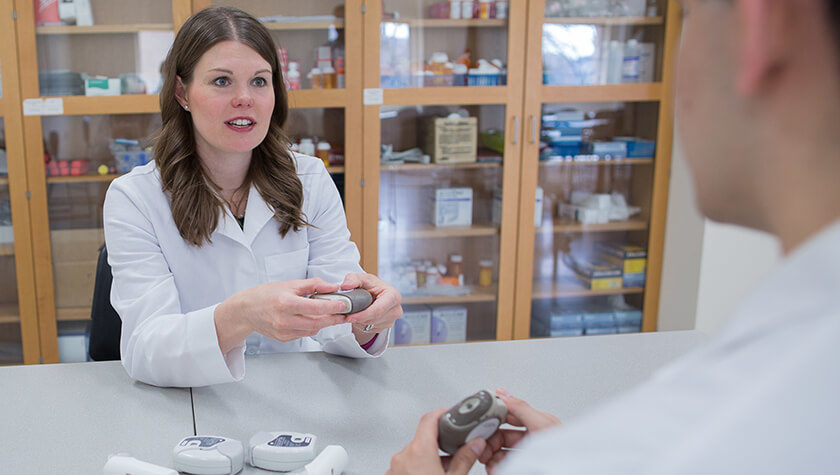 10
December
School of Pharmacy enacts new strategic plan to empower the pioneering minds at the heart of health care
Innovate, cultivate, and educate — the vision for the University of Wisconsin–Madison School of Pharmacy's future is organized into those three overarching goals.
Those are the pillars propping up the School's newly enacted strategic plan, which will guide the School's interprofessional and multidisciplinary pursuit of new knowledge and new strategies for teaching, building community, and improving patient care.
"If there is one goal underpinning the whole strategic plan, it's to break down silos and encourage the creation of teams from different research or practice areas working on the same problems," says Professor Mel de Villiers, vice dean and associate dean for academic affairs, who led the creation of the strategic plan with the Academic Planning Council (APC).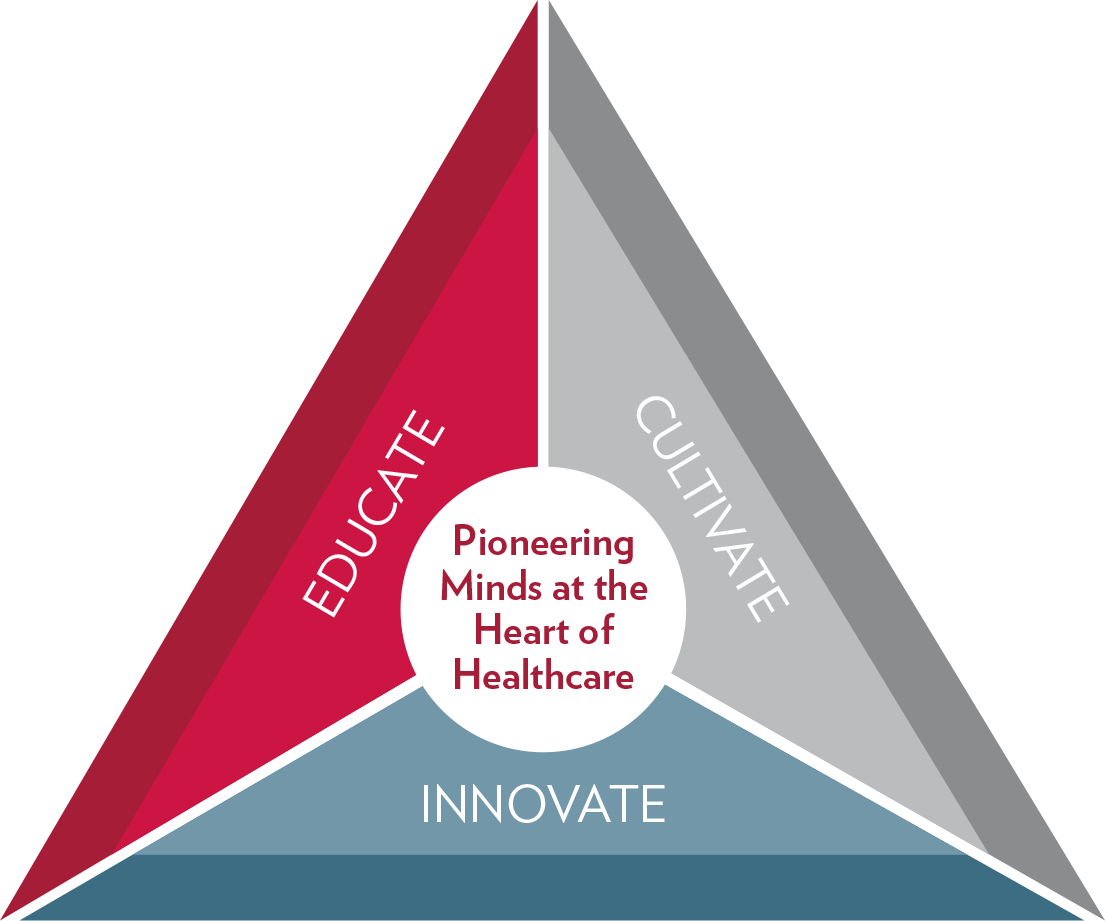 The APC, which comprises two faculty representatives from each of the School's three divisions, bolstered each ideal with specific goals and strategies to achieve them by 2025, when the plan will be revisited.
Through a year-long process, the APC began meeting with the UW–Madison Office of Strategic Consulting to identify challenges with the previous strategic plan and opportunities to respond to current needs in the field of pharmacy and research. After reviewing the School's pre-existing priorities and identifying new ones, the APC organized them into three buckets — innovate, cultivate, and educate — and shaped the supporting goals to reflect contributions from each division: Pharmacy Practice, Social and Administrative Sciences, and Pharmaceutical Sciences.
"The idea of the strategic plan is to unify everyone — faculty, staff, and students alike — to be moving in the same direction, toward the same goals," says Associate Professor Arash Bashirullah, who was one of the Pharmaceutical Sciences Division's representatives on the APC during the creation of the plan.
"Hopefully it speaks for everybody, and to everybody," he says.
Innovate: Position the School to advance the future of health care
As the first to introduce a four-year degree in pharmacy, the School has a long tradition of innovation. And the new strategic plan solidifies it as not only a central building block of the School's history, but also its future.
The idea of innovation is a clear force behind the School's leading research enterprise, which will continue to advance clinical practice, interdisciplinary and translational research, health care policy, and personalized pharmacy. But it's also a guiding principle for the educational mission, aiming to enhance the scholarship of teaching and learning.
"The goals behind our innovation priority are really cross-divisional, even cross-campus," says de Villiers.
Personalized pharmacy, for example, connects to the ongoing search for a faculty member focused on cancer therapeutics and precision medicine, who will collaborate with the new UW Center for Human Genomics and Precision Medicine. But personalized pharmacy is also linked to the work of the School's Sonderegger Research Center for Improved Medication Outcomes, which employs both Big Data and multidisciplinary partnerships to evaluate how patient care and outcomes are impacted by policies and practices.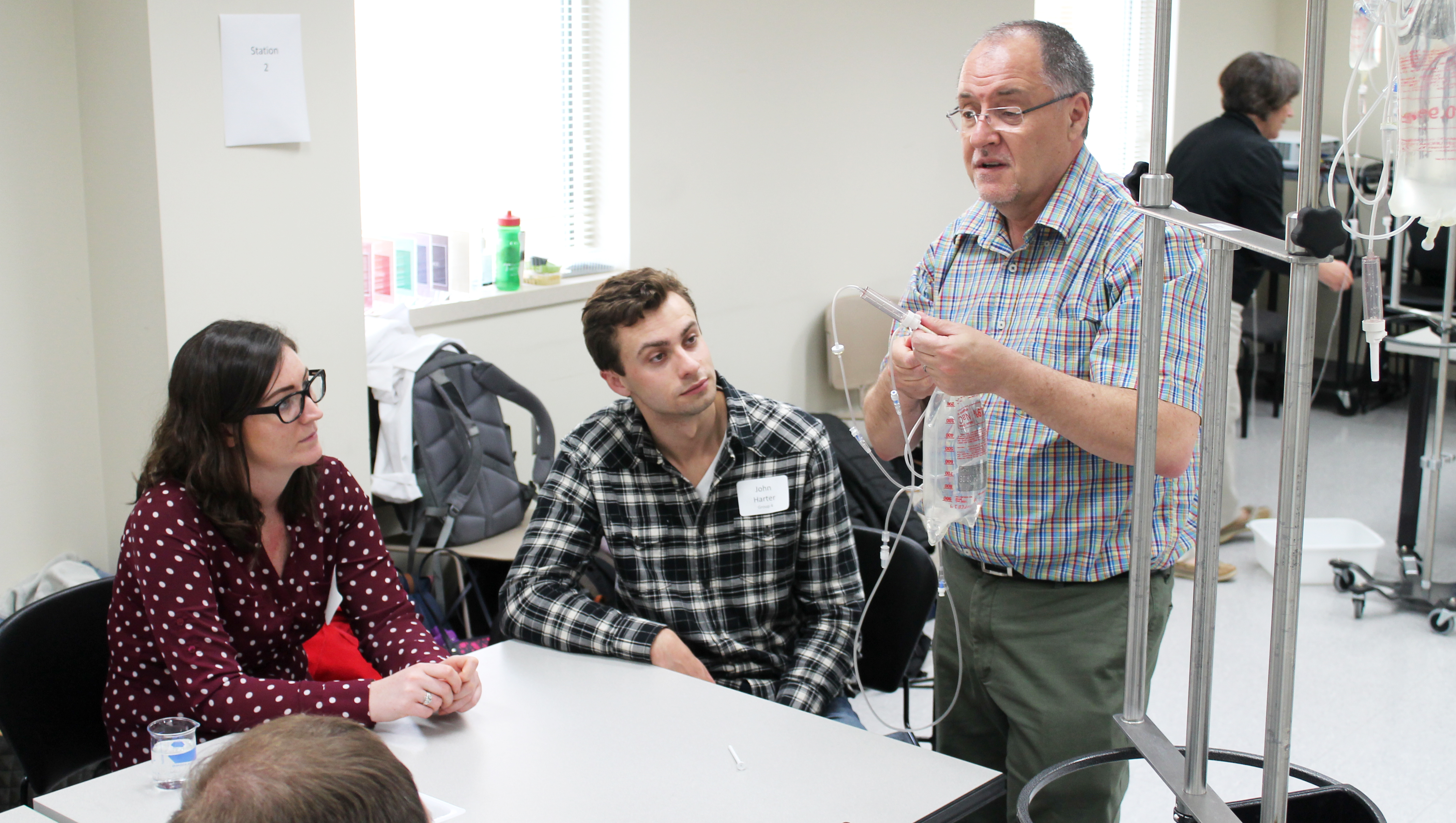 Cultivate: Foster spaces of inquiry, respect, diversity, and dedication to talent development
Cultivating the minds of future pharmacists and researchers has always been a top priority of the School of Pharmacy.
Through this new strategic plan initiative, in addition to supporting a growth mindset and increasing development opportunities for faculty, staff, and students, the School also aims to increase the numbers of underrepresented groups within its internal community through new recruitment and retention strategies, including increasing scholarship offerings to aid prospective students for whom tuition might be a barrier.
Some of the space the School is fostering refers to space within the course schedule for experiential education, specifically for Introductory Pharmacy Practice Experience (IPPE) rotations and reducing redundant scheduling to help students complete their 300 required hours without missing out on lectures and labs.
"It can be stressful for students to complete IPPE hours during the academic year, especially when they conflict with courses and class time," says Associate Professor Andrea Porter, who was one of the Pharmacy Practice Division's representatives on the APC.  "Our strategic plan aims to reduce this conflict for students and provide them with more dedicated time to develop professionally."
Educate: Empower students and stakeholders to transform care
Education is the inherent goal of any school, but this strategic plan priority is specifically looking at new educational initiatives to produce future leaders.
"This represents a change of mindset," says Bashirullah. "It's not just about delivering content, but empowering students to take over to lead in their respective fields, whether it's leading a community, a practice area, or a research discipline."
In pursuit of this mission, the School will be increasing a focus on the interconnected nature of health care, positioning students to hold positions of influence, and preparing them to serve marginalized populations.
"It's not just about delivering content, but empowering students to take over to lead in their respective fields."
—Arash Bashirullah
"In the strategic plan, we were very bold in saying that at some point, every PharmD student will gain experience working with diverse populations," says de Villiers, by completing an IPPE or Advanced Pharmacy Practice Experience rotation in an area with a rural, underserved, or minority population.
But the mission to serve marginalized populations transcends pharmacy practice and the PharmD program and applies to the social and pharmaceutical sciences as well.
"As researchers, we should be taking into account diverse genetic and socioeconomic backgrounds when interpreting the results of a study," says Bashirullah. "We should be training the PhD students, the PharmD students, the PharmTox students, everybody, that the goal is to conduct research that considers all populations."
Hitting the ground running
Although the strategic plan was approved just earlier this year, faculty and staff have already begun to make progress.
For example, in the effort to prepare students to serve marginalized populations, curricular mapping is already in progress to see where ideas of diversity, equity, and inclusion are already being covered and how. The Curriculum Committee is also surveying faculty to see where else these ideas can be incorporated to provide PharmD students longitudinal and contextual exposure.
"Ideally, instead of creating new courses, we will build these ideas into existing courses spread throughout the curriculum," says de Villiers. "It is more relevant and meaningful for students to see how they fit directly into pharmacists' other responsibilities and knowledge areas."
And Associate Professor Olayinka Shiyanbola, one of the representatives of the Social and Administrative Sciences Division on the APC, is introducing two initiatives for first-year PharmD students in the required Social and Behavioral Aspects of Pharmacy Practice class. One is a Native American Cultural Heritage panel to expose students to indigenous beliefs and their implications for provider communication and engagement with the health care system. The other is a simulation of socioeconomic disparities, during which students must manage real-world responsibilities, including health care needs, with limited resources.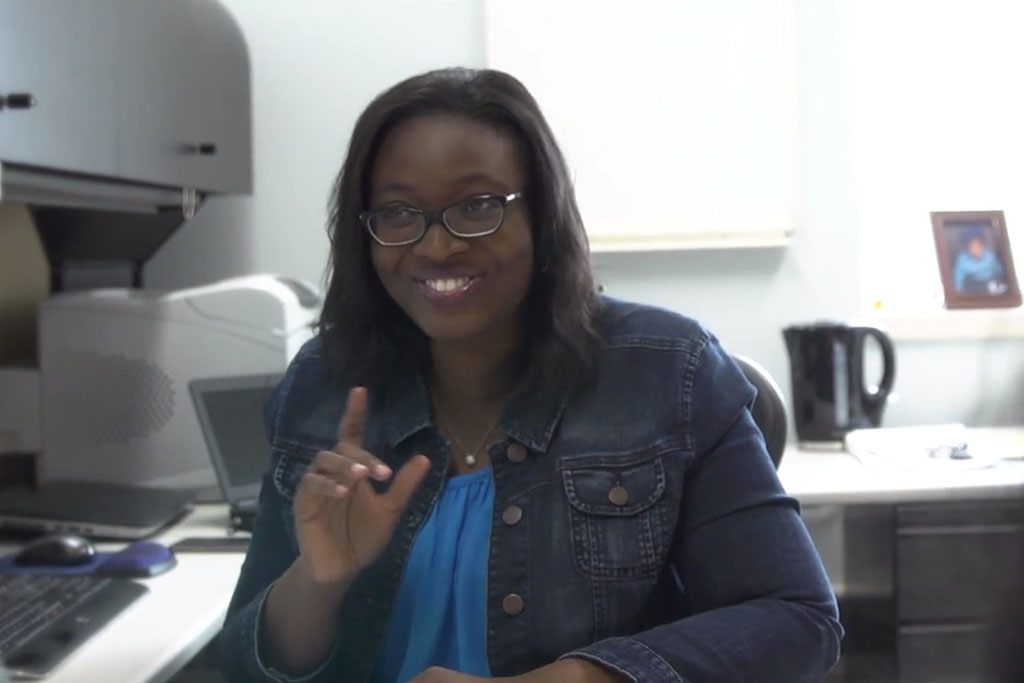 "This activity will foster empathy for patients with limited resources who must make difficult decisions about their lives and health and will memorably demonstrate the impact of multiple social determinants of health on an individual patient or family," says Shiyanbola.
Porter says a task force has also already been convened to examine opportunities to determine the best solution for IPPE hours scheduling. And to give students a bit more breathing room each semester, a bill has been introduced to the Wisconsin State Assembly (AB 372) to allow the School to depart from the undergraduate academic calendar and begin classes before September 1.  
These are just a few of many efforts already in full swing to enhance education, fuel research, and produce the pioneering minds at the heart of health care. As progress continues to accelerate, de Villiers hopes the new plan will become a living document that will be updated as new priorities arise.
"We want to continuously monitor our progress and update this roadmap so that as we complete goals and as the landscape changes, the UW–Madison School of Pharmacy will retain its place on the cutting edge of practice, research, and education," he says.