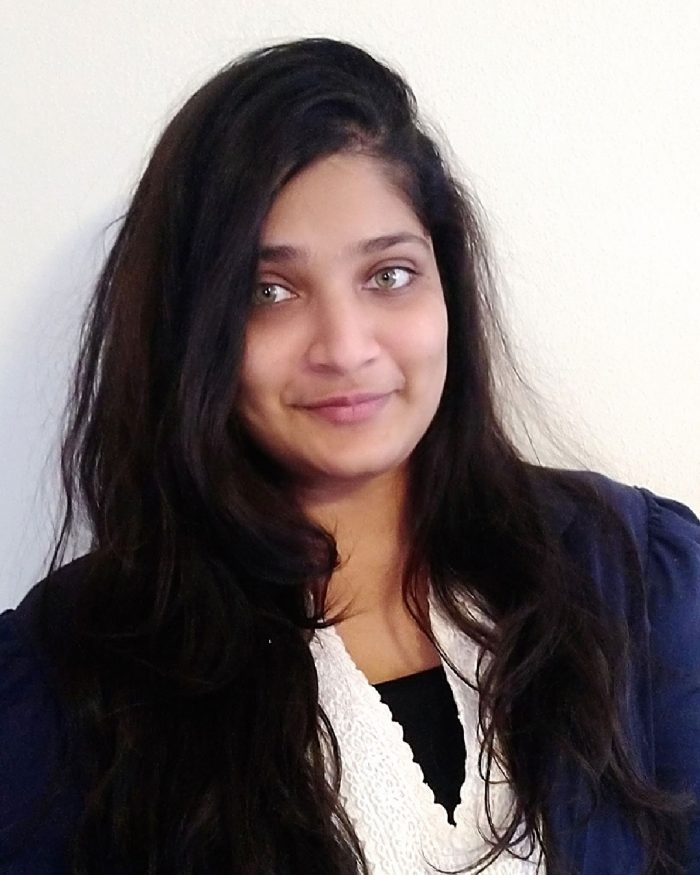 Shweta Shah, PhD
Shweta Shah is an international PhD candidate in the Health Services Research in Pharmacy (HSRP) program in the Social and Administrative Sciences Division at the University of Wisconsin–Madison School of Pharmacy. Her PhD minor is in the field of industrial and systems engineering, with a concentration in human factors engineering and a certificate in patient safety. Shweta earned her MS in 2018 from Creighton University, Omaha, and her bachelor's in pharmacy in 2016 from Mumbai University, India. She employs her pharmaceutical background and health research expertise to comprehensively develop and study the impact of patient-centered interventions on patient safety.
Shweta brings her perspective as an experienced mixed-methods researcher to the Chui SAMS Lab. Prior to starting her PhD, she worked (in summer 2018) as a project assistant for the Chui SAMS Lab as part of the OTC Medication Safety project and was responsible for data management of older adult medication lists and data transcription of audio-video interview data. Since then, Shweta has served as a critical thinker, primary qualitative research analyst, and scientific writer spearheading various publications for the OTC project in the Chui SAMS Lab. Mainly, these projects explored older adult decision-making behavior for OTC medication selection and (mis)use.
Since 2018, Shweta has also significantly contributed to educational research in the Pharmacy Practice Division. She serves as a principal quantitative analyst on several projects including longitudinally understanding student metacognition, discerning characteristics of pharmacy preceptors completing professional development training, and validating the Pharmacist Patient Care Process survey. Shweta continues to disseminate findings and has first-authored more than six publications and abstracts in the field of educational research and outcomes.
Shweta's primary research interests are in the field of patient-centered care and health technology safety. For her MS thesis, she leveraged the Systems Engineering Initiative for Patient Safety (SEIPS) framework to understand the dual impact of health-related technology on safety. She used a sequential mixed-methods approach on a state-wide patient safety database to assess frequency, type, and severity of medication errors mitigated as well as emerged due to use of health-related technologies in pharmacies. Currently, Shweta is working on her doctorate dissertation project. She will use a participatory design approach to understand end-user perspectives for developing a patient-centered intervention to support care of children with medical complexities.
Shweta envisions applying her patient-centered research experiences in a career in one or more of the following fields
Patient-reported/clinical outcomes assessment
Health economics and policy research
Health technology assessment
Awards and honors
2021 – UW–Madison, Sonderegger Research Center for Improved Medication Outcomes (SRC) Dissertator Award
2018–2019 – UW–Madison, Wiederholt Graduate Student Travel Award
2019 – UW–Madison, Student Research Grants Competition Travel Award
Publications
Find additional publications of Shweta's on her professional social media. Her most recent first-authored publications include:
Shah S, Gilson, A.M.; Jacobson, N.; Reddy, A.; Stone, J.A.; Chui, M.A. Understanding the Factors Influencing Older Adults' Decision-Making about Their Use of Over-The-Counter Medications—A Scenario-Based Approach. Pharmacy (2020).
Shah, S., Morris, A. O., Stone, J. A., & Chui, M. A. (2020, September). Older Adult Shopping Persona Types and its Impact on Over-the-Counter Medication Misuse. In Proceedings of the International Symposium on Human Factors and Ergonomics in Health Care (Vol. 9, No. 1, pp. 124-128). Sage CA: Los Angeles, CA: SAGE Publications.
Shah S, Pigarelli P, Margolis A. Longitudinal Evaluation of Pharmacy Students' Metacognition in Interpretation of Evidence-Based Medicine. Currents in Pharmacy Teaching and Learning. August (2020).
Professional social media
Connect with Shweta at LinkedIn and ResearchGate.