Our Research
The goal of the Chui SAMS Lab is to improve medication safety in the pharmacy setting by developing a more solid conceptual foundation for understanding medication errors in community pharmacies.
Understanding Systemic Factors of Medication Errors
There are approximately 88,000 pharmacies across the United States dispensing 87.5 million prescriptions each week. Pharmacists support the health of patients and the public by:
Acting in the community as medication experts.
Verifying the accuracy and appropriateness of medications.
Communicating critical information to patients about how to take their medications.
Unfortunately, pharmacies can be chaotic work environments where any pharmacist would struggle to manage the day-to-day activities of taking care of patients and filling prescriptions. It is critically important to prevent medication errors that occur in the pharmacy.
Medication dispensing errors negatively impact patients and pharmacists, resulting in either adverse drug experiences for the patient and/or increased pharmacy workload to correct the issue. Pharmacists do their best to manage such errors, but they have limited:
Access to patient information and treatment history.
Decision-making power when managing a patient's treatment regimen.
In order to reduce medication errors in community pharmacies, we must first develop a deep understanding of underlying reasons that lead to errors in the first place. By understanding these underlying reasons, we can most importantly use evidence to shift the (inappropriately placed) blame away from humans—as patients, providers, employees—to the system within which they operate.
Innovative Approach Using HFE
The Chui SAMS Lab applies concepts from the scientific disciplines of human factors engineering (HFE) and industrial and health systems engineering, to improve patient safety in the community pharmacy setting. We are one of the first research groups to adopt HFE concepts beyond the hospital and primary care setting, to address medication safety in community pharmacies.
Human factors engineers have conceptualized a framework to examine key elements of a work system which include:
Organizational culture
Skills of workers
Task characteristics
Work system elements interact to influence care processes, such as patient communication and counseling, which in turn impact both patient-specific outcomes, such as safety, and worker-specific outcomes, such as job satisfaction.
By applying HFE concepts to our research, we are able to look beyond the skills and knowledge of the individual pharmacist as the sole determinant of medication safety and focus on components of the work system as potential contributing factors to medication safety. We can explore work system influences that positively and/or negatively impact the work of pharmacists, which in turn, could influence medication safety.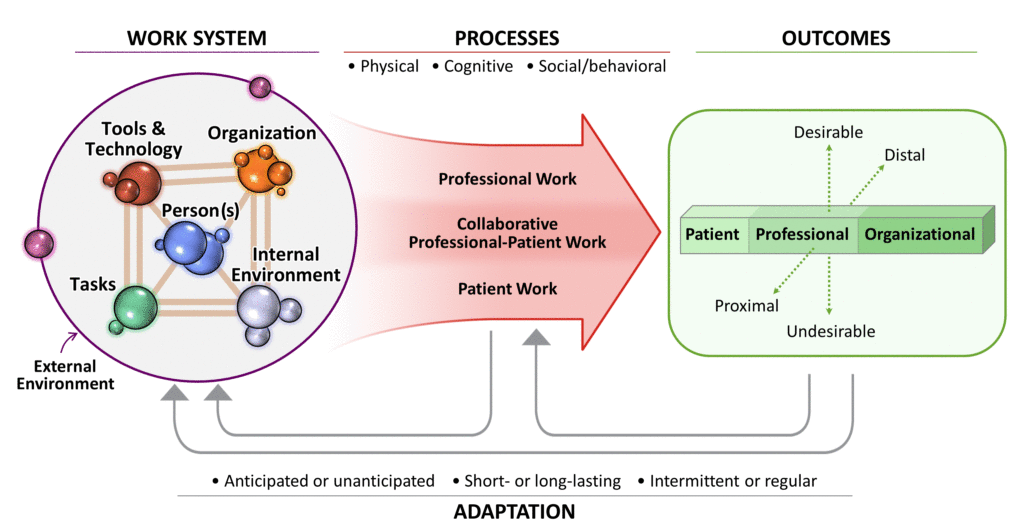 Milestones in Research and Achievement
2010
Dr. Chui received UW–Madison School of Pharmacy Innovations in Technology Award
2010
Dr. Chui Named Research in Social & Administrative Pharmacy Journal Top Reviewer
2011
Dr. Chui accepted into ICTR KL2 Program
2016
Dr. Chui Named Research in Social & Administrative Pharmacy Journal Top Reviewer
2016
AHRQ funding grant awarded for "Improving Over the Counter Medication Safety for Older Adults"
2017
Dr. Chui named Director of the Sonderegger Research Center
2018
AHRQ funding grant awarded for "CancelRx: A Health IT Tool to Decrease Medication Discrepancies in the Outpatient Setting"
2019
Dr. Chui named American Pharmacist Association (APhA) Fellow
2019
Dr. Chui named Hammel-Sanders Distinguished Chair
2020
AHRQ funding grant awarded for "Effectiveness and Sustainment of a Tailored Over-the-Counter Medication Safety Intervention in Community Pharmacies"
2020
Dr. Chui named co-director of ICTR TL1 training program
2021
Dr. Chui named Social & Administrative Sciences in Pharmacy Division Chair