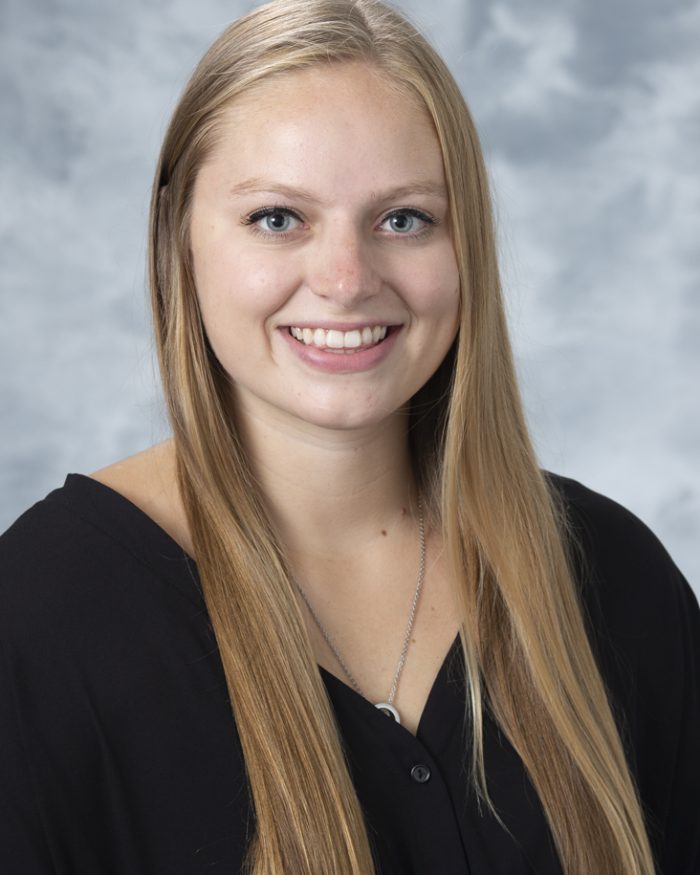 Ashley Morris, PhD
Ashley Morris is a senior graduate student in the Health Services Research in Pharmacy program in the School of Pharmacy's Social and Administrative Sciences division. She received her master's degree in December 2020 and is currently working toward a PhD in the same program. Prior to graduate school, she received her bachelor's in industrial engineering (2018) from the University of Iowa in Iowa City, Iowa, with an emphasis on human factors and behavioral science and a minor in business administration. Ashley has research experience in human factors and cognition through her undergraduate work in aviation and graduate work in healthcare and in pharmaceutical manufacturing and operations.
Ashley brings her human-factors-engineering lens to Dr. Chui's SAMS Lab, especially the Older Adult OTC Medication Safety project. Joining the lab after data collection, she has supported data analysis for many of the project's workstreams (cognitive task analysis lead, misuse analysis contributor, and persona analysis contributor). She continues to support the dissemination of project findings. She is also contributing to the next phase of this research, where she will support the technical components of data collection (e.g., eye-tracking support), data analysis, and dissemination of findings.
Her interests overlap with the many research initiatives underway in the Chui SAMS lab. She is currently exploring the use of eye-tracking technology to understand how patients make decisions about taking their medications (prescription or over-the-counter), with a long-term goal to improve:
Medication safety
Medication adherence
Health systems design
Her master's thesis explored how older adults make decisions while selecting over-the-counter medications in the community pharmacy, to treat symptoms of minor illnesses (that do not require a doctor). This study found that older adult decision-making about over-the-counter medications is more complicated than it may seem, and there are many opportunities for intervention to improve safe over-the-counter medication use.
Awards and honors
2020 – Ira and Ineva Reilly Baldwin Wisconsin Idea Endowment Grant—funded her work to improve medication safety for Wisconsinites
2020–2021 – UW–Madison Human Factors and Ergonomics Society Executive Board Member—Internal Engagement Chair
2018 – Degree Honors Designation and Honors in Industrial Engineering from the University of Iowa—completion of an undergraduate thesis and honorable academic engagements
2018 – Scholar for the Iowa Center of Research for Undergraduates—allowed her to investigate medication workflow and related communication between healthcare professionals in a major hospital cardiac transplant unit
2017 – Ben-Tzion Karsh Challenge Award Recipient, I-PrACTISE Conference—shared decision-making design challenge for prostate cancer screening
Publications and presentations
Find a comprehensive list of Ashley's publications on Google Scholar. Selected publications:
Morris, A.O. (2021) [Letter to the Editor]. Cognitive Impairment Detection in Annual Wellness Visits: Is "Direct Observation" Enough? In Health Affairs. [in Production]. Doi: 10.1377/hlthaff/2020-02373
Shah, S., Morris, A. O., Stone, J. A., & Chui, M. A. (2020, September). Older Adult Shopping Persona Types and its Impact on Over-the-Counter Medication Misuse. In Proceedings of the International Symposium on Human Factors and Ergonomics in Health Care (Vol. 9, No. 1, pp. 124-128). Sage CA: Los Angeles, CA: SAGE Publications.
Gilson, A., Stone, J., Morris, A., Brown, R., Xiong, K., Jacobson, N., … & Chui, M. A. (2019). Impact of a pilot community pharmacy system redesign on reducing over-the-counter medication misuse in older adults. medRxiv.
Connect with Ashley on Twitter, LinkedIn, and ResearchGate.