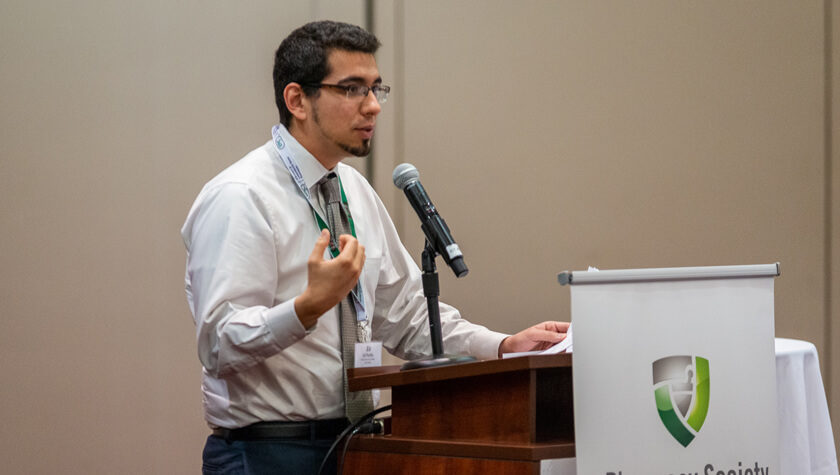 16
September
PSW recognizes Portillo as a state and national leader in pharmacist collaboration and education
By Katie Ginder-Vogel
When the Pharmacy Society of Wisconsin (PSW) called Ed Portillo (PharmD '14), assistant professor in the University of Wisconsin–Madison School of Pharmacy's Pharmacy Practice Division, to congratulate him on being named the Distinguished Young Pharmacist of the Year, Portillo was completely speechless.
"It was a complete surprise," he says. "I was so honored because we have such incredible talent in Wisconsin. Being recognized by so many amazing colleagues in such an innovative practice environment means a tremendous amount to me."
Each year, the award — which is part of a national awards program sponsored by Pharmacists Mutual Companies — recognizes a Wisconsin pharmacist in his or her first 10 years of practice who has made major contributions to professional pharmacy organizations and pharmacy practice. 
"Ed has been highly engaged in PSW for many years," says Sarah Sorum (PharmD '05), senior vice president of professional services at PSW. "We applaud his innovative work in connecting colleagues and students with opportunities that reflect the evolution of pharmacy practice."
Among his myriad accomplishments, Portillo has launched three innovative tracks within the School of Pharmacy's PharmD program, focused on leadership, rural health, and business, and he was named a 2018 Gold Status Fellow through the Veterans Health Administration's Diffusion of Excellence Initiative for creating a pharmacist-led service to improve the health of veterans. He regularly publishes research in the Journal of the Pharmacy Society of Wisconsin, where he was previously a reviewer, and was vice chair of the PSW's Pharmacy Advancement Leadership Team (PALT) from 2015 to 2016.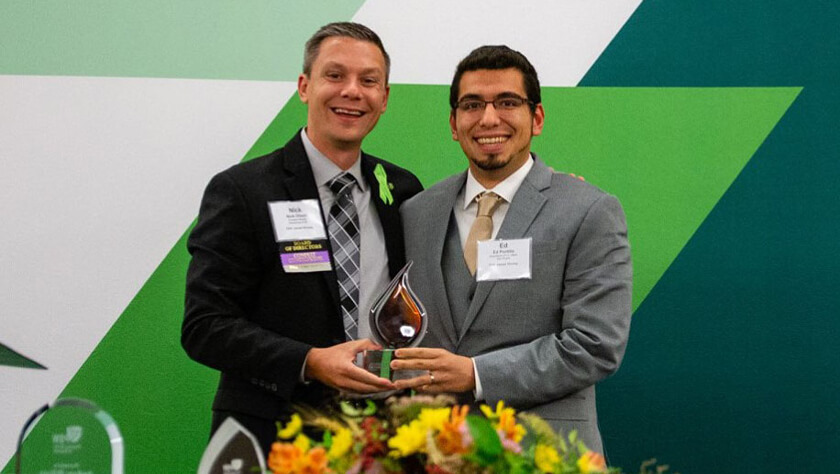 On a national scale, Portillo is an active member of the American Association of Colleges of Pharmacy (AACP) and is currently the secretary of knowledge management for AACP's Leadership Development Special Interest Group.
"I feel a true young leader inspires others to do their best," says Professor Beth Martin (BS '90, MS '03, PhD '06), chair of the Pharmacy Practice Division and assistant dean for Assessment, Teaching and Learning at the School of Pharmacy. "Dr. Portillo continues to inspire students, peers and colleagues around the nation with his amazing organizational and facilitation skills and is always appreciative of people's time and talents."
"Every day, we go to work and try our hardest to make a difference for patients, students, and coworkers," says Portillo. "None of us do this with the expectation that we're going to be recognized. Just being nominated for this award is an absolute honor, and to be selected is extremely humbling."
Developing as a pharmacy leader
Portillo got interested in pharmacy as a career as a high school student in Rockford, Illinois. He observed pharmacists' accessibility to patients and connections within the medical community and saw an opportunity for pharmacists to be at the center of care for patients.
"I was inspired by the combination of knowledge, access, and respect from the public, and with the access points pharmacists have, we can make a big difference," Portillo says.
Martin has known Portillo since he was a PharmD student at the School. 
"I was inspired by the combination of knowledge, access, and respect from the public, and with the access points pharmacists have, we can make a big difference." –Ed Portillo
"As a student, Ed was a leader in many ways, but what stood out then and continues to stand out now is how comfortable he is in front of a large audience," says Martin, who nominated Portillo for the PSW award. "He knows how to connect with and engage an audience, whether it is students, pharmacists, campus leaders, or national decision makers."
Professor Barry Gidal, who also nominated Portillo for the PSW award, was Portillo's professor in Neuropsych Pharmacotherapy in 2011, when Portillo was a second-year pharmacy student. 
"He impressed me as a student who was not only engaged, but intellectually curious," says Gidal, who saw the same energy and devotion to excellence later, during Portillo's time as a PGY2 resident at the William S. Middleton Memorial Veterans Hospital.
"Ed approached every patient as being the most important patient in the building," says Gidal. "He saw every patient as an opportunity to not only serve, but to learn." 
Returning to the School of Pharmacy
As previous chair of the Pharmacy Practice Division, Gidal brought Portillo on board in 2016 as an instructor and to develop specialty focus areas in the Doctor of Pharmacy program, and Portillo became an assistant professor in 2018.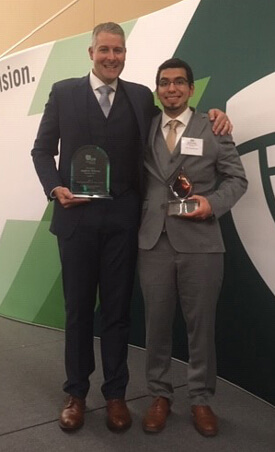 "In just under two years, Ed was able to develop a Leadership Certificate and Mentor program and forge an agreement with the Wisconsin School of Business to offer a concentration in business," says Gidal. "This is a first for our university and fills a previously unmet need for future pharmacy leaders." 
In addition, Portillo recently launched a PharmD concentration in Rural Pharmacy Practice. "This is an important initiative not only for our students, but for the citizens of this state," Gidal adds.
The rural health program, which brought in its first cohort in the Fall 2019 semester, is a collaboration with groups across Wisconsin, including Veterans Affairs clinics, Indian Health Services, the UW–Madison School of Medicine and Public Health, the state's Office of Rural Health, and Area Health Education Centers. The concentration is specifically for students who are passionate about innovating care in rural communities, which often have few health care access points.
"He has accomplished all of this because of his unique ability to build meaningful partnerships at the university level, including the Center for Leadership and Involvement and the School of Business, which no other department on campus has done," says Martin. "Because of the unique programs he has built, his efforts have received amazing accolades at the campus and national levels, with several presentations already given so that others can emulate his success."
As a clinical pharmacist, Portillo also continues to innovate. In 2018, Portillo developed COPD CARE (Chronic Obstructive Pulmonary Disease Coordinated Access to Reduce Exacerbations), a pharmacist-led service to help veterans with COPD avoid hospital and emergency department visits, was selected as a National Gold Status Practice by the Veterans Health Administration (VHA) and is being be implemented nationally, with the goal of benefiting thousands of veterans across the country.  
"It is quite extraordinary that as a young clinician, he has developed a program that has received national recognition," says Gidal. "During the past several years, I have come to admire how he can bring various stakeholders together, forge agreement about a problem, and develop strategies to solve it — be it in the clinic, classroom, or with campus administration."
Portillo refuses to take all the credit, however.
"There are people who have done innovative things that have enabled me to do what I'm doing now," he says. "I'm honored to have the recognition and certainly am humbled and appreciate being able to work with such awesome pharmacists in Wisconsin."
Teaching the next generation
Portillo is known for his boundless energy and dedication to pharmacy, and that commitment extends to his students. 
"Dr. Portillo inspires students in the classroom with his energetic personality, fun-loving sense of humor, and patient care perspective," says Martin. "His teaching was so valued his first year at the School of Pharmacy that he won two student awards for teaching." 
Portillo was honored with both the Student Senate Teaching Excellence Award and the Teacher of the Year award from the third-year PharmD class in 2017.
In addition to the new programs Portillo has launched, he has also co-instructs in courses, including the Integrated Pharmacotherapy Skills course, which he leads and teaches with three other faculty members: Associate Professor Andrea Porter (PharmD '06), Associate Professor Casey Gallimore (PharmD '05, MS '13), and Associate Professor Susie Barnett (PharmD '04).
"I have been mentored by really outstanding pharmacists, who have inspired me to push my career to make the most impact I can," he says. "Many of my mentors now are now my colleagues, and it's a privilege to work alongside them."
Portillo sees his role as an educator going beyond classroom instruction to helping students network and build community. 
"Every day at the School of Pharmacy, we are in a position to influence students' careers and what they do in their practice for patient care," he explains.
Portillo says he feels fortunate to have been a student at the School of Pharmacy and to have returned as a faculty member.
"A great thing about the School is that there's a culture and an expectation to produce students who are capable of practicing at the highest level to serve as future innovators," he says. "We're lucky to work here."
Portillo's advice to current pharmacy students comes from recent experience.
"This is the time for students to broaden out and reach out to mentors," he says. "It's important to remember that you're being trained to the highest level, and this is your career — you own it. You can do whatever you want with it and achieve, but you need the right people in your court to help get you there."