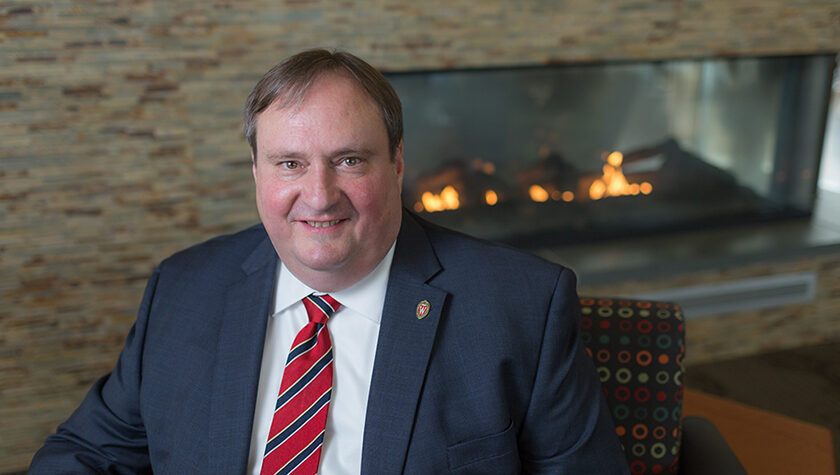 1
December
As the year comes to an end, it's natural to reflect on what we have accomplished in the past year and anticipate what lies ahead. Despite the tremendous and historic challenge of a world-wide pandemic, the University of Wisconsin–Madison School of Pharmacy has continued to thrive due to the talent and hard work of our faculty and staff, the resilience and determination of our students, and the support of our alumni.
Faculty and staff ensuring student success
When the pandemic forced us into isolation in March of 2020, our faculty converted more than 40 courses from an in-person to an online format. This took a tremendous amount of effort to accomplish in a very short amount of time. But with support from our Instructional and Information Technology group and creative thinking from our faculty, the School was able to maintain the high quality of our courses despite being delivered remotely. Students continued to perform well, and those who struggled were identified through our early warning system and received support to help them stay on track.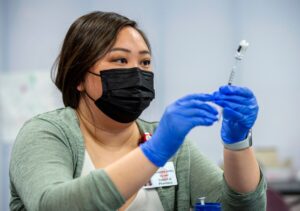 Some of the training we provide our students simply must be in person, such as compounding, medication administration, and immunization certification. Another important change that we made at the School was to move the immunization course to the fall of the first year of the PharmD curriculum, which allowed many more our students help with immunizing our local community and the state as soon as possible.
Clinical training was another area that was hit very hard at the outset of the pandemic. Clinical sites around the world limited access to their facilities to only essential personnel and for the most part, learners were not considered essential. Our Experiential Learning Program team scrambled to reassign students or to develop online training alternatives.
Strong partnerships for a leading education
I want to take this opportunity to thank our colleagues at UW Health for their strong support of our students during the pandemic. As a top-tier health system, UW Health recognizes the significance of clinical training and accepted many of our students who were turned away from other clinical sites. This is another example of how our relationship with UW Health provides such value for our faculty, staff, and students.
Working with external constituents was also an important reason we were able to advance our students' didactic progression. We and other schools worked with the Accreditation Council for Pharmacy Education to modify training modalities while remaining true to the exacting accreditation standards that our pharmacy education requires. I and other leaders at the School participated in regular meetings with our counterparts in the Big Ten schools and colleges of pharmacy to exchange ideas and share what we found worked or didn't work to help our students and faculty succeed. When times get tough, you really get to know who your friends are. I'm happy to report, the UW–Madison School of Pharmacy has many good friends who stood by us and supported us during most difficult of times.
Perpetual alumni support
An important community I haven't mentioned yet is our alumni. One of great aspects of being dean is that I get to meet with our alums and hear their stories about how the School served as a catalyst for their careers and their personal lives too. I often hear from our pharmacist grads about how they learned to think critically, value evidence-based health care, and serve as advocates for their patients. Also, pharmacy school is a time when life-long friendships are established — and sometimes marriages, too. The same is true for our master's and PhD students – they master their craft here and use those skills to build vibrant careers in all sorts of fields.
"Working together, there really isn't much we can't do — and do very well."
—Dean Steve Swanson
I want to take this opportunity to thank our alumni for their generosity to the School, its faculty and staff, and students. During the All Ways Forward campaign, which is just wrapping up, our alumni generously donated over $33.5 million dollars to support the School! Thank you all for your generosity!
Teamwork through adversity
As we all know, COVID-19 has taken a tremendous toll on Americans and people the world over. As of this writing, over 790,000 Americans have died of COVID-19 during the pandemic. Some great news, of course, is that we now have effective vaccines that the CDC reports can prevent infection by five-fold, hospitalization and death by over 10-fold. It's impossible to predict when life will begin to seem more like it was before the pandemic, but the availability of the vaccines and other new treatment modalities provide hope.
I think that the secret to our success, even in the worst of times, is our commitment to our mission and to each other. Working together, there really isn't much we can't do — and do very well.
On, Wisconsin!
Steve