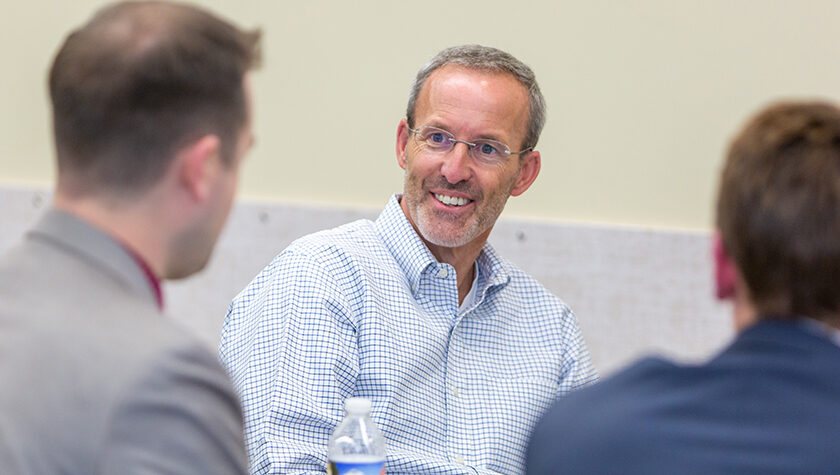 4
March
As a new feature in the DiscoveRx alumni magazine, at least twice each year I will be providing an update for UW–Madison School of Pharmacy alumni and friends about what is happening at the School in the Advancement arena.
As the associate dean for Advancement, I work with a wonderfully talented Advancement Team at the School of Pharmacy. Alissa Karnaky is our alumni relations and advancement coordinator, focusing mainly on engaging with our alumni and friends. Alissa has a strong background in fundraising, event development and implementation, stewardship, and has significant experience working with the Wisconsin Foundation and Alumni Association (WFAA). Our director of development is Julie Jensen, who mainly works with individual donors to the School of Pharmacy. Julie has a strong background in development activities working in health care and the arts. We are very fortunate to have Alissa and Julie working at the School of Pharmacy and I encourage you to connect with them and me about engagement and fundraising questions and activities.
I am excited to announce a new member of our Advancement Team: Former School of Pharmacy Dean Jeanette Roberts joined our team in February. Jeanette will mainly be working with Julie, utilizing her vast network of alumni and friends of the School of Pharmacy to help us share some of our newest and most important fundraising initiatives and engagement events. Jeanette provides a wealth of experience to our team, and we are looking forward to working with her.    
Virtual connections
The past year has been a challenge for alumni engagement. We had to cancel all of our face-to-face events and instead focus on ways to engage our alumni and friends virtually. Thanks to Anna Reinhart, the events coordinator at the School of Pharmacy, we have successfully developed and implemented several virtual activities, such as two Zoom reunions of former graduate students and post-docs to raise funds to honor Professor George Zografi and Professor Dan Rich, as well as several virtual events to honor the donors behind the generous gifts that support professorships at the School of Pharmacy. The ability of Zoom to connect people virtually, many of whom have never met before or have not seen each other in years, is an amazing and powerful thing.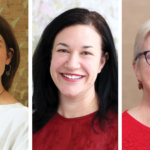 Our team works closely with the Pharmacy Alumni Association (PAA), and when their golf outing to raise funds for PAA scholarships was cancelled in August, we had to brainstorm new ways to gather alumni and friends for a fun event that would provide support to our students. We developed the School of Pharmacy Trivia Nights, which were an enormous success. Between both of the Trivia Nights we've held so far, we've raised approximately $5,000 for student scholarships. Thank you again to alumni and friends who participated and supported our amazing students. We look forward to making this a recurring event.
Our virtual events are a great way to bring alumni and friends together, and evaluations of the events support our plans to continue to host them and make them as fun and beneficial as possible. Please let us know if you would like us to host a reunion or get together for you and your classmates or past co-workers. The ability of virtual platforms to bring classmates, colleagues, and friends together, even across great distances, is wonderful, and it's an easy way to catch up with those you have not seen for some time. The Advancement Team wants to help bring people together and re-confirm our strong sense of community and connection to the School of Pharmacy, to UW–Madison, and to each other.  
Don your Badger red
Thank you to all of our alumni and friends who donated their time, talent, and/or treasure to the School of Pharmacy over the past year and beyond. Our Fall 2020 fundraising campaign for the Student Success and Support Fund was a success, as we surpassed the challenge issued by the School's Board of Visitors of 137 donations, which unlocked an additional $13,000 in donations. Our Young Alumni also responded to the $2,500 match provided by the PAA. By the end of the fundraiser, we exceeded our goal by reaching over 150 donations.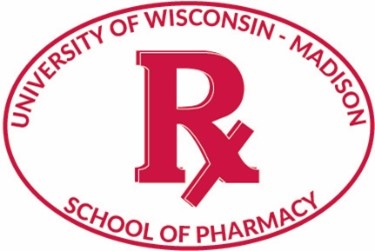 These funds benefit all of our students in many impactful ways. In September, the funds were used for the White Coat Ceremony, signifying first-year PharmD students' journey in pharmacy. The White Coat Ceremony was held live virtually and featured individual students introducing themselves and being coated by friends or family at home or their apartment. Several alumni provided hand-written notes, placed in a pocket in each students' coat, welcoming students into the profession. Justin Konkol (PharmD '06) provided the keynote address to cap off a very meaningful, impactful celebration.   
Next month we will participate in the Day of the Badger on April 6-7 to raise funds for the Student Success and Support Fund. This event is sponsored by WFAA and is a chance to show your Pharmacy Badger pride by posting pictures to social media of yourself and others wearing red and supporting the School of Pharmacy. The Board of Visitors has again issued a donation challenge in honor of 138 years of pharmacy education, and the PAA has provided a $2,500 match for young alumni donations.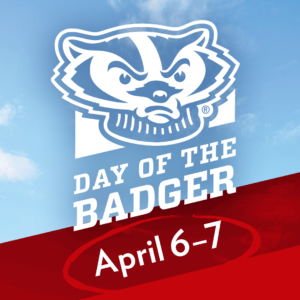 Please look for more information about the Day of the Badger campaign and consider giving to support our students. We will mail our limited-edition Rx sticker with alumni and friends who take part in the Day of the Badger by sharing a photo on social media or by letting us know you are a proud Pharmacy Badger. Follow the School of Pharmacy and the Pharmacy Alumni Association on Facebook to learn how to claim your sticker on April 6-7.
We also have an upcoming opportunity for alumni to share their encouragement with our third-year PharmD students as they complete their didactic curriculum and prepare to begin their fourth year, which is focused on experiential education. Our Pinning Ceremony will be virtual this spring, and alumni may submit a letter of encouragement and support to share with students. Please submit your letter by April 1.
As an alum of the School of Pharmacy, it is my pleasure to work with our Advancement Team to connect with our alumni and friends and keep them informed of the School of Pharmacy's successes and challenges. The past year has been difficult for everyone on many levels. The willingness of our alumni and friends to come together and support our students and our School of Pharmacy speaks to our strong sense of community as Pharmacy Badgers. I look forward to when we can come together and celebrate our Pharmacy Badger pride face-to-face.
On, Wisconsin!
Dave Mott (BS '88, MS '92, PhD '95)
Associate Dean for Advancement