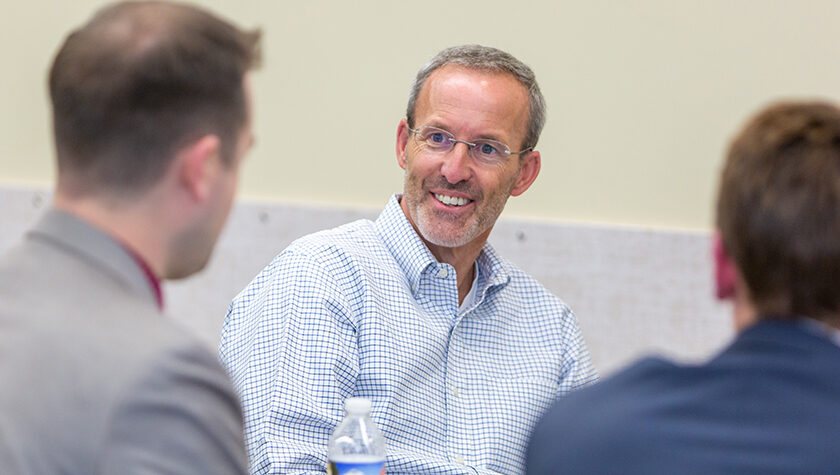 14
September
A main theme associated with autumn is change. Changes in our external environment are a circus for our senses. We see the leaves change color and feel the crispness of the air as temperatures cool down.
Change has come to the School of Pharmacy this fall as well. It is a welcome sight to see lecture halls and classrooms full of students. You can see in their eyes their excitement to be back together with their classmates, especially amid news that the UW–Madison campus has achieved a 90 percent COVID-19 vaccination rate. You can hear and feel the energy the students are bringing to Rennebohm Hall. It feels good to have our future Pharmacy Badgers back with us!
Reuniting alumni
I am looking forward to changes in how we connect with all of our Pharmacy Badger alumni. Our Advancement Team hosted several virtual events during the past year that were a great way for us to engage with you. The two "Trivia Nights" we co-hosted with the Pharmacy Alumni Association (PAA) to raise funds for PAA scholarships were really fun (and one was a bit controversial regarding Gila monster venom!). Additionally, we hosted two "Pharmacy Experts" webinars that attracted many participants and several virtual reunions, which brought many alumni together for the first time in quite a while. We really enjoy bringing our alumni together and plan to continue offering virtual events in the future, as well as in-person events.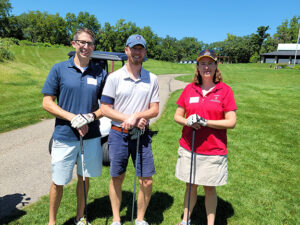 We kicked off our in-person events by co-hosting with the Pharmacy Alumni Association (PAA) their golf event in August at University Ridge golf course. Despite university restrictions preventing a gathering afterward, it was a beautiful day to be outside supporting the PAA and our students. I really value our relationship with the PAA board and the successful events we have co-hosted.
Our fall in-person alumni engagement schedule will start by co-hosting a reception at the PSW Annual Meeting on September 17 at Lambeau Field. I am looking forward to honoring Professor Beth Martin (BS '90, MS '03, PhD '06) and Berook Addisu (PharmD '10), Alumnus of the Year and Young Alumnus of the Year, respectfully, at the PAA Annual Meeting earlier in the day on September 17.
On October 2, we will co-host with the PAA the Alumni and Friends Tailgate and Viewing Party at Union South. Our Citations of Merit dinner and award presentation will be held October 1, the night before the tailgate, honoring our 2021 and 2020 recipients: Dan Luce (BS '81), Bill Doucette (BS '83, MS '88, PhD '93), Mehran Yazdanian (MS '88, PhD '90), Jayne Hastedt (MS '88, PhD '90), Bruno Hancock, Susan Sutter (BS '78), Greg Higby (BS '80, PhD '84), and Nivedita (Nita) Pandit (MS '78, PhD '80). The Citations of Merit event will have limited attendance, but we will post video of the acceptance speeches for all to see and hear. We are looking forward to seeing, in-person, our amazing alumni!       
Our gratitude
I want to thank all of our alumni and friends who gave time, talent, or treasure to the School of Pharmacy this year. We documented an amazing number of alumni who volunteered their time and talent to help with activities at the School of Pharmacy such as teaching, interviewing, serving as leadership mentors, and connecting with young alumni. Your contributions are incredibly inspirational for our students and young alumni.
I also want to thank all who generously gave your treasure to the School of Pharmacy this last year. In response to generous match donations from members of the Board of Visitors and the PAA, our fundraising efforts were very successful. We had a significant number of alumni from all age groups, including young alumni, donate this year, and the money we raised for the Student Success and Support Fund will provide impactful opportunities for all of our students. Thank you again for your generosity and continued support of the School of Pharmacy.
Future Pharmacy Badgers
The competition to attract the best and brightest students to our School of Pharmacy is intensifying. Incentives offered by other schools and colleges of pharmacy are increasing, impacting our ability to attract and enroll the best and brightest students who are Wisconsin residents, non-residents, and historically underrepresented (i.e. low income, first-generation college, minority, etc.).
We are having discussions at the School of Pharmacy about a Best and Brightest Campaign to raise funds for admission scholarships that can be used to ensure the best and brightest students from all backgrounds attend the School of Pharmacy to become Pharmacy Badgers. As a proud Pharmacy Badger, I look forward to talking with you more about this idea which will help us carry on the strong Pharmacy Badger tradition.
Change is in the air this autumn and the most important change is that students are back in Rennebohm Hall. We welcome a first-year PharmD class of 140 students as well as our second-year PharmD class of 99 students, who did not spend much time in Rennebohm Hall together last year due to the switch to virtual instruction. Seeing our students together, in-person, makes me reflect on the incredibly valuable time I spent with my classmates in Chamberlin Hall before, during, and after class. I can't help but smile as I remember those times. I encourage you spend a few moments reflecting on your time in Chamberlin Hall or Rennebohm Hall and hopefully feeling good about your time in Madison. I look forward to seeing you soon.
Thank you and On, Wisconsin!
Dave Mott (BS '88, MS '92, PhD '95)
Associate Dean for Advancement