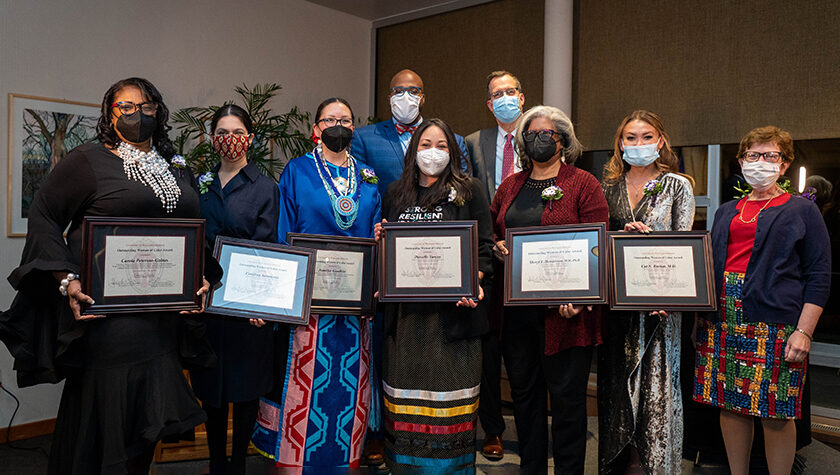 7
March
For contributions to community health in Southwestern Wisconsin, Carola Peterson-Gaines is honored with a 2022 Outstanding Women of Color award
By Katie Ginder-Vogel
"Community-supported research needs to happen in the community," says Carola Peterson-Gaines, and the groundwork and relationship-building must begin well before any research project is scheduled to begin.
"If you want Black folks to be involved, they need to see you immersing yourself in the community, serving on committees, making donations, and volunteering so people know you before research ever comes into play," she says. "That's my job, and I love it."
Peterson-Gaines, a community outreach specialist at the University of Wisconsin–Madison School of Pharmacy, works closely with Eva Vivian, a professor in the School's Pharmacy Practice Division, in her work to improve health equity across the state. She also serves as the community research associate for the Community Academic Aging Resource Network (CAARN) partnership between UW–Madison and health systems to decrease health disparities.
"My passion is helping my community reach a place of health equity that they deserve."
—Carola Peterson-Gaines
For her long career in community-focused health initiatives, she has received numerous community honors, including the 2021 United Way Mike McKinney Award, the 2018 Foundation for Black Women's Wellness Legacy Award, the 2015 UW Health Community Service Award, the 2015 Madison Urban League Award Community Collaborator Award, the 2014 Black Women Rock Service Award, the 2010 YWCA Madison Women of Distinction Award, and many more. 
And now, Peterson-Gaines is adding a yet another honor to the list: a 2022 Outstanding Women of Color award from UW–Madison.
"I am humbled and honored," she says. "The people who have paved the way for this award, I can't even touch their greatness and what they've done at UW and in the community. It's such an enormous recognition."
Campus-community connection
Peterson-Gaines says her deep love for her community motivates everything she does, professionally and personally. 
"My passion is helping my community reach a place of health equity that they deserve," she says, noting that Black Americans face statistically higher rates of hypertension, diabetes, colon cancer, and HIV. "I want to move that needle."
In her role at CAARN, which she has held since 2020, Peterson-Gaines recruits and supports African American community partners that collaborate with academic researchers for community-based participatory research projects.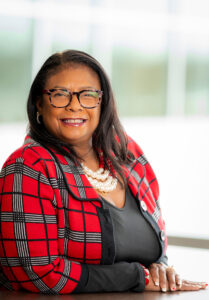 "I connect the community to our researchers," says Peterson-Gaines. "They trust me because I've been in health care in Madison for over 40 years and a nurse since 1994."
When she is recruiting for research involvement, she explains the research guidelines that are now in place to protect against unethical studies like those conducted in the past, such as the Tuskegee experiment, in which hundreds of African American men were promised treatment for syphilis, but instead were given placebo medications so researchers could observe the natural progression of the disease.
"I explain that we want to move research along, and this is why we need their help," Peterson-Gaines says. "When it comes to blood pressure medication, not everything on the market has been tested in the Black community, and I get excited about my community contributing to important research."
She meets monthly with researchers and health industry representatives to discuss and give feedback on upcoming community research projects. 
"We want to be part of the grant development process," Peterson-Gaines says. "I find community partners to work with researchers and build a plan for engaging the community." 
She helps create budgets with community partners, walks them through the paperwork in preparation for being involved in a study, and gathers the support letters researchers need to submit a grant proposal. As part of that process, she requests complete details about the proposed program and its tasks. She finds out who needs to be trained and how many volunteers are needed, as well as the honorarium amount for participants. 
Once a grant gets funded, Peterson-Gaines helps launch the program, then typically hands off the day-to-day program management to a full-time community specialist.
"Usually, there is a community specialist who runs the actual program at the facility, but if they need me, I'm there," says Peterson-Gaines. "It's important for people to see me."
Health equity initiatives
Outside of her role with CAARN, Peterson-Gaines is also the BadgerCare Plus Community Liaison Manager for Quartz, a role she's held for 28 years. She establishes community partnerships to improve health outcomes and work toward health equity. She advocates for about 55,000 Medicaid recipients in 16 counties in Southwest Wisconsin and runs patient education programs.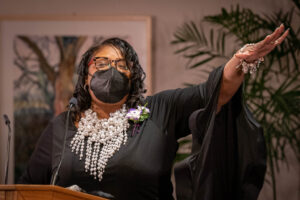 "I created and built the outreach program, working with Medicaid families, the most vulnerable in our community," Peterson-Gaines says. "They deserve quality health care."
She coordinates patient care, including preventative health care and early prenatal care, to let patients know what is available and has trained the outreach specialists on her team to identify families' basic needs and find resources to meet them, as a way to build relationships that make people comfortable scheduling healthcare visits.
"People need housing resources, dental resources, and transportation before you can ever get a provider visit," she says. "When they see you honor, respect, and meet them where they are, you build trust."
Peterson-Gaines also gives her time to countless community initiatives in the Madison area, including the Dane County Asthma Coalition, Safe Sleep Coalition, Fetal Infant Mortality, One City Early Learning, Community Health Task Force, Black Women's Empowerment, Black Leadership Council, Black Women's Wellness, African American Cancer Focus Group, Urban League of Greater Madison, the NAACP, the African American Health Network, and Delta Sigma Theta Sorority, Inc.
Peterson-Gaines, who was celebrated at a March ceremony for UW–Madison's 2022 Outstanding Women of Color, is the second School of Pharmacy member to receive the award: Professor Eva Vivian was honored in 2015.
"I want to be a servant leader in all that I do," she says. "I have some very late nights, but I choose it every day."