There are approximately 58,000 community/retail pharmacies across the United States dispensing 72 million prescriptions each week. Community pharmacists are widely recognized as medication experts and serve an important public health role when they verify the accuracy and appropriateness of medications, and communicate critical information to patients about how to take their medications. However, community pharmacies are chaotic environments where most pharmacists struggle to manage the day to day activities of taking care of patients and filling prescriptions. Existing evidence suggests that medication errors occur in 1.7%-22% of dispensed prescriptions. Of these errors, 6.5% are clinically significant. Using the most conservative estimate, this translates to approximately 51.5 million dispensed prescriptions with errors annually at an estimated cost of over $877 million.1 In addition to negatively impacting patients, prescription errors negatively impact pharmacists who must do their best to manage the errors while having only limited access to patient information and treatment history.
Our overall research goal is to improve medication safety in the community pharmacy setting by developing a more solid conceptual foundation for understanding medication errors in community pharmacies. In order to achieve this research goal, we apply concepts from the scientific discipline of human factors engineering (HFE) which has been successful at improving patient safety in other healthcare settings, such as hospitals. We are one of the first research groups to adopt HFE concepts and techniques to address medication safety in community pharmacies. Two Human factors engineers have conceptualized a framework to examine key elements of a work system which include tools and technology, physical layout, organizational culture, skills of workers, and task characteristics.3,4 Work system elements interact to influence care processes such as patient communication and counseling, which in turn impact both patient-specific outcomes, such as safety, and worker-specific outcomes, such as job satisfaction.2,6 By applying HFE concepts to our research, we are able to look beyond the skills and knowledge of the individual pharmacist as the sole determinant of medication safety, and focus on components of the work system as potential contributing factors to medication safety. Also, we can explore work system influences that positively and/or negatively impact the work of pharmacists; which in turn, could influence medication safety. To date, our research has focused on three components of the work system framework: workload, technology use, and communication.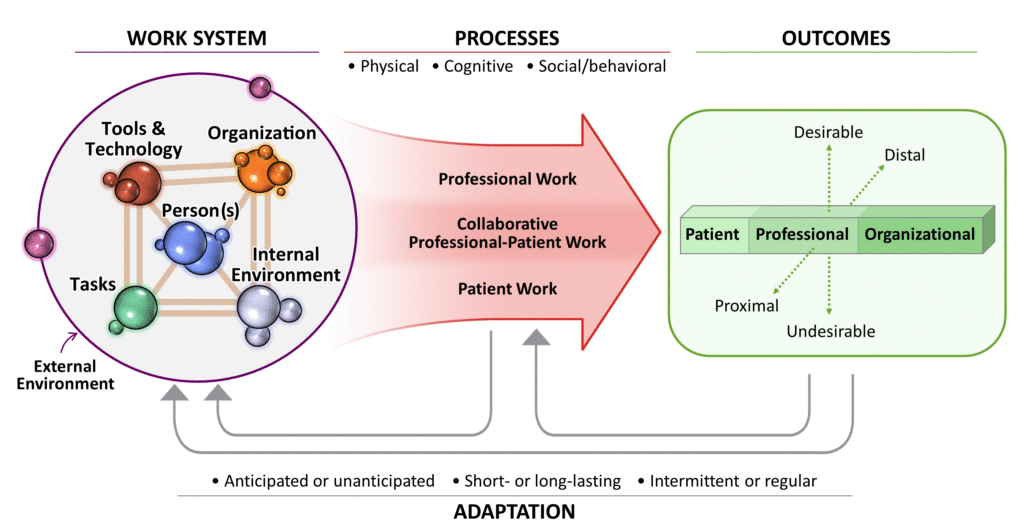 ---
References:
Flynn EA, Barker KN, Carnahan BJ. National observational study of prescription dispensing accuracy and safety in 50 pharmacies. Journal of the American Pharmacists Association 2003 Mar-Apr; 43(2): 191-200.
Karsh BT, Holden RJ, Alper SJ, Or CK. A human factors engineering paradigm for patient safety: designing to support the performance of the healthcare professional. Qual Saf Health Care 2006 Dec; 15 Suppl 1: i59-i65.
Carayon, P. (2009). The Balance Theory and the work system model… Twenty years later. International Journal of Human-Computer Interaction, 25(5), 313-327.
Carayon, P., & Smith, M. J. (2000). Work organization and ergonomics. Applied Ergonomics, 31, 649-662.
Smith, M. J., & Carayon-Sainfort, P. (1989). A balance theory of job design for stress reduction. International Journal of Industrial Ergonomics, 4(1), 67-79.
Carayon P, Schoofs Hundt A, Karsh BT, Gurse AP, Alvarado CJ, Smith M, Flatley Brennan P. Work system design for patient safety: the SEIPS model. Quality and Safety in Health Care 2006 Dec; 15 Suppl 1: i50-8.
Holden, R. J., Carayon, P., Gurses, A. P., Hoonakker, P., Hundt, A. S., Ozok, A. A., & Rivera-Rodriguez, A. J. (2013). SEIPS 2.0: a human factors framework for studying and improving the work of healthcare professionals and patients. Ergonomics, 56(11), 1669-1686.