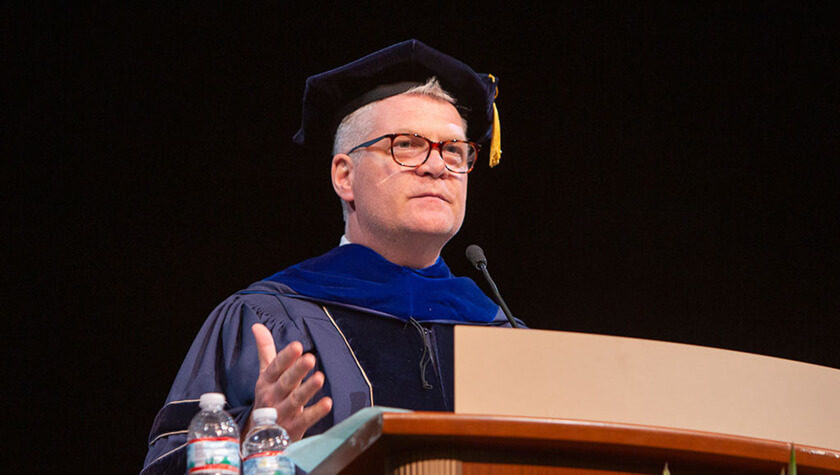 6
June
Alumnus Rick Bertz leverages data analysis to shape drug innovation
By Katie Ginder-Vogel
"As you develop your career path, the roadmap to get there will take many twists and turns. You're almost certainly going to need to take risks to get where you want to go," says Rick Bertz (BS '83). "That's part of what makes it fun."
Bertz, a member of University of Wisconsin–Madison School of Pharmacy's Board of Visitors, delivered this advice to the School's graduating Class of 2019 in his commencement address. That willingness to take risks, continue to learn and evolve, and build relationships are what helped him get to where he is today: associate dean for pharmacoanalytics and pharmaceutical sciences professor at the University of Pittsburgh School of Pharmacy, with more than 20 years of pharmaceutical industry experience behind him, most recently as vice president at Bristol-Myers Squibb.
While in industry, Bertz published more than 70 articles in peer-reviewed journals, earned an Intellectual Property Law Association of Chicago Inventor of the Year Award in 2004, and contributed to the worldwide regulatory approval of two drugs to treat HIV (lopinavir/ritonavir and atazanavir) and one for Hepatitis C (daclatasvir). Although he has been intimately involved in all phases of drug development, Bertz has spent most of his career working with a crucial but often less-visible component of the process: pharmacokinetics/pharmacodynamics data analysis, simulation, and interpretation.
20 years in drug innovation
"I always knew I wanted to work in health care and ultimately chose pharmacy because I was particularly interested in how drugs worked and helped the patient clinically," says Bertz, so he applied to the School of Pharmacy.
As an undergraduate at the School, he took an independent study course focused on laboratory research, in which he immediately realized he had an interest. He considered going for a graduate degree right after earning his bachelor's in pharmacy, but decided to inform his future research career by first working directly in patient care. Bertz worked as a clinical pharmacist at Columbia Hospital in his hometown of Milwaukee for five years.
"When you look at pharmacy-related questions and deal with big data, patterns emerge that wouldn't have otherwise been recognized."
–Rick Bertz
"A lot happened during those five years," he says. "I got married, decided I definitely wanted to move to clinical research, and identified and was accepted to the Clinical Pharmaceutical Scientist graduate program at the University of Pittsburgh School of Pharmacy, which blended clinical pharmacology research and bench science."
After earning his PhD in pharmaceutical sciences (pharmacokinetics and pharmacodynamics) from the University of Pittsburgh in 1995, Bertz pursued work in clinical research, returning to the Midwest to spend 10 years as a clinical pharmacologist at Abbott Laboratories, then moving on to Bristol-Myers Squibb in Princeton, New Jersey, for 12 years.
"I was able to do a lot of individual contributor work and focused research in virology, including one successfully marketed drug, lopinavir/ritonavir," says Bertz. "I learned a great deal about the many facets of clinical drug development while at Abbott."
Bertz and his wife raised their son, now a college student himself, in Bucks County, Pennsylvania, while Bertz rose through the ranks of leadership at Bristol-Myers Squibb. Ultimately, he became vice president and head of Clinical Pharmacology and Pharmacometrics, a role in which he facilitated decision making and drove strategy, while managing and overseeing a group of 70 to 90 scientists and researchers, including pharmacists.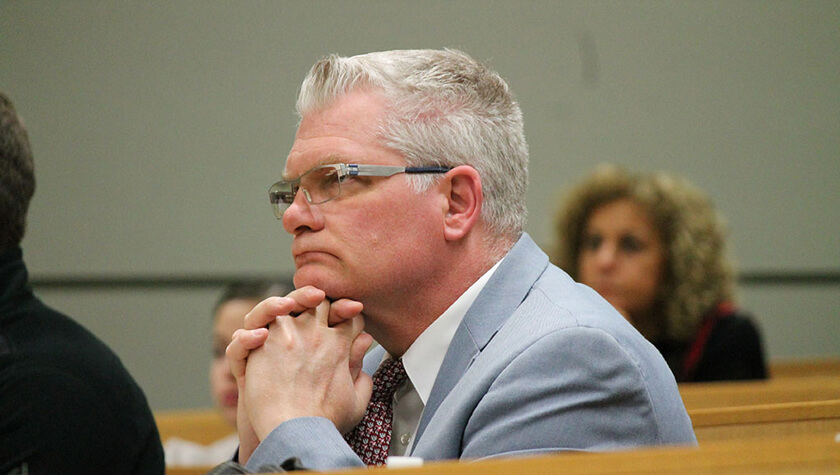 "I achieved many of my career goals there, including heading clinical pharmacology and the pharmacometrics function, as well as playing an integral role in drug development," Bertz says. "My group touched all projects and products, and I felt I was able, with colleagues, to modernize the clinical pharmacology function and build a sub-group that didn't exist before, doing work in more systems-based pharmacology modeling."
Bertz also spearheaded the formation of a data sciences group at the Tampa Bay facility, defined a more coordinated outsourcing strategy for the group, and was a catalyst in building a strong scientific and cooperative relationship with the preclinical DMPK (drug metabolism and pharmacokinetics) group.
Pharmacology, or pharmacometric modeling — an approach used with increasing sophistication and frequency to predict in vivo drug effects — leverages drug information, modeling, and simulation to increase the number of drugs on the market with a positive benefit/risk ratio and reduce the number of drugs in development that don't make it to the market. Systems pharmacology models contain expressions that characterize the functional interactions within a biological network and can explain complex patterns of drug action, like synergy and disease progression, as well as episodic disorders.
After more than 20 years of being involved in all phases of clinical drug development, with a focus on the analysis and interpretation of clinical pharmacology and pharmacometrics data, Bertz was ready for a new challenge.
Return to academia
When the University of Pittsburgh began developing a pharmacoanalytics program, they hired and tasked Bertz, as a pharmaceutical sciences professor, to collaborate with faculty, staff, and students to build out a program comprising computational drug discovery, pharmacometrics and systems pharmacology, pharmacoeconomics and outcomes, and patient safety.
His mission was to build up the capability to analyze data and apply analytics to large datasets to answer complex drug development and drug evaluation questions, such as reviewing insurance company and pharmacy data to better understand drug pricing, analyzing and predicting protein-drug interactions to facilitate drug discovery, and building complex models to reflect biologic systems to predict clinical drug development outcomes.
"Don't rule out for tomorrow what might not be right for you today." 
–Rick Bertz
"When you look at pharmacy-related questions and deal with big data, patterns emerge that wouldn't have otherwise been recognized," Bertz explains. "For example, looking at using safety data to predict individual safety for patients. Analysis of safety data, combined with artificial intelligence, may be able to better predict the likelihood of a given individual having an adverse event with a particular drug."
Just a few months into his tenure, in 2018, he was appointed associate dean of PharmacoAnalytics at the University of Pittsburgh School of Pharmacy. Bertz also teaches courses in pharmacology, advises student organizations, and is working to build an alliance between pharmacy-based industry and academia.
"We're seeking new ways to develop successful industry partnerships that will benefit faculty and students of various degree programs," he says. "Having worked in a data-rich field, I know how important it is to connect industry to academia and turn more students and scientists on to exciting drug use and development opportunities."
Maintaining ties
Right up there with taking calculated risks and staying committed to learning, Bertz ranks staying in touch with the School as one of the reasons for his continued success.
"Keeping in touch with your alma mater is important," he says. "One thing leads to another, and you'll be exposed to many new connections and opportunities."
Bertz regularly went to Badger football games and UW–Madison School of Pharmacy reunions when he lived in the Milwaukee area, and through the relationships he fostered at these events, he was invited to team teach the drug metabolism and applied pharmacokinetics course for the School of Pharmacy's Division of Pharmacy Professional Development, which he did for 10 years. Even though he is no longer in Wisconsin, he continues to give back at the School by being a member of the Board of Visitors.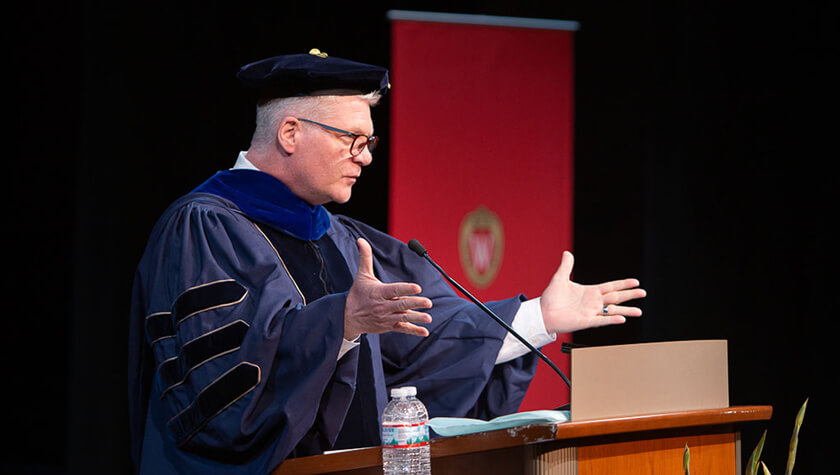 "It's been invaluable to be a part of such a highly skilled, accomplished group," Bertz says. "The School of Pharmacy leverages its Board of Visitors for expertise and insight, which increases the visibility of the board for faculty and students and allows for student networking and public/private partnerships."
Bertz says he has enjoyed seeing how pharmacy education has evolved at the UW–Madison School of Pharmacy through his participation in the Board of Visitors.
"It's a fantastic mix of scholarly coursework and experiential learning," he says. "The use of standardized patients is really cool, because students have to ask certain questions to get information, such as to reveal potential drug interactions."
Bertz also cites the Introductory and Advanced Pharmacy Practice Experience rotations in companies and pharmacies as a positive addition to the PharmD program since his time in pharmacy school.
"That's really critical," he says. "Getting students out and connecting traditional learning with how you utilize your education in various practice environments is really important."                
It was the pursuit of those types of experiences that led Bertz to take the atypical route of clinical pharmacy work before returning to graduate school. He might not have seen all of the twists and turns in his career path coming, but he always leaned in to the possibilities — even if he wasn't ready for them just yet. "Don't rule out for tomorrow what might not be right for you today," he says.