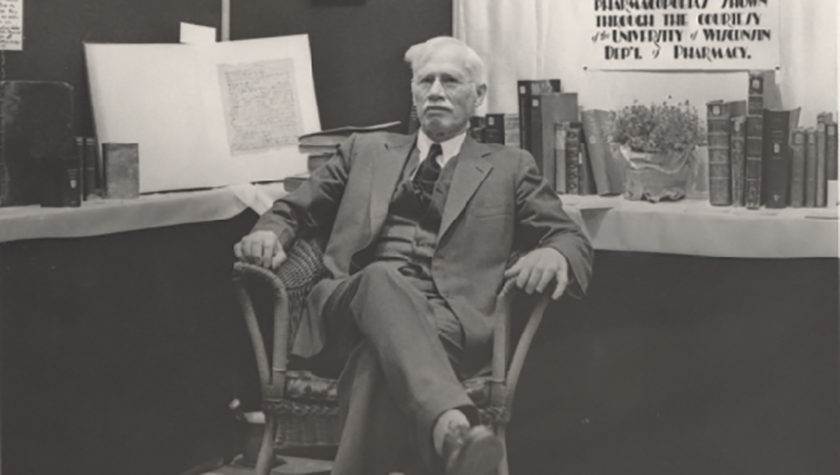 11
December
Part 1: The rich history of School of Pharmacy alumni as presidents of academic organizations
By Katie Ginder-Vogel
It's no secret that the University of Wisconsin–Madison School of Pharmacy produces impressive leaders who become academic luminaries, titans of industry, and national — even global — influencers. In fact, the School itself has pioneered several advancements in education and research in new areas, including being the first to award a four-year degree in pharmacy and doctoral degrees in pharmaceutical chemistry, pharmaceutics, the history of pharmacy, and social studies of pharmacy.
The graduates emerging from this innovative environment have so far held a total of 50 president positions across seven major national pharmacy organizations, including the American Association of Colleges of Pharmacy, American Association of Pharmaceutical Scientists, the American Society of Health-System Pharmacists, and more. This three-part series will introduce the alumni leaders of some of the country's most prestigious national pharmacy leadership organizations and their impact on the field of pharmacy.
We'll begin the series by focusing on alumni who have served as presidents of the academically focused organizations: The American Association of Colleges of Pharmacy (AACP), the Accreditation Council for Pharmacy Education (ACPE), and Rho Chi, the national academic honor society in pharmacy.
The American Association of Colleges of Pharmacy (AACP)
1902–03, Edward Kremers
1928–29, Andrew DuMez
1944–46, Glenn Jenkins
1947–48, Arthur Uhl
1954–55, Joseph B. Burt
1961–62, Lloyd Parks
1963–64, Roy Bowers 
1964–65, Jack Orr
1992–93, Richard Ohvall
1998–99, Jordan Cohen
AACP was founded over 100 years ago, in 1900, as a faculty society, back when pharmacy schools comprised just two or three professors, and the professors were the school. At that time, only deans of pharmacy schools served as AACP officers, and all the UW alumni who have served as AACP presidents were also School of Pharmacy deans. The organization evolved into an association representing all accredited schools of pharmacy that works toward enhancing pharmacy education. 
"Many AACP presidents are deans of various schools of pharmacy who have played important roles during various periods of significant curricular change at their schools and at the national level in the professional education of pharmacists," says George Zografi, who served as dean of the UW–Madison School of Pharmacy from 1975 to 1980.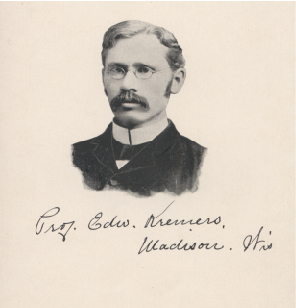 The School of Pharmacy alumni who have led the organization also represent a number of important firsts. For example, Edward Kremers (PhG 1886, BS 1888) — who served as the third-ever president of AACP — pioneered the four-year curriculum in pharmacy circa 1890 during his time as director of the University of Wisconsin Department of Pharmacy, which would grow into the School of Pharmacy.
Kremers' commitment to a four-year course of study, including humanistic inquiry, caused controversy among pharmacy organizations at the time but was accepted as a national standard by 1932.
"Kremers is one of the School of Pharmacy's most distinguished alumni," says Zografi. "He was the nucleus of growth of pharmaceutical research and education."
Andrew DuMez (PhD 1917) also represents important milestones: He was not only the first graduate of the School's PhD program in pharmaceutical science, but also the first-ever recipient of a PhD in pharmaceutical science, says Greg Higby (MS '80, PhD '84), senior academic curator with the American Institute of the History of Pharmacy and senior lecturer at the School of Pharmacy. After graduating, DuMez went on to be dean of the University of Maryland's pharmacy school, which continues to honor him through a lecture series.
Like DuMez, Glenn Jenkins (BS '22), Arthur Uhl (BS '26, MS '27, PhD '30), Joseph Burt (MS '27), and Lloyd Parks (PhD '38) are all noted for their contributions to pharmaceutical science.
Jenkins was dean of Purdue University College of Pharmacy for 25 years, where he oversaw an enormous growth in their undergraduate and graduate programs, including expanding pharmaceutical research, particularly in the area of bionucleonics, which originated while Jenkins was dean.
"Arthur Uhl was the leader of the UW–Madison School of Pharmacy for 35 years, and I had the pleasure of many hours of discussion with him," Zografi recalls. "His biggest unique contributions to pharmaceutical education are a number of first-rate graduate research programs developed at UW–Madison that led the way for other programs around the country."
Following World War II, Uhl decided to emphasize pharmaceutical research at UW–Madison and recruited faculty members who would contribute to those capabilities, including William Apple and Takeru Higuchi — who quickly became known as the "father of physical pharmacy."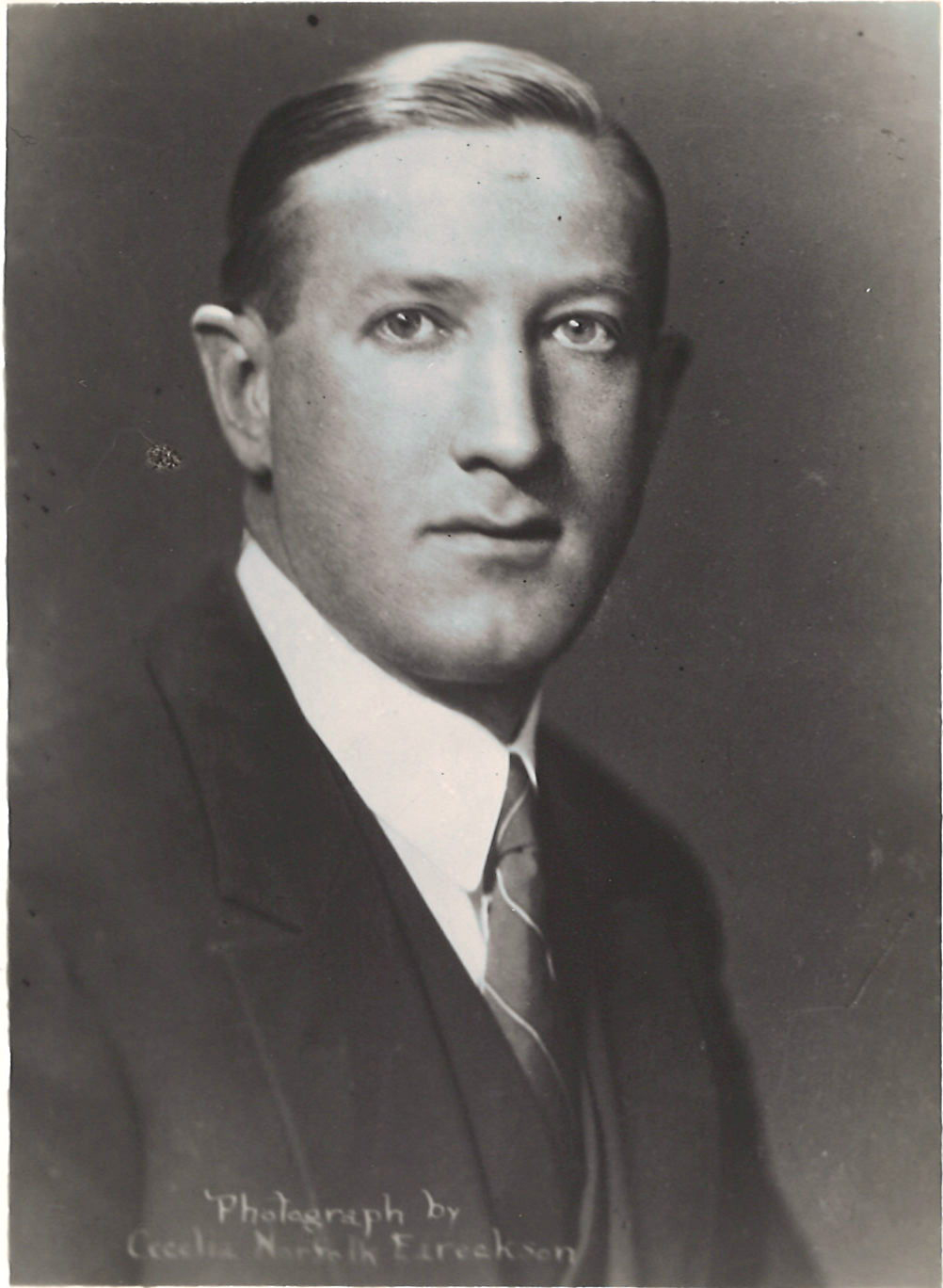 "The curricular decisions that impacted pharmacy so much were worked out first at AACP, so the AACP presidents played a role in the education of pharmacy students as we know it today," says Zografi. "Uhl's leadership led to students in the School of Pharmacy becoming leaders themselves. He is a very important alumnus in that sense."
Parks, who was also simultaneously president of the Rho Chi honor society, served on the faculty of the UW–Madison School of Pharmacy for 18 years before becoming a professor at, and then dean of, the Ohio State University College of Pharmacy from 1956 to 1977. Parks was known for his leadership in pharmaceutical education and his research in pharmaceutical chemistry.
"His research focus was very popular at the time when he was a professor, and he was an outstanding leader," says Zografi.
Parks also kicked off an era of Badger Pharmacy influence at AACP. Three out of four AACP presidents between 1961 and 1965 were alumni of the School of Pharmacy. A year after Park's term came Roy Bowers (BS '36, PhD '40), former dean at Rutgers, immediately followed by Jack Orr (PhD '43), who served as the dean of the University of Montana College of Pharmacy as well as the University of Washington School of Pharmacy. During his time at the University of Washington, Orr shifted the curriculum to include a clinical focus, laying the groundwork for the school's Doctor of Pharmacy (PharmD) program.
Richard Ohvall (BS '53, PhD '62) was AACP president during the first year that schools were required to offer PharmD degrees. Formerly an assistant professor at the School whose research focused on pharmacy administration, Ohvall was dean of the Ferris State University pharmacy school before landing at Oregon State University, where he developed the PharmD program and pushed for a comprehensive research-focused curriculum, including foundational knowledge of basic science and an emphasis on patient care.
"For many years, the School of Pharmacy was known for producing more deans than any other pharmacy school due to being a leader in both pharmacy education and graduate research."
—George Zografi
Jordan Cohen (BS '65, MS '67, PhD '69), former dean of the University of Iowa College of Pharmacy, oversaw the full implementation of their PharmD program, as well as the opening of the Dale E. Wurster Center for Pharmaceutical Sciences. Cohen had a distinguished scientific career in pharmacology research, focusing on cancer, AIDS, and geriatrics therapy, and he carried that mindset with him as dean, where his research interests shifted to health care leadership in health sciences education.
"All of the School of Pharmacy alumni who led AACP were recognized as outstanding deans," says Zografi.
The Accreditation Council for Pharmacy Education (ACPE)
1964–69, William S. Apple
1969–72, Charles F. Dahl 
Between William Apple (BS '49) and Charles Dahl (BS '49), School of Pharmacy alumni led ACPE for nearly a decade. ACPE is an accrediting organization established in the 1930s by AACP, the American Pharmacists Association (APhA), and the National Association of Boards of Pharmacy to certify that pharmacy schools met specified educational requirements to ensure that all pharmacists were working with a similar baseline of knowledge.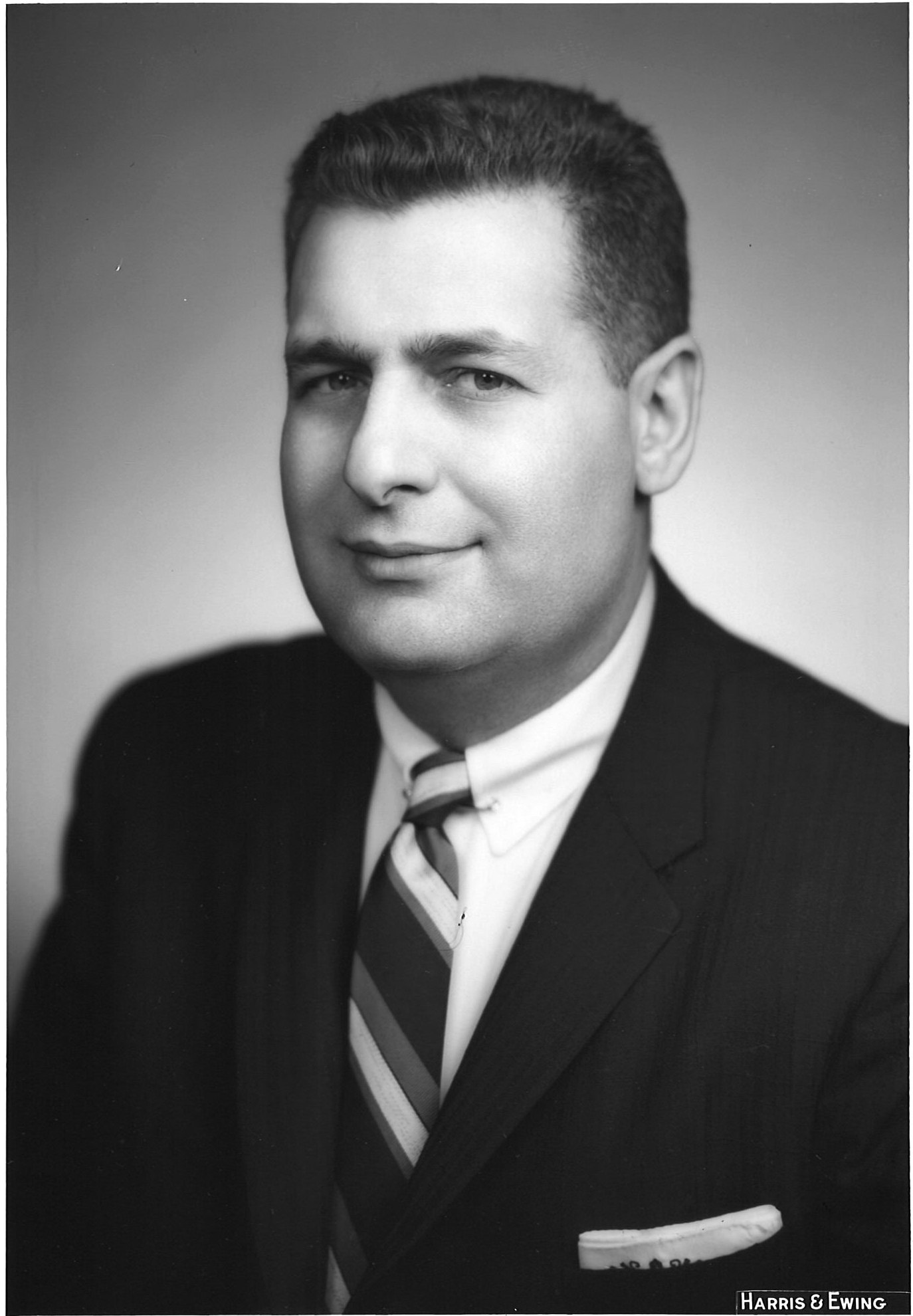 "ACPE is an influential group that has tremendous impact," says Zografi. "Most council members are educators, and Charles Dahl was a professional pharmacist who educated other pharmacists."
Apple, a prominent figure in pharmacy and former executive director of APhA, continues to be a familiar name at the UW–Madison School of Pharmacy. His name and research legacy live on through a distinguished chair position in the School's Social and Administrative Sciences Division, currently held by Professor and Associate Dean for Advancement David Mott, division chair.
Apple was on the board of the University of Wisconsin Department of Pharmacy, as well as president and chairman of the board of the Wisconsin Pharmaceutical Association, which has since grown into the Pharmacy Society of Wisconsin. He moved to the Washington, D.C., area when he joined APhA and testified before congressional committees more than 50 times. In addition to ACPE, Apple also served as presidential terms with the National Drug Trade Conference and the International Pharmaceutical Federation.
Whereas Apple's career took place mainly in pharmacy organizations, Dahl was a practicing pharmacist in Wisconsin who left an indelible mark on the field.
"During the period of my tenure as dean of the School of Pharmacy, I became closely associated with Charles Dahl," says Zografi, who remembers Dahl as an active member of the Wisconsin Pharmacy Examining Board (PEB) who owned a progressive pharmacy in Viroqua. "Through his involvement in practice and the PEB, and later as president of ACPE, he had a strong effect on the quality of pharmaceutical education and practice initiated at the national level."
Rho Chi Honor Society
1930–34, Glenn Jenkins
1956–58, Roy Bowers
1960–62, Lloyd Parks
1962–64, Louis Busse
1976–78, Robert Buerki 
1978–80, John Block
1982–84, August Lemberger
1988–90, Richard Ohvall
Rho Chi is a 100-year-old pharmacy honor society that advances the field through intellectual leadership. Student chapters, including the School's Wisconsin Eta chapter, encourage high standards for critical inquiry and scholarship and recognizes high-performing student pharmacists. But Rho Chi doesn't end at graduation. Pharmacists who maintain that commitment to intellectual achievement and advance pharmacy through collaboration, ethics, and critical inquiry can be elected into the national society. Members are inducted for a lifetime, so Rho Cho presidents, many of whom are deans of schools of pharmacy, often hold the role late in their accomplished careers.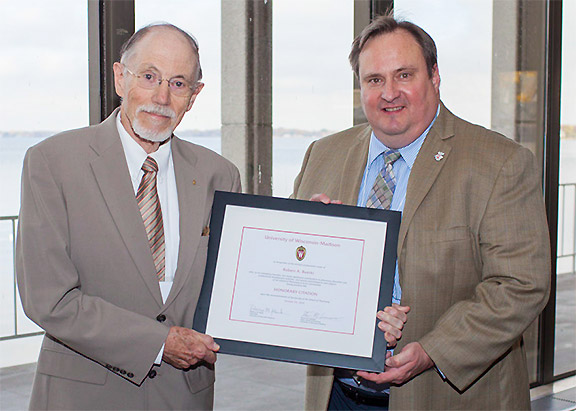 Because of the shared commitment to intellectual endeavors, some of our alumni Rho Chi presidents overlap with former AACP presidents, including Glenn Jenkins (BS '22), Roy Bowers (BS '36, PhD '40), Lloyd Parks (PhD '38), and Richard Ohvall (BS '53, PhD '62).
In 1955, Bowers co-authored a history of Rho Chi, in collaboration with the American Institute on the History of Pharmacy (AIHP), which was founded at and continues to be housed within the School of Pharmacy. Nearly 40 years later, that history was updated by another alum and Rho Chi president, Robert Buerki (BS '63, MS '67), emeritus professor at the Ohio State University College of Pharmacy, who served as Rho Chi's first official historian. "Buerki has been an expert authority on pharmacy ethics for the last three decades and has written books on it," says Higby.
Following Buerki, John Block (PhD '66) took over the Rho Chi reins. He spent his highly productive academic career at Oregon State University, including during Ohvall's tenure as dean, where he published many research papers, co-edited medicinal chemistry books, and served on both the Oregon Board of Pharmacy and committees and task forces of the National Association of Boards of Pharmacy. 
Louis Busse (BS '36, PhD '40) was both an alumnus and a faculty member of the School of Pharmacy. In fact, except for one year as a drug analyst with the War Production Board in Washington, D.C., during World War II, Busse spent his entire career at the School as a professor, associate dean, and coordinator of extension services.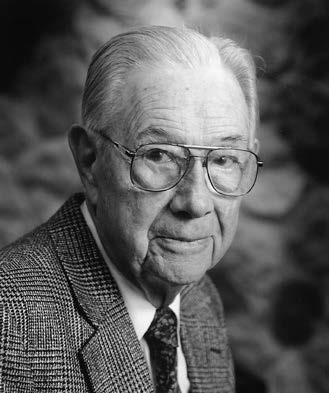 Busse was a leader in the development of pharmaceutical research, continuing education, and pharmacy internship and was instrumental in establishing the Land O' Lakes Industrial Research Conferences, which continue to be operated by the School's Division of Pharmacy Professional Development. Among his many accolades, Busse received both the Ebert Prize from the American Pharmacists Association (APhA) and the APhA Foundation Achievement Award for the Advancement of Pharmacy. To honor his contributions, the School established the Louis W. Busse lecture series, which brings in outstanding industrial pharmaceutical scientists.
"Busse was Dean Uhl's associate dean for all of Uhl's tenure," says Zografi. "I think of him as a quiet hero of the School of Pharmacy. He directed the first continuing education program and was a good scientist, respected by pharmacists."
Like Busse, August Lemberger (BS '48, PhD '52) also spent the majority of his career at the School of Pharmacy and served as dean from 1980 to 1991. He left his mark on the social sciences in pharmacy, which he believed were essential to understanding and meeting health needs in Wisconsin. Lemberger worked to establish the School's Sonderegger Research Center for Improved Medication Outcomes, which continues to pursue that research mission.
"For many years, the School of Pharmacy was known for producing more deans than any other pharmacy school due to being a leader in both pharmacy education and graduate research," says Zografi. "And many of them went on to have a tremendous impact on pharmacy education nationwide."