7
December
Why pharmacists are the critical thinkers, problem solvers, and entrepreneurs that the health care system needs
George Zorich (BS '78) is CEO of ZEDpharma with leadership experience in the pharmaceutical industry for more than 30 years, which includes senior roles such as CEO of Agilis Biotherapeutics, president of Bioniche Pharmaceuticals, and president of Sabex-USA.
Now, Zorich is adding author to his credentials.
His new book, Entrepreneurs in Pharmacy and Other Leaders, is a collection of profiles that demonstrates why pharmacists are needed to help solve the biggest challenges in health care and how pharmacists are best positioned to do so.
"Zorich has written an exciting, inspiring book that says, 'Pharmacists, set no limits for yourself.' Everyone graduating from pharmacy school should read this book and set a new high goal," writes Michael Silverstein, author of Rocket: Eight Lessons to Secure Infinite Growth.
The University of Wisconsin–Madison School of Pharmacy's DiscoveRx caught up with Zorich about his book and why he's donating all royalties.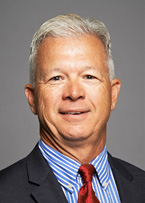 Why are pharmacists best positioned to address some of the most pressing issues in health care?
Contrary to what most pharmacists think, physicians, nurses and consumers all think highly of them. No one else understands drug therapy better than pharmacists.
Pharmacists have the opportunity to parlay this credibility and knowledge into being the hub of decision-making on ALL things drug related. I want pharmacists to take the lead in the clinical portion of pharmacy but also in minimizing the number of drugs used by the elderly, decreasing the use of opioids, and working with physicians and insurers to devise what I call "rational use of drug products." This requires critical thinking, problem solving, and communication skills—and is needed by society. 
Of the 12 entrepreneurs you describe in your book, whose story was most intriguing to you?
Two of the 12 entrepreneurs in the book are UW–Madison grads, but that should not be a surprise since we have a great School of Pharmacy. I thought Curt Mueller [founder of Mueller Sports Medicine] was amazing because he learned merchandising working "out front" in the health and beauty aids department at a Walgreens after graduation. He then went back to work in the family pharmacy and used his pharmacy compounding skills to make products, such as balms and liniments, to sell to high school athletic departments in the area. 
He took a chance and formed Mueller Sports Medicine, and built it into the premier sports medicine and supplier of athletic wraps, braces and bandages in the U.S. and now sells products in 75 countries. His hard work, creativity and moxy were all impressive to me.    
Is there a common thread among these pharmacist entrepreneurs that made them so successful?
The work ethic from a young age was amazing. They were all hungry for success. They all believed in themselves and their decision making to take a chance, take on financial risk, and start a business.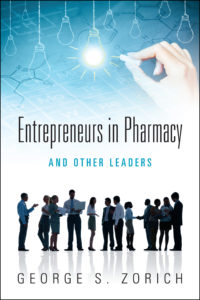 The book also includes the profiles of more than 30 pharmacy leaders. Whose advice resonated most with you?
The entrepreneurs all give advice on starting a company. The leaders all provide "tips for graduates." Both are invaluable. 
The most consistent advice from the leaders was about hard work, taking or volunteering for new assignments, and getting involved in organizations and groups, including the importance of networking. Hard work always seems to make up for other flaws.    
Why do you consider the pharmacy degree as a "limitless degree"?
This degree is a springboard to anything, plus you end up with a real job. A pharmacy degree is similar to accounting or engineering. You may start with those degrees but you can do anything with them. Pharmacy is the same way in that they all teach you how to think and problem solve. Having said that, I still think we can continually improve our teaching of those skills to pharmacy students and all college students.
You make the observation that pharmacists, by nature, tend to be conservative about risk-taking while entrepreneurs exhibit a willingness to take risks with confidence. How can pharmacists become more entrepreneurial?
If they grew up with entrepreneurial parents; if their parents owned a community pharmacy or other business; or if they experimented with entrepreneurial types of jobs growing up, whether a paper route or lemonade stand—they all had a good start.
For everyone else, and this is the majority of young people, I think they have to be exposed to what an entrepreneur is—and what an entrepreneur is not. If exposed to more entrepreneurship in college and specifically in pharmacy school, I think we take the mystique out of it, allow the student to understand the risks and issues, and most importantly, make them understand their idea CAN become a new product, business, or service. Take away the mystery of entrepreneurship. 
You are donating 100 percent of the proceeds of this book to pharmacy entrepreneurship programs. Why is that important for you?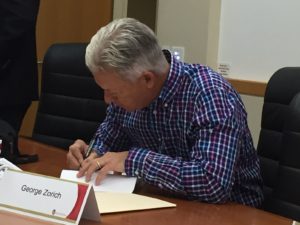 A few reasons. I've always been grateful to UW and the School of Pharmacy for such a great education and the degree I earned. I wanted to use the royalties from this book to fund a Shark Tank type of program at the pharmacy school level to teach and encourage entrepreneurship. 
Over time, I plan to ask several of the entrepreneurs in the book to match my royalty contribution and make this a national program with awards, scholarship money, and actual seed money for ideas and businesses.
We plan to pilot this in the spring of 2018 at the University of Wisconsin–Madison School of Pharmacy, and I will work with the faculty to assist them in any way possible to make this a reality. 
Bottom line, I want UW–Madison to become a leader in pharmacy entrepreneurship education. 
Zorich is a member of the UW–Madison School of Pharmacy Board of Visitors, serves on the advisory board for the School's Division of Pharmacy Professional Development, and mentors a group of the School's PharmD students in the Industry Pharmacists Organization (IPhO).