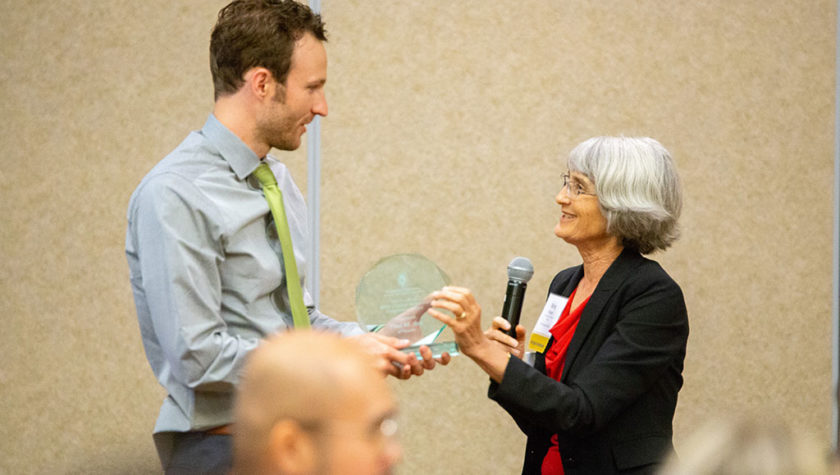 7
September
Jest Named IPPE Clinical Instructor of the Year
The Golden Rule—treat others the way you'd like to be treated—is the guiding philosophy for preceptor Paul Jest (PharmD '11), a pharmacist at SSM Health St. Clare Hospital in Baraboo, Wis.
"I know that I would want a preceptor who is engaged, asks me questions, gets me involved in different pharmacist tasks and responsibilities, and I try to be that," says Jest, who precepts for the University of Wisconsin–Madison School of Pharmacy's first, second, and third-year PharmD students during their Introductory Pharmacy Practice Experiences (IPPEs).
Those aspirations resonated with the School of Pharmacy's students, and earned Jest the 2018 IPPE Clinical Instructor of the Year Award—a student-nominated award that recognizes not only his clinical teaching expertise, but also his professional commitment to continuing to refine his precepting skills through trainings.
"[Dr. Jest] was great about quizzing me on topics that we had discussed in previous weeks and reviewing concepts, and he pushed me to practice communicating with patients," wrote one UW–Madison School of Pharmacy PharmD student. "It was an extremely valuable experience to prepare me for the Therapy Skills lab and boost my confidence as a future pharmacist."
"I think the best learning environment is one where you can get more personally involved and be challenged." –Paul Jest
Mara Kieser, the School's assistant dean of experiential education and professor in the Pharmacy Practice Division, commends Jest's commitment to teaching students these key skills, especially in the early stages of their clinical training.
"Paul's professionalism, patience, and willingness to incorporate our IPPE students into the interprofessional health care team at St. Clare gives our PharmD students a solid understanding of what it really means to be a pharmacist," says Kieser. "Having exceptional preceptors like him mentoring our students advances their learning, deepens their understanding, and ensures they'll be well prepared for the next stage of their education."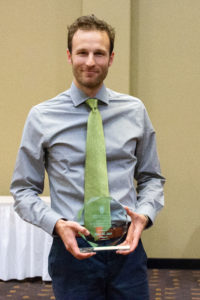 Long before students leave the School's hallways to pursue eight six-week rotations for their rigorous, immersive Advanced Pharmacy Practice Experiences (APPEs), they need to gain 304 hours of experience in community, hospital, and other pharmacy environments, such as Jest's. These IPPEs begin as early as the PharmD students' first year, and set a crucial foundation for the rest of their education.
"A lot of the specific drug information was still new to me," recalls one of Jest's student pharmacists. "But he was skilled at explaining the medications, and he included me in interprofessional meetings so I could see how the nurses, doctors, pharmacists, dieticians, physical therapists, occupational therapists, and physician assistants all worked together as a complete patient care team."  
Being a skilled pharmacist hinges on the ability to communicate and to teach, as well as to uphold standards of professionalism and ethics—these fundamentals are central to the pharmacist code of ethics and are the core values that this award aims to recognize.
"I think the best learning environment is one where you can get more personally involved and be challenged," Jest explains. "Getting the students outside of their comfort zone lets them grow and learn."
Through his six years of precepting, he's built symbiotic relationships with the student pharmacists he's mentored. "We learn as much from the students as they learn from us," he says. He initially pursued pharmacy as a way of blending a natural interest in chemistry with his desire to help people in a direct and personal way, and teaching student pharmacists is yet another way to follow that interest.
"This award is certainly an honor I'm very thankful for," says Jest, as an alumnus of the UW–Madison School of Pharmacy. "For me, precepting is a way to give back to the school that gave me so much."
Read about 2017 IPPE Clinical Instructor Excellence Award winner Melissa Forbes, or see the full list of past recipients.
Learn why Stephanie Root, preceptor for the School's APPE students, won the 2018 Larry Boh Clinical Instructor Excellence Award.