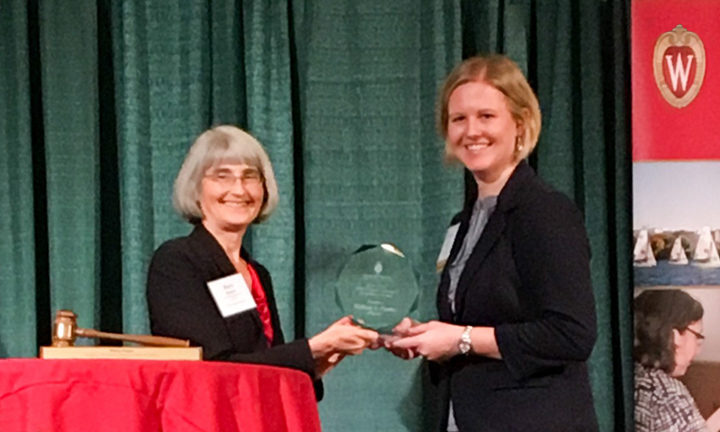 3
January
School honors Melissa Forbes and Rani Raju as top preceptors
 By Katie Ginder-Vogel
Maximizing the learning experience for UW–Madison School of Pharmacy student pharmacists has been an enduring commitment and passion for Melissa Forbes, a clinical pharmacist at Gundersen Lutheran Medical Center in La Crosse, Wis., and Rani Raju, a clinical pharmacist at Miller Pharmacy in Mukwonago, Wis.
Both pharmacists were recognized as top preceptors by the School of Pharmacy for their outstanding teaching and mentoring of PharmD students in the Introductory Pharmacy Practice Experiences (IPPE) for first through third-year PharmD students and Advanced Pharmacy Practice Experiences (APPE) for fourth-year students. IPPE and APPE programs allow pharmacy students to apply their knowledge and skills to real-world pharmacy settings.
Forbes (PharmD '10) received the 2017 IPPE Clinical Instructor Excellence Award, which recognizes a clinical instructor's outstanding qualities, ethics, professionalism, teaching ability, and communication skills.
Raju was recently honored with the 2017 Larry Boh APPE Clinical Instructor Excellence Award, named for faculty member Larry Boh, who served from 1982 to 2001 and was passionate about teaching.
Students nominate preceptors for both awards. Preceptors volunteer their time to work with student pharmacists as clinical instructors.
"We appreciate the dedication of our preceptors in training our student learners," says Mara Kieser, assistant dean of Experiential Education and professor in the Pharmacy Practice Division.
"Drs. Raju and Forbes exemplify the spirit of Larry Boh in their commitment to teaching and mentoring future pharmacists at Wisconsin."
Melissa Forbes: Inspiring new possibilities
Pharmacy students describe Forbes as a clear and punctual communicator who customizes students' schedules and is always open to questions. They also note her professionalism, as well as her ability to help provide greater exposure to diverse roles within pharmacy.
"Melissa was very professional and one could tell that she was very well-respected by her peers. She had outstanding professional relationships with other providers within the health system," wrote one PharmD student.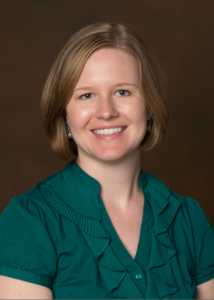 Another student commented, "Melissa's nature is very honest, open and approachable. She was thoughtful in planning meaningful student activities and created circumstances that allowed students to experience a variety of pharmacist roles."
Forbes is a 2010 graduate of the UW–Madison School of Pharmacy PharmD program and also did her undergraduate work at UW–Madison. She completed her pharmacy residency at Gundersen in La Crosse, Wis., and has been a clinical pharmacist there since 2011.
She took over the role of student coordination three years ago and is also one of the lead preceptors in the critical care and infectious disease department. Forbes coordinates the experiences of IPPE and APPE students, determining where they'll be on rotation and with whom, aiming to find rotations that are the right fit for each individual student and will help them grow their skills.
"Some students go into observational and rotation experience knowing what they want to do, or thinking they do, but it's important that they not limit themselves," Forbes says. "Being open to new, different practice areas is worth taking advantage of—you never know, you might like something you thought would never be for you."
In IPPE rotations, Forbes integrates student pharmacists into day-to-day work, showing them everyday tasks and talking them through the thought process she applies to each task she completes in a given day.
"Even simple things give PharmD students an insight into how we practice pharmacy," Forbes says. "We don't have to create new curriculum to integrate students into our practice. Observing day-to-day routines is beneficial for students. Sometimes those are the things we spend the most time on."
The pharmacy profession is constantly evolving, and pharmacists in big community health systems care for patients not just while they're in the hospital, but also as they go through the hospital admissions process and after they leave the hospital.
"We want to make sure patients understand their medications and have resources at home to take them, to prevent a return to the hospital," says Forbes. "That's been a big shift since I was in training and something students need to be aware of."
PharmD students are encouraged to see different areas of pharmacy practice in order to help them know what to expect when they leave school and possibly develop an interest in new practice areas. APPE students can select a residency track program and complete six of their eight required rotations at one institution.
"We take three APPE students at Gundersen each year, and it's a nice way for students to get involved in a health system and feel comfortable with what goes on there," says Forbes. "Having students in a hospital for a longer time allows them to see more, without spending time getting oriented. Quite a few students who have had observational or rotational experience with us apply to our residency program."
Forbes says being a preceptor motivates her to stay current on pharmacy best practices and latest information.
"To teach them, I have to be on top of my game," she says. "They teach me, too—I hear about what they're learning and have them teach me about a new drug that maybe I haven't heard about yet. It's nice to give back to them, but they give back to me, too, in terms of helping me to be a better pharmacist."
"We are extremely fortunate to have such dedicated preceptors who embrace the phrase 'On, Wisconsin' by giving back to future pharmacists at Wisconsin." –Mara Kieser   
Rani Raju: Modeling the best patient care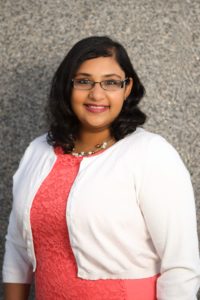 PharmD students praise Raju's dedication, friendliness, caring, teaching skills, and approachability. They comment on her willingness to review students' work outside of working hours and her commitment to putting students first.
"I have never met a preceptor who is so caring, who has a desire to teach, and who always puts the student first," commented one pharmacy student.
"It was like talking to a friendly peer who was trying to help me improve and care for patients more," wrote another. 
Raju did her pharmacy training at Drake University and completed her community residency at the University of Iowa, an experience she loved. She earned a teaching certificate as part of the residency program's preceptor education program.
"That's when I realized I loved teaching and sharing my passion for community pharmacy with students," Raju says.
Miller Pharmacy has invested and committed to creating a clinical practice in a community pharmacy setting, which has allowed Raju to take more time to interact with patients and hold weekly office hours for check-in meetings with PharmD students, so she can give them regular feedback.
"My own experiences with preceptors in my fourth-year rotations had a huge impact on where I am today, and I seek opportunities to learn," Raju says. "My major motivation for precepting is to share my passion for what community pharmacists can do."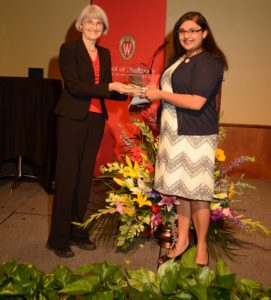 Raju works with UW–Madison School of Pharmacy PharmD students in their rotations for IPPE and APPE and involves them in every aspect of her daily practice.
"I tell students it's not just about working the pharmacy window—they get to be a mini-me," Raju says. "They're involved in everything I do. The goal of their rotation is for them to eventually be able to function independently—to go into any community pharmacy setting and feel comfortable running the system."
Raju aims to build on student pharmacists' foundational knowledge and says that applying that knowledge is, for many student pharmacists, the biggest challenge they face.
"It's all theoretical until the patient is in front of you," she says. "The goal is for patients to achieve their outcomes and provide safe, effective therapy. In any type of pharmacy practice, the focus is on safety and efficacy."
She also reinforces the importance of professional networks and leadership skills. "I always tell students that pharmacy is a small world, and it's who you know," Raju says.
IPPE: Opportunities for observation and outreach
The School of Pharmacy's IPPE experiential program for PharmD students includes six different regions of Wisconsin, allowing first-, second-, and third-year student pharmacists to observe community and hospital pharmacists in action. Student pharmacists complete 300 hours of IPPE experience during their first three years in the PharmD program.
"This allows students to see real-life pharmacy practice and prepare for activities they will do during the APPE in their fourth year," says Kieser. 
In addition to observing pharmacists at work, first-year (DPH-1) students practice their communication skills and participate in community outreach activities that provide health education and screening, as a way to promote pharmacists' public health roles.
Second-year (DPH-2) student pharmacists engage with pharmacists, as well as those in a specialty practice area of their choice. They also help patients with low health literacy navigate the health care system and participate in community outreach activities.
Third-year (DPH-3) student pharmacists actively care for patients, under the supervision of a pharmacist preceptor. Students also choose elective rotations, so they can explore unique practice settings or immerse themselves even further in one area of pharmacy.
APPEs: Providing supervised patient care
Fourth-year (DPH-4) students in the PharmD program spend 1,680-1,920 hours outside the classroom, learning and practicing the role of pharmacist under the supervision of a pharmacist preceptor during their APPE rotations.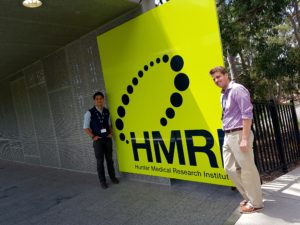 PharmD students complete rotations in a hospital and in a community pharmacy focusing on patient care and on medication systems management.
APPE students may train throughout Wisconsin, elsewhere in the United States, or in eight different countries as part of an international APPE. PharmD students also can choose non-traditional pharmacy settings such as pharmaceutical companies and governmental organizations including Food & Drug Administration (FDA), National Institutes of Health (NIH), and Indian Health Service, as well as residency track, research, and global health options.
"We have a very strong APPE program that provides rich learning experiences," says Kieser. "As pharmacy services continue to evolve, we continue to add innovative pharmacy sites. Students have a great opportunity to try out almost any type of pharmacy practice while learning from an expert. 
"We are extremely fortunate to have such dedicated preceptors who embrace the phrase 'On, Wisconsin' by giving back to future pharmacists at Wisconsin."     
Learn how to become a preceptor for the School.
Read about the UW–Madison School of Pharmacy preceptor Jeffrey Fish (B.S. '91), who was named Master Preceptor by the American Association of Colleges of Pharmacy (AACP).