Robert Buerki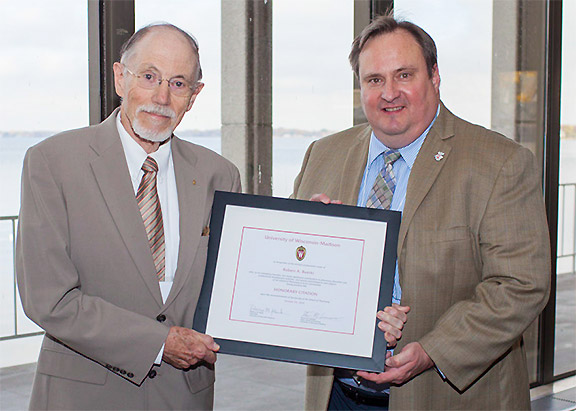 Pharmacy educator Robert A. Buerki retired as a full professor in 2011 after 46 years of service at the College of Pharmacy at the Ohio State University. Buerki received his BS degree in pharmacy in 1963 and his MS degree in social studies of pharmacy in 1967 from the University of Wisconsin-Madison. He earned his PhD in adult education and educational development with a minor in history of science in 1972 from the Ohio State University, and his MA in public history in 1988 from Wright State University. Dr. Buerki has made contributions to the broader field of pharmacy through his research, teaching, and service, authoring over 100 articles, book chapters, and books on various aspects of professional ethics and the history of pharmaceutical education. He is a recipient of the National Rho Chi Society Distinguished Service Award (1972, 1978), the Certificate of Commendation from the AIHP (1987), and the AACP Section of Continuing Professional Education's William L. Blockstein Award for sustained contributions to continuing pharmaceutical education (2000). He received the AIHP Edward Kremers Award for distinguished pharmaco-historical writing by an American (2004), and the Edmund D. Pellegrino Medal for his contributions to health-care ethics (2006). In 2003, Dr. Buerki was inducted into the International Academy of the History of Pharmacy.
Brian Jensen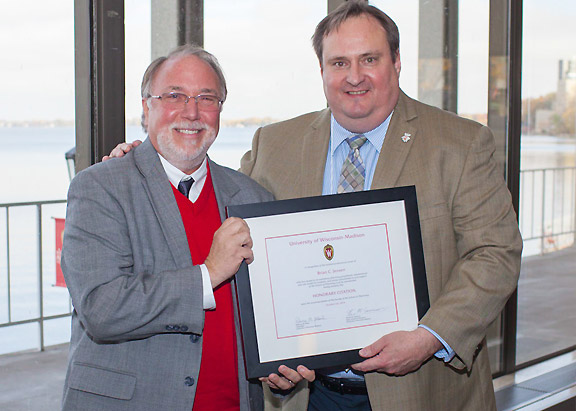 Pharmacist Brian C. Jensen is a 1980 graduate of the University of Wisconsin-Madison with a BS degree in pharmacy. Most of his professional career has been in Two Rivers, Wisconsin. From 1991 to 2011, he was president of Lakeshore Apothacare, Inc., and operated two Medicine Shoppe Pharmacies. Mr. Jensen's professional experience encompasses progressive community and hospital practice. He has been on the frontlines of the transformation of pharmacy practice, testing and expanding the roles of the pharmacist to include increased accountability for drug therapy outcomes. From the Concept Pharmacy Project to the American Center for Pharmaceutical Care to the Asheville Project to the Wisconsin Pharmacy Quality Collaborative, the constant has been a commitment to pharmacy patient care validated by recognition on a state and national level for innovation. Current activities have focused on defining and investing in practice excellence with the measuring, reporting, comparing and rewarding of its achievement as a force for practice change. Mr. Jensen has held numerous offices and served on various committees for professional associations. He has seven pharmacy publications and over 20 presentations at professional meetings. He has served on several UW School of Pharmacy committees and is currently on the Board of Visitors.
Azita Saleki-Gerhardt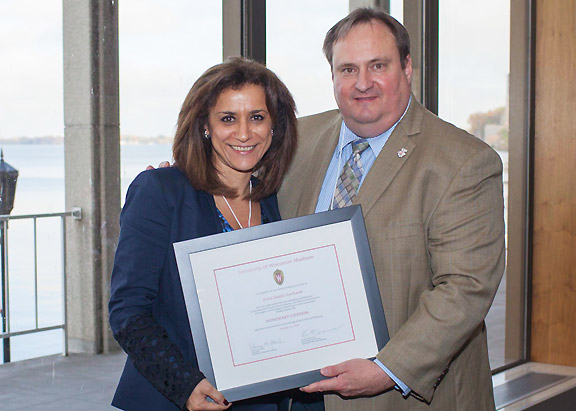 Industrial scientist Azita Saleki-Gerhardt is a highly effective business leader in the global bio-pharmaceutical and healthcare industry, with extensive expertise in pharmaceutical development, manufacturing technology, quality and business unit/function management. She is a recognized thought leader in the drug development/review process and an expert in regulatory compliance. Dr. Saleki-Gerhardt received a BS degree in Pharmacy in 1988; later earning an MS in 1991 in Pharmaceutics and a PhD in 1993, also in Pharmaceutics. All three degrees were earned at the University of Wisconsin-Madison. In 1993 she joined Abbott Laboratories as a Research Scientist in the Drug Product Development Division. She subsequently rose through the ranks to become President of Abbott Global Pharmaceutical Operations in 2011. In 2013, coinciding with Abbott's "spin-off" of its new drug discovery and development activities into Abbvie Laboratories, Dr. Saleki-Gerhardt was appointed Corporate Senior Vice President and President of all Operations. In this position she is responsible for 13 global manufacturing sites and two worldwide distribution centers, 6,500 employees, annual purchasing totaling more than $6 billion dollars and a network of more than 2,000 suppliers. She has received numerous Abbott Chairman of the Board and Presidential Awards for her scientific and technological leadership in addressing important project issues. As a volunteer, Dr. Saleki-Gerhardt serves as a member of the Lake County, Illinois, United Way Board of Directors, and served from 2006-2012 as a member of the Women's Leadership Council and Children's Health Committee for the Lake County United Way.
Bonnie Svarstad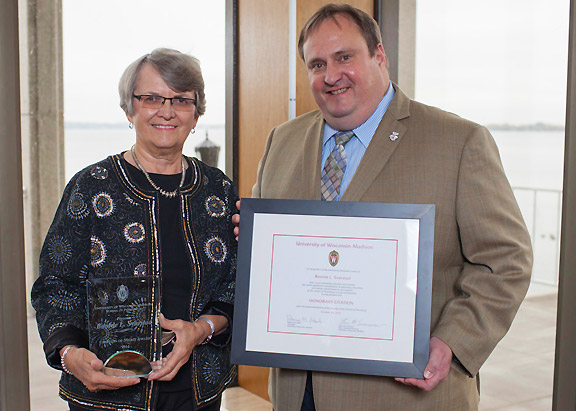 Pharmacy educator Bonnie Svarstad is Professor Emerita at the University of Wisconsin-Madison School of Pharmacy. She received the BA degree in sociology from Augustana College and earned an MS in 1968 and a PhD in 1974 in sociology. Both degrees were earned at the University of Wisconsin-Madison. Professor Svarstad joined the UW School of Pharmacy faculty in 1975 serving in various roles during her tenure: professor of Pharmacy and Sociology, Associate Dean, teacher of pharmacy communications, and graduate advisor of MS and PhD students in Social Pharmacy. Dr. Svarstad's career has focused on the scientific study of professional-patient communication and patient adherence to drug regimens. In 2004, she and her colleagues received a 5-year NIH grant to conduct a rigorous, cluster randomized trial called the Team Education and Adherence Monitoring (TEAM) study. She has published over 70 articles and won numerous awards, including the APhA-APRS Wiederholt Prize (2006, 2014), the Pinnacle Award (2004), and the APhA Foundation's Achievement Award in Economic, Social, and Administrative Sciences (1988). Since 2004, Svarstad has been recognized as a Fellow in the APhA Academy of Pharmaceutical Research and Science.