"Unable to Record A Facet of History"
Reclaiming the Legacy of James W. Buchanan, African-American UW School of Pharmacy Pioneer
By: Gregory Bond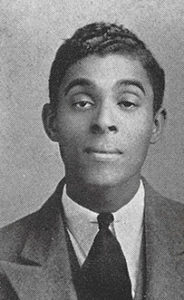 James Wesley Buchanan, class of 1943, was the second known African-American graduate of the University of Wisconsin School of Pharmacy. Buchanan excelled in academics and athletics at Menasha High School before coming to the School of Pharmacy, where he was a founding member and a leader of the University of Wisconsin American Pharmaceutical Association student chapter. After graduating in 1943, Buchanan served in the Army Air Force and was then, for many years, a respected community pharmacist on the South Side of Chicago.
During Buchanan's time in Madison, the population of non-white students at the University of Wisconsin was very small. His interactions with other African-Americans at UW in science classes and at the School of Pharmacy were apparently so infrequent that, in 1987, he wrote a letter to the Wisconsin Alumnus, the University's alumni magazine, saying that, "I have to wonder if I were the first black to receive a degree in pharmacy, or even a BS, for that matter."
Buchanan was not the first known African-American graduate of the School of Pharmacy—a distinction that goes to Leo Vinton Butts, class of 1920—but the fact that he was inspired to ask such a question was indicative of the general lack of diversity at UW and at the School of Pharmacy in the early 1940s.
---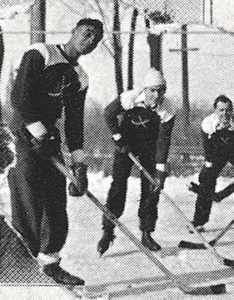 Menasha
James Buchanan was born on September 17, 1916, in Otsego, Michigan. He was the second youngest of Edward and Mattye Buchanan's six children. Edward Buchanan spent his entire career working in paper mills, and he moved his family to Menasha, Wisconsin, in 1922, after he was hired by the John Strange Paper Company. The elder Buchanan worked his way up at the Strange Paper Company and retired as an Assistant Superintendent in the late 1940s, an unusual position of authority at the time for an African-American.
James Buchanan, along with his five brothers and sisters, attended St. Patrick's Grade School and then Menasha High School, where, like his father, he consistently assumed leadership positions. He was twice elected President of his class, and, during his senior year of 1933-34, he was co-editor of the Nicolet student yearbook. He served as President of the Menasha High School chapter of the National Forensic League, and he was a member of the National Honor Society and the Latin Club. Buchanan was heavily involved in athletics, too, playing on the varsity football, basketball, and tennis teams. He also represented Menasha High School on the ice, making him (probably) one of the earliest African-American high school ice hockey players in Wisconsin.
In the 1934 Menasha High School yearbook, Buchanan's classmates wrote that "personality plus intelligence… has made Jim one of the outstanding students in school." After graduation, he continued to attain leadership roles that were unusual for African-Americans in the 1930s. During the depths of the Great Depression, he was unable to immediately afford higher education, so he remained in his hometown. In the fall of 1934, Menasha High School hired Buchanan as the head coach for its freshman football team and as an assistant coach for the varsity football team.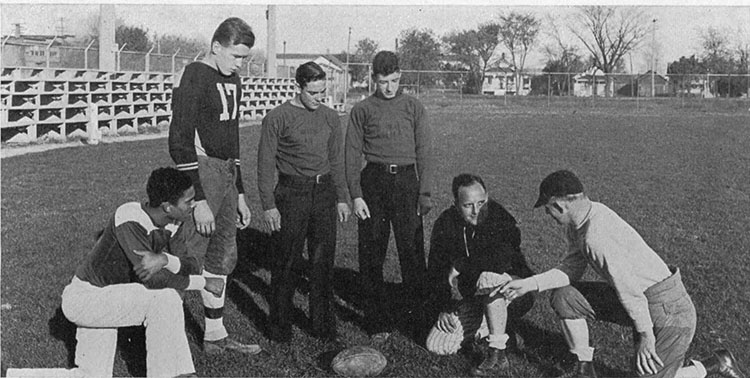 ---
University of Wisconsin
James Buchanan moved to Madison and enrolled at the University of Wisconsin in about 1938 around the same time as his younger sister Gloria. Throughout his time in Madison, Buchanan seems to have lived in the old YMCA dormitory at 740 Langdon Street (now the site of Alumni Park). While a student he worked 21 hours per week at the Thomas Restaurant located at 841 University Avenue (now the site of Vilas Hall).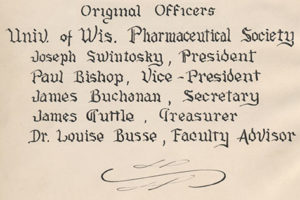 Unfortunately, there is not much extant information about Buchanan's time at the UW School of Pharmacy, but he did continue to assume leadership roles while on campus. On January 13, 1942, he was one of the 49 founding members of the University of Wisconsin Pharmaceutical Society—an organization that was quickly recognized as the official UW student chapter of the American Pharmaceutical Association. In the student group's inaugural election, Buchanan beat three other candidates to be elected Secretary of the Wisconsin Pharmaceutical Society.
Buchanan completed his course requirements early in 1943, and, due to the war-time emergency, he was granted his BS degree in Pharmacy from the University of Wisconsin in March of 1943. Soon after graduating, he joined the military and was assigned to the Army Air Force. In May, the Wisconsin Pharmacist reported that:
"James Buchanan, '43, is also stationed at Kearns Field, Utah, where he is a member of the Army Air Corps Medical Department, Pharmacy Attachment. He states that upon completion of his basic training he will be sent to a hospital in the capacity of Registered Pharmacist."
The details of the rest of his wartime service, however, are currently unknown.
---
Community Pharmacist in Chicago
After the war, Buchanan moved to Chicago where several of his sisters lived. In 1947, he was hired by Walgreens as an Assistant Manager for its store at the corner of 55th Street and South Michigan Avenue, and he would remain with the company for the rest of his career. That same year, he married Esperance Farmer, a graduate of DePaul University, and the couple would have two children.
Buchanan was a successful and respected community pharmacist, working for about twenty years at the same store on South Michigan Avenue. In 1966, Walgreens featured Buchanan in an advertisement in the Chicago Defender, the city's leading African-American newspaper. "Whether he's helping a customer, or guiding a troop of Boy Scouts," the ad read, "Jim does everything with enthusiasm." The ad concluded that "Jim's friendliness has been part of every prescription he has filled since he first joined Walgreens in 1947."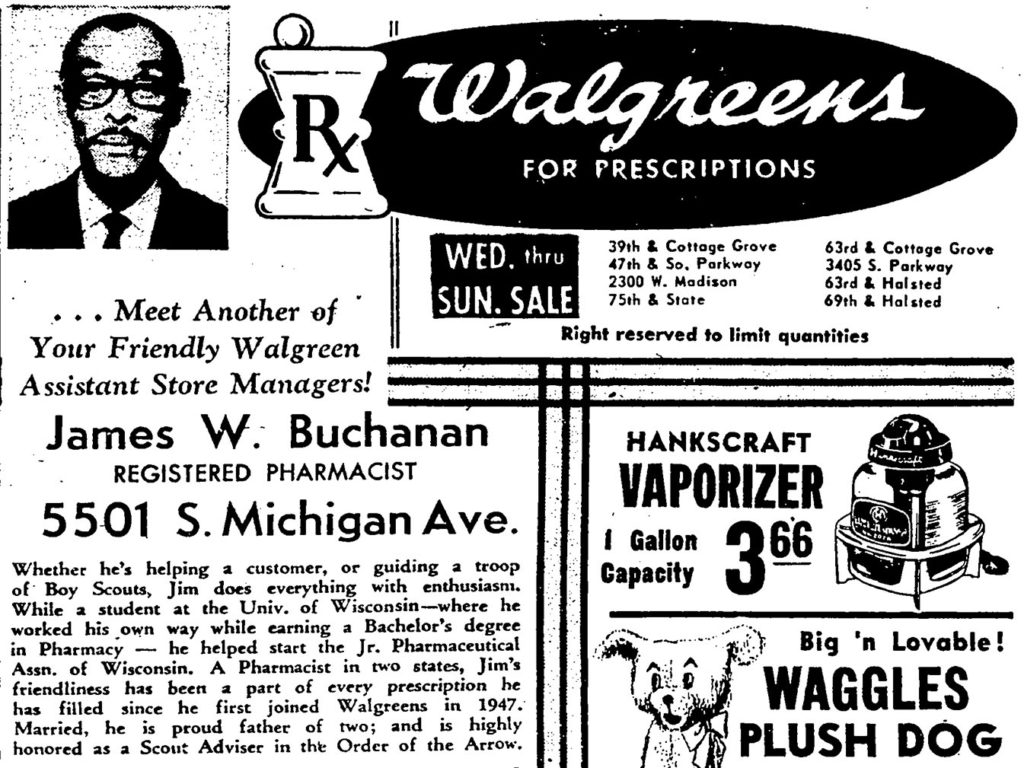 The following year, the Defender observed that Buchanan "has earned a reputation for dispensing smiles as well as prescriptions," explaining that "his natural courtesy and friendliness makes it natural for James to greet customers each day with a big smile." Walgreens recognized his years of service with a gold cup and awarded him the title of "Most Courteous Employee." Later in 1966, Walgreens promoted Buchanan to Store Manager at the South Michigan Avenue location.
By 1971, Buchanan had moved to a different store at State and Madison, and Walgreens again featured him in an advertisement in the Chicago Defender. "Jim fills prescriptions at a very busy Walgreens, but he's never too busy to be courteous in serving his customers," the ad explained. "People find it nice to get low prices—and get 'em with a smile. With Jim Buchanan and Walgreens, you can count on it."
By 1983, Buchanan had retired from Walgreens, and he continued to live in Chicago where he died on August 21, 1998.
---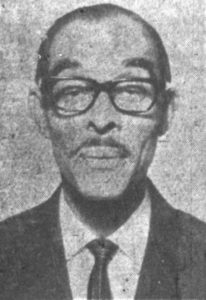 James Wesley Buchanan's Legacy
James Buchanan seems to have maintained an interest in his alma mater throughout his life. In 1987, when the Wisconsin Alumnus published an article about William S. Noland (pp. 6-7 "The Short, Clouded History of a Man of Promise"), class of 1875, the first known African-American graduate of the University of Wisconsin, Buchanan was moved to write his letter to the editor. He related some of his own experiences as an African-American at UW, and he discussed some of the difficulties of studying the history of underrepresented groups on campus:
"I found the article of more than passing interest… and I can sympathize with the archivist who is unable to record a facet of history because a statistic was not recorded. But, since you have opened the door for "other firsts," I have to wonder if I were the first black to receive a degree in pharmacy, or even a BS, for that matter. Race is not mentioned on my transcript, and I don't recall having any official pictures taken for a yearbook or anything else."
For too many years, the School of Pharmacy has been "unable to record" this "facet" of its history, because Buchanan's achievements were soon forgotten after he left campus. Thirty-two years after he penned his letter to the Wisconsin Alumnus, however, we can finally answer his question and say, that, as far as we know, James W. Buchanan was the second African-American graduate of the University of Wisconsin School of Pharmacy.
-Gregory Bond, PhD
American Institute of the History of Pharmacy
badgerhistory@yahoo.com