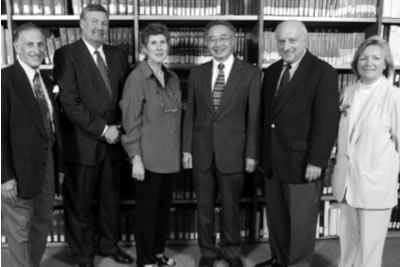 Leon Lachman
Dr. Leon Lachman, PhD, '56, earned his bachelors in pharmacy and masters in industrial pharmacy degrees from Columbia University before heading west to earn his PhD from the University of Wisconsin with a major in physical chemistry and a minor in physical-organic chemistry. His distinguished career, which spans nearly 50 years, began at CIBA Pharmaceutical Company, where he remained for 13 years, attaining the position of Director of Pharmacy Research & Development and creating a great environment for scientists to flourish. He later joined Endo Laboratories Division of DuPont, achieving the title of Vice President for Development & Control. He joined United Laboratories in Manila, Philippines in 1979 as Senior Vice President and began his consulting organization, Lachman Consultant Services, Inc., that same year.
Today, Lachman Consultant Services of Westbury, New York, is one of the largest and most influential firms in the field, serving as expert technical consultants to the pharmaceutical and allied health industries. The firm helps pharmaceutical companies develop "good manufacturing practice" facilities and respond to audits by the FDA.
Lachman's scientific expertise is well demonstrated in the wide range of activities he is involved with at the firm: from bulk pharmaceutical chemical manufacture and control to FDA filings and compliance actions; to packaging and labeling operations; to validation of pharmaceutical equipment, systems, and processes. He has authored over 70 scientific publications, numerous textbooks, and holds 11 patents. Columbia University recognized his lifetime achievements awarding him an honorary Doctor of Science Degree. He has also been awarded the APhA Academy of Pharmaceutical Sciences Research Achievement Award in Pharmaceutics.
Lachman distinguished himself by serving as President of the Parenteral Drug Association and as President of the Academy of Pharmaceutical Sciences. He has worked as a visiting scientist for the American Association of Colleges of Pharmacy, as Visiting Professor at the Swiss Federal Institute of Technology and Rutgers College of Pharmacy, and as an ad hoc faculty member to the FDA's Center for Drug Evaluation and Research.
Holly Mason
Holly L. Mason, BS '72, MS '75, PhD '79, is Associate Dean for Professional Programs and Professor of Pharmacy Administration in the Department of Pharmacy Practice at Purdue University's School of Pharmacy and Pharmaceutical Sciences. He has been an extraordinary member of the Purdue faculty for the last 24 years.
Mason's career has been typified by excellence in research, teaching, and service. His research interests have focused on the effects of education and practice on the career development of pharmacists, the delivery of patient-oriented pharmacy services, and in the assessment of performance-based student outcomes in pharmacy education. He has received funding totaling more than $1,000,000 as a principal or co-principal investigator for some 30 projects and has been an author for some 70 publications. Among recent research honors, Mason was the recipient of two Rufus Lyman Awards for papers published in the 1996 and 2000 volumes of the American Journal of Pharmaceutical Education.
In 2001, he received the Robert Chalmers Distinguished Educator Award for excellence in pharmaceutical education, presented by the American Association of Colleges of Pharmacy. He was also inducted as a Purdue Teaching Academy Fellow that same year, a recognition given for exceptional teaching. In 1997, he was selected and served as an Academic Leadership Fellow by the Committee for Institutional Cooperation — Big 10 Conference Universities. He has been especially involved in graduate education during his academic career, chairing Purdue's graduate programs in pharmacy administration and clinical pharmacy for 12 years. He has served as a major professor for 16 doctoral students who have made significant contributions in their own right and on a number of national committees that have addressed topics related to graduate education.
His service to the profession has also extended to other organizational work, highlighted by chairmanship of AACP's Social and Administrative Sciences Section, and educational policy development for the American Pharmacists Association. He currently serves on the Board of Directors for the American Institute for the History of Pharmacy and is Secretary-Elect for the AACP Council of Deans. He has consulted for the AACP, the Department of Health and Human Services' Bureau of Health Professions, and a number of hospitals, both in Indiana and in Madison.
Pamela Ploetz
Pamela A. Ploetz, BS '68, has passionately contributed to the Wisconsin pharmacy community for 35 years. She spent the greater part of her career at the University of Wisconsin Hospital and Clinics (UWHC), retiring as Associate Director of Pharmacy, Practice, Education, and Research. Presently, she continues at UWHC as a consultant, and writes for the publication, Pharmacy Now.
During her career, Ploetz served the profession as preceptor, Clinical Instructor, and finally, Clinical Associate Professor at the UW SOP. During the 1990s, she directed the ASHP accredited pharmacy practice residency program at UWHC. It was largely through her influence that the professional program at the UW SOP came to emphasize the clinical aspects of the practice of pharmacy, so evident today.
Among her contributions to the School, Ploetz served a term on the school's Board of Visitors in the late 1980s, and served on two School of Pharmacy Dean Search Committees in the 1990s. She continues to influence future pharmacy practitioners through the Pamela A. Ploetz Scholarship Fund, created by friends, colleagues and past pharmacy students and residents, in lieu of a farewell party or retirement gift.
Ploetz's professional service accomplishments are numerous. From 1976 to the present, she has worked on influential committees and task councils with the American Society of Health-System Pharmacists. She similarly served the National Association of Boards of Pharmacy from 1982 to 1988. Among her passions are issues and policies created to focus on the patient. These include high quality patient care, medication use safety, and research and education to develop, promote and foster best pharmacy practices.
Closer to home, Ploetz has served the profession of pharmacy in many leadership roles, including the Wisconsin Pharmacy Examining Board and the Wisconsin Pharmacy Internship Board. She also served as President of the Pharmacy Society of Wisconsin in 2001-2002. She received the PSW Distinguished Services Award in 1999 and the Wisconsin Hospital Pharmacist of the Year in 1981. She is a frequent invited lecturer and has co-authored numerous publications and research poster presentations.
Charles Sih
Professor Charles Sih, has a 40-year distinguished research and teaching career. He has the distinction of being the first recipient of the Ernest Volwiler Award in Pharmaceutical Sciences, given by the American Association of Colleges of Pharmacy to the best researcher in a school of pharmacy. Awarded the prestigious Roussel Prize in Steroid Chemistry in 1980, the Alexander von Humboldt Award in 1986 and the American Pharmaceutical Association Research Achievement Award in Natural Product Chemistry in 1987, Sih has built a well-earned and exceptional legacy at the School of Pharmacy.
After earning undergraduate and master's degrees in biology and bacteriology from Carroll College of Helena, Montana, and Montana State University, respectively, Sih came to Wisconsin to pursue a PhD in bacteriology in the mid-1950s. Following graduate school at the UW, he worked as a Senior Research Chemist at the Squibb Institute for Medical Research. He returned to Madison in 1960, joining the School of Pharmacy faculty to teach pharmacognosy and to develop the biological sciences for the School.
He rapidly rose through the academic ranks, becoming a full professor in 1966. He was named the School's Frederick Power Professor of Pharmaceutical Chemistry in 1979 and is also a Hilldale Emeritus Professor of Organic Chemistry. Sih was the first School of Pharmacy faculty to ever hold a joint appointment in the UW Department of Chemistry.
Pharmaceutical biochemistry became increasingly significant during the 1960s, after Sih joined the faculty. In his research career, Professor Sih made a significant international impact on the fields of organic, bio-organic, and microbial chemistry. He has been a pioneer in the use of enzymatic and microbial transformations of organic molecules, and he has made outstanding contributions to natural product chemistry in biosynthesis and other biologically important processes.
Sih has published more than 180 articles and performed more than 200 invited lectures during his illustrious career. He has also served as a scientific consultant to numerous firms, including Syntex and Miles Laboratories, Eastman Kodak and the Schering Corporation.