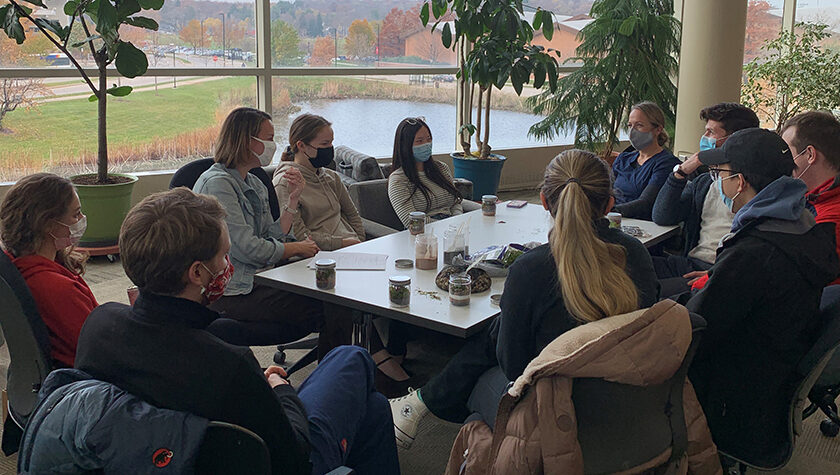 16
September
Launched during the height of the pandemic, Pharmacy Families evolves to build community among students and faculty
By Brianna Foth
Alexis Doering was in her first year of the PharmD program at the University of Wisconsin–Madison School of Pharmacy when the COVID-19 pandemic swept the globe. Like many schools around the nation, the School of Pharmacy transitioned to a virtual learning environment. The educational quality remained high-caliber, but there was something missing: a sense of connection.
By the start of her second year, in fall 2020, the School of Pharmacy introduced a new program, Pharmacy Families, to help keep PharmD students connected with each other and other members of the School of Pharmacy community. Designed to provide an additional layer of support for students in a challenging online learning environment, Pharmacy Families connect PharmD students across all years of the program and provide an opportunity to discuss their experiences and build closer connections with their instructors.
"Pharmacy Families really made me see how much work faculty members put in to create a sense of community for the students."
—Alexis Doering
Although virtual, Doering was able to bond with her Pharmacy Family and stay engaged with her peers, which helped to make it a seamless and exciting transition back to in-person courses.
"It was nice to have that come full circle, to see the virtual faces and then meet everyone in person," she says.
Now, as students have returned to in-person instruction with more opportunity for connection, the program's goals are beginning to evolve.
"When the program was entirely virtual, it was an opportunity for us as faculty and instructors to check in and see what students were struggling with in the virtual online learning environment," says Marina Maes, assistant professor in the School's Pharmacy Practice and Translational Research Division, who helped launch the Families program. "Now, the goal is really to focus on community building."
Facilitating mentorship
Since its launch, the Pharmacy Family program has incorporated students from every stage of the PharmD program, with the goal that each Family have three to four students from each year and a faculty or staff member meet at least twice in the fall semester and once in the spring. By encouraging peers from different stages of the program to talk openly about their challenges and go to one another for advice, explains Maes, students can not only act as mentors for one another, but also help problem-solve challenges that can sometimes require an older student's perspective.
"Peer mentorship is really valuable in any career path, but especially in pharmacy," she says. "As faculty, it's hard for me to give advice to students about the best way to study for a particular course that I may not have any experience teaching. And so that's where the perspectives of second- and third-year students can be really helpful."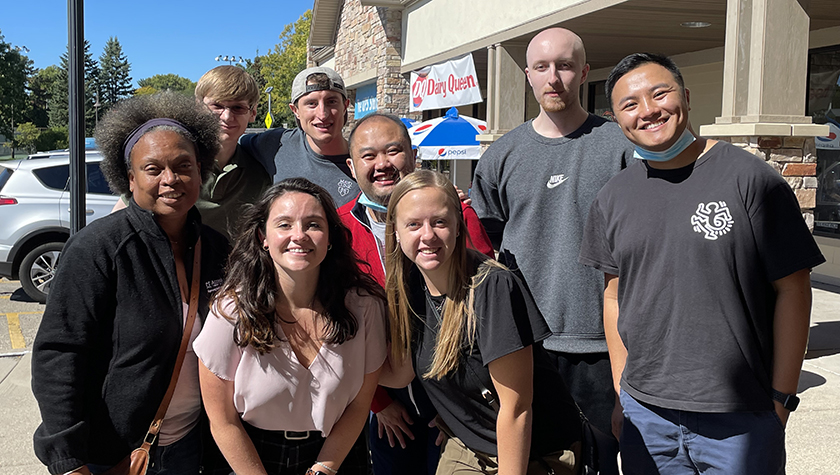 Those peer perspectives can be especially valuable in helping students navigate difficult transitions, such as from online to in-person instruction, or into the first year of the PharmD program.
For Carley Laffin, now a second-year PharmD student, hearing the perspectives of her older peers was especially beneficial in helping her make her way through her first year.
"They talked about different study techniques that they use, and some of the experiences they'd had, and gave good advice along with that," she says. "The Family program facilitated an environment where I could meet students from different years in the pharmacy program. Had I not had that, I think any older students I met would have come solely from extracurriculars. But if you aren't involved in those, then you wouldn't have that opportunity."
Doering, too, sees the value of Pharmacy Families in each year of the PharmD program.
"It's really challenging to navigate the professional environment when you're just starting the PharmD program, and you haven't had years to build communication skills and professionalism," she says. "Having a small group setting like Pharmacy Families in the first year of the PharmD program would be helpful in developing those skills earlier."
Fostering faculty connections
Another important function of the Family program, says Maes, is that it provides a venue for students to connect with School faculty outside of the classroom, offering a valuable additional resource they can turn to for advice or support.
"From a student perspective, I think it can be intimidating sometimes to approach your faculty," she says. "So, if students can have at least one person that they feel comfortable going to — that's our goal."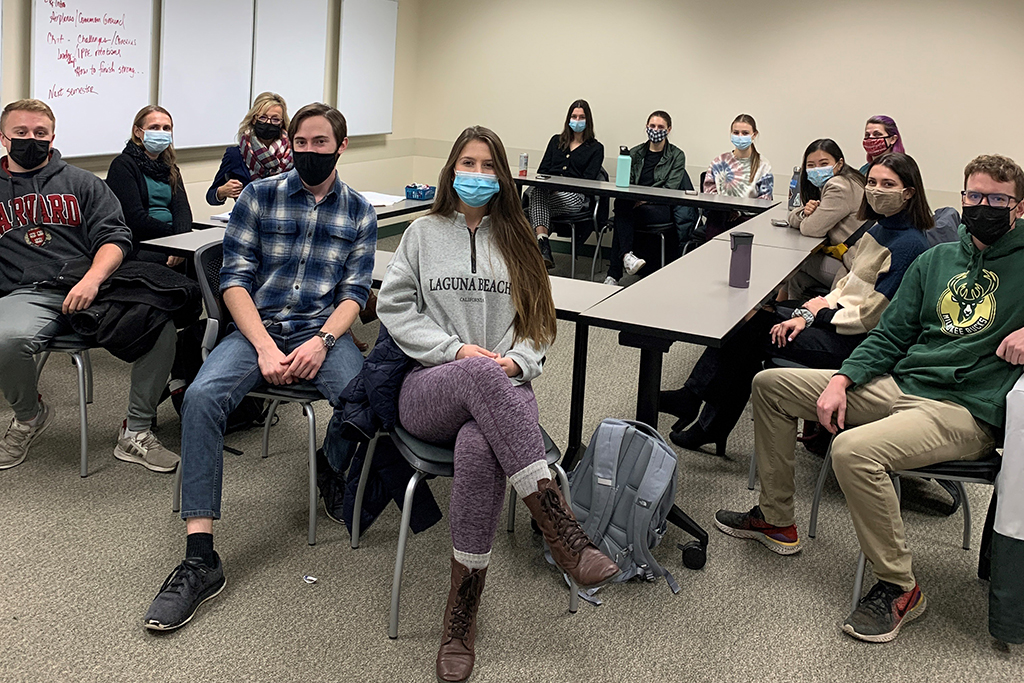 That two-way connection can also, in turn, benefit the instructors by giving them a deeper understanding of what's going on in their students' lives, as well as what's happening in other areas of the School.
"It's really easy for us as faculty to only be aware of things that are happening in our own individual course or lecture," says Maes. "For me, it's given me a much broader sense of what's happening with our students, especially the cohorts that aren't in my courses that semester."
This past year, the Family program has incorporated 36 School of Pharmacy faculty and staff across 33 Pharmacy Family groups. Laffin's group, for example, is facilitated by School of Pharmacy Dean Steven Swanson.
"Being able to have students talk one-on-one with the dean — that's something really valuable," Laffin says.
Maes worked with other faculty, staff, and PharmD students — including fourth-year PharmD students Kaleigh Mikolichek, Margaret Ford, and Monica Ruh — to evaluate the Pharmacy Families program. Their results, presented at the Pharmacy Education conference hosted by the American Association of Colleges of Pharmacy in July 2022, found that the majority of students felt the Families provided a safe venue to share concerns, feel supported by leaders, and foster a sense of community.
"Pharmacy Families really made me see how much work faculty members put in to create a sense of community for the students," says Doering. "It really made me realize how much they care, and that they want us to feel good about what we're doing. They really want to find ways to support us."
"It has been rewarding to hear all of the positive student experiences with the program in such a short amount of time."
—Marina Maes
Heading into her fourth year of the PharmD program, and third year with her Family, Doering can already see the long-range impacts of building strong relationships with faculty.
"I really benefited from my faculty leader, Professor Beth Martin, becoming my mentor," she says. "I was able to use her as a resource for advice and get letters of recommendation down the line. That was a really important relationship that I was able to build, and I'm sure a lot of students are making similar connections as well."
Broadening flexibility
In the fall 2022 semester, Maes hopes the Pharmacy Family program will encourage greater student involvement through electing student leaders, enable earlier connections by introducing first-year students to their fellow first-year Family members during orientation, and provide greater flexibility for students and faculty by requiring fewer formal meetings and instead encouraging Family groups to take advantage of opportunities for connection outside of typical meetings.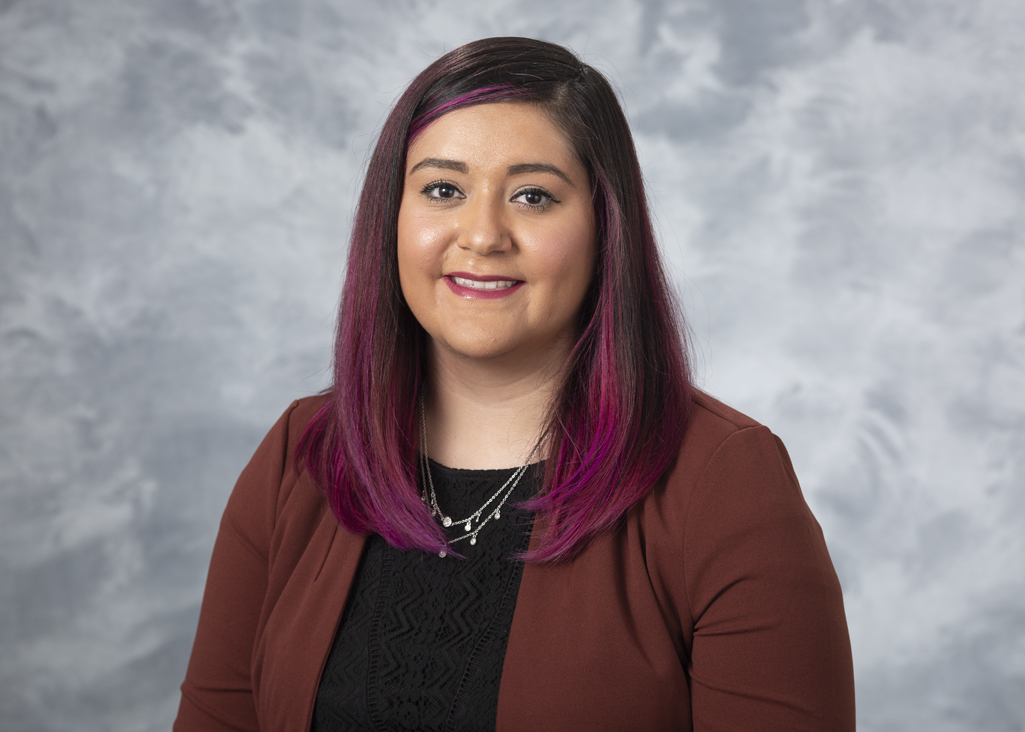 "The goal is to facilitate more informal interactions and provide students with more flexibility in how those interactions can be accomplished," says Maes. "For example, Families can go on a walk, do group dinners, or meet up at the Terrace. Students can choose which of those opportunities will be best for them to build connections, and hopefully it will feel less like a requirement for students."
Also underlying that flexibility is the hope that it will allow fourth-year PharmD students — the only cohort for whom participation in the Pharmacy Family program is not required since they are off-campus completing Advanced Pharmacy Practice Experiences (APPEs), or full-time experiential rotations — to participate more directly in connecting with their younger peers.
"It's more challenging for the fourth-year students to participate just based on the timing of the meetings," says Maes. "But the groups that have had fourth-year participation have found a lot of value. So, hopefully with the changes for the upcoming year, more fourth-years will be able to participate."
As the program enters its third year, Maes is also tapping student liaisons, like Laffin, to share their insight on how to strengthen the program and ensure it remains effective, convenient, and fun.
"It has been rewarding to hear all of the positive student experiences with the program in such a short amount of time, and we have learned a great deal about what is working well and where we can continue to improve," says Maes. "I am excited to see how the program evolves over the next year with a greater focus on strengthening relationships within our School of Pharmacy community."