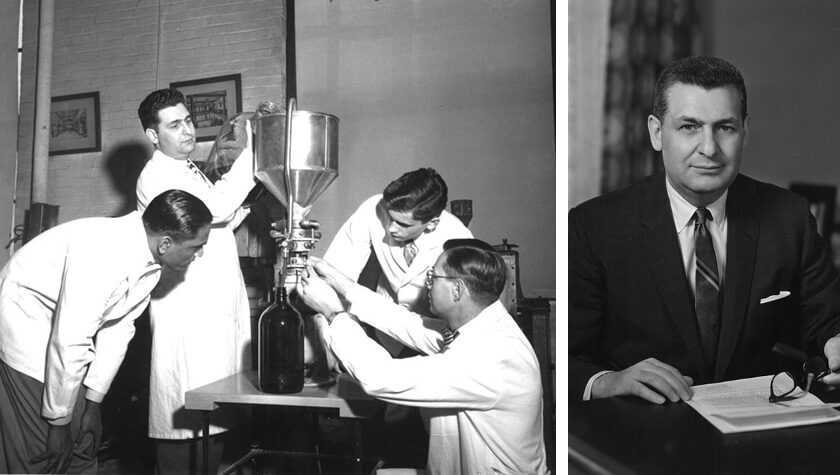 15
December
William S. Apple, former APhA CEO, was a champion for pharmacists' roles as care providers
By Katie Ginder-Vogel
Images from the AIHP Kremers Reference Files at the University of Wisconsin–Madison School of Pharmacy
Known as a legend in the pharmacy world and a towering figure in the field of professional leadership, University of Wisconsin–Madison School of Pharmacy alumnus William Apple (BS '49, PhD '54) didn't shy away from any opportunity to advocate for pharmacists as independent healthcare professionals with laudable expertise.
As the CEO of the American Pharmacists Association (APhA) for almost a quarter of a century, from 1959 until his passing in 1983, Apple wasn't afraid to lead the organization into legal or political battles that would advance the profession.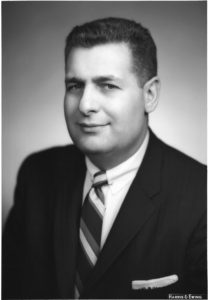 "He was an aggressive leader on behalf of pharmacy," says pharmaceutical historian Greg Higby (MS '80, PhD '84), a senior lecturer at the School, Fischelis Scholar at the American Institute of the History of Pharmacy, and APhA honorary president for 2021–22. "Apple worked tirelessly to get pharmacy recognized fully as a healthcare profession on equal footing with medicine."
In addition to leading APhA for more than two decades, Apple also left his mark on several other national and international organizations, influencing the profession from multiple angles: He was president of the American Council on Pharmaceutical Education (ACPE) from 1964 to 1969; served as secretary, vice president, and president of the National Drug Trade Conference from 1967 to 1970; councilmember and vice president of the International Pharmaceutical Federation from 1959 to 1978; and he served as a board member and vice president of the American Association of World Health from 1970 to 1978. Because of his global sphere of influence, he was invited to be an honorary member of pharmaceutical organizations in Chile, Japan, Canada, and Great Britain.
Apple received countless honors for his work on behalf of pharmacists, including a 1965 Citation of Merit from the School of Pharmacy and the APhA's 1966 Hugo H. Schaefer Award and 1967 Remington Honor Medal.
His devotion to leadership was clear even before he arrived in Wisconsin. However, his time at the School of Pharmacy, as both student and professor, acted as a springboard to the national stage.
Ascending to leadership
Apple was born in Spokane, Wash., in 1918 and raised in Duluth, Minn., where he worked at the Northern Drug Company and attended the community college. He enlisted in the U.S. Army in 1941 and was commissioned as a second lieutenant in 1942. He served for almost four years in the Pacific Theater during World War II and graduated from the Command and General Staff School in Ft. Leavenworth, Kan., in 1944. 
Apple transferred to the Army Reserve as a lieutenant colonel and began his undergraduate degree at the Wayne State University College of Pharmacy and Health Sciences, through the GI Bill, in 1945. He transferred to the UW–Madison School of Pharmacy and earned his bachelor of pharmacy degree, graduating magna cum laude in 1949. After graduating, he worked for his father-in-law's community pharmacy in Phillips, tucked in the Northwoods of Wisconsin, as well as for legendary pharmacist and Wisconsin governor Oscar Rennebohm.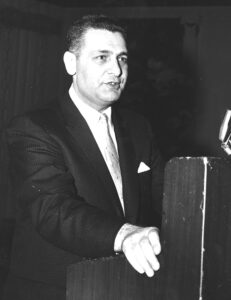 Seeking new opportunities to influence the profession, Apple returned to UW–Madison, earning his MBA in 1951 and his PhD in pharmacy, with a specialty in pharmacy administration, in 1954.
His graduate research focused on a topic that remained important to him throughout his career: the development of a professional fee method of prescription pricing, which builds reimbursement for pharmacists' service and expertise into drug prices. The UW–Madison School of Commerce Bureau of Business Research and Service published his PhD dissertation in 1952 as a report, entitled "Prescription Pricing," highlighting the quality and influence of his work.
Throughout his time at UW–Madison, Apple continually proved his devotion to learning and was a member of pharmacy academic honor society Rho Chi, as well as societies that transcended pharmacy, such as Phi Lambda Upsilon, for chemists, and Phi Kappa Phi, which is one of the oldest and most selective honor societies, agnostic to area of study.
While Apple worked toward his PhD, School of Pharmacy Dean Arthur Uhl hired Apple to be the coordinator of the School's Extension Services in Pharmacy and to teach courses in drugstore management. He remained on the faculty after graduating, working his way up to be the School's first chair of the Department of Pharmacy Administration. With this, his influence on the profession through the education of future pharmacists was cemented.
His career-long enthusiasm for unity among young pharmacists would take him to the board of the Wisconsin Pharmaceutical Association, which has since grown into the Pharmacy Society of Wisconsin, where he served from 1956 to 1957 as president and chairman. Awaiting him the following year was his opportunity to take his passion for advancing pharmacy to a national level.
A national advocate for pharmacists
In 1958, Apple was elected secretary-nominate of APhA and relocated to the Washington, D.C., area. He brought two goals with him to champion in the organization: uniting the profession to strengthen its voice and gaining respect for pharmacy as an independent healthcare profession.
From this post, he pushed for key changes, influencing prescription drug pricing, the availability of generic medication, and collaboration between pharmacists around the country.
Through his amplified voice with APhA, Apple led consequential changes in lexicon that enhanced pharmacists' image as high-level professionals: The term "community pharmacy" replaced "retail pharmacy," and "drugstores" became known as "pharmacies."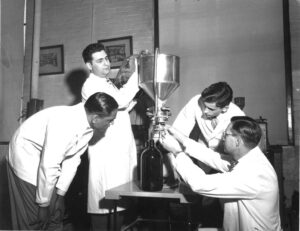 The next year, Apple rose to become APhA CEO, managing the organization's operations and serving as its primary voice, testifying before congressional committees over 50 times to preserve pharmacists' role in patient care. He also served as a consultant to the U.S. Department of Health and Human Services, published more than 100 peer-reviewed articles, and lectured around the world. In his role as CEO, Apple was dedicated to the idea of APhA representing all pharmacists with one voice.
He fought for pharmacists to be recognized as healthcare professionals equal to doctors and nurses and for community pharmacies to remain strong businesses. For example, when Medicare/Medicaid legislation passed in 1964, Apple called for an end to hospital pharmacies and clinics being given lower drug prices by pharmaceutical companies, warning that the price differential would hurt or even destroy community pharmacies.
Apple regularly emphasized the importance of pharmacy remaining an independent profession, economically separate from medicine and the pharmaceutical industry. In his 1967 speech accepting the Remington Honor Medal, he characterized the beginning of pharmacist-provided drug therapy management as a way for pharmacists to operate more independently from medical professionals.
In 1971, APhA came out in favor of states allowing generic drug substitutions, making the point that pharmacists had the expertise to select the proper drug among multiple options with the same active ingredients. APhA's position was that generic drug availability would provide pharmacists with more responsibility and enhance their professional status. In 1979, the Federal Trade Commission's list of prescription products and approved generic equivalents also noted that pharmacists were qualified to select products for their patients. APhA was recognized for coining the term "drug production selection," and by the early 1980s, almost every state allowed generic drugs.
Apple consistently advocated for APhA to be a unifying organization for the profession. In the 1970s, Apple drew upon his experience working with the WPhA to develop a state affiliate program for APhA, bringing representatives from each state pharmacy organization together in the House of Delegates, as a way to encourage more collaboration.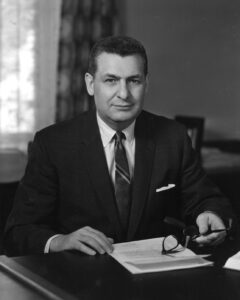 "His experience working with WPhA before moving on to APhA led him to develop the state affiliation program in the 1970s," says Higby. "Like a lot of Apple's ideas, this one was not an unqualified success but did result in closer working relationships between state associations and the national umbrella group, APhA."
Apple was an early advocate of the professional fee method of prescription pricing. 
"He advocated for a prescription fee system of payment to replace percentage markup, with the hope that this would separate pharmacist service from the distributive function of pharmacy," says Higby. "When government agencies were planning for the future of healthcare, Apple fought long and hard to get APhA and other pharmacy groups invited to the discussions, and he succeeded."
Apple's continuing legacy
Although he died in 1983, Apple continues to have an impact on the School of Pharmacy. His research legacy lives on through the William S. Apple Distinguished Chair in Social and Administrative Sciences, established by alumni and friends of the School and currently held by Professor David Mott, associate dean for advancement and chair of the Social and Administrative Sciences Division. In a continuation of Apple's motivations, Mott's research focuses on the development and impact of pharmacist-led services and expanding pharmacists' scope of practice.
But Apple's words and life's work also continue to resonate throughout the pharmacy profession, inspiring leaders, practitioners, and researchers.
"I remember 'discovering' Dr. Apple — through his articles and speeches and press coverage of his work at APhA — while I was a pharmacy student at the UW–Madison School of Pharmacy in the mid-1960s, says William Zellmer (BS '67). "At the time, I was troubled by the immense gap between the knowledge base of pharmacists and the limited extent to which most of them applied it in their practice. Dr. Apple inspired hope for the future of pharmacy through his criticism of the status quo and his forceful advocacy of necessary reforms."
Zellmer, who formerly served as president of the American Institute of the History of Pharmacy and deputy executive vice president of the American Society of Health System Pharmacists, credits his admiration for Apple for inspiring his work with pharmacy organizations.
"His philosophy about pharmacy was grounded in historical perspective, with one eye on the future," wrote Zellmer in an article about Apple's life, published in the American Journal of Hospital Pharmacy. "By courageously expressing his progressive ideas, he inspired hope for the transformation of pharmacy into a vital health profession, wherever it was practiced."