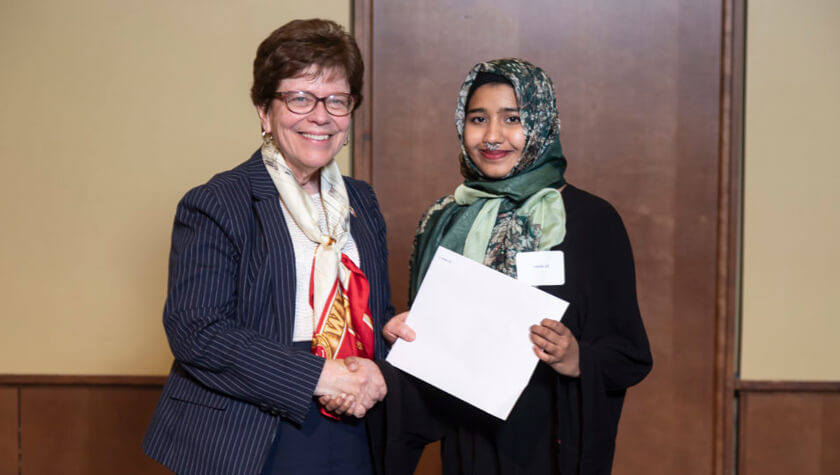 15
July
By Hanzhu Tang
For the past six years, students from University of Wisconsin—Madison School of Pharmacy's  Pharmacology and Toxicology undergraduate program have been selected to receive Hilldale Undergraduate/Faculty Research Fellowships. Thanks to their own hard work and mentorship from the faculty of the School, 2019 is no different.
This year, four PharmTox students — Kyle Zielinski, Caroline Hanson, Andi Pan, and Adeela Ali — have been selected to receive the $3,000 scholarship to support their ongoing research. The Hilldale Fellowship, which is an esteemed campus-wide award program, recognized their intellectual contributions, significant progress, potential influence in their research area, and meaningful collaborations with faculty.
With their faculty mentors, students composed research proposals to describe the originality and significance of their work, designed plans for data collection and analysis, and mapped out the future milestones of their project.
Among the competitive pool of applicants, the PharmTox students believe that their research innovations and close connections to real-world applications made them stand out. Through the PharmTox curriculum, which encourages undergraduates to explore research opportunities broadly both within and beyond the School of Pharmacy, students are able to develop their career goals and contribute in myriad ways to improving human health.  
Zielinski has been researching in the Iskandar Laboratory in the Department of Neurosurgery for three years, collaborating with both Professor Bermans Iskandar and resident Mark Kraemer from the Department of Neurological Surgery in the School of Medicine and Public Health. The group is addressing complications associated with hydrocephalus, a brain condition that causes fluid build-up in the brain resulting in painful headaches and impaired vision, among other things. 
"We will be building a smartphone application that surveys patients multiple times per day, in real-time, to get a better idea of potential causes of these headaches, which are currently unknown," says Zielinski. With minimal coding experience, he is collaborating with software developers to tackle technical problems as well as a legal team to address possible concerns with industry regulations and patient privacy issues.
Hanson's research interests stress more on biology: tracing the evolution of tyrosine-derived metabolites in the plant kingdom. Working with Associate Professor Hiroshi Maeda in the Department of Botany, Hanson is exploring whether tyrosine and tyrosine-derived compounds in plants, such as epinephrine, can be harvested and used in medicines.
"Research in plant metabolism is not as well-known as research in other fields, but it definitely has enormous potential for future treatments," says Hanson.
The other PharmTox student winners' research is just as diverse: Pan collaborates with Assistant Professor Ahmed Mahmoud from the UW–Madison Stem Cell and Regenerative Medicine Center, who incorporates immunology into regenerative biology to explore factors that impact heart regeneration in mice.
"We are trying to elucidate mechanisms and evolve the understanding of the process of heart regeneration, which will influence doctors' and pharmacists' perceptions of treatments for heart diseases," says Pan.
Ali is working with Assistant Professor Christian Capitini from Department of Pediatrics in the School of Medicine and Public Health, conducting cancer immunotherapy research to develop possible therapies.
"The troubleshooting and problem-solving skills I am learning from this cancer research project will facilitate my journey to be a pharmaceutical scientist in the future," says Ali.
The Hilldale fellowship provides a stipend to both the students and their research mentors advance their studies and culminates with a presentation of their findings at the 2020 Undergraduate Symposium.