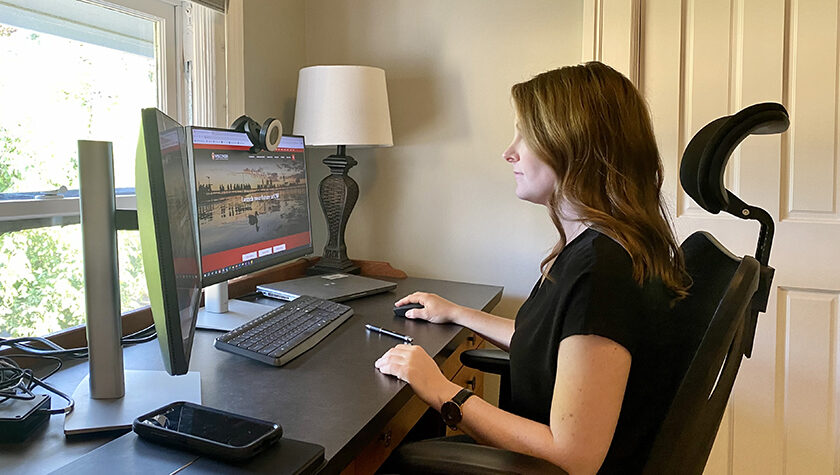 12
September
School of Pharmacy alumni careers and 2022 National Pharmacist Workforce Study bear out the trends in remote pharmacy work
By Katie Ginder-Vogel & Katie Gerhards
In 2020 — as the COVID-19 pandemic closed offices, restaurants, and schools — remote work flourished. Although pharmacists were some of the essential workers tirelessly working to protect their communities from behind the counter, many roles in pharmacy followed the national trend.
The 2022 National Pharmacist Workforce Study (NPWS), an interim report meant to illuminate the impact of the pandemic, found that among pharmacists completing some tasks from home, about 23 percent worked 40 or more hours per week from home in 2022, compared with just 8 percent in 2019.
"My preliminary takeaway is that it may be a residual effect of COVID, or maybe these practice settings learned that pharmacists can be just as productive working from home all the time," says Dave Mott (BS '88, MS '92, PhD '95), professor in the University of Wisconsin–Madison School of Pharmacy's Social and Administrative Sciences Division, who helps lead the NPWS.
Mott and the NPWS team also found that among pharmacists who did any work from home, the number of hours worked from home grew since 2019. In 2022, the mean number of hours was 17 per week at home, up from 10 in 2019.
Among pharmacists completing some tasks from home, about 23% worked 40 or more hours per week from home in 2022, compared with just 8% percent in 2019.
What the pandemic didn't meaningfully change was the portion of pharmacists who are doing at least some of their work from home — both in 2019 and 2022, about a quarter of pharmacists were completing work from home.
"Remote work is much more common in ambulatory care practice settings, where pharmacists in that space are doing telehealth visits with patients. That came through in the focus groups that we did for that 2022 survey as well," says Mott. "There are also pharmacists checking orders, pharmacists working for a managed care company or pharmaceutical benefit manager, pharmacists that have appointments in academia — that's where a lot of the virtual work is happening."
School of Pharmacy alumni are working remotely in a range of settings, from home health to industry and informatics.
"The possibilities are endless; I can talk to anyone, anywhere, and in this role, it's been great to be able to do that and build connections and networks across the country," says Maggie Peinovich (PharmD '07), director of pharmacy services at Medically Home.
Home hospital programs
Medically Home is a primarily remote company that enables health systems to develop home hospital programs. 
"It's an extension of a brick-and-mortar hospital, and we frame it like you're taking care of a patient on another floor of your hospital; they just happen to be at home," explains Peinovich, who is based in Menomonie, Wis. "I was an operations manager for the Mayo Clinic, and Mayo partnered with Medically Home to build out the home hospital program, and I fell in love with the care model."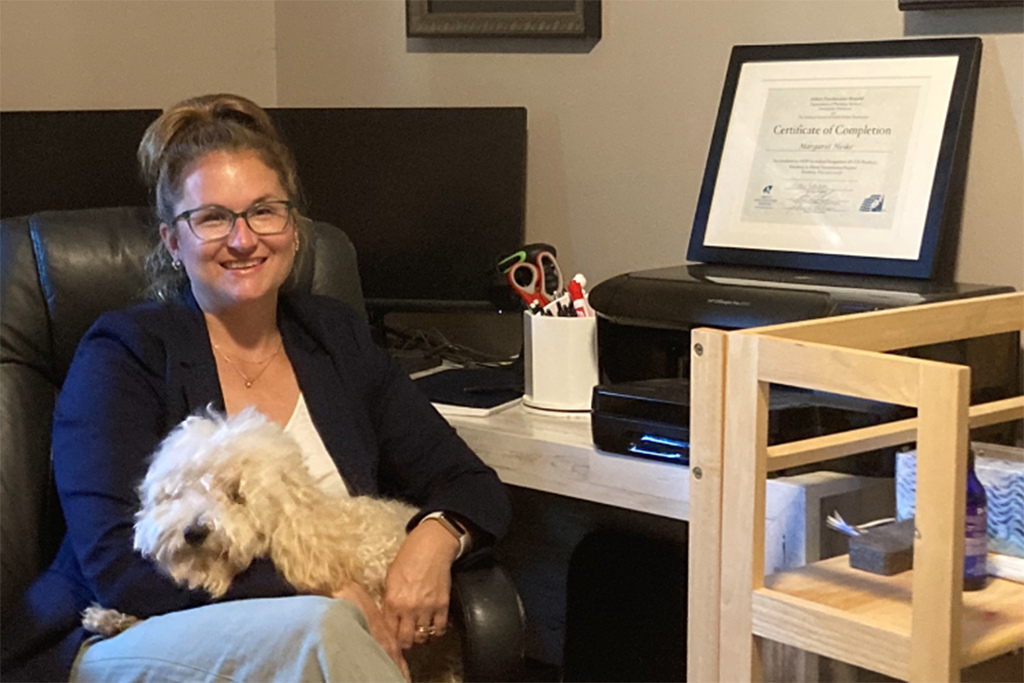 Peinovich transitioned to her new role last year and regularly meets with pharmacy leaders across health systems nationwide to share ideas and guide and develop workflows. 
"We're figuring out how to bring together the best of ambulatory and inpatient pharmacy practices and deliver them to patients at home," she says. "Our medication management services pharmacists are doing video visits, and our pharmacists are getting used to talking to patients over video or doing work remotely. We have unique insight into patients' home lives and how they take and manage their meds." 
Peinovich views pharmacists as the most flexible care providers and wants to extend that with Medically Home, making pharmacists readily available to patients and clinicians via video call. 
"Instead of walking down the hospital hall, you pop onto video and talk to the patient," she says. "I'm really pushing for patient-facing care and even more in-depth patient care, bringing transitions of care and medication therapy management into this unique setting. It's our opportunity to bring the best of everything we do to our patients." 
Working remotely, instead of being tied to an office or even a single clinic or health system, has helped her extend her reach.
"I think when you're in a building or on campus, you inevitably communicate and work most closely with those around you," Peinovich says. "Here, my only option is to reach out and work with the outside world, which pushes me to make more connections outside my usual circle of people."
Clinical pharmacy support
Joseph Warzyn (PharmD '21) is a medical information pharmacist at FreseniusRx, which is a pharmacy that specializes in serving patients with kidney disease. The pharmacy has locations in Tennessee and Florida, while Warzyn lives in Charlotte, N.C.
From his home, Warzyn is responsible for a wide variety of job functions. He acts as the expert for interpreting and communicating impacts of clinical data and guidelines. Warzyn works closely with individuals from other business departments like business strategy, training and quality, and operations. If they require medical information to support their needs, they will consult Warzyn. He also handles internal medical education, the clinical pharmacists' training curriculum, and project management.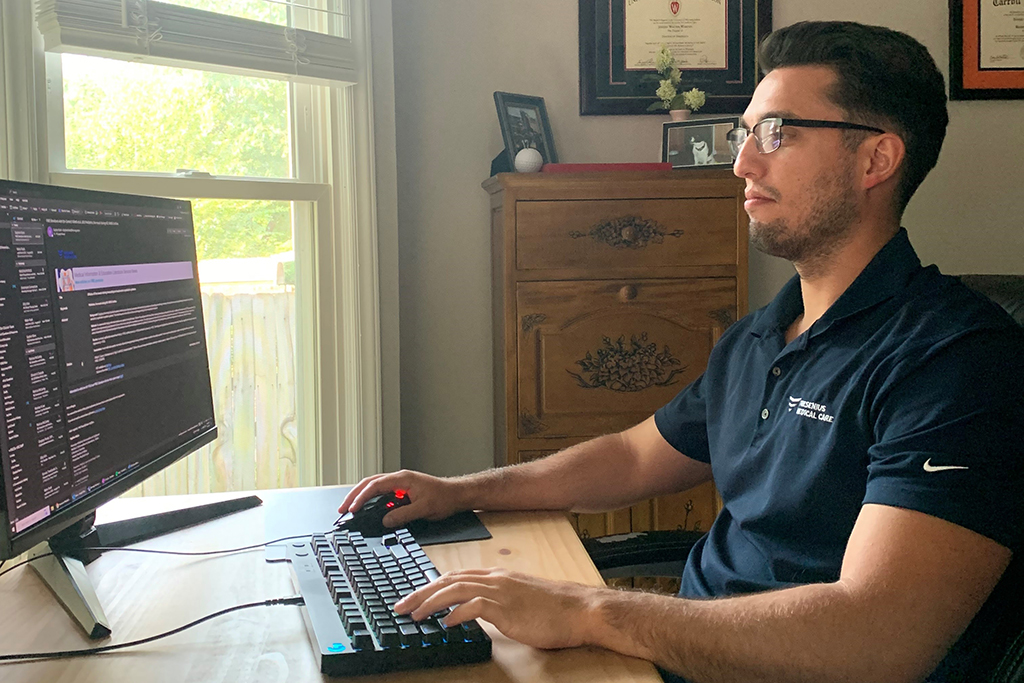 When Warzyn graduated from the School of Pharmacy in 2021, he did a fellowship at Fresenius Medical Care, a dialysis services and products company, which lead to a project with FreseniusRx. 
"Toward the end of my fellowship, I knew what I was doing would lead me to where I am now," Warzyn says. "I talked to my current boss then, and he was comfortable with my role being 100 percent remote."
Warzyn says work-life balance is his number one benefit of working remotely — as long as you have the right mindset and skills. "You're expected to be self-motivated, productive, and innovative at FreseniusRx, which are all aspects the School of Pharmacy taught me well," Warzyn says.
His time at the School helped him get his foot in the door at FreseniusRx, and student organizations were a large contributor for building niche jobs skills and connections.
"Participating in the Industry Pharmacists Organization (IPhO) impacted me through the colleagues I met, the projects we did, and the events we created together — those things really helped develop my career interests," says Warzyn. "IPhO was a big reason why I got the fellowship at Fresenius Medical Care, which was then the reason I got my current job." 
Nationwide pharmacy informatics
Anna Lovaas (PharmD '03) is the senior pharmacy manager of Hematology/Oncology and Research Systems at Mayo Clinic. Her team supports pharmacy informatics for cancer care and research around the U.S. Lovaas has a broad realm of responsibilities, including resource allocation, maintenance work, project-related work, governance committees for cancer care, informatics expertise, and pharmacy initiatives. Prior to this role, she was an oncology pharmacist with Mayo for eight years.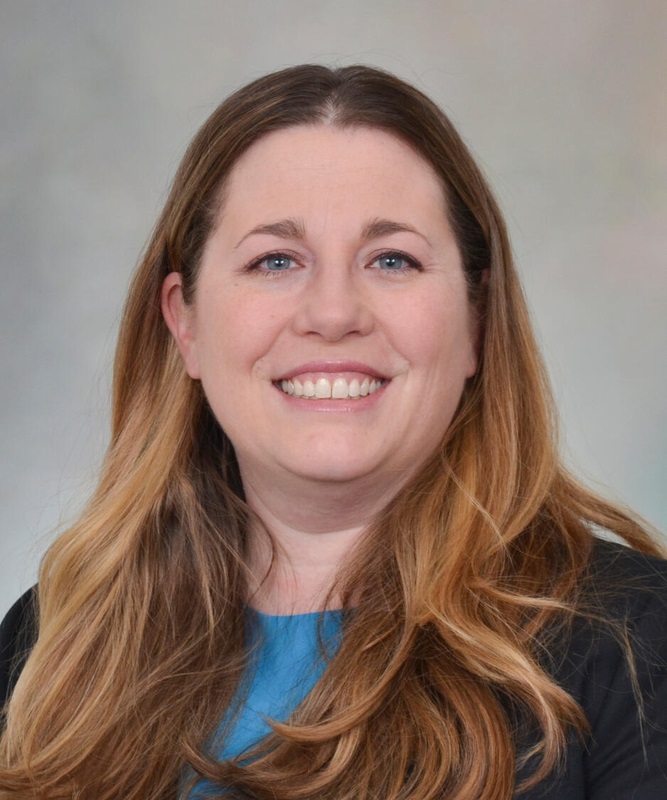 "I had a stronger clinical background and didn't go straight into informatics," Lovaas says. "I wanted to make it easier for cancer patients to get through the diagnostic and treatment process. This role gave me an opportunity to support and order tools to make clinical end users' lives better and give them time to focus on patients." 
Lovaas' role wasn't always remote, but it did require travel to visit teams across the country. The pandemic gave it the final nudge to make her a permanently remote employee.
"When I moved into pharmacy informatics, I supported the implementation of a new electronic health record (EHR), which required frequent travel," she says. "That support structure of implementing the EHR fostered a work environment that easily transitions to remote. My team is across the U.S., so we had remote tools already in place and had a quick, smooth transition to remote work during the pandemic." 
Lovaas appreciates the ability to focus on work and effectively manage the timing of interruptions to her concentration, as well as the decreased commute.
"I plan to stay remote in my current role," Lovaas says. "I really, really enjoy this role. I already supervise individuals throughout the U.S., so the physical location of my office doesn't impact the great work my team does or my ability to support them in their work." 
Managing formularies
Marc Zande (PharmD '18), a formulary pharmacist at a pharmacy benefit management company, works to update and maintain formularies for small businesses, ensuring effective, safe medications are available to patients. They also evaluate medication costs and trends, pulling warehouse data for reports that look at medication utilization: how many patients are using a medication, how many scripts are filed for it, and what's the cost — the factors that drive formulary decisions. Zande and his colleagues also monitor pipeline medications that are currently in clinical trials, keeping track of how those might change the formulary.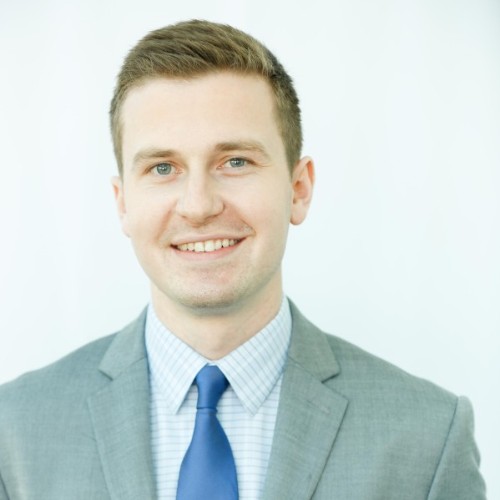 From his home office, he regularly serves as clinical support to other departments in the company such as sales/account management, prior authorizations, clinical programs, and member support.
Zande found his role after a rotation at a specialty pharmacy as a fourth-year PharmD student at the School, which got him interested in pharmacy benefit management. 
"I'm a math nerd," Zande says. "I like looking at data, and in my role, I analyze clinical components, along with costs, which is the best of both worlds. This is a new, fully remote position, which was what I wanted. I think I'm more productive working from home, so going forward, I always want to have this option." 
Representing the pharmaceutical industry
Erin Nowak (PharmD '17), the regional medical outcomes and science liaison for Oregon, Washington, and Alaska at AbbVie, serves as a field-based scientific expert for AbbVie's portfolio of products. Nowak is a day-to-day resource for clinical expertise on therapeutics and disease states, primarily serving regional health centers.
The remote nature of the job is one of the main reasons why Nowak applied. When she isn't working from home in Portland, she's traveling to face-to-face customer meetings or, quarterly, visiting company headquarters in Chicago.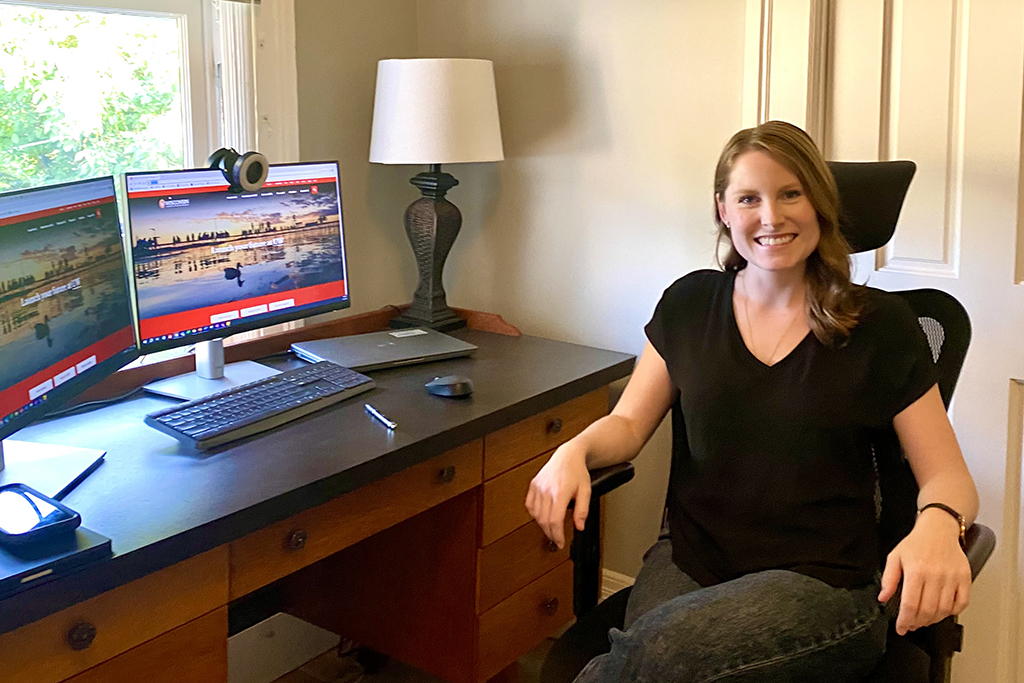 "That's what I was looking for," Nowak says. "Many companies, including AbbVie, have been this way for a long time. When I took on this role, the agreement was 30 percent travel, and currently, it's more like 10 to 15 percent. My sense is that because my customers are regional health plans, most have opted to stay remote even after the pandemic."
In addition to the interesting work, Nowak feels that her role also improves her work-life balance and productivity, while enabling efficient communication.
"I have felt so much more productive in my home environment, with fewer distractions, a comfortable space, no commute traffic or transportation delays, and the ability to quickly transition from work to my personal life," she says. "I'm able to catch coworkers for a five to 10-minute phone call between meetings or text them quick questions, and that's more efficient for getting things done than commuting to communicate."
With more pharmacists working fully remotely than ever before, Nowak — like many — is hoping that there's no turning back.
"Hopefully, leaders have realized people have different work lives, and different things work better for different people in the same organization," Nowak says. "Hopefully we're on a new societal path."