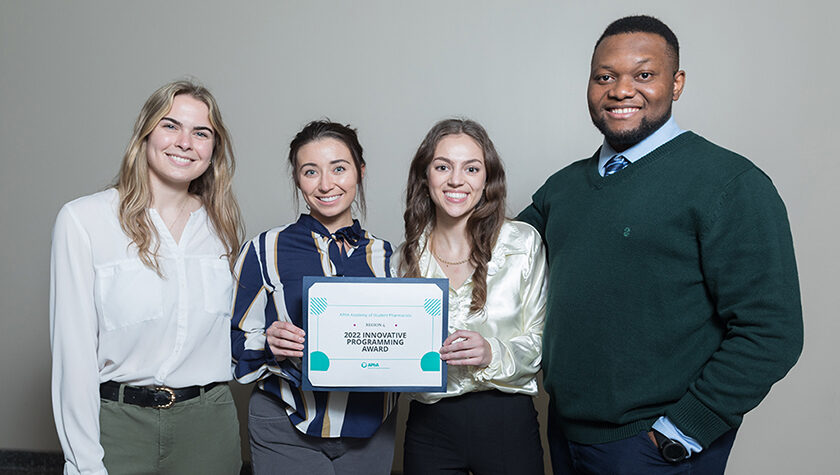 6
September
The School's Wisconsin Society of Pharmacy Students was recently honored by APhA-ASP for their professional development outreach
By Aarti Gupta
Getting value out of a professional conference isn't as easy as just showing up. But how do you learn to get the most out of the experience? This was the question that led student pharmacists at the University of Wisconsin–Madison School of Pharmacy to create the annual Conference on Conferences in 2018.
"The Conference on Conferences was started by students in the School's Wisconsin Society of Pharmacy Students (WSPS) who saw a gap in the typical pharmacy student's experience," says Rachel Hawley (PharmD '23), who was president of WSPS for the 2021–22 academic year. "Students in pharmacy school are encouraged to present their research at conferences or to attend pharmacy conferences to meet other pharmacists in the community, but there isn't much guidance on how to handle yourself at a conference."
Conference on Conferences simulates a real conference by inviting pharmacy practitioners and student pharmacists and giving them an opportunity to learn how to dress, ask for contact information, give an elevator pitch, and gain other skills that aren't necessarily taught in pharmacy school but are essential for students in their future endeavors.
"The type of student who is attracted to joining WSPS does it because they want to serve a greater purpose in their community. When you have such a large number of like-minded individuals in one space, really great success will come from that."
—Rachel Hawley
For its impact — reaching more than 120 students in 2022 — the Conference received the Region 4 Innovative Programming Award from the American Pharmacists Association Academy of Student Pharmacists (APhA-ASP), which earned them a place to present their project on a national stage.  
Out of eight other regional winners representing the top innovative programming in the nation, chapter delegates in the APhA House of Delegates then voted to decide the top spot: the UW–Madison School of Pharmacy's WSPS Conference on Conferences.
"We have really passionate students at the School. We're passionate about getting involved and helping the community," says Hawley. "The type of student who is attracted to joining WSPS does it because they want to serve a greater purpose in their community. When you have such a large number of like-minded individuals in one space, really great success will come from that."
Tradition of excellence
Over the past seven years, WSPS's Operations — which are APhA-ASP's specialized patient outreach initiatives focused on topics like diabetes, heart health, immunizations, and substance use disorders — have earned more than 20 awards on regional and national levels.
For the 2021–22 school year, their Operation Substance Use Disorders (SUD), focused on educating teenagers and college students about prescription drug misuse and abuse, was awarded National Second Runner-Up by APhA-ASP.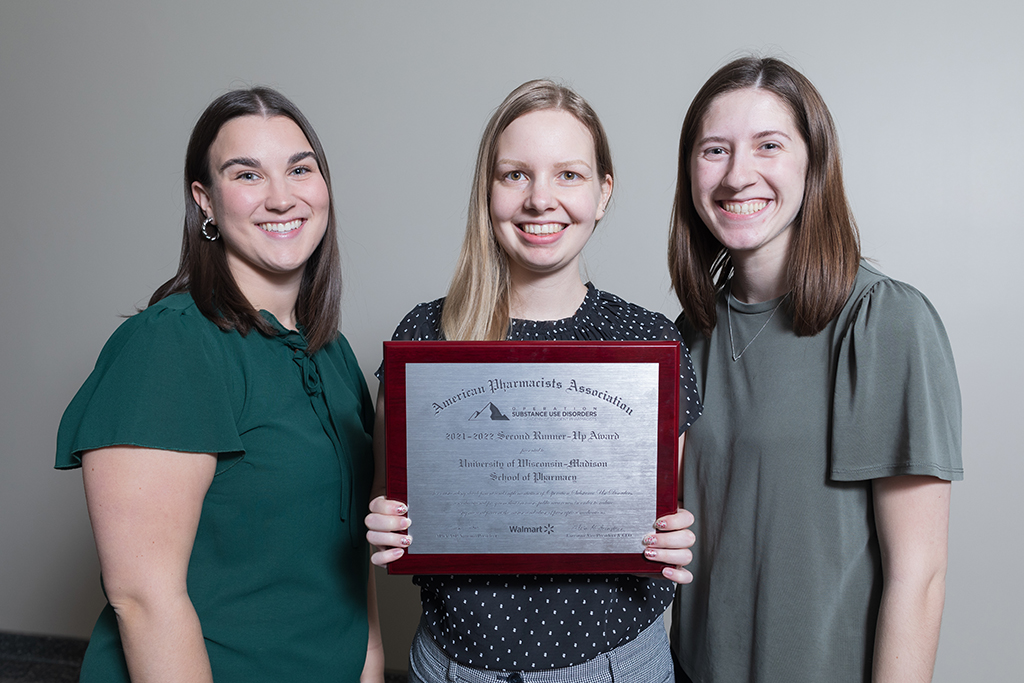 Fourth-year PharmD student Amy Wolff, then Operation SUD co-chair, shares that over the course of the academic year, they connected with about 400 middle and high school students.
"Every year, APhA-ASP reviews all the chapters throughout the nation and awards who they feel are making the best impact and have been the most innovative," Wolff says. "We got the second runner-up across all of the 142 APhA-ASP student chapters, which is pretty amazing."
Regionally, Operation Diabetes, Operation Immunization, and Operation Heart have also consistently been recognized for their work. For 2021–22, Operation Heart and Operation Immunization received the Region 4 award.
In recent years, WSPS — which is also the student chapter of the American Society of Health-System Pharmacists' Student Society of Health System Pharmacy (ASHP-SSHP) — received two of ASHP's Outstanding Professional Development Project Awards: one for the creation of the Conference on Conferences in 2018, and another for their 2021 Talk to Your Pharmacist Tuesdays video series. The videos featured PharmD students, faculty, and other pharmacists speaking about topics such as over-the-counter medication safety, safe disposal of medications, substance use disorder education, and transplant pharmacy.
"These awards are representative of the innovation, passion, and effort of everyone within WSPS," says Taylor Shufelt (PharmD '23), who organized the winning series. "It is an amazing feeling to know that your own efforts on a project are truly impactful."
Striving for success
WSPS's continued success has been made possible by a group of driven students who are backed by quality education.
"A lot of the content students are learning in their pharmacotherapy courses tie into our patient outreach activities," says Andrea Porter (PharmD '06), associate professor in the School's Pharmacy Practice and Translational Research Division, who has been a faculty advisor for WSPS since 2007. "All of the patient care and professional development activities are related to topics they're learning about in pharmacy school."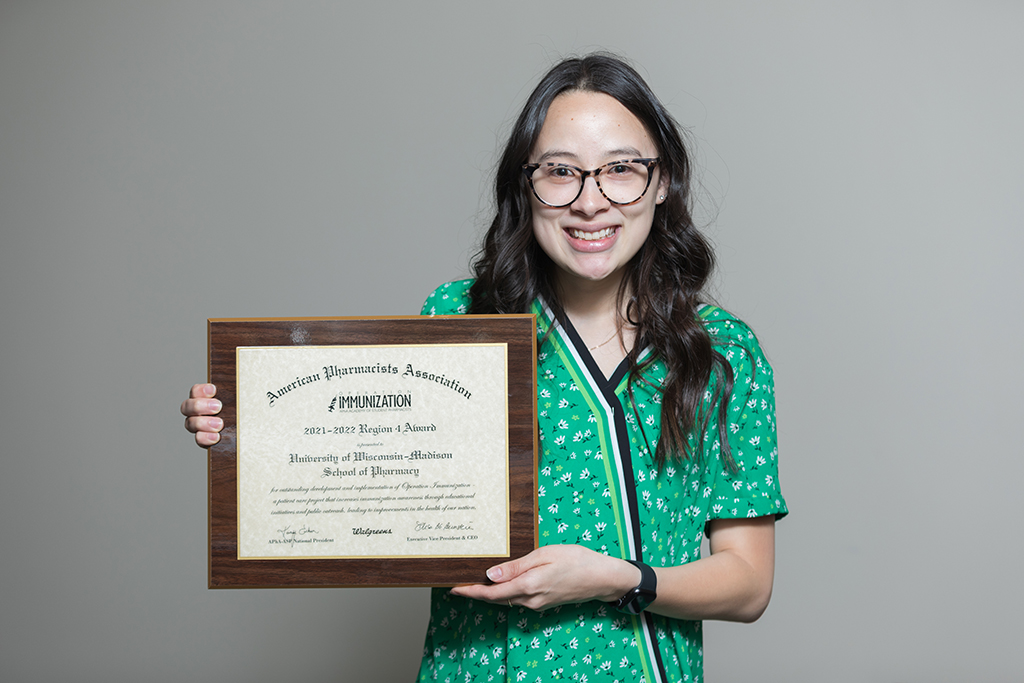 Porter says that the students are the driving force behind each of WSPS's initiatives. They creatively adapt what they're learning at the School to best connect with different groups within the community, continually volunteering their time and talent.
"It's their ideas, their drive, their leadership, and their organization. They're the ones doing the work, and they're the ones that have the impact," says Porter. "The students care so much about their patients and their profession. They're doing this because they want to make the world a better place."
Strong student leadership has also powered WSPS to excel in their work. Fourth-year PharmD student Michael Nome, WSPS president for the 2022–23 academic year, introduced two awards to motivate his student peers and recognize their excellent work: the Health Equity Warriors Award, which celebrates students going above and beyond to address and target disparities in Wisconsin communities, and the Collaboration Group Award, which recognizes work to collaborate and connect with internal or external partners.
"One thing that was near and dear to me was incorporating ways to improve the views of student pharmacists when it comes to health equity," says Nome, who won a national ASHP Student Leadership Award for 2022–23. "After introducing the Health Equity Award, students began to reach out to communities in Wisconsin to talk to them about disparities, such as diabetes in specific populations or preparing to have a baby in a low-income household, and began volunteering to help address those disparities. Now we have a group of pharmacy students, future practitioners, who are more understanding and capable of making a larger impact."
Serving the community
While WSPS is humbled by the awards they have received, they are also moved and motivated by the impact that they have been able to have on the community. Between June 2022 and May 2023, WSPS held a total of 120 events, where they were able to connect with roughly 8,900 patients and community members. Through the media, they reached another 5,500 individuals.
"I think our members deserve to be recognized for all the hard work they've put in," Hawley says. "But when I look back, the most rewarding part of being part of WSPS is not the awards at all — it's the interactions you have with patients, hearing their stories and trying to do what you can to make a positive impact in their lives."
"…We get to create a league of students who are passionate about professional advocacy, which will only help promote excellence in their future careers, products, and patient care."
—Michael Nome
Chelsea Moyer (PharmD '23), former co-chair of Operation MedDrop, which falls under the SUD umbrella, shares a similar sentiment. MedDrop partners with local police departments and fire stations to support them during the twice-yearly National Prescription Drug Take Back Days, giving residents the opportunity to safely dispose of unwanted medications.
"Many members of the community came to the take-back events and would share their stories," says Moyer. "Some were bringing in medications from a loved one that had passed, and others were bringing in medications that they no longer needed or had a child or grandchild on the way that they didn't want to get into any medications. It was always motivating to hear how our events helped people."
A national model
Winning the National Innovative Programming Award has also granted WSPS the opportunity to continue to make an impact across the nation. WSPS has already submitted a feature to the APhA-ASP's Student Pharmacist Magazine about Conference on Conferences and is currently working on a tutorial video for APhA to distribute to pharmacy schools interested in implementing their own version of the conference.
By sharing their initiatives, they hope to arm pharmacists of the future with the tools they need to be successful and provide meaningful patient care.
"I've talked to some schools that are planning on doing their own Conference on Conferences in the future, which I'm excited to see because the main objective of this was to make student pharmacists comfortable attending conferences," shares Nome. "A secondary benefit is that we get to create a league of students who are passionate about professional advocacy, which will only help promote excellence in their future careers, products, and patient care."