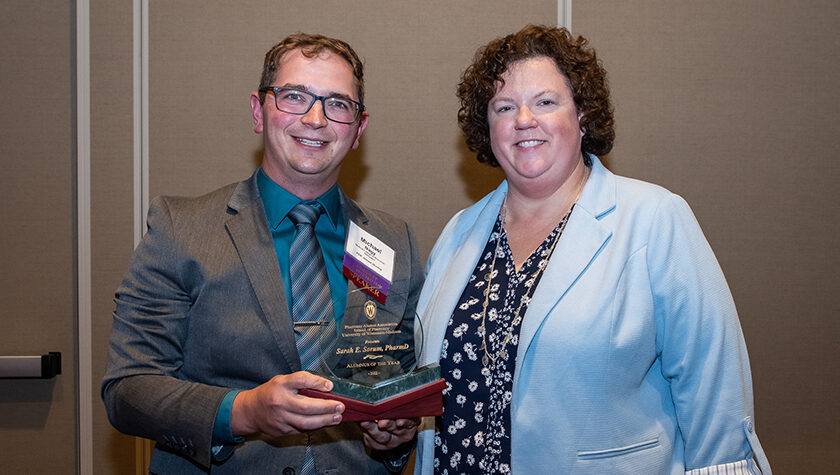 15
September
Sorum, the first woman to lead PSW as CEO, honored by the Pharmacy Alumni Association for advancing Wisconsin pharmacy through connection
By Katie Ginder-Vogel
"I find a lot of joy and value in being a connector," says Sarah Sorum (PharmD '05). "In the last couple of years, being able to be a connector has had real-world implications."
For example, connecting a pharmacist or pharmacy technician vaccinator with a community organization can provide equitable vaccine access, she says. And connecting someone with a great idea with a decision-maker can spark real-world innovation.
"That connection, to me, is very rewarding. The connections that I've built catalyze further connections," says Sorum.
As the CEO and executive vice president of the Pharmacy Society of Wisconsin (PSW), the chief staff executive of Wisconsin's pharmacy professional association, Sorum leverages her statewide and national relationships to advocate for Wisconsin's pharmacists and pharmacy technicians. For all she has done to champion the profession and nurture relationships between her fellow University of Wisconsin–Madison School of Pharmacy alumni, Sorum is being honored by the Pharmacy Alumni Association (PAA) as the 2022 Alumnus of the Year.
"I view myself as a servant leader — I do this work to support others' success, and to be recognized for being a catalyst for connection and support is such an honor."
—Sarah Sorum
"She was a stabilizing force during the pandemic for pharmacists, technicians, and the profession statewide. Moreover, she has led practice change through advocacy at the state level," says Michael Nagy (PharmD '16), president of the PAA. "She is a strong partner for all alumni of the UW–Madison School of Pharmacy and we are fortunate to call Sarah a Badger."
"I'm so honored," she says. "I view myself as a servant leader — I do this work to support others' success, and to be recognized for being a catalyst for connection and support is such an honor." 
Advancing Wisconsin pharmacy
Sorum took the helm of PSW in 2020, after spending about 13 years supporting the organization's professional and educational services, first as director and then climbing to vice president and senior vice president.
She was drawn to PSW by the previous CEO, 2018 Citation of Merit winner Chris Decker. She first met Decker as a community pharmacy resident at Osterhaus Pharmacy in Maquoketa, Iowa — Decker's hometown. They kept in touch, and when she was searching for a progressive practice opportunity, she reached out. That connection eventually led to Sorum becoming the first female CEO of PSW, shortly before the COVID-19 pandemic would complicate and accelerate pharmacy practice innovation.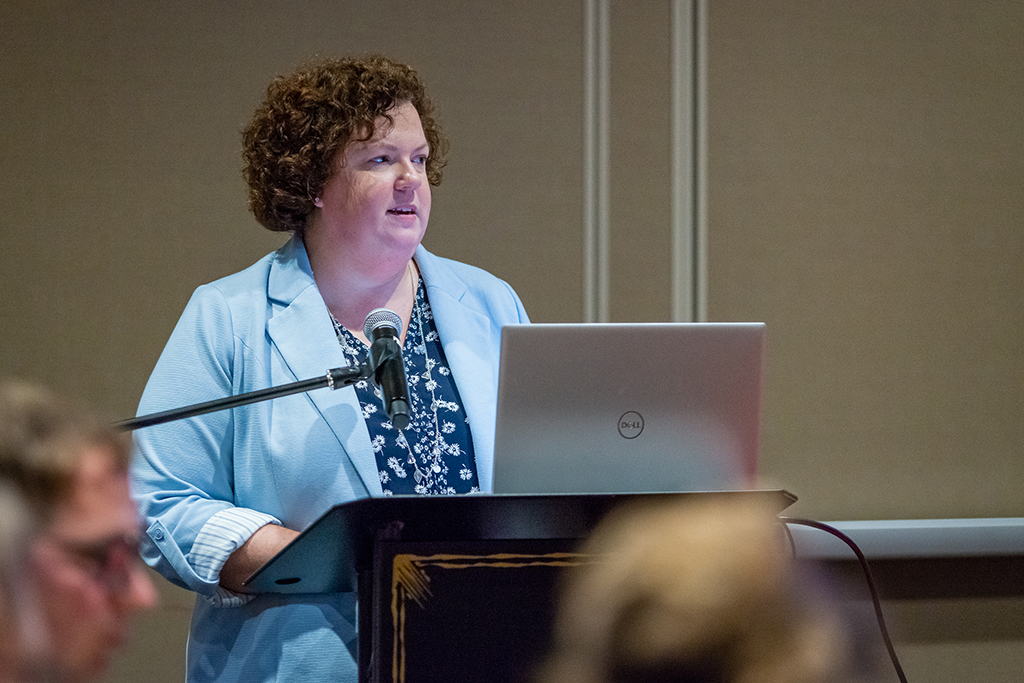 "Leading PSW through the last several years, through an association leadership transition and pandemic, is something I'm proud of," she says. "I'm proud of building an exceptional team of both staff and volunteers who work to advance the association's vision of improving the health of Wisconsinites by transforming pharmacy practice."
Sorum is energized by the role pharmacists play in public health. 
"The health of the country has been so impacted by COVID, including mental health, cancer screenings, and opioid abuse," she says. "These public health challenges need creative, accessible solutions, and what an amazing time for pharmacists to be able to support those public health issues." 
Sorum says she sees great opportunity to address other public health challenges by leveraging the connections PSW, pharmacy practices, and academic institutions built with each other during the COVID-19 immunization rollout. 
"As a professional organization, PSW has the connections and systems change expertise, but we don't have the evaluation or measurement expertise," she says. "Partnering with academic institutions can be extremely important to capture these lessons so that strong practices can be shared beyond pilot projects."
One example of this type of collaboration is PSW's partnership with the School of Pharmacy's PearlRx (Pharmacy Practice Enhancement and Action Research Link) practice-based network of Wisconsin pharmacists who incorporate research findings into daily pharmacy practice to enhance medication use and improve patient outcomes.
"The PearlRx team has been strategic in engaging other Wisconsin schools of pharmacy, too," says Sorum. "I'm proud of being a part of helping make that connection happen."
"Everyone talks about challenges, and they are real, but there is also great opportunity out there. I'm very optimistic about the future."
—Sarah Sorum
Even before the COVID-19 vaccines were approved, Sorum and her team received more than $1 million in grant awards to help implement systems change projects to increase vaccine access.
"It's been a journey for all of us the past couple years," Sorum says. "I'm so grateful for the amazing energy of the people I get to work with every day." 
Sorum credits that same energy with helping PSW to officially include diversity, equity, and inclusion (DEI) as part of the organization's strategic plan, complete with a DEI team.
"My role is to facilitate the PSW Board of Directors' development of a strategic plan that meets the needs of our organization and moves us towards our vision for the profession's future," she says. "Our plan is more robust when those that contribute reflect the diversity of the patients we serve and the diversity of where they need care. Past PSW leaders, many of whom are alumni of the School of Pharmacy, have created an intentional culture of collaboration. Our focus on diversity, equity, inclusion, and belonging furthers that work." 
Sorum says Lisa Imhoff, associate dean for Diversity and Inclusion at the School of Pharmacy, has led informative workshops for PSW. 
"Incorporating the knowledge of the university into the broader work we do in the state really speaks to the Wisconsin Idea, and I feel really excited that I can be in a role that brings that perspective to a broader audience," Sorum says. 
Leader and learner
Sorum joined the PAA board 14 years ago as a new practitioner member. She then served as PAA president from 2012 to 2013. In 2018, she left the board to focus on PSW but continues to foster relationships with her fellow Pharmacy Badgers.
"It's been important to me to stay connected to a community that provided me with an amazing foundation to excel in my work," Sorum says. "I think the connections I was able to establish through the PAA have helped to support my growth with PSW."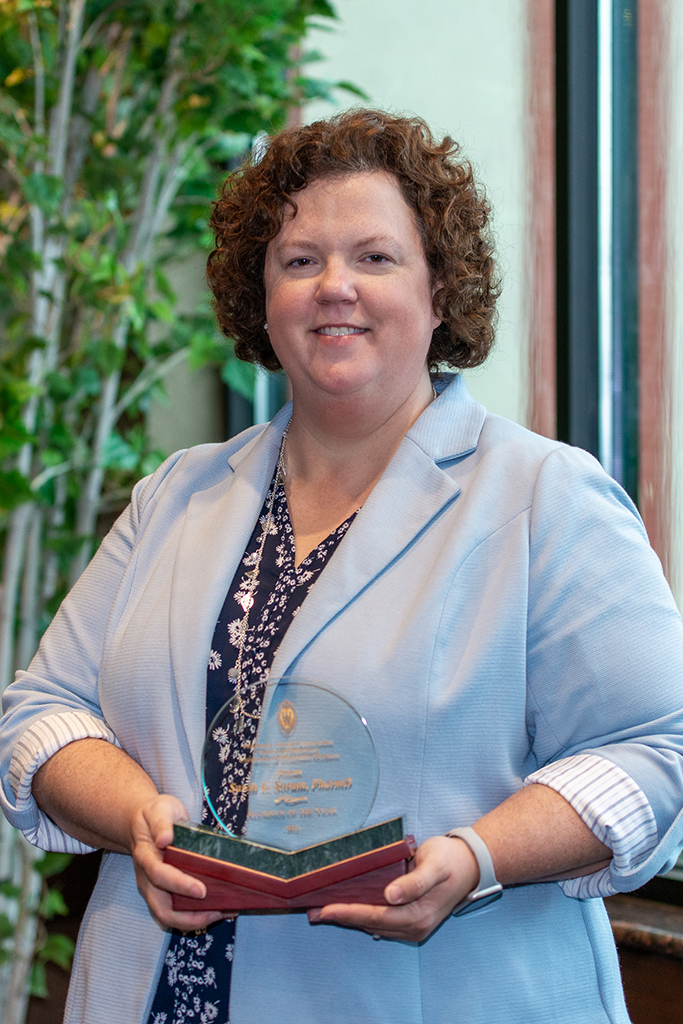 She adds that it's helpful to hold board leadership positions outside her professional role, to learn strong practices. She says her PAA experiences have helped her build relationships with the deans of all three pharmacy schools in Wisconsin and gain insight into pharmacy education.
"I value my strong relationships with UW–Madison School of Pharmacy Dean Steve Swanson, and the deans of the other two schools of pharmacy — meeting with these pharmacy leaders quarterly is critical for continuing to discuss our desired future state of Wisconsin pharmacy practice," she says. "It's unique in Wisconsin that we have three deans who work together as friends and colleagues." 
Sorum is also energized by the life she has outside of work. Sorum is her 10-year-old daughter's Girl Scout troop leader and has enjoyed spending the summer watching her daughter's swim meets. As a UW student, Sorum was involved both inside and outside the School of Pharmacy, running the university's tour guide program for several years during her time as a student. 
"I nurtured another part of myself in that role, and I use the lessons I learned in that job on a daily basis," Sorum says. "You're a whole person, and it's important to nurture not only your professional sphere, but also the other parts of your life that make you who you are."
Sorum reminds students that, rather than checking off every item on their to-do lists, being involved, seeking out new opportunities, and becoming comfortable with a constant state of change will serve them well in school and life.
"There's so much excitement ahead," she says. "Everyone talks about challenges, and they are real, but there is also great opportunity out there. I'm very optimistic about the future."
Sorum says she is still so focused on learning that it's almost a surprise to be recognized with an alumni award. Currently, she's studying for the Certified Association Executive exam, advancing her leadership at PSW.
"To be recognized at this point is such an honor, and I'm very appreciative," she says. "It's important to reflect upon and celebrate the moments that are part of the journey, and this is one opportunity to do that. A big thanks to my fellow alumni for this recognition; it means a lot."