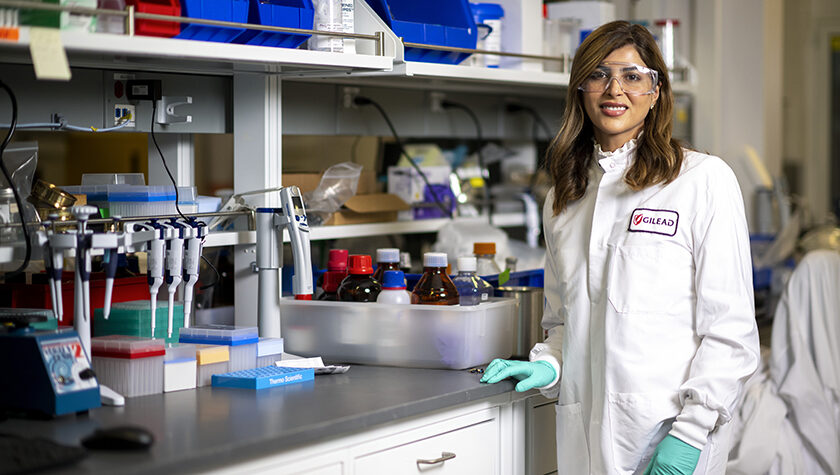 13
September
Elham Nejati (PhD '12) advances new therapeutics through formulation and process development at Gilead Sciences
By Katie Ginder-Vogel
In one of her first projects in the pharmaceutical industry after graduating from the University of Wisconsin–Madison School of Pharmacy, Elham Nejati (PhD '12) helped advance a key therapeutic for patients with chronic hepatitis C virus (HCV), which affects up to 4 million people in the U.S.
HCV causes inflammation of the liver, diminishing the liver's function and leading to complications like bleeding, fluid buildup, cancer, and even death. Starting in 2012, Nejati joined Gilead Sciences, Inc., in Foster City, Calif., as a research scientist in its formulation and process development (FPD) department, working on a re-treatment regimen for HCV patients who didn't respond to other therapies.
Over the next five years, Nejati served as a lead formulator and helped Gilead move the drug they developed, Vosevi, along from discovery to market, culminating in its approval by the U.S. Food and Drug Administration in 2017.
"Every day, I learn something new, including the technical aspects of formulation and process development and leadership skills."
—Elham Nejati
"Having that drug approved was such a moment of joy and accomplishment," she says. "There are people in industry for many years and don't get the opportunity to market a drug product, and I got that opportunity to see the drug product development from the beginning (discovery stage) to end (commercialization)."
Nejati is now the director of formulation and process development at Gilead, where she's spent the entirety of her 10-year career, managing formulation and CMC (chemistry, manufacturing, and controls) teams that are innovating oral and injectable medications for HIV, HCV, and even oncology. In the past five years, Nejati has worked on drug development of long-acting injectable and oral medications for HIV patients.
"Learning has kept me here," she says. "Every day, I learn something new, including the technical aspects of formulation and process development, as well as leadership skills."
Leading drug development
During the 10 years of her work in the formulation and process development department in Gilead, Nejati worked with various functional teams — Pharmaceutical Development and Manufacturing (PDM), Research, Clinical, and Commercial functions — developing her technical expertise and learning the complexities of oral and injectable drug development for HIV, HCV, oncology, and nonalcoholic steatohepatitis (NASH).
"I went to the literature to problem-solve," she says. Her ability to turn to the literature and stay on the leading edge of research helped her to earn a promotion. Now, Nejati is an experienced manager who has supervised direct reports for the past six years, first as a matrix manager, mentoring other people's direct reports, and as a director for the past five years.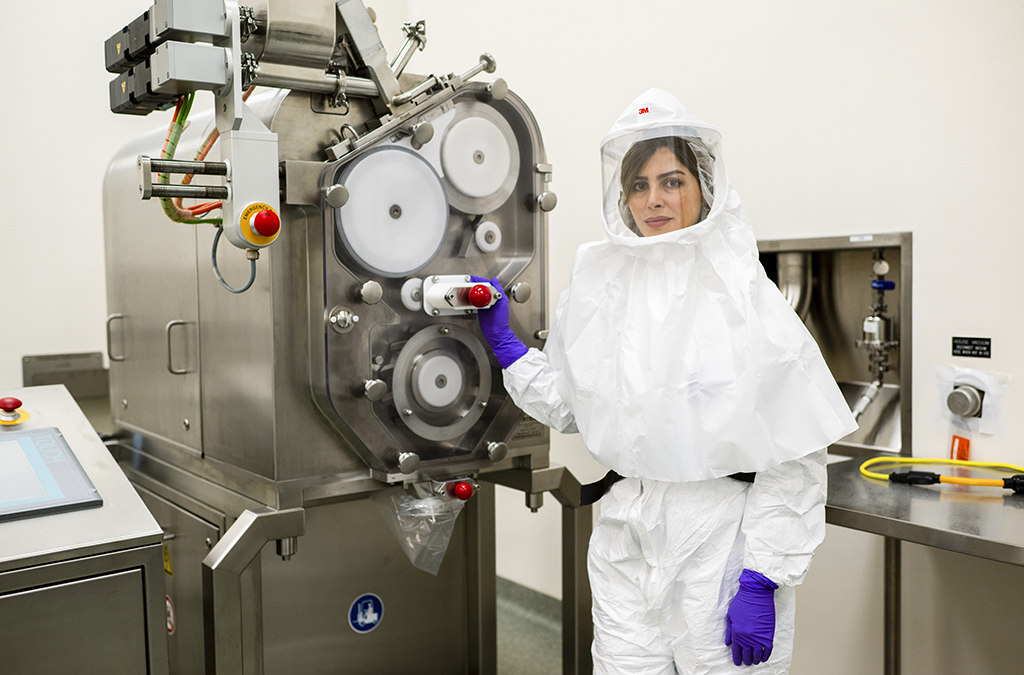 Nejati is a CMC lead for Gilead oncology and HIV projects, working with the PDM functional leads — such as formulation, analytical, and process chemistry leads — and coaching teammates across other functions to ensure that the final marketed drug is effective, meets quality standards, and is properly labeled.
"Now, my day-to-day is meetings, training team members, talking to them about their projects and helping them in the lab or in the manufacturing plant, if needed," she says. "One of my biggest passions is coaching and training people. That's the part I enjoy the most — working with people." 
Nejati's strategy for mentoring employees is to work directly with them to model best practices and help them feel supported. For example, when an employee is preparing a presentation and asks for help, Nejati sits down with them, and they create the presentation as a team. 
"To train them in the lab, I go to the lab and work side by side with them," Nejati adds. "When they want to tackle a problem, I try to be present in the lab with them to solve the issue."
And watching her team thrive is nearly as rewarding as launching a new therapeutic drug.
"Managing my team and seeing scientists grow makes me really proud that I can help other people to develop," she says. "I really enjoy seeing people come in green and working with them, then seeing results after one to two years."
Lifelong learning
Nejati loves to uncover new knowledge — which is one of the reasons she already holds four degrees. She came to UW–Madison from Iran, where she earned a bachelor's degree in materials science and engineering from Sharif University of Technology and a master's degree in biomedical engineering from Amirkabir University of Technology. She was studying polymer science at Clemson University when she started applying to other institutions to pursue biomedical engineering.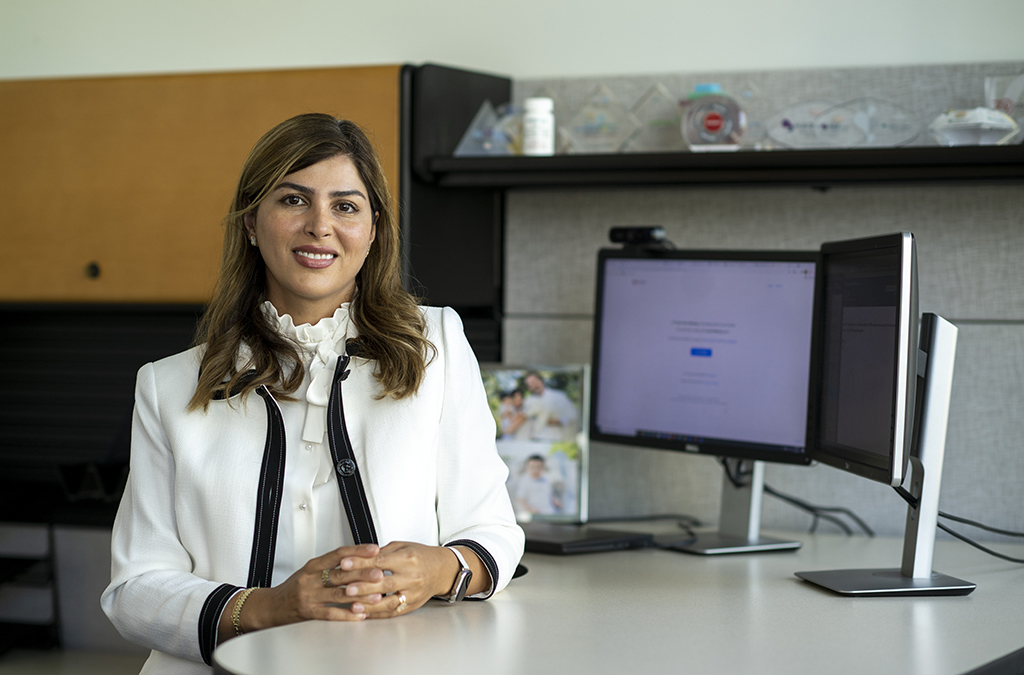 "UW­–Madison is a great university," she says. Her husband, too, applied to and was accepted into the Materials Science and Engineering department at the UW–Madison College of Engineering, and that sealed the deal.
At UW–Madison, she first earned a master's degree in biomedical/medical engineering and then pursued her PhD in pharmaceutical sciences at the School of Pharmacy. She had worked with Professor Sandro Mecozzi on her master's degree and decided to continue in his lab at the School of Pharmacy for her PhD. She focused on IV administration of the anesthetic drug sevoflurane, and also spent time working in the Zeeh Pharmaceutical Experiment Station.
"I originally wanted to become a medical doctor and get an MD and PhD, but since I was not US citizen, I couldn't go to medical school," she says. "I like bioengineering and pharmaceutical sciences because you can make products to improve or enhance human life and serve people."
As a graduate student, she attended the American Association of Pharmaceutical Scientists annual meeting a few times and was intrigued by the impact she could make in the pharmaceutical industry.
"It was important to me to go to industry with the purpose of making medication for patients. My overlying passion is to help patients."
—Elham Nejati
"In industry, you see companies putting products on the market to help with patients' disease states," she says. "It was important to me to go to industry with the purpose of making medication for patients. My overlying passion is to help patients."
That passion continues to drive her work and her team forward.
"My goal is to learn about drug development and commercialization, administration in different routes of drug delivery, and how to grow as a successful leader," she says. "I'd like to train more people and help them with their development and growth in their careers."