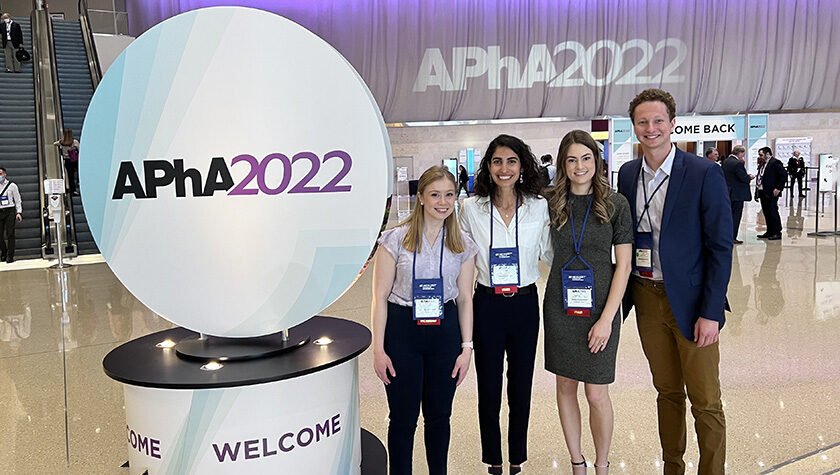 1
June
PharmD and Health Services Research in Pharmacy students are selected for coveted podium presentations at the 2022 APhA Annual Meeting
By Eric Butterman
Each year, the American Pharmacists Association (APhA) Annual Meeting attracts practitioners, students, and researchers from around the U.S. to learn about the next frontiers in pharmacy from leading experts.
In 2022, several groups of students and faculty from the University of Wisconsin–Madison School of Pharmacy were among those experts. Out of thousands of students and professionals nationwide who submitted research abstracts for consideration for a poster session, Health Services Research in Pharmacy graduate students Jenny Li and Deepika Rao and PharmD students Luke Schwerer, Nassim Sarkarati, and Bailey Stevenson were selected for an exceptional honor: podium presentations.
"A podium presentation is a coveted achievement for any researcher," says Olayinka Shiyanbola, associate professor in the School's Social and Administrative Sciences Division, who is a research mentor to four of the selected students. "But it's an especially rare feat for PharmD students."
"A podium presentation is a coveted achievement for any researcher. But it's an especially rare feat for PharmD students."
—Olayinka Shiyanbola
Li's presentation looked at opioid education and knowledge gaps among teens, Schwerer and Sarkarati studied peer support to improve diabetes medication adherence among African Americans, and Rao and Stevenson also looked at diabetes medication adherence, but within the framework of the integrated theory of health behavior change.
"These are important topics that they focused on," says Shiyanbola. "These presentations are going to help the students be ready for research positions or whatever they choose in terms of research application. It will certainly stand out for future employers, along with being just a tremendous achievement when it comes to their hard work."
Adolescent opioid education
Through her research project, Evaluating Adolescents' Opioid Education, Knowledge and Gaps That Remain: National Sample, Health Services Research in Pharmacy graduate student Jenny Li was able to delve further into two of her passions: community-based work and independent science research.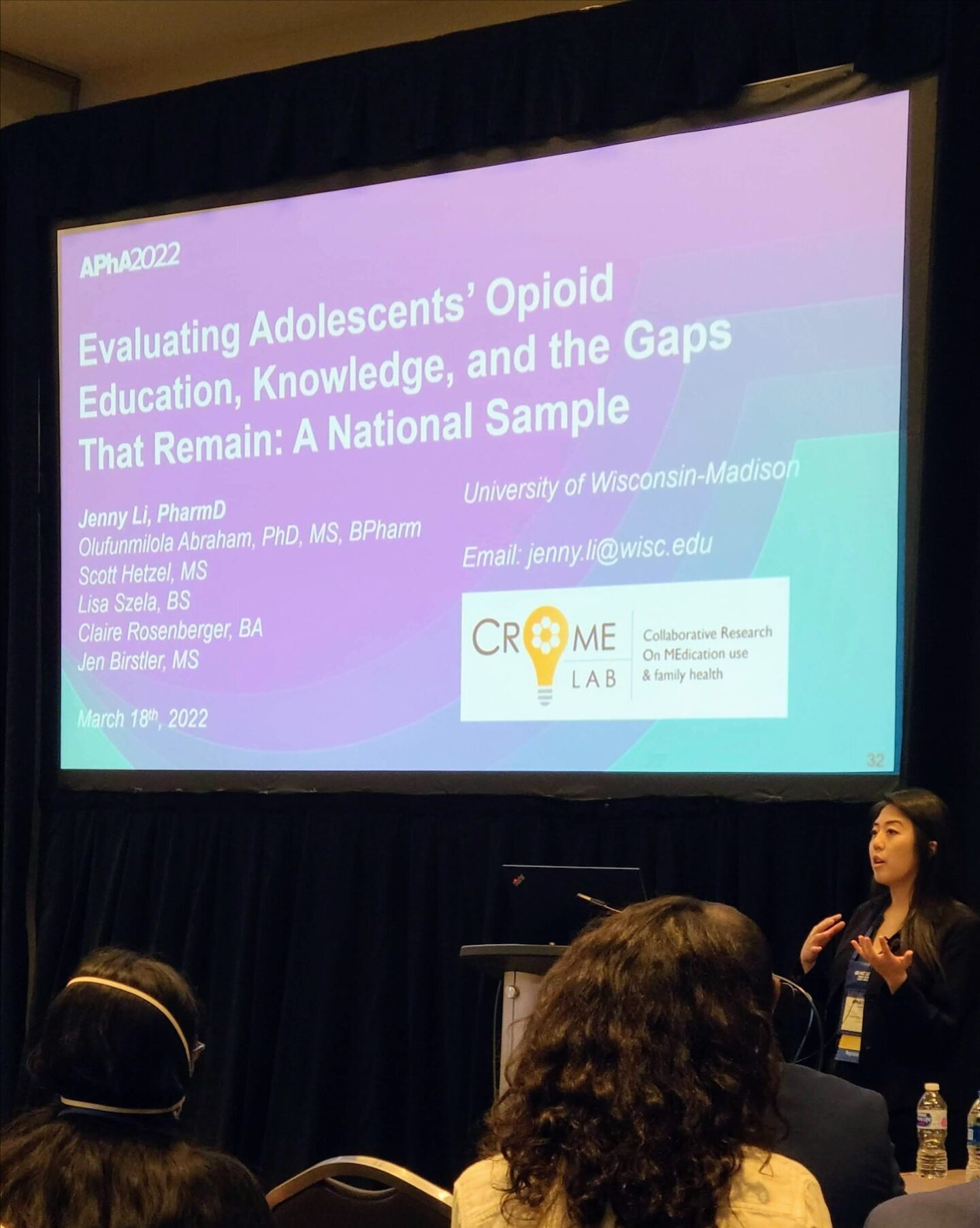 The goals of this ambitious study included looking at adolescent opioid knowledge and what differences there were in the knowledge of those who had or didn't have dedicated opioid education. Study participants, who took surveys to gauge their knowledge, were recruited from research panels with a nationally representative distribution, for a total of 774 survey respondents.
"The findings revealed that the majority of teenage students did have some kind of education when it came to opioid safety and consequences of misuse," says Li, who worked with Social and Administrative Sciences Division Assistant Professor Olufunmilola Abraham (MS '11, PhD '13) on the research. "But there are glaring gaps of knowledge for about 20 percent of adolescents in the study who haven't actually received any education or knowledge of opioids. It is clearly vital to reduce that gap."
One of the most interesting findings, she says, was that even though most students reported education on opioid misuse, only half had education on opioid disposal and storage.
"The findings are important because if we change education then the next generation can look at opioids in a healthier light," she says. "They can have a better understanding of how to keep it from taking over their life. Pharmacists may also play an important role in the future education of youth when it comes to opioids."
For Li, it was partly her age, she says, that actually drew her to the research. She started researching with Abraham when she was 18 and began working in the area of adolescent health at the age of 20.
"At the tail end of adolescence, it was interesting to understand how to better improve health and education for adolescents to make healthier choices," she says. "I saw that so much of our habits and understanding will come during that time. It's an opportunity."
Peer support for medication adherence
PharmD students Luke Schwerer and Nassim Sakarati say the results of their project — A Feasibility Pilot Trial of a Peer-Support Educational Behavioral Intervention to Improve Diabetes Medication Adherence in African Americans — had incredibly encouraging results.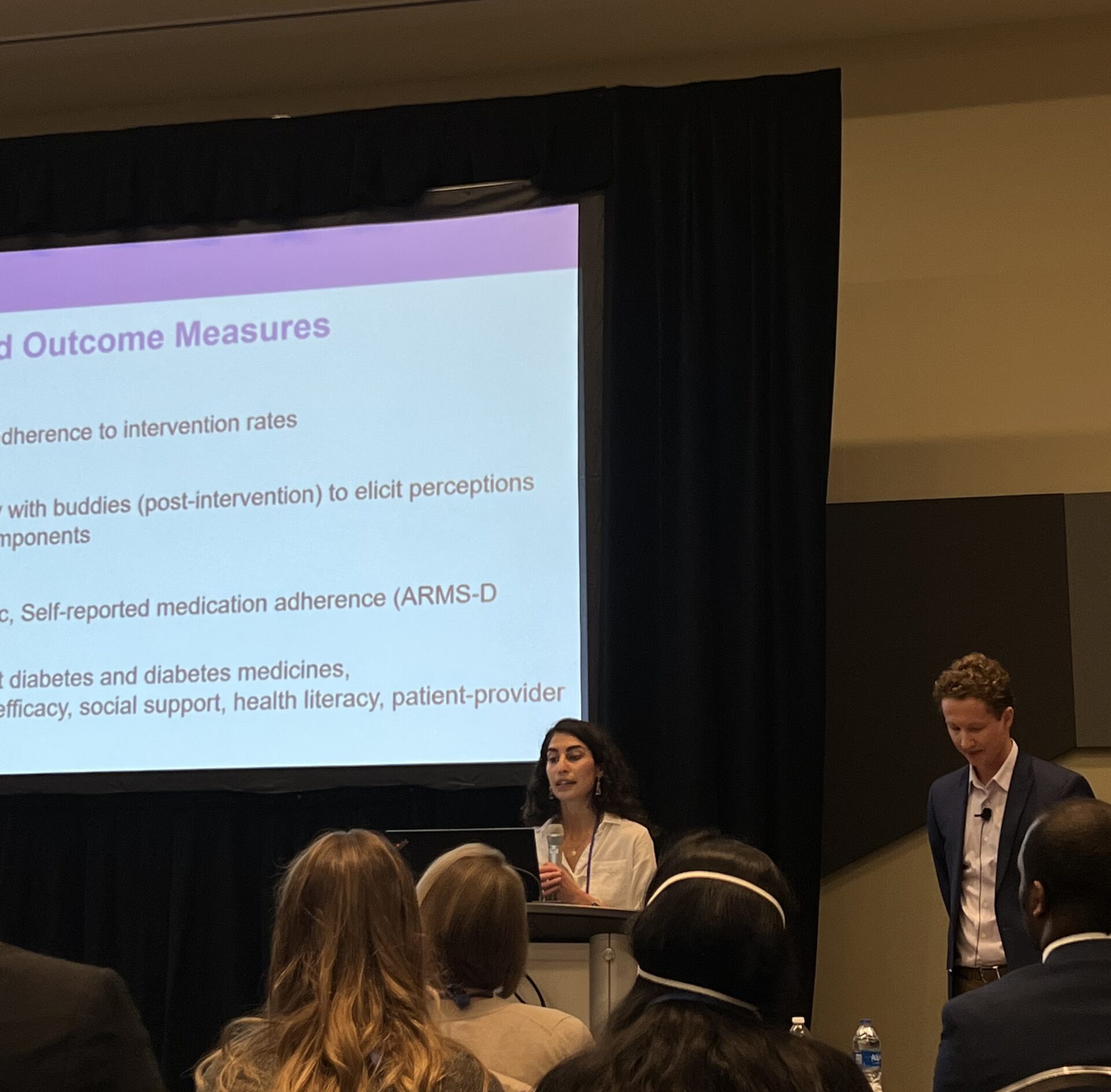 In their project, which spanned Madison and Milwaukee, 22 African American participants were chosen as "buddies," who self-reported that they were nonadherent to their diabetes medication, and 17 participants were "ambassadors," those who self-reported as adherent. For three weeks, the ambassadors and buddies would attend weekly group education sessions led by providers, to discuss beliefs about diabetes and medicines, hemoglobin A1c, and provider distrust or lack of communication, and then would have weekly phone calls for the following five weeks to discuss questions, address adherence challenges, and more. At the end of the eight-week intervention, the buddies completed outcome assessments.
"Our main findings suggest and point to the importance of having peer support of diabetes management programs for African Americans," Schwerer says. "The data showed that being able to work with those doing well with controlling diabetes makes participants feel more comfortable to share their own frustrations and beliefs regarding the disease and sharing what works well and doesn't with managing diabetes or diabetes medications."
"This can point to how a greater emphasis of peer-led intervention has a chance to make a significant difference for those dealing with diabetes," Sarkarati adds.
Sarkarati was drawn to the research by a talk about disparities in healthcare and a more holistic approach to patient care, delivered by Associate Professor Olayinka Shiyanbola, who worked with Sarkarati and Schwerer on the project.
"I had gotten a master of public health degree a year before pharmacy school, specifically focusing on community health promotion and health literacy," Sakarati says. "Everything she was talking about was everything I was interested in. Improving health is not as simple as just giving patients medication."
Schwerer has found, partly through this work, that he has a strong interest in working with community members to make a vital difference in health.
"I'm now contemplating how to make community partnerships a part of my future along with making sure I continue to have involvement in research," Schwerer says.
Diabetes medication adherence during COVID-19
Using the Integrated Theory of Health Behavior Change to Assess Factors Affecting Diabetes Medication Adherence among African Americans During COVID-19: An Explanatory Sequential Mixed-Methods Design was presented by PharmD student Bailey Stevenson and Health Services Research in Pharmacy graduate student Deepika Rao, who also worked with Shiyanbola.
Through their study, which used participant surveys and interviews, the team learned that diabetes beliefs, depressive symptoms, and self-efficacy were key psychosocial factors for medication adherence for African-Americans during the pandemic.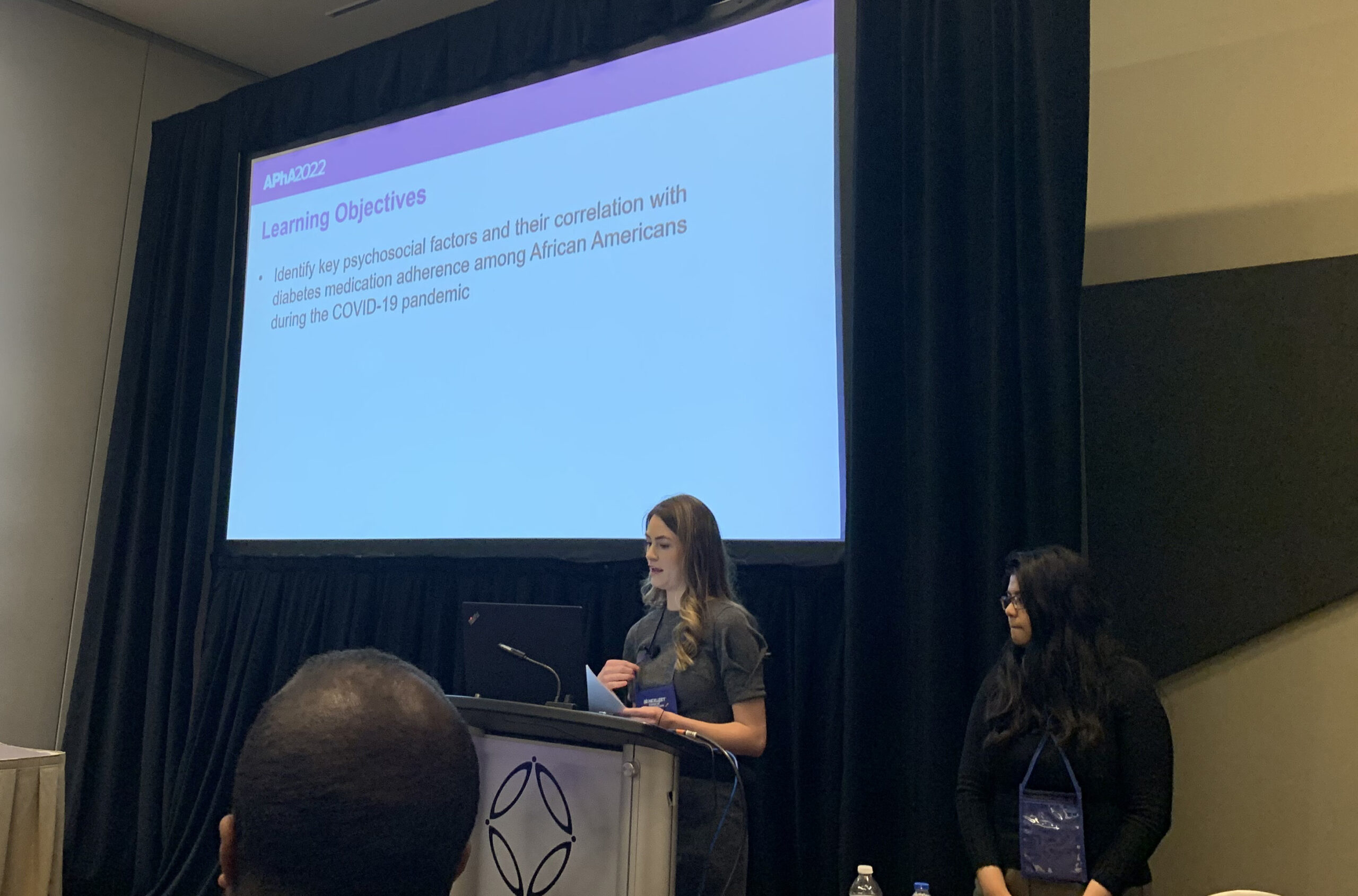 "We identified important themes to understand why patients are less adherent, and that helps to come up with ways that are more tailored to help them," Stevenson says.
Reasons why participants weren't adherent included trying to time taking their medication with food and wanting to be free from medication. The researchers learned that routines and other tools could make a difference in adherence.
Stevenson says even the subtle lessons she learned from the study will help her in future work.
"I saw in the research that patients had a hard time swallowing the medications," she says. "I realized I didn't think about things like that enough. It may be a common problem — but those are sometimes the ones that commonly get overlooked."    
A national showing
In addition to the podium presentations, several more students and faculty shared research at the 2022 APhA Annual Meeting. For example, Assistant Professor Jay Ford, of the Social and Administrative Sciences Division, delivered a talk on implementation science framework.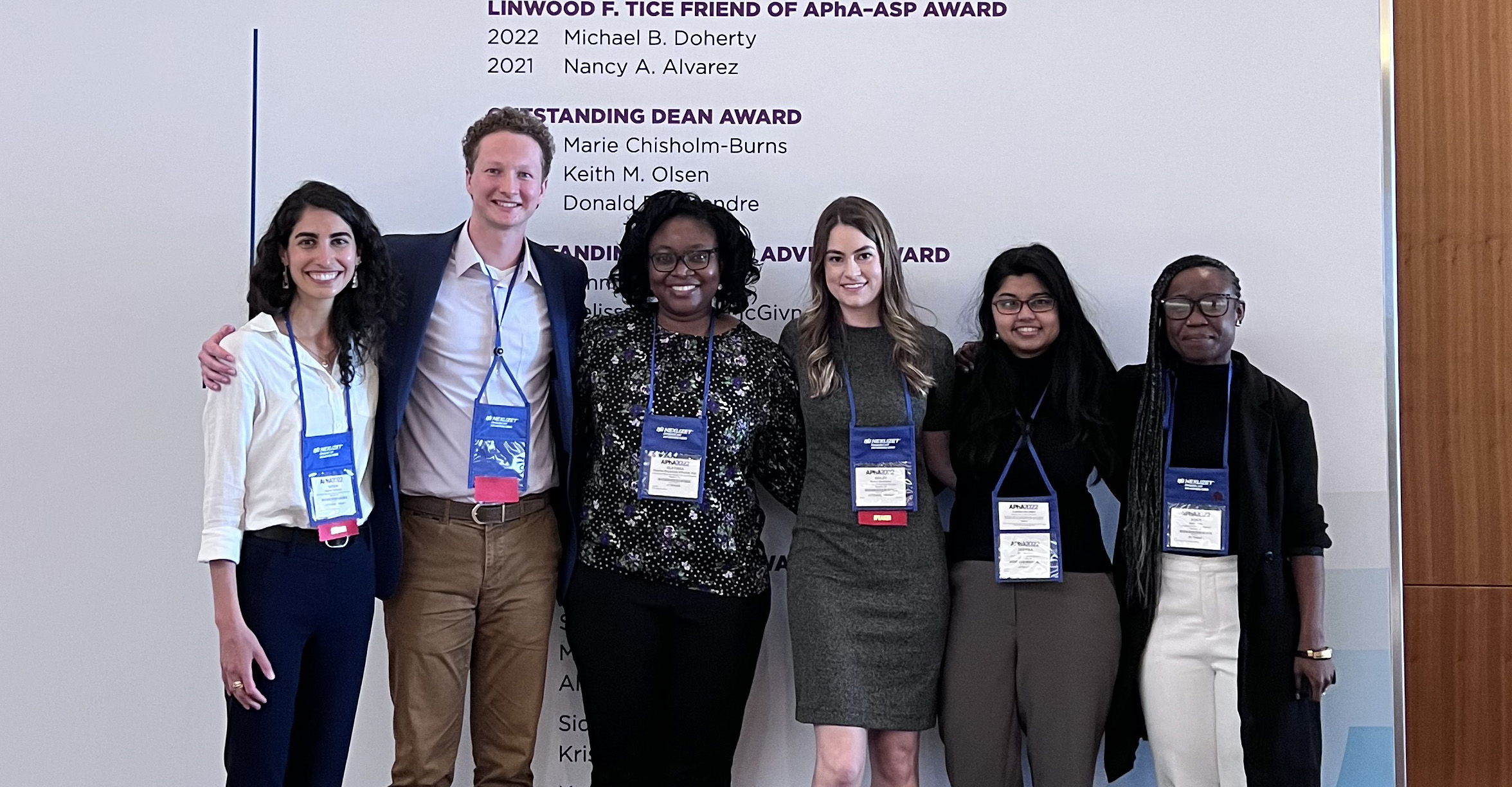 Two students shared research regarding HIV care: Health Services Research in Pharmacy graduate student Adati Tarfa presented a poster about barriers to linkage and retention in HIV care, and Maeleigh Tidd presented a poster about education for community pharmacists on pre-exposure prophylaxis for HIV prevention.
Two more posters presented at the APhA 2022 conference by School of Pharmacy researchers were featured by Drug Topics. Another Health Services Research in Pharmacy graduate student, Bonyan Qudah, presented a poster about addressing opioid misuse in rural areas, and Social and Administrative Sciences Division research specialist Claire Rosenberger and Assistant Professor Olufunmilola Abraham shared their work in gamifying opioid education for teens.
"We received many good questions about our podium presentation on how to make the pilot trial more feasible and sustainable on a larger level," Schwerer says. "This type of experience is so important for me as a student right now. It definitely helps me differentiate my skills."