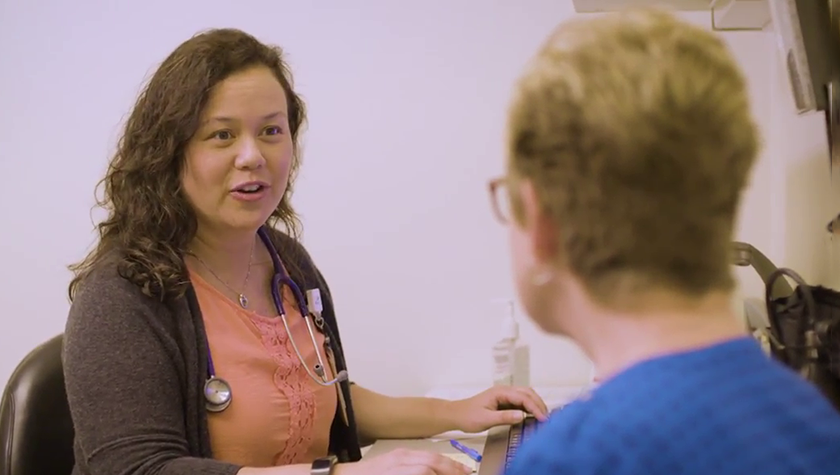 10
March
UW–Madison School of Pharmacy alumni and pharmacy leaders share the impact of the change across practice settings
By Emma Gran and Katie Gerhards
With nearly nine in 10 Americans living within five miles of a pharmacy, pharmacists may be the health professional some Wisconsinites see and talk with most often. And with the passage of pharmacist provider status — signed into law in December 2021 by Governor Tony Evers — pharmacists can play a larger role in getting their localities access to services they previously did not have.
"Community pharmacists are the most accessible health care professionals," says Michelle Farrell (BS '99, PharmD '00), owner and pharmacy manager of Boscobel Pharmacy and lead luminary for the Wisconsin CPESN (Community Pharmacy Enhanced Services Network). "Having provider status for our patient populations is so meaningful, as we can now get paid for the work we are doing and overall have a better ability to care for our patients."
Through 2021 Wisconsin Act 98, Wisconsin pharmacists are now recognized as non-physician providers under Medicaid. By authorizing pharmacists to bill and be reimbursed through Medicaid for covered medical services within their scope of practice, the new legislation will help progress the profession of pharmacy to advance patient care models and ensure sustainable patient access to pharmacist provided care in Wisconsin.
"Act 98 — Wisconsin Provider Status — will create real, meaningful impacts for Wisconsin's pharmacy professionals and patients and we look forward to collaborating with colleagues on the implementation efforts this year."
—Sarah Sorum
Pharmacy Society of Wisconsin (PSW) Executive Vice President and CEO Sarah Sorum (PharmD '05) says the passage of pharmacist provider status in Wisconsin was the result of dedicated efforts many years in the making.
"At the Pharmacy Society of Wisconsin, we believe that together we are stronger as a profession and the efforts that culminated in this new law included thousands of hours of PSW volunteer, leader, and staff work," Sorum says.  "Act 98 — Wisconsin Provider Status — will create real, meaningful impacts for Wisconsin's pharmacy professionals and patients and we look forward to collaborating with colleagues on the implementation efforts this year."
Advancing practice
More than one million Wisconsin residents are currently covered by Wisconsin Medicaid, which provides free or low-cost health coverage to millions of Americans, including eligible low-income adults, children, pregnant women, elderly adults and people with disabilities.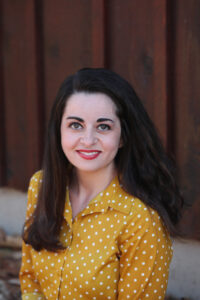 Under Medicaid's medical benefit, pharmacists can now get reimbursed for providing services like immunizations, medication injections, travel medicine visits, comprehensive medication management and chronic disease management to Medicaid recipients — creating additional channels of revenue and ensuring pharmacists have more advanced roles on healthcare teams.
"We're really excited about the legislative change because it sets the foundation for pharmacists to be able to change practice models and provide services in a way that allows them to grow, expand, reach more patients, and increase access," says PSW President Ellina Seckel, associate chief of pharmacy, ambulatory and specialty care at William S. Middleton Memorial Veterans Hospital in Madison.
Through previous legislative changes, pharmacists in Wisconsin were already granted the authority to provide these services under their scope of practice or through collaborative practice agreements, which enable them to provide certain patient care functions through delegation by a physician. However, pharmacists could only be reimbursed for products but not their time and skill.
For example, instead of only being reimbursed for the cost of non-vaccine medication injections like naltrexone, a common treatment for opioid misuse disorder, pharmacists can now also be compensated for the clinical services needed to administer the dosage.
"This change allows communities to utilize their pharmacists to the highest degree of their license," Farrell says.
Impact on community care
As a community pharmacist in a rural community, Farrell is particularly excited about the new opportunities to expand access to preventative care and chronic disease management services to her patients in Boscobel.
"We certainly hear tales of patients struggling to get a service and putting off the care they need due to long waits, so opening up access to pharmacies is going to make such a difference in patient care," says Farrell. "I can use my knowledge and experience to help patients manage their chronic diseases, without them having to wait to see a different provider or primary care physician."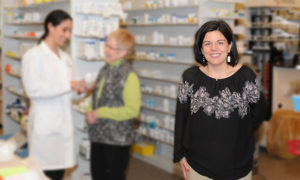 Under the new law, pharmacists can initiate and get compensated for smoking cessation therapy and lifestyle monitoring, conduct blood pressure monitoring, and adjust a patient's medications for common chronic diseases like asthma, diabetes, hypertension, and chronic obstructive pulmonary disease (COPD). Pharmacists can also administer point-of-care testing and management. For example, a pharmacist can now administer a test for COVID-19, interpret the test result, and educate the patient on the test outcome and appropriate care management.
Farrell says opening other avenues for reimbursement that are not tied to product provision is an equally important change for her community pharmacy. With pharmacist provider status ensuring that pharmacists are more equitably compensated for the clinical services involved in providing care, the legislation gives more financial stability to community pharmacies, while also allowing them to be more flexible and impactful in their patient care practices.
"It's been a really exciting and certainly a historic time for pharmacists for Wisconsin," she says. "This legislation impacts potentially all aspects of the pharmacy profession and really enhances the profession in the eyes of our patients."
Expanding ambulatory services
Julie Bartell (PharmD '06), pharmacotherapy supervisor with SSM Monroe Clinic, says that in an ambulatory care setting, the change means that pharmacists will be able to be reimbursed at higher levels of service for Medicaid patients by providing a return-on-investment justification for staffing pharmacists in more clinics.
"It's all about taking care of our patients and having the adequate resources to do so," says Bartell, chair of the PSW Ambulatory Care Advisory Committee. "By providing more billable services, which are essentially analogous to many of the services that the patient would receive from their physician, we will be in a better position to justify expansion, ultimately providing better access and outcomes for our patients."
A common example is the care of patients with diabetes. Many services provided by ambulatory care pharmacists to patients with diabetes are currently limited to billing only for the facility, not pharmacists' talent and expertise.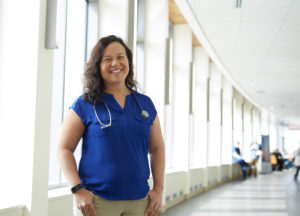 "At my practice, we manage a lot of very complex patients, including patients with diabetes who require pump management and continuous glucose monitoring and interpretation," she says. "For complex patients like this where we're touching multiple organ systems, making multiple medication changes, and doing a physical exam, we will now be able to get reimbursed appropriately for that higher level of care."
The precise patient impact will vary between health systems due to different services offered at different levels, but the change helps to position pharmacists to enhance patient care.
"Getting adequately reimbursed for the services we provide not only elevates the profession by recognizing us to our fullest potential but also recognizes that our training and license in the state of Wisconsin allows us to do complicated medication management and chronic disease management for our patients," she says.
Enhancing team-based care
From a hospital administration standpoint, Luke Beirl (PharmD '11), CEO of Hayward Area Memorial Hospital and Water's Edge, says that the passage of provider status for Wisconsin pharmacists will help address some of the staffing shortages felt throughout the health care industry.
"Healthcare organizations have not been immune to the 'Great Resignation,'" he says, which has created gaps in the traditional care model. At Hayward Area Memorial, which is a 25-bed critical access hospital connected with medical clinics and long-term care, retention rates have been strong. But the pressure of the COVID-19 pandemic has still left its mark.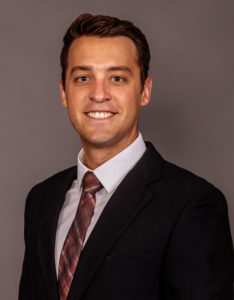 "It's forced us to step back, look at our model of care, and ask a different set of questions," Beirl says.
Wisconsin pharmacists gaining the ability to get reimbursed for services through Medicaid has opened a door to new models of practice that leverage pharmacists' expertise without the financial liability inherent in providing unpaid services.
"This really allows a PharmD to operate at the top of their license and training and competencies," says Beirl.
For example, Hayward Area Memorial is currently working to establish primary care service for the first time in its history, with a clinic opening in a few months. A pharmacist is going to be a part of that care team.
"Prior to this legislation passing, the pharmacists' role would have been more traditional and medication-reconciliation focused, but now we're looking at how to get pharmacists more involved in blood pressure monitoring or chronic disease management," says Beirl.
As a licensed pharmacist, Beirl hopes to occasionally staff the new primary clinic to gain perspective on how the team-based care model is working and its effect on patients.
"Being a pharmacist myself, I am an extremely strong advocate for the profession because I know what pharmacists are capable of," he says. "We have an extremely progressive and high-functioning group of doctors who have also challenged us to include pharmacists on the primary care team."
In a rural area like Hayward — where it's normal for physicians to be caring for patients in the clinic, rounding in the hospital, and delivering babies all in the same day — pharmacists' contribution on the care team can effectively extend care to reach more patients.
"With the right support and the right leadership, the rural setting could really be the innovation lab for the entire profession," says Beirl. "I don't think we can overestimate the potential that exists with this legislation in our state's rural areas."
Moving forward
With pharmacist provider status now active in Wisconsin, pharmacists across the state are developing the infrastructure needed to operationalize and deliver billable pharmacist provided care. Through a state plan amendment, policies surrounding Wisconsin Medicaid reimbursement need to be rewritten and approved by the Centers for Medicare and Medicaid Services.
"That's what they're working on first," says Bartell. "It is in process now and is anticipated to be completed by the end of the year or beginning of 2023. At the same time, we as a state are getting ourselves ready to implement this."
Bartell and Farrell are both involved with groups in PSW and the CPESN who are creating implementation guides that will be available to pharmacists throughout the state, including information about how to get credentialed with Medicaid, how to get a National Provider Identifier number for Medicaid billing, and how to code, bill, and document the transactions.
"To reflect on how far we've come and how many people have pushed this forward and to finally be at this point where we actually got legislation passed, it's such an exciting moment."
—Ellina Seckel
"We are using what we've learned from other states that have gone through this," says Bartell. "Hopefully that will be ready around the same time that the policy and operational changes are finalized."
PSW is optimistic that Medicaid policy changes will catalyze policy changes for an even larger portion of the Wisconsin population. Since the provider status law currently only applies under the state's Medicaid system, PSW believes the track record of pharmacists providing better value in medication management will inspire commercial health plans and employer groups to adopt pharmacist provider status policies and operations, too.
"To reflect on how far we've come and how many people have pushed this forward and to finally be at this point where we actually got legislation passed, it's such an exciting moment," Seckel says. "There is a lot to celebrate, but also a lot to get done to make sure pharmacists can deliver the best care for their patients."